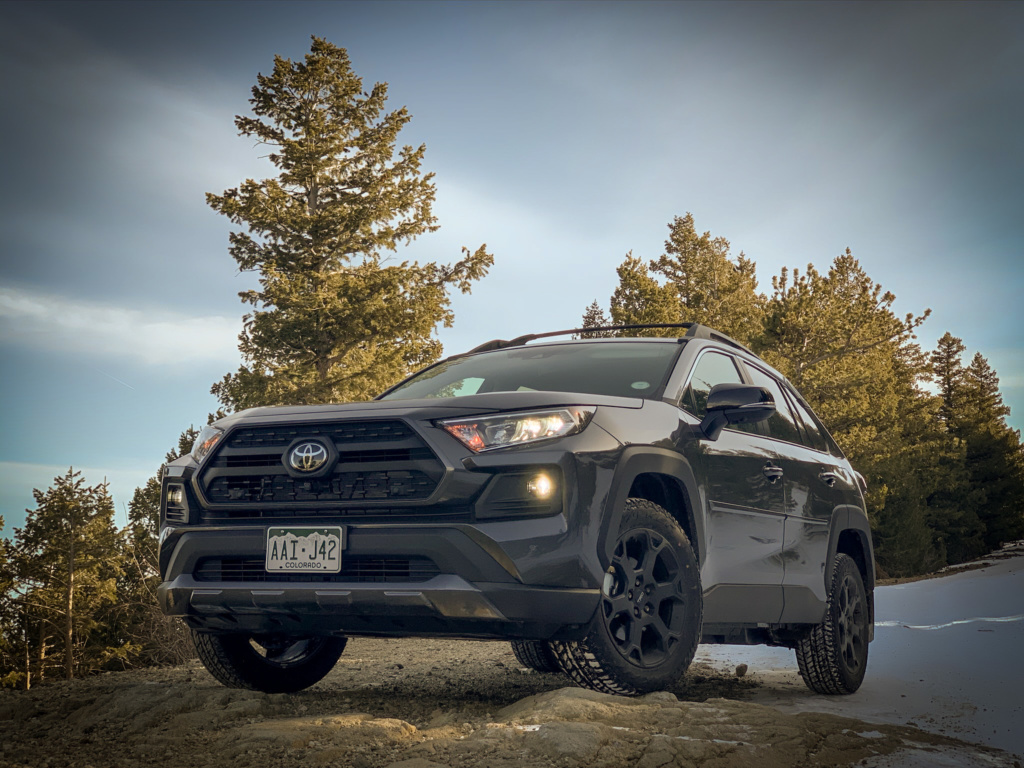 This RAV4 TRD Off-Road model has rally-car charisma in the way that it feels light on its feet while soaking up the noise from the dirt road underneath. Its skills are unique among the TRD line-up and they also extend their benefits into many everyday driving situations such as traversing highways that have seen better days, navigating side streets littered with potholes, or navigating through tight parking lots. The TRD Off-Road has plenty of value-added performance (as its steep price tag indicates) and has been transformed from a best-selling RAV4 into a truly unique and adventurous vehicle.
Style and Features
The RAV4's sculpted exterior appearance has a rugged flair with molded-in-black fender moldings, a reshaped front bumper, a larger grille, and black 18-inch wheels. Sharply designed LED taillights, a contrast-color roof, gloss black mirrors, and dual chrome-tipped exhaust outlets give the RAV4 a bit of style, while this particular color combination of gray body and white roof is exclusive to the TRD Off-Road trim.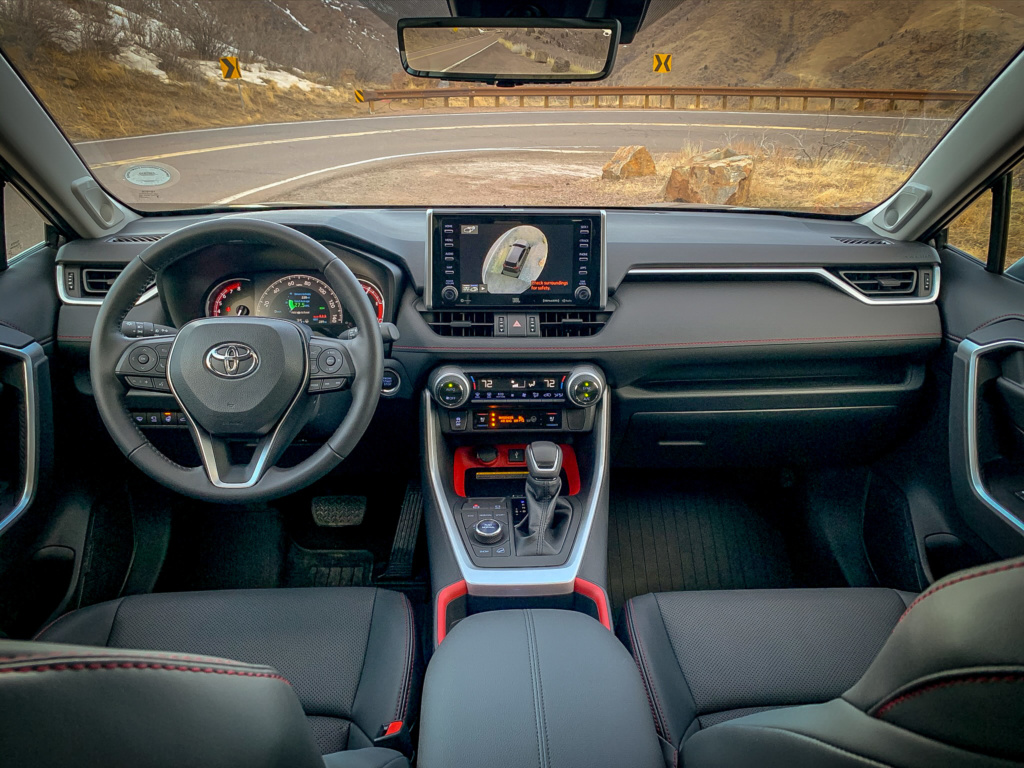 The exterior's crisp lines and simple shapes translate into the interior. The buttons, switches, and especially the HVAC controls have a robust appearance and a high-quality feel. Soft-touch surfaces cover most of the interior and the TRD Off-Road trim adds exclusive red-colored interior inserts and stitching, as well as TRD badging sewn into the headrests. This particular example includes nearly every option package for a grand total of $43,000. A few of the included everyday niceties are heated and ventilated perforated synthetic leather seats with good adjustability and support, a surround-view camera system which activates automatically at slow speeds to help with parking clearances, a camera rearview mirror (my favorite new feature), a heated steering wheel, and a power tailgate.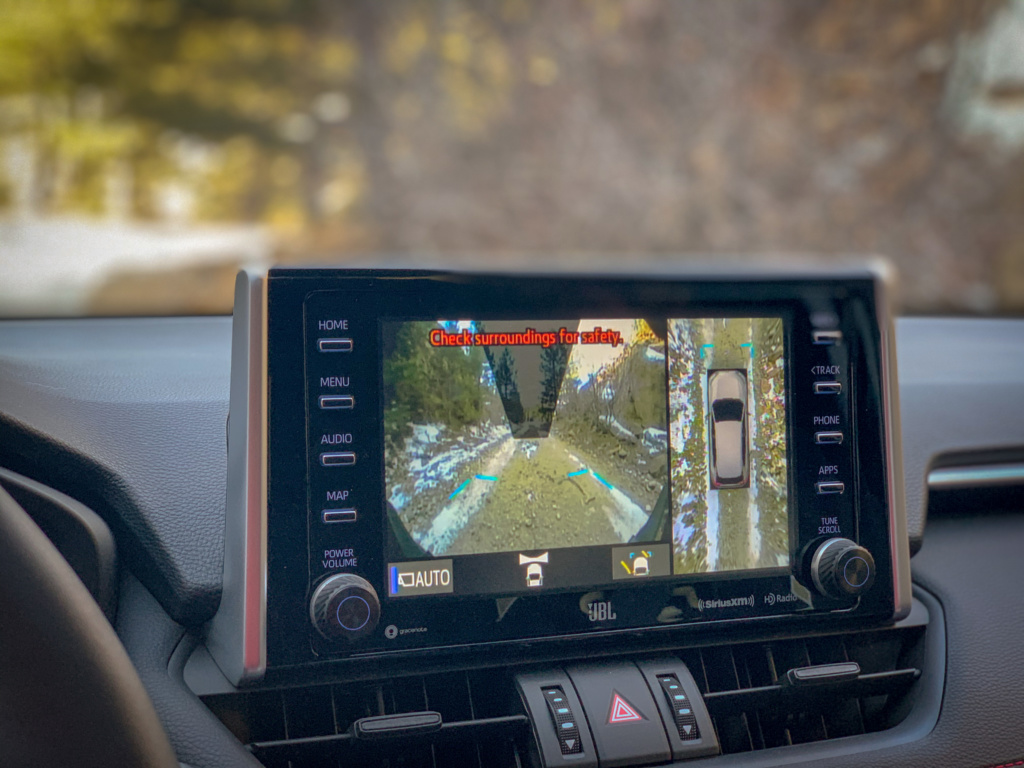 Toyota's infotainment system earns mixed reviews as it incorporates an easy to learn menu layout with graphics that lack the crispness expected from modern displays. Navigation, SiriusXM, Apple CarPlay, and Android Auto make use of an 800-watt 11-speaker premium stereo system from JBL. It has the name and numbers to deliver on the advertised concert-like experience though I felt that the sounds never engulfed the senses as I had hoped. Its overall performance, including the lack of noise from ratting interior panels, is better than most in this class. Overall, the layout of the interior controls is intuitive with one exception being the fuel door release lever whose nondescript design feels at odds with the row of premium-feeling lighted buttons just above it. 
Space and Size
Space-wise, the RAV4 is a bit of a head-scratcher. Space is good in a general sense but front and rear passengers who are much over 6-feet tall may feel their hair touching the headliner – something unexpected considering the RAV4 rides on a completely new chassis and body design. All seating positions afford generous legroom while the front passenger's feet are free from encroachment by the wheel-well. The cargo area is impressively low and wide while the measured volume is not as large as the Honda CR-V.
Power and Efficiency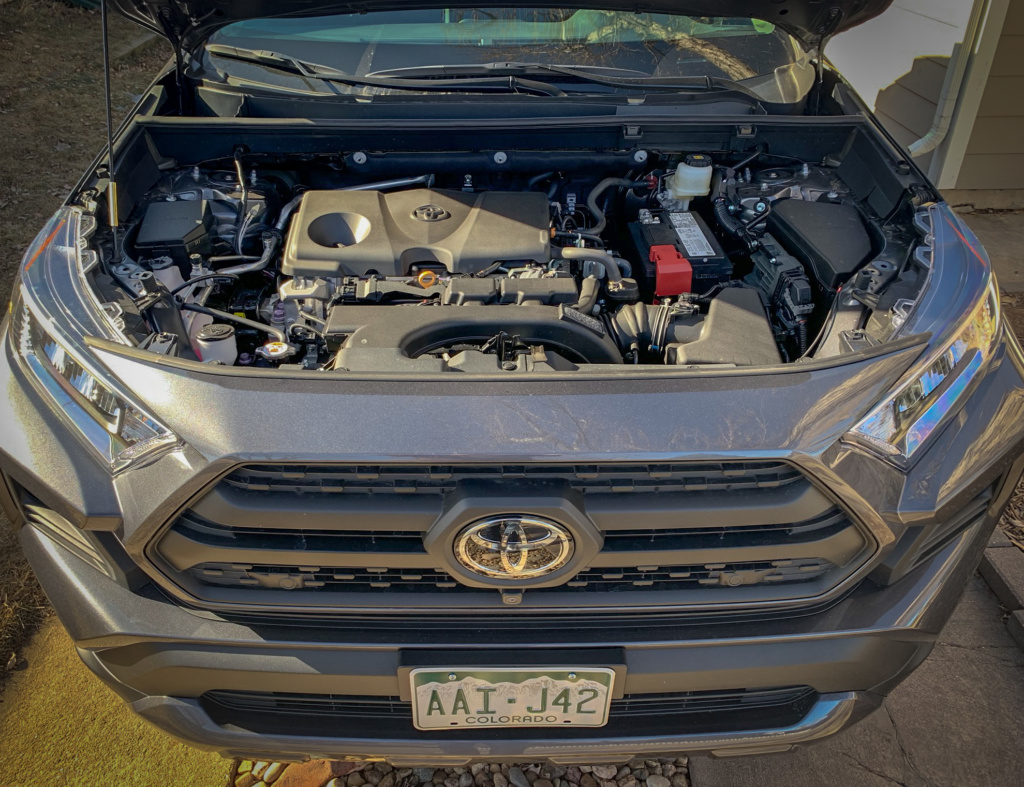 The powertrain's performance is the RAV4's primary weak-spot. The 2.5-liter four-cylinder atmospherically-aspirated engine generates 203 horsepower and 184 lb-ft of torque is teamed up with an eight-speed transmission. That duo should provide more than adequate acceleration, however, the transmission's tall gearing hinders initial progress and the engine's loud coarse noises discourage heavy throttle use. Merging onto highways and passing on two-lane roads require more time and perceived effort than its turbocharged competitors. Despite its performance woes, the RAV4 is, undoubtedly, efficient. The engine boasts excellent thermal efficiency, meaning more of the fuel's explosive energy is transferred to mechanical motion than in other engines, and its all-wheel-drive system features a disconnecting driveshaft so it is literally less of a drag. Unsurprisingly, the roof rack, blocky all-terrain tires, and raised ride height are detriments to the RAV4's overall efficiency numbers, however, it is still more efficient than other brands' off-road-tuned models and carries an EPA-rated 25 miles per gallon city, 32 mpg highway, and 27 combined.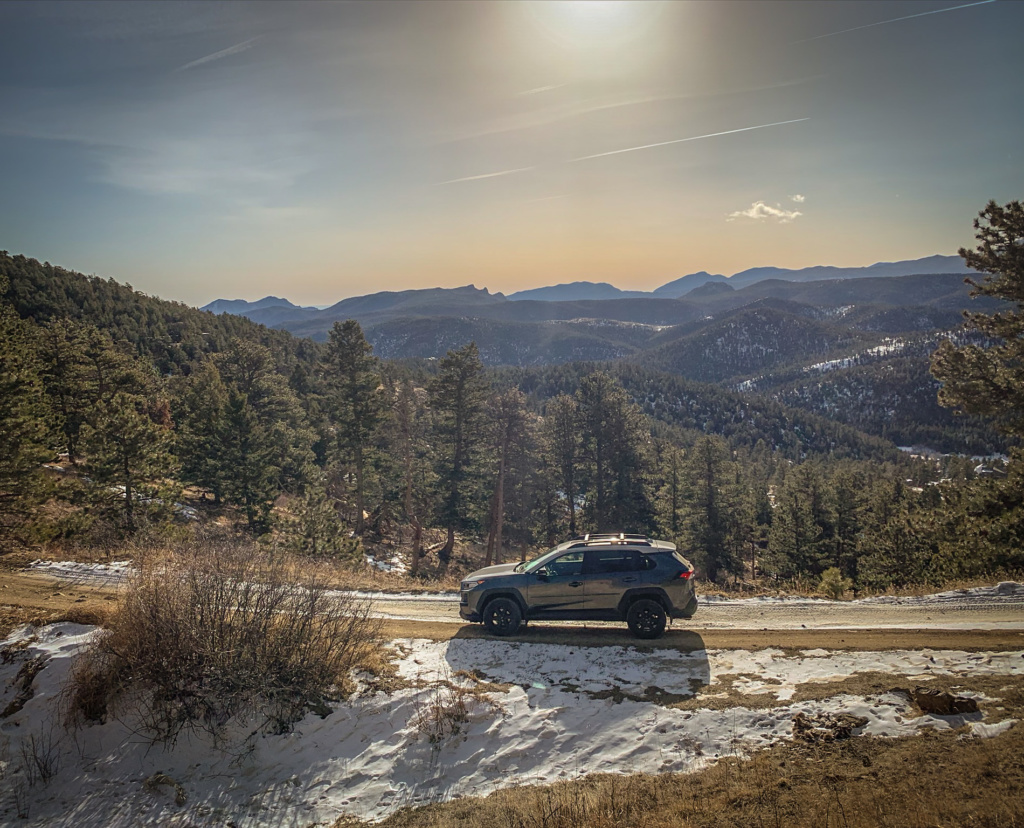 Ride and Handling
Armed with the knowledge gained while supporting the RAV4-based Ryan Millan Rally racing team and utilizing the new RAV4's 57% more rigid body structure, TRD went to work on the suspension's springs, dampers, and sway bars. The final result is a RAV4 that can easily handle rapid wash-boards, sharp dips and crests, and moderate impacts that would shake other crossovers to the side of the road. The smaller 18-inch wheels (down from 19-inch) allow for a larger tire sidewall to help with rough-road isolation, while redesigned jounce pads (aka bump stops) afford more distance for the dampers to do their work. Underneath, plastic covers extend the length of the car and protect the vitals from flying rocks while the torque-vectoring rear differential sends power to the outside wheel though, it was slow to react when briskly merging into traffic and the traction control often had to step in to quell the front wheel slip. Also, leave the rock crawling and heavy hauling to the 4Runner and Sequoia TRD editions as those are well outside of this RAV4's wheelhouse.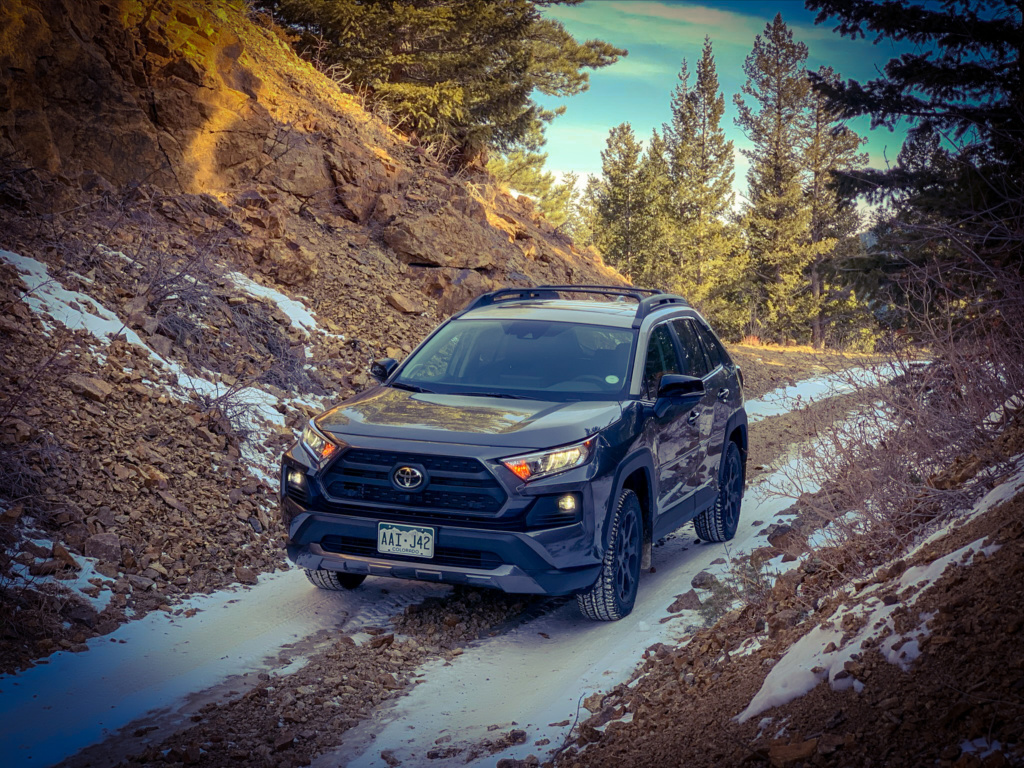 Safety Tech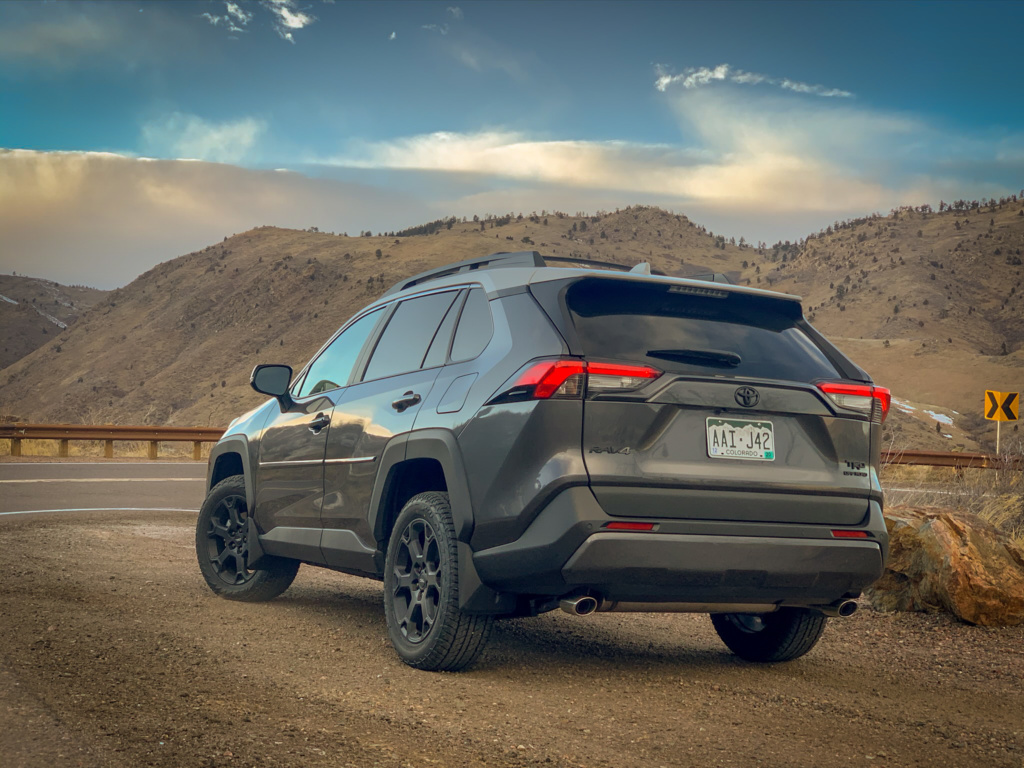 The RAV4 TRD Off-Road proves its added capability doesn't mean added compromise. A tight-turning radius, large window openings, and large mirrors provide good maneuverability and visibility while the chassis is quick to react to avoid situations as well. Toyota's latest generation of driver-assistance technology is present and includes a low-frustration-level adaptive cruise control system, automatic emergency braking with pedestrian detection, reverse automatic braking, and a lane keep assist system that frustratingly bounced the RAV4 back and forth within the lane.
Conclusion:
If you can get past the high price-tag and the mediocre powertrain, the TRD Off-Road includes the wholesome engineering of every RAV4 while providing an impressive level of rally-inspired handling fun.