Automakers respect the skeptical viewpoint that many pick-up consumers have regarding dramatic changes and in the case of the Toyota Tundra, the same essential truck carried on for 15 years. But now, for 2022, the all-new Tundra pulls in some of the best "new" technologies from across the segment to give it a unique advantage over others in its class.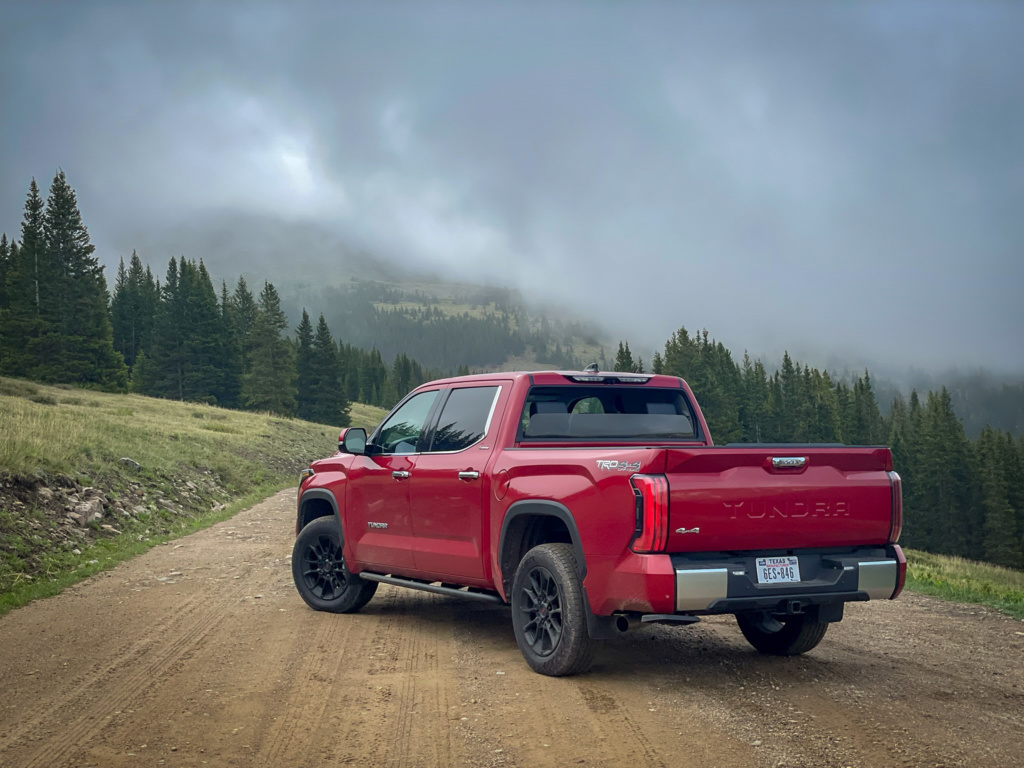 All eyes were focused on Toyota to see how it could further its status as a legitimate alternative to the long-standing leaders. The easy path would have been to stick to the same tried-and-true formula, however, for a multitude of reasons, the Tundra was in need of an upgrade in nearly every aspect. Well, that's exactly what it got and the new Tundra pushes the boundaries in several ways.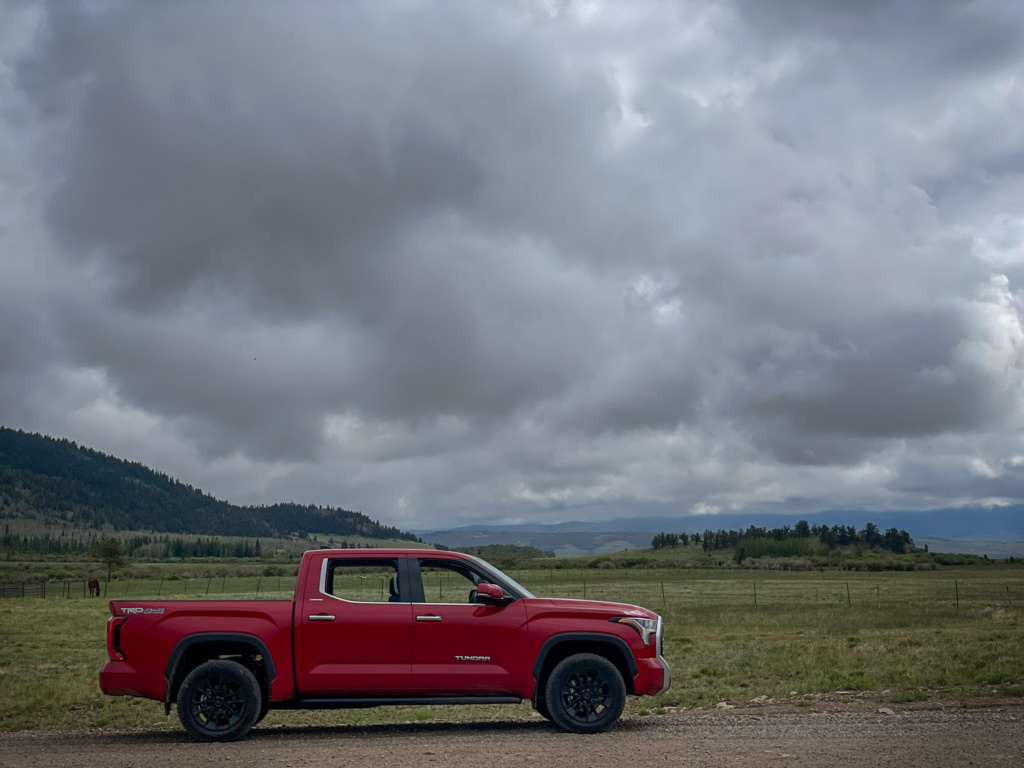 The twin-turbocharged 3.5-liter V6 generates more power and significantly more torque across the rev range than the burly but old 5.7-liter V8 and, just as important, it is remarkably more efficient – to the tune of over $1,000 in annual fuel savings per the EPA. The unremarkable six-speed automatic has also been tossed in favor of a 10-speed box that plays nicely with the tidal wave nature of a boosted engine.
At low speeds and at light-to-moderate throttle application, it lets the engine spin quickly up to about 2,000 revs to get the turbochargers spinning and then slurs the shifts for a sustained rate of acceleration. Use a heavier boot to avoid the engine's constant-speed drone and the transmission shows a whole different personality – one that brings a bit of excitement with quick and firm upshifts. It'll have you looking for excuses to get on it. But accelerate with too much enthusiasm and the Tundra will reveal the powertrain's primary downside; the lack of an automatically engaging four-wheel drive system (and an overbearing traction control system) which is offered by its competitors.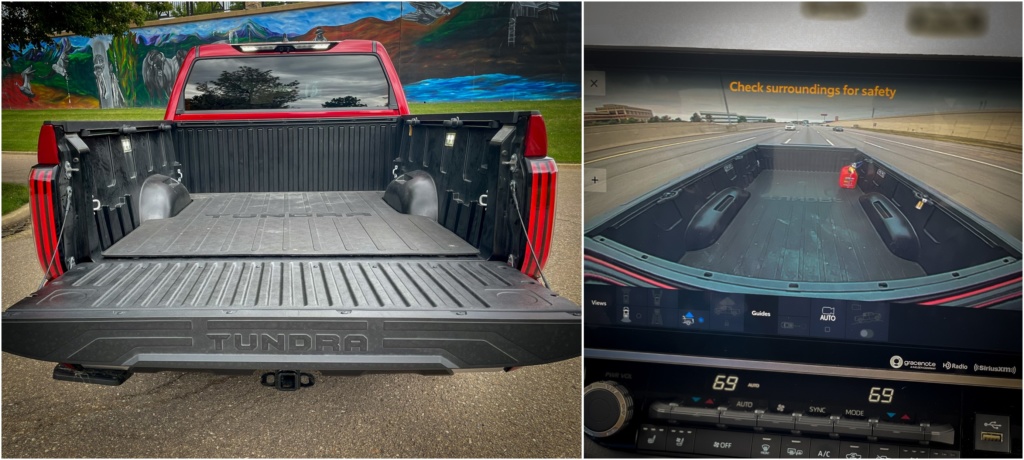 The Tundra's ride was never its strong suit so improving upon it wasn't such a challenge yet Toyota went all out – starting with a coil-spring rear suspension. The choppy concrete highways have become much smoother and mid-corner bumps are less of an event. All the while, the Tundra's improved frame enables an 11,000 pounds of towing capacity (in the most popular configuration) and 11% more payload capacity. For those who frequently tow, the Tundra offers rear air suspension that levels out the ride and even lowers it for easier hook-up.
Speaking of trailer duty, the Tundra is filled with thoughtful technology that helps to easily negotiate most towing situations such as side lighting, two levels of tow/ haul powertrain settings, and a backup assist system that can read the angle of any trailer to drive it straight rearward.
Inside, the Tundra has learned how to better use the vast space provided by a full-size truck. A large center console, rows of switches that remain within easy reach, and a bulky shift lever provide the right visual balance and are practical improvements over the previous generation.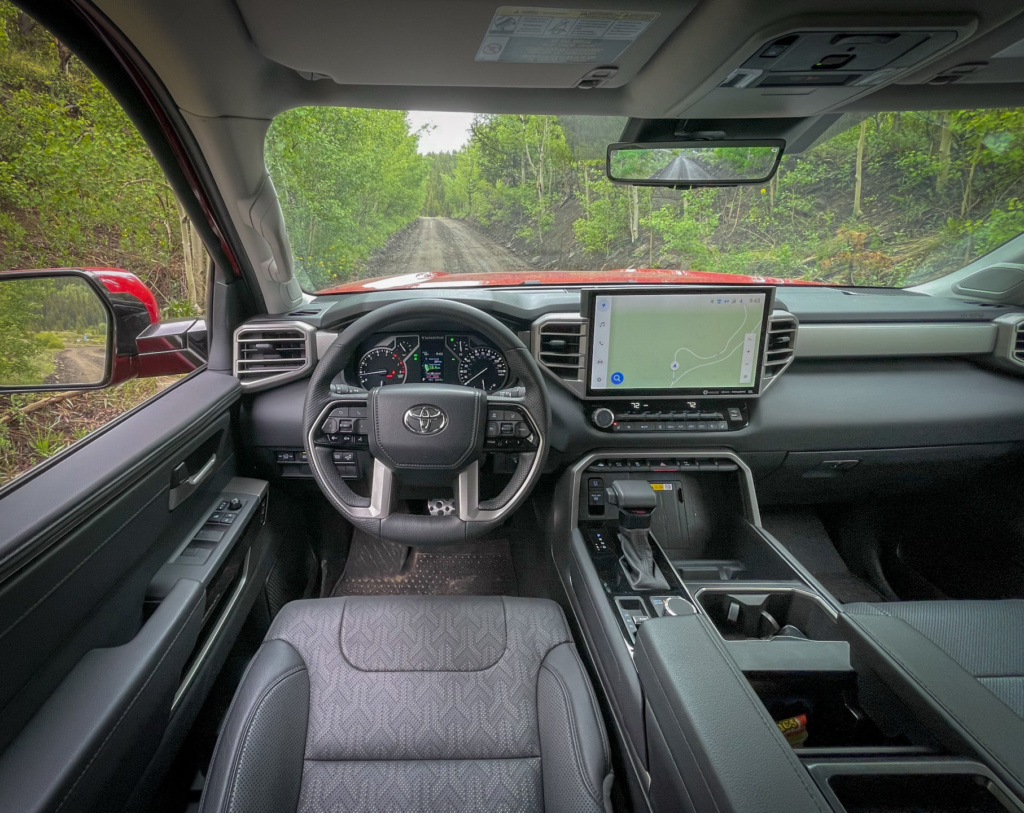 The rest of the interior experience is as one would expect in today's modern pick-ups, with plenty of controls and features. This mid-level Limited trim's surfaces feel more durable than premium but it feels worthy of its nearly $60,000 price tag. Its synthetic leather seats are wide and very comfortable, the steering wheel is one of the best in the business, and the gauge cluster looks precise and incorporates a four-inch color information display.
The driver's position is high up above most other traffic and the large mirrors provide good side visibility, however, the Tundra's seriously tall hood brings uncertainty into tight parking lot maneuvers. Thankfully the excellent surround-view camera system can be set to turn on automatically and can even recall the recorded images of the terrain underneath the front wheels for precise vehicle and tire placement – part of the TRD Off-road package. However, there's simply no avoiding the fact that this is a large truck that simply won't fit in many city parking scenarios.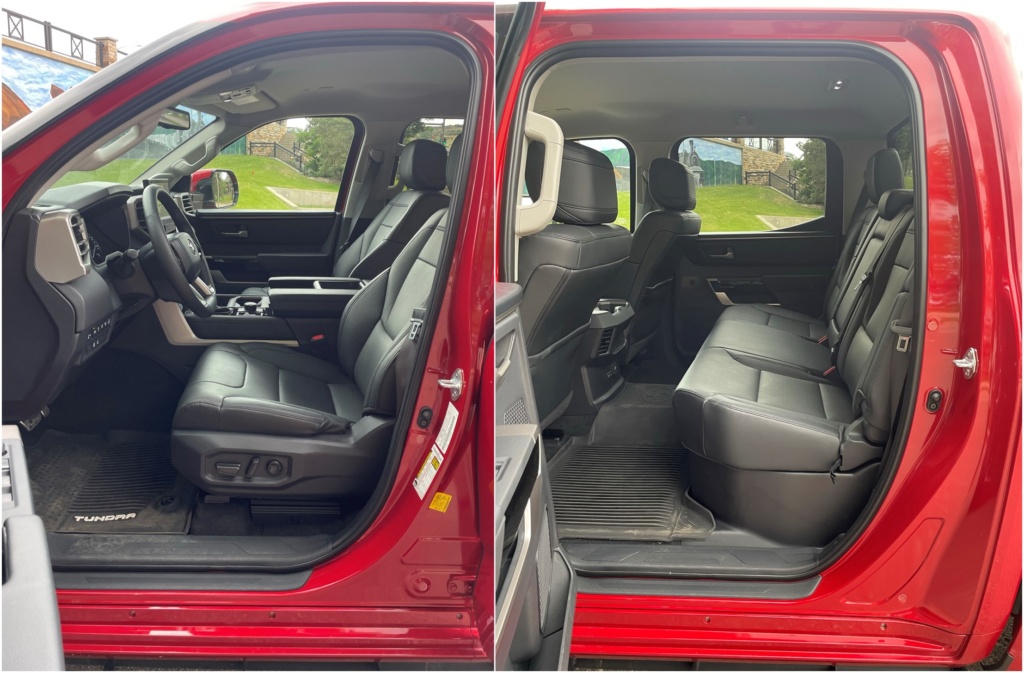 Toyota's long-standing reputation for durability helps to wipe away most concerns that come with new(er) truck technology. Its styling is far more outspoken than before and its blockiness takes some warming up to, but the Tundra's thoughtful touches, its tight panel fitment, and modern features will ultimately win you over.
The all-new Tundra doesn't rewrite the rules as Ford and RAM have done, yet it wears forward-thinking hardware like its rear suspension and more efficient powertrain that position it as a solid contender for many years to come.