This GMC Yukon, and its flagrantly similar Chevy Tahoe, dominate the large SUV market and this latest generation that debuted in 2021 shows how much it's grown, not just in size but also in refinement.
It might seem overly apparent that the Yukon is big but piloting it on the road really puts it into perspective. Its overall length had grown by six inches over the last generation but at least the engineers have cracked the code and created a vastly more space-efficient interior.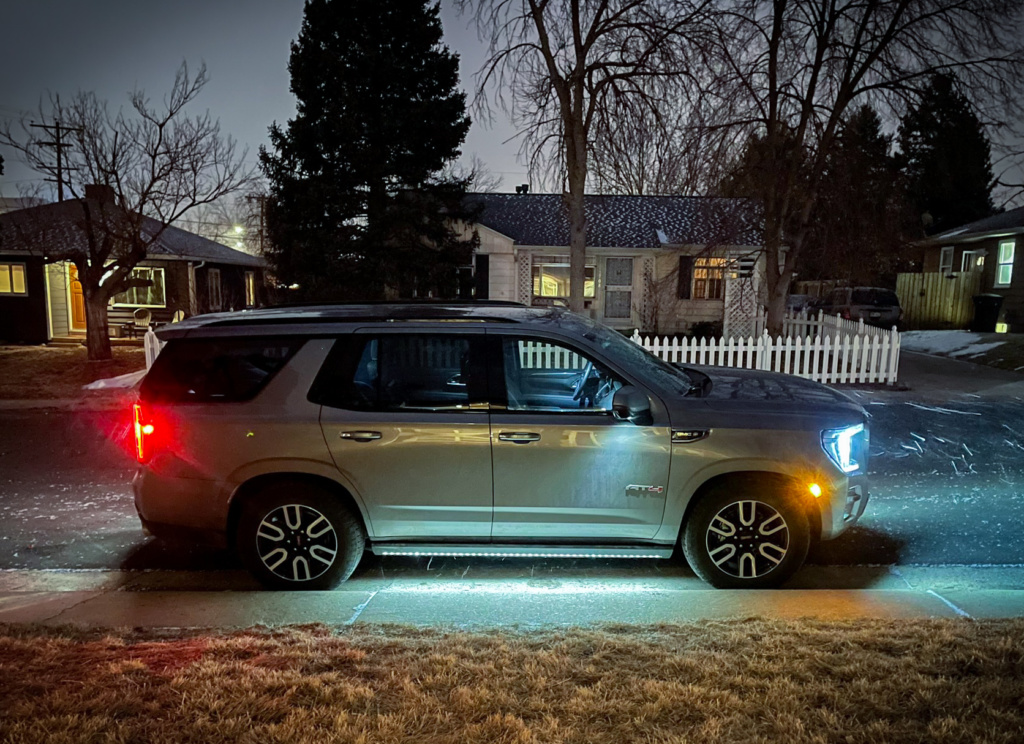 The Yukon's low window line, low dashboard, and large mirrors bring a quick sense of confidence for navigating around, and getting inside this behemoth is easy due in large part to the large doors and optional power-deployable running boards.
Second-row passengers are greeted with plenty of legroom and a vast view of the sky through the large panoramic roof but the optional seat back-mounted monitors constantly intrude on your personal space and restrict one's forward view. The third row's spaciousness is a rarity in the market as it is entirely suitable for adults and it doesn't come at the expense of the cargo area which is expansive.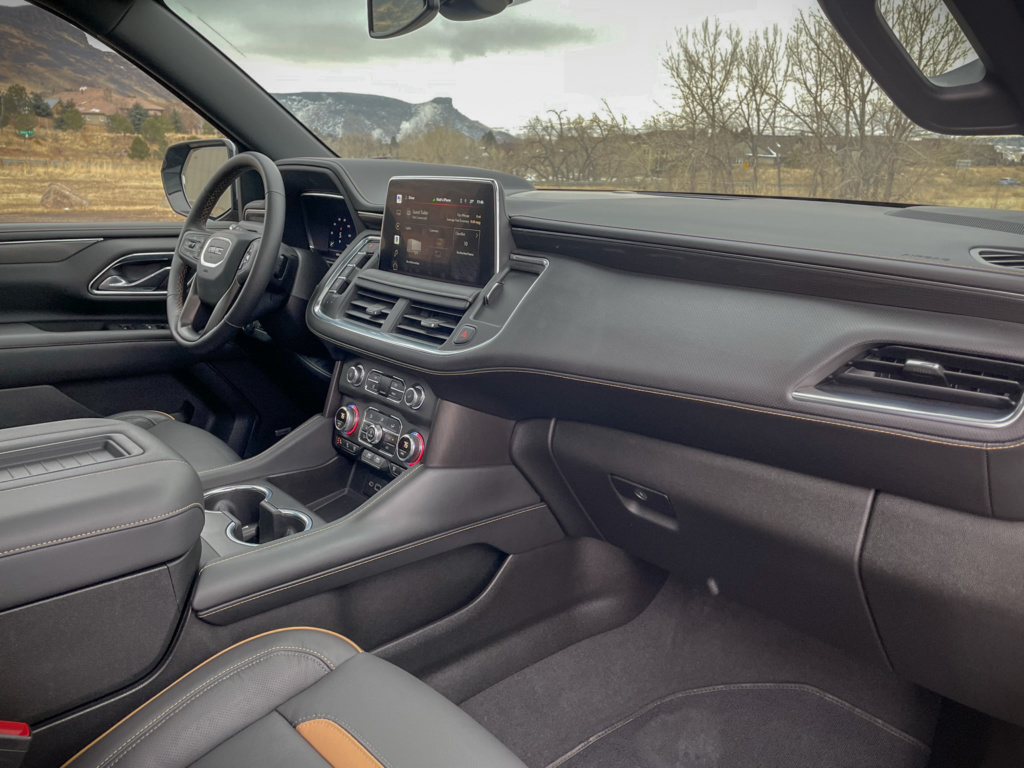 The Yukon's interior is fundamentally a success with many physical controls, an easy to reach touchscreen, and crisp displays. However, at $80k, the Yukon's interior should satisfy higher expectations. The few attempts to add style and differentiate it from the Tahoe are not entirely convincing. And one aspect that never felt suitable was yet another new method for shifting the transmission. For all of GMC's effort, curling your finger sideways and pulling on the switch to engage drive or reverse feels no more intuitive and less elegant than other designs – not that the Expedition's console-mounted dial is any better.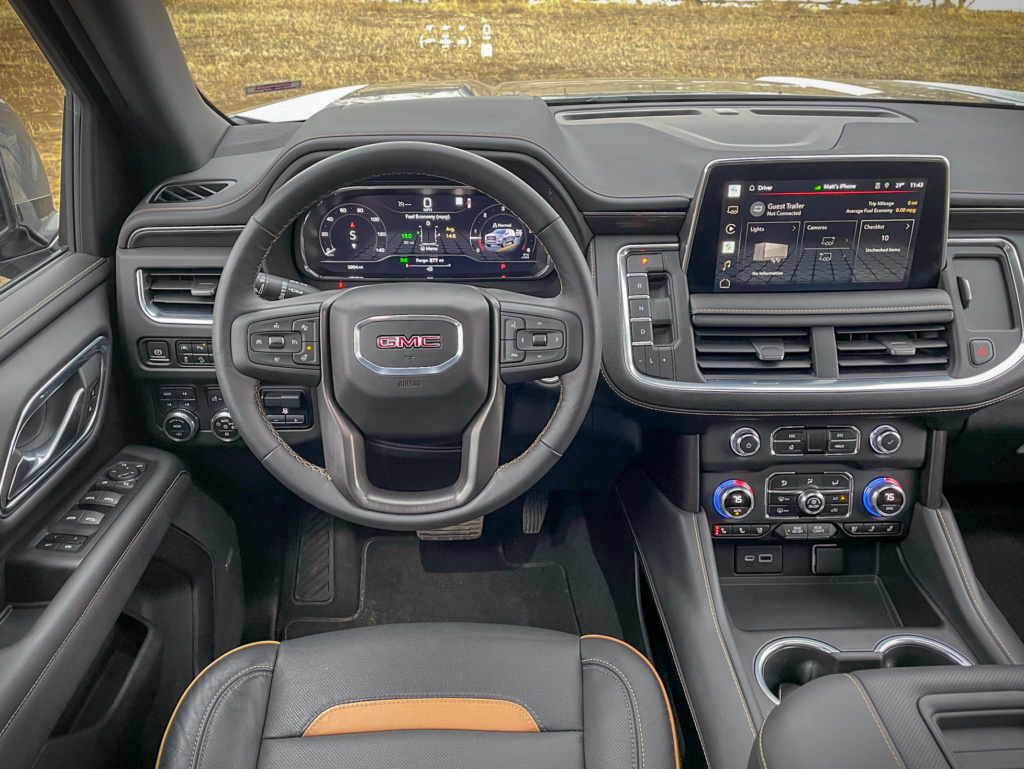 The dash-mounted controls do, however, free up enough space for a motorized sliding center console. What started out seeming like an over-engineered gimmick eventually convinced me that it was a practical solution and one that got used a lot during the Yukon's time with me. Its 10-inches of fore-aft travel creates a flexible space that is large enough to securely place a take-out order and even allows access to another storage tray. The only oddity is that its switch is up by the sunroof's controls.

Other opulent but practical designs include power-folding (up and down) third-row seats and second-row seats (down only), excellent HD surround-view cameras, numerous towing customization settings, an attractive 12-inch digital gauge cluster (new for 2022), and a massive head-up display. Paired with an impressively quiet cabin, a punchy stereo, and numerous infotainment options, the Yukon is a perfect partner for extended road trips.
The Yukon's list of notable features extends under the hood with a newly available 6.2-liter V8 engine – the Tahoe is only available with the less-powerful 5.3-liter V8. Its pushrod-valve setup speaks to its small-block heritage while its improved combustion efficiency, including next-generation cylinder on-demand controls, helps the large engine generate peaks of 420 horsepower and 460 pound-feet of torque while also helping the big SUV earn an EPA-estimated 16 mpg combined – not too bad for this class which is populated mostly with other thirsty SUVs.
If only the transmission had similar wits about it. It was fairly often caught acting untoward. For example, when pulling into traffic, the 10-speed auto quickly upshifts, and if one quickly moves to increase throttle in the middle of one of the low-speed upshifts, the transmission's torque converter crudely steps aside and it delivers an abrupt gear engagement. Once underway, the transmission works well with the engine's powerband and delivers a downshift when expected and the powertrain duo gets a lot of credit for the Yukon's effortless highway composure.
The Yukon's calmness is also attributed to the optional air springs and adaptive dampers. High-frequency ripples, large dips, and sharp impacts are absorbed with little cabin intrusion and mid-turn bumps rarely cause the need for even a slight steering correction. The Yukon maintains its composure over nearly all road surfaces and inclined entry ramps, but don't expect it to transform the Yukon into some canyon road carver.
This off-road themed AT4 trim makes good use of the air suspension's ability to raise the body two inches and additionally includes redesigned bumpers to improve approach angle and skid plates to help with identifying rocks that still won't fit underneath. The suspension can also lower the body two inches for improved access but it's accompanied by a sharp pressure-release hiss and it's not very quick to react nor are the controls easy to operate.
The AT4's also includes several terrain settings with unique displays in the gauge cluster, and its two-speed four-wheel-drive system even offers an Auto setting that allows it to determine when four-wheel drive is necessary without any driver intervention.
The Yukon's overall nature is one that is relaxed, confident, and capable. While its exterior shape and interior design are very similar to the Tahoe, the Yukon's feature upgrades are significant and help justify its elevated cost. If you have a need for a large SUV with a large hauling capacity, a large interior, and don't mind a large fuel bill, the Yukon should be at the top of your shopping list.