This is the real deal – a true sports car. This fifth-generation Supra has an obvious engineering connection with BMW yet a design freedom that's uniquely Toyota and the result is something to behold whether it's blasting down canyon roads or standing still.
The Supra's stunning yet inoffensive looks are the result of classic proportions – a long-hood, rear-cabin, and short wheelbase – blended with modern touches and high-tech details. There's a bit (actually, a lot) of embellishment in the design, with blocked-off intake areas and air vents, but every inch of the Supra feels purposed with building a dynamic flow of shapes from the front to the rear.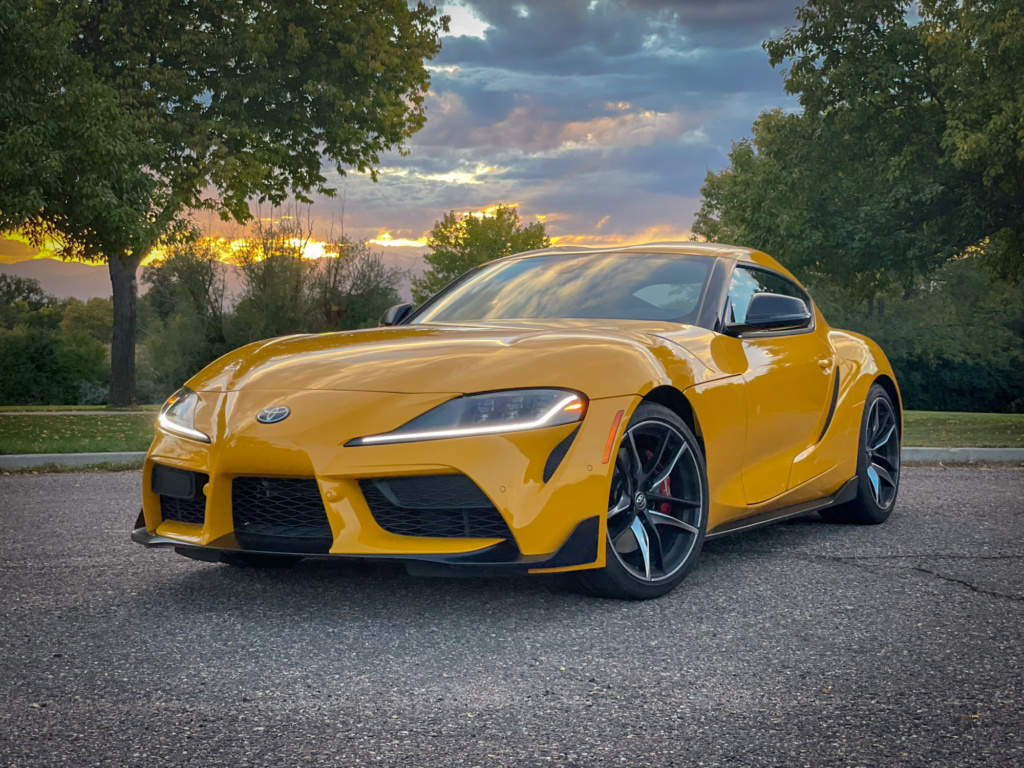 From the F1-inspired front pointed nose that reaches for the ground to the splitters and ground effects that abruptly extend from the smooth body sides, to the sharply rearward sloping roofline that stems from a blacked-out a-pillar and features two domed shapes for added head/helmet room, and lastly, to the huge rear fender whose curve develops just aft of the front fender and curves upward and inward where it meets up with the teardrop-shaped cabin.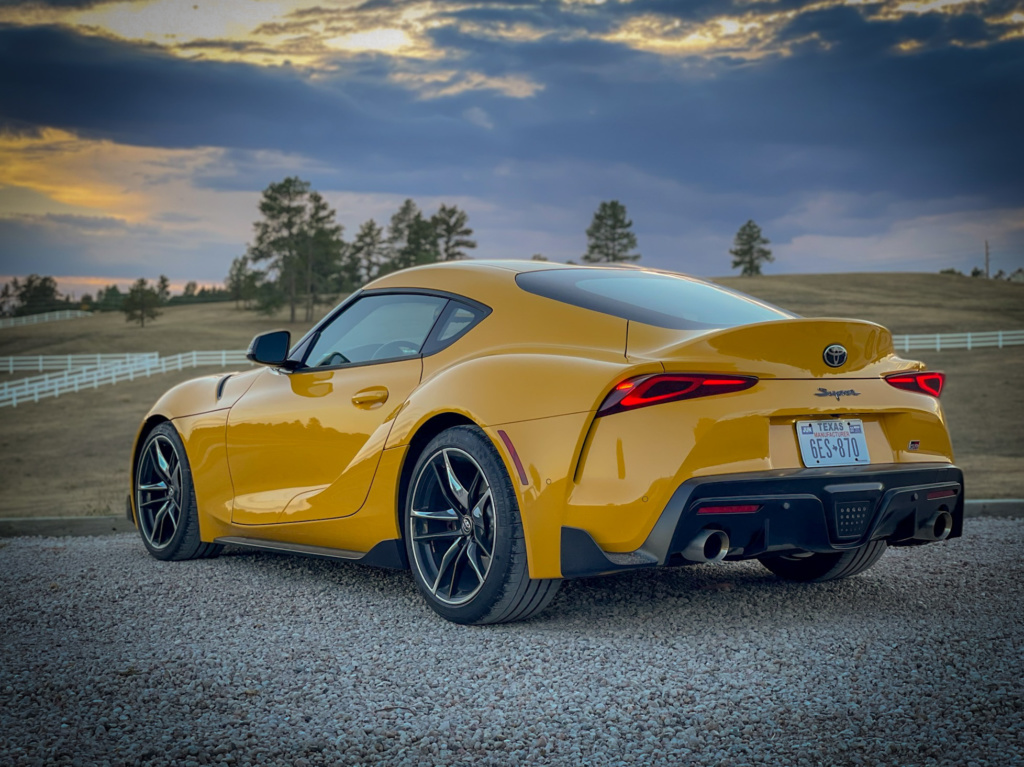 A prominent duck tail, precisely designed LED taillights, and a few more faux vents break up the large surface of the rear bumper and its curves serve as an offset shape for the diffuser insert which also takes on some F1 cues. While some of its aspects may not be functional, it at least is genuine in its message and its cohesive design gets more impressive the more it's analyzed.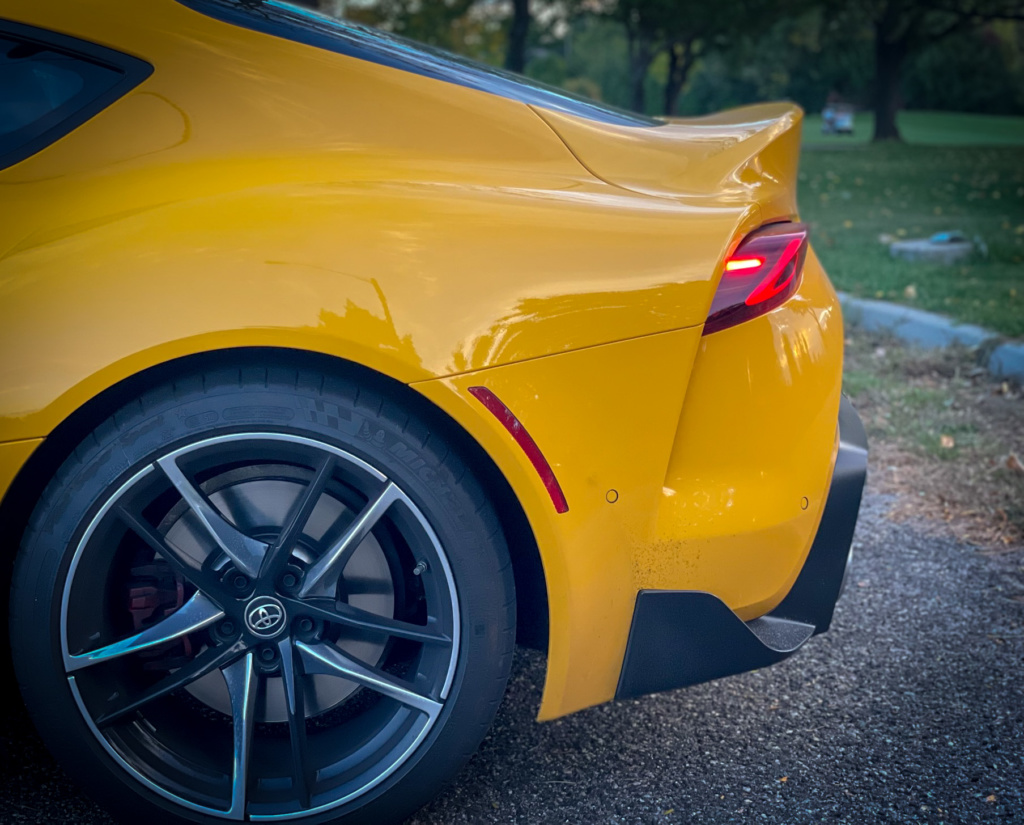 The interior, on the other hand, is far more reserved than the exterior, but it's just as well executed. Its design is free of distraction and one could argue, even practical. There's no hiding the BMW influence inside which means premium-feeling controls and straight lines of button arrangements.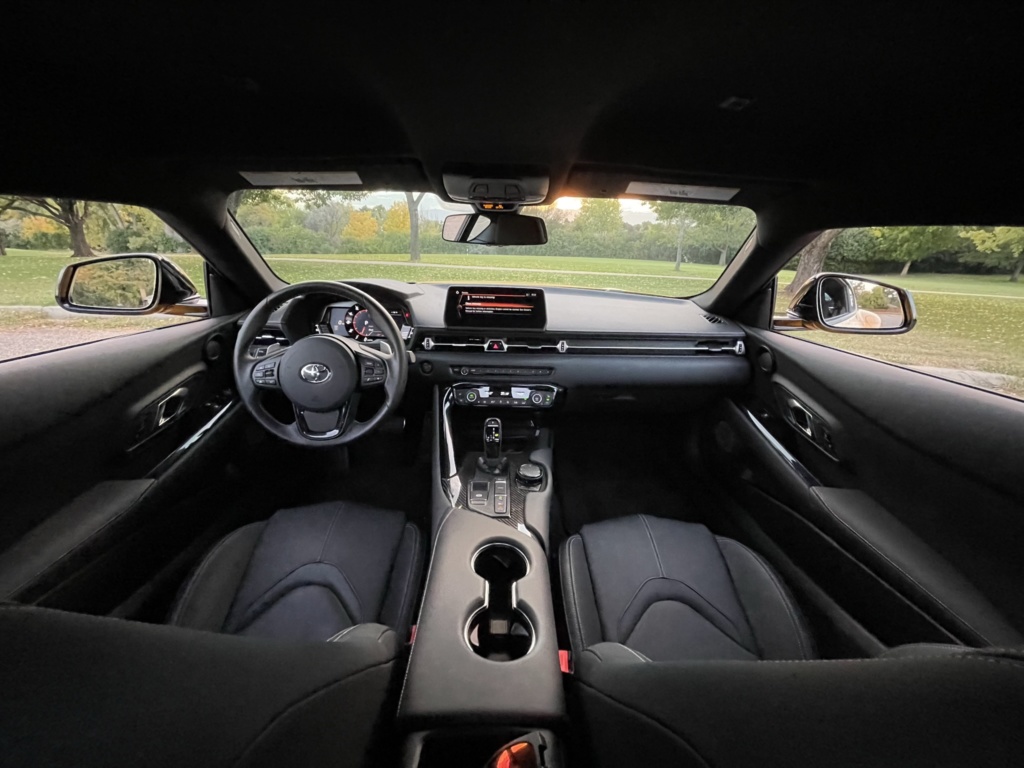 Sitting atop of the padded dash is a Supra-fied version of BMW's iDrive which is fast and has crisp graphics, and below, a plethora of physical controls and dials below that are easy to appreciate for their tactility, especially when trying to make a no-look selection when heading down a bumpy road…try that with a touchscreen interface. The Supra is also equipped with auto-dimming driver's side and rearview mirrors, blind-spot monitoring, and excellently shaped seats with power side bolsters, all pulled from the BMW parts bin. But, despite its premium feel, it never loses its sense of sport and foregoes any temptations for more luxurious features that would otherwise have dampened the connected experience.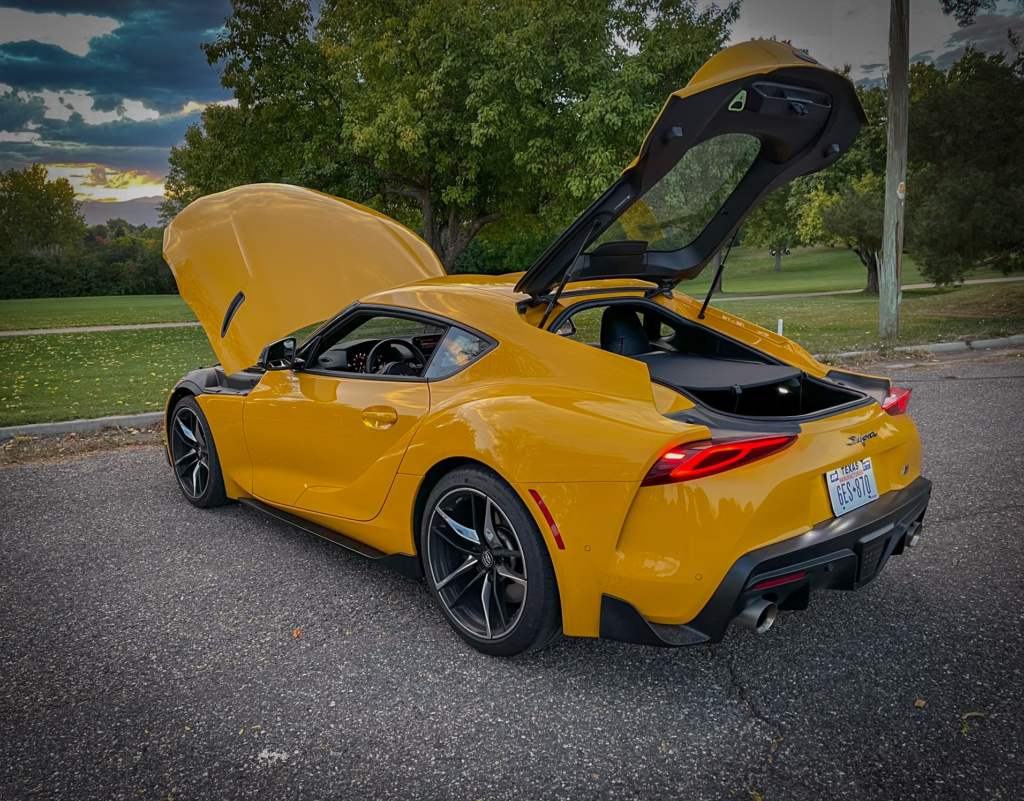 That focus on sport means there are some sacrifices to everyday life with the Supra, however. The hatchback design is a win in the practicality department, but the cargo area is open to the cabin and the Supra's lack of heavy sound insulation allows for an intrusive level of road noise at speed – so much so that even the premium JBL sound system has a difficult time competing. Also, ventilated seats would be regularly appreciated in this adrenaline-pumping car.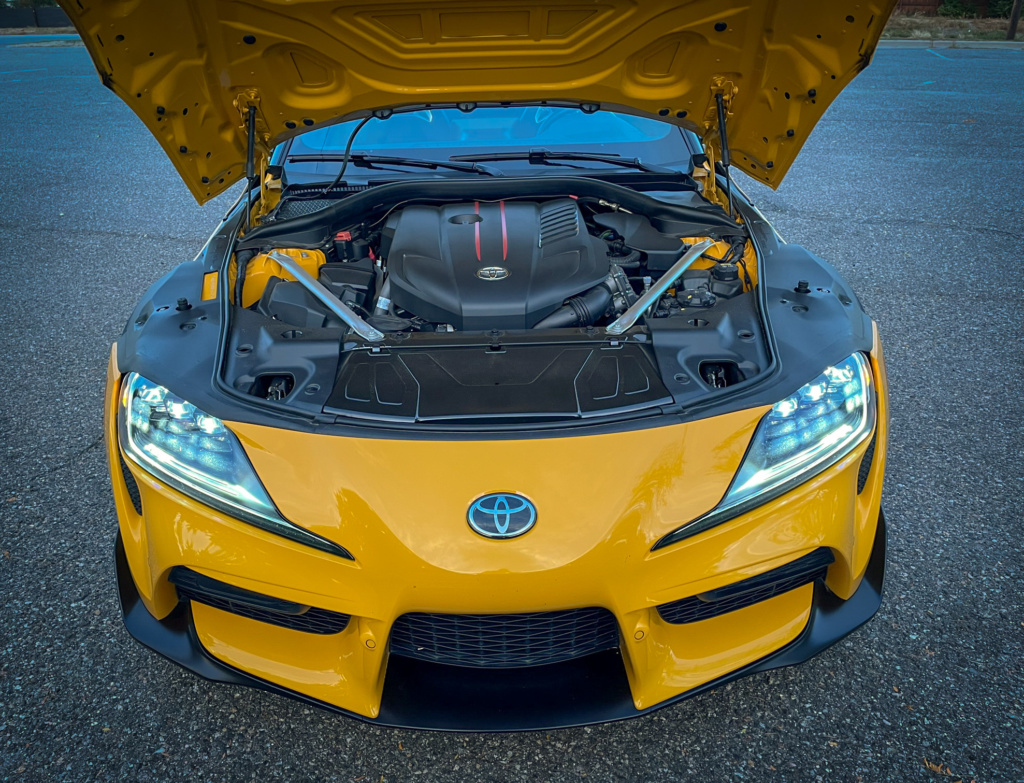 But any quibble quickly falls to the wayside once this powertrain fires up and it becomes the primary focus. The Supra's 3.0-liter turbocharged inline-six and eight-speed automatic are straight from the BMW parts bin and it's an excellent pairing. The engine is incredibly strong – enough to make one suspicious of its "mere" 382 horsepower and 368 lb-ft of torque ratings. Its rear tires (20mm wider than the fronts) often struggle for grip when the turbo is fully up to speed and the transmission fires off crisp upshifts – fast enough to keep the engine on full boost but smooth enough to not upset the chassis in a turn. Downshifts happen in less than a blink of an eye and passing power is simply outrageous. This particular car's bright yellow exterior was a godsend as the Supra's quickness will catch other road-goers off-guard.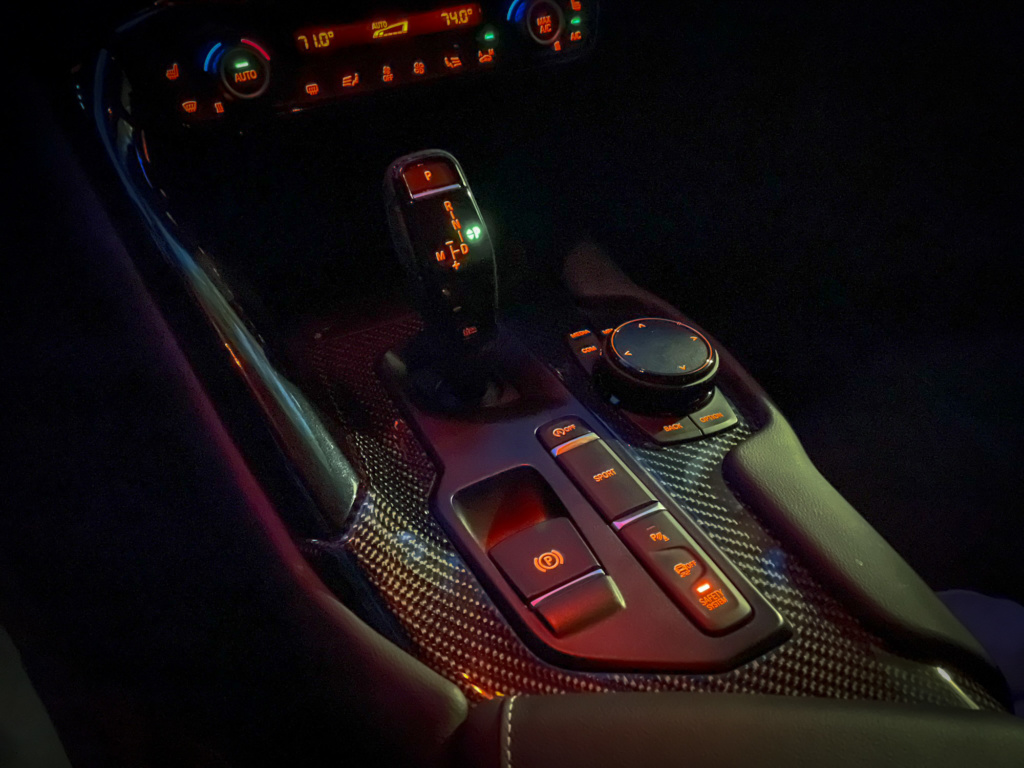 But as much kudos as the powertrain deserves, its chassis is just as thrilling. Throwing the long hood into tight canyon corners reveals an extreme level of grip and balance. And while the steering feel isn't very telling, the Supra is very good at communicating what's happening underneath through the driver's seat. Stay off the throttle and the Supra's tight suspension will keep turning in and the rear end follows neatly but add some throttle and the rear end will gently rotate the car to give you a better angle of attack. It's easy to read and the lack of body motions means it's also easy to maintain the slightest drive. Every move feels just as you would expect, and hope for.
The brakes are also up for having some heart-pounding fun. In typical BMW fashion, the Brembo brakes are very quick to clamp down on the large rotors and there's plenty of power left in the pedal stroke. Off-camber braking reveals the expertly tuned ABS and excellent feel of the brakes and if things get a little too squirrely, the stability control system is there to gently guide the car back into its intended line.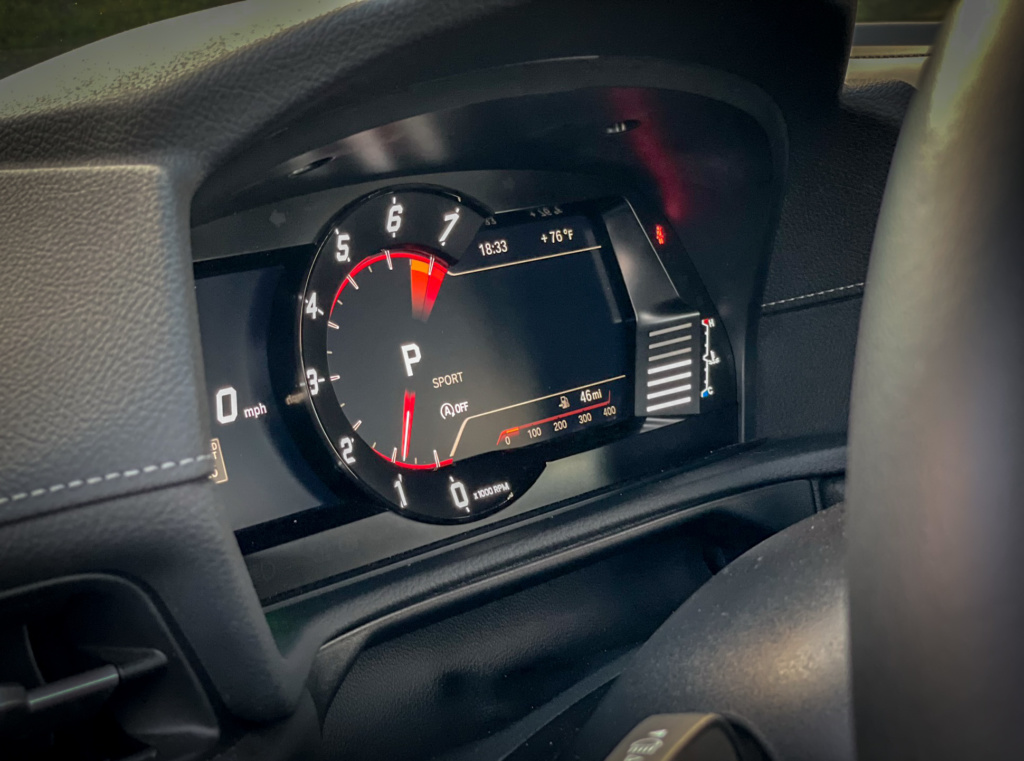 Driving in much calmer settings highlights the successful tuning of the adaptive dampers and the powertrain's remarkable efficiency. While large bumps are too much to be absorbed and the ride is generally stiff, most bumps are absorbed with a surprising level of poise. And just as the engine feels at home generating maximum power, its low-end torque also enables it to plop into 5th gear by 20mph and still have enough power to out-accelerate general traffic. Its 25 mpg combined rating from the EPA is significantly more efficient than its competition and feels entirely realistically achievable – in typical driving conditions, of course.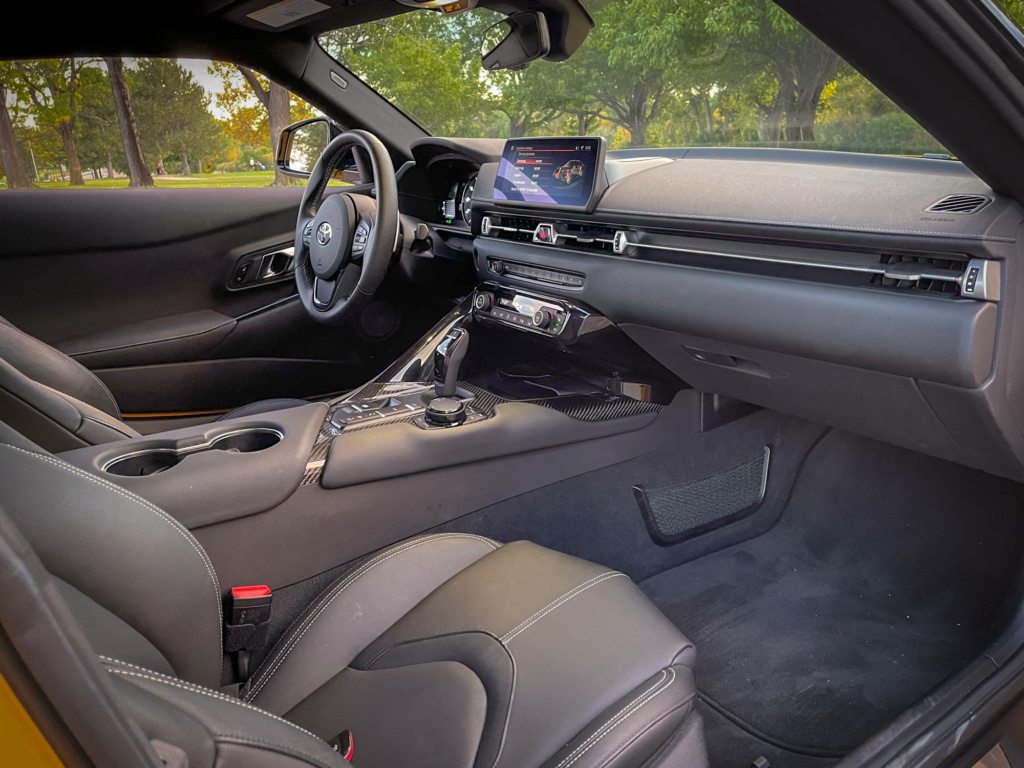 Despite the fact that this generation of Supra is mostly comprised of BMW parts, its stunning style, amazing performance, and premium feel will extend the Supra's legacy for another generation. And despite being introduced recently in 2019, the Toyota team has been introducing performance enhancements and special editions each year (including 2022) and it will even pay for a day with a pro driver to help you get more familiar with the Supra's impressive limits. Its $57k price tag brings certain expectations when it comes to features but what the Supra lacks in luxuries, it more than makes up for with big lasting grins.