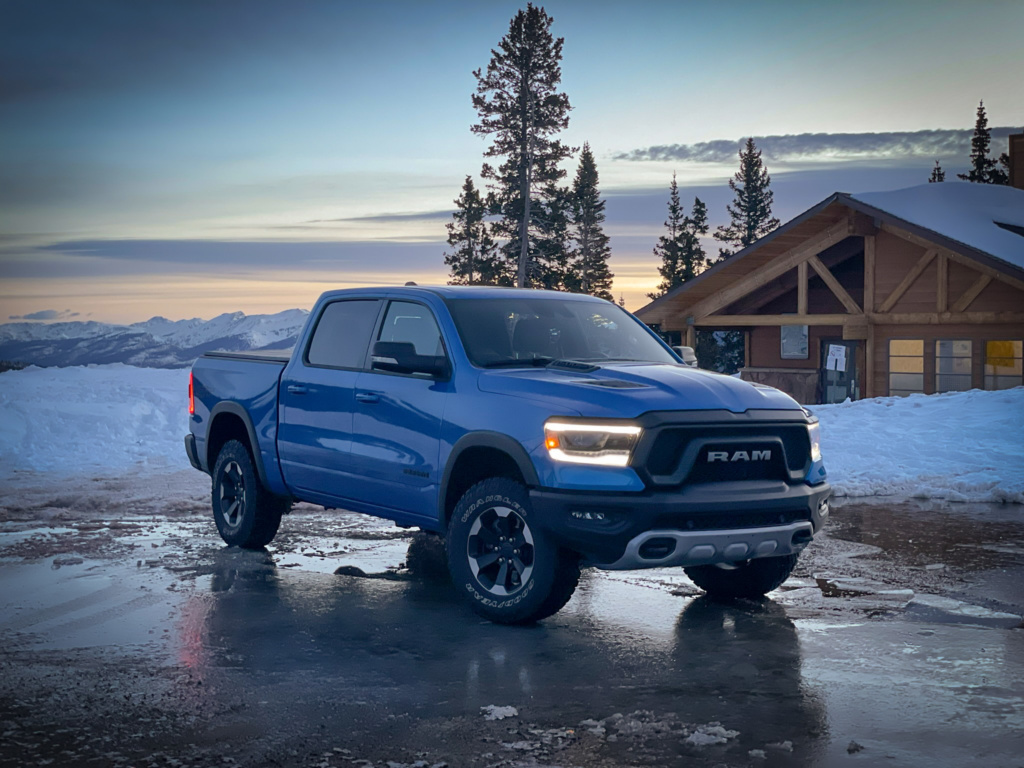 There are very few moments where this fifth-generation RAM 1500 hasn't impressed. From the mainstream Laramie trim to the monster-truck TRX to this off-road-ready Rebel, the RAM demonstrates the engineering and styling teams' efforts to raise the bar in nearly every category. In many ways, it is the segment's benchmark but still, there are a few places with room for improvement.
The RAM's latest design (debuted in 2019) has clear traces of the brand's Kenworth truck styling from the 90s, making it instantly recognizable and ingrained with personality – the same of which can't be said for the new pinch-faced look of the Silverado and square (in more ways than one) shapes of the F-150 .
And to further advance the RAM's off-road appeal, this Rebel trim features notable stylish and functional updates such as a large front skid plate, black fender flares, a chunky black grille, a locking rear differential, a raised ride height, and meaty 33-inch off-road tires. This lands the RAM in the camp of being more capable than the generic off-road package and far more sensible (and less expensive) than the Baja-ready TRX, but it still requires a few everyday compromises for its level-up capability. First, is the raised ride height. The RAM offers plenty of surfaces to grab onto, but ingress requires a coordinated motion – which isn't always going to be graceful. The optional air suspension can help with the seat height but it's slow to lower and a coordinated hop-up is still required.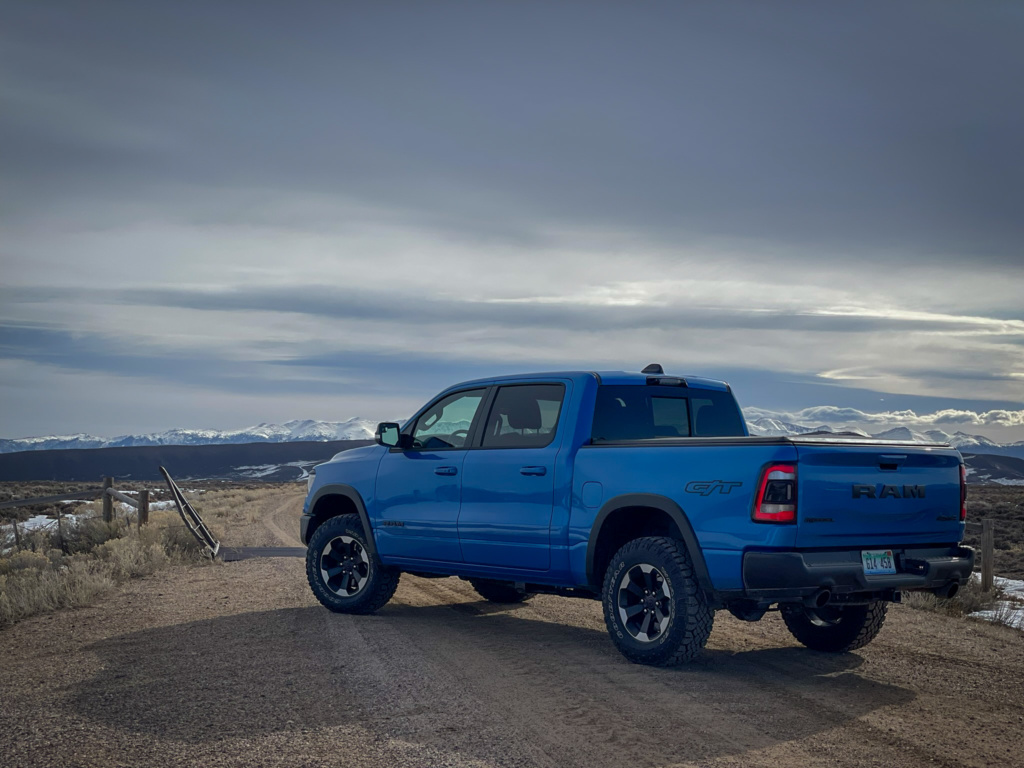 The second most notable compromise lies with the tires. The Goodyear Duratrac tires are for seriously rugged terrain, and, as such, they're heavy, which most notably has a negative effect on the ride over small and fast bumps. Plus their blocky tread picks up (and throws) rocks of all sizes, makes an intruding noise at speed, and sends a subtle vibration through the steering wheel. A set of good all-terrain tires will provide better all-around performance on dry and wet pavement and even deep sand, all while improving MPG – because, at $5 / gallon, every little bit helps. 
The V8 engine does its part to help be more efficient. In addition to the familiar advanced combustion controls, a motor-driven accessory belt adds a notable 130 lb-ft of instantaneous torque (and helps the engine quickly refire from a stop). The transmission also goes above and beyond for its owners. Instead of shedding its gears as quickly as possible, which can lead to the powertrain feeling flat-footed, the RAM is free to rev through the lower gears and it feels light on its feet. It's also smart enough to promote the engine's strong low RPM power and allow the truck to accelerate without triggering an unnecessary downshift. Overall fuel economy was a solid 18-mpg which felt appropriate for this RAM's power and size.
The interior scores with the fundamentals- open layout, easy-to-use controls, and good storage space – and impresses with details that improve everyday experiences. The large configurable center console can fit hanging folders, the wireless charging pad is easily accessible, securely holds phones, and fits different sizes, and the an adaptable storage space under the second row that can easily fit a pair of boots and expand to provide support for grocery bags or other small items. On the road, the cabin is rattle-free, the mirrors are large, and the steering has an accurate on-center feel – all of which go a long way into making the RAM an easy place to spend time.
The interior is also not without a few examples of compromises required for that advanced performance and good looks. The Rebel's power-dome hood cuts into some forward visibility and the optional side steps pose risk off-road. Also, the premium stereo requires the large 12-inch infotainment touchscreen which comes with its own challenges. Its menu sizes require a steady moment to locate commonly used features and the powerful system even got too hot after a long day of driving and required a cool-down and a reboot – during of which Bluetooth is unavailable. An 8.4-inch display is also available in the Rebel trim and includes nearly the same infotainment system and connection features and leaves the HVAC controls as physical buttons – a seemingly ideal setup.
A new-for-2022 G/T package was also included on this truck, which, most notably, means that it is equipped with a cat-back exhaust. It's loud on start-up (sorry neighbors) and announces the transmission's unathletic slurred upshifts, but at speed, it settles into a melodic rumble without a hint of droning – impressive. The G/T package also adds a cold-air intake, large paddle shifters (with near-full shift control), and a bonafide transmission shift lever that is head-and-shoulders above the standard RAM's dash-mounted rotary dial.
The RAM has a version for nearly everyone and this Rebel trim gives the off-road crowd a fantastic option with its legitimate off-road upgrades. Its $72k price tag might cause you to think twice about squeezing it through an off-camber trail section, but its premium craftsmanship, well-thought-out design, and all-around capability help take away some of the sticker shock and make this truck an exceptional everyday companion.