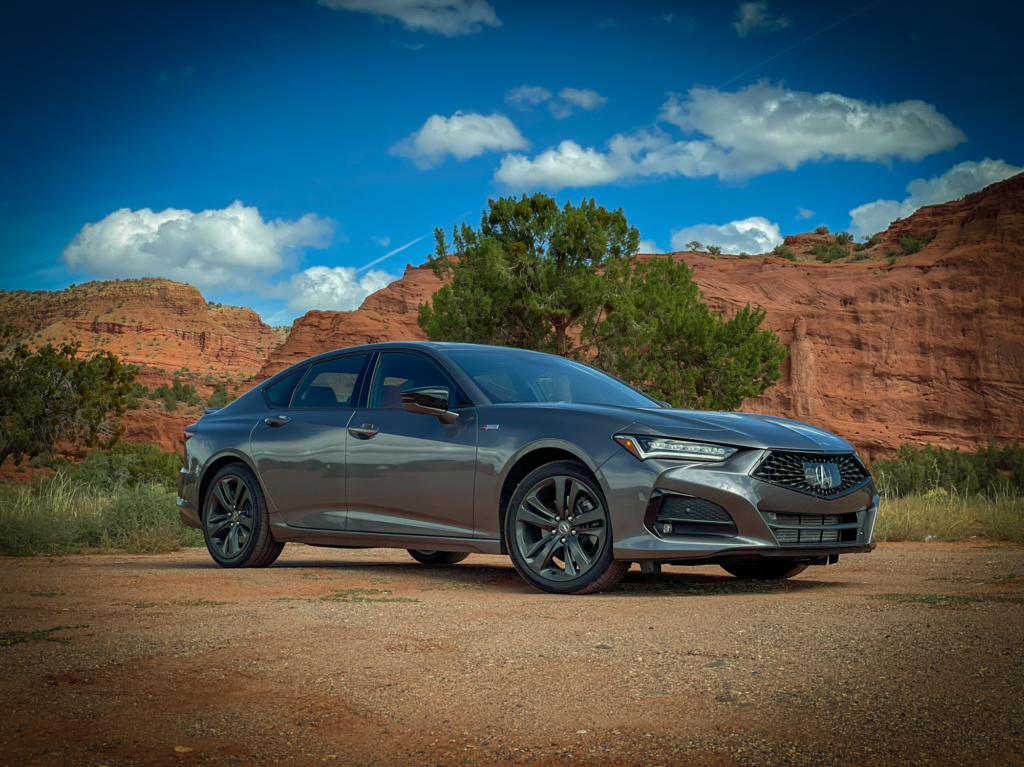 Acura's mid-size sedans have regularly found themselves without a direct competitor as their larger size, lower MSRP, and missing tier-one status makes credible comparisons with the BMW's, Mercedes', and Audi's a bit of a challenge. But this all-new generation seeks to force its way into that conversation by riding on Acura's current wave of successful designs and engineering achievements and, with an all-new chassis, more power, cutting-edge safety technology, a studio-grade sound system, and a premium and edgy design, the TLX is the most convincing competitor yet.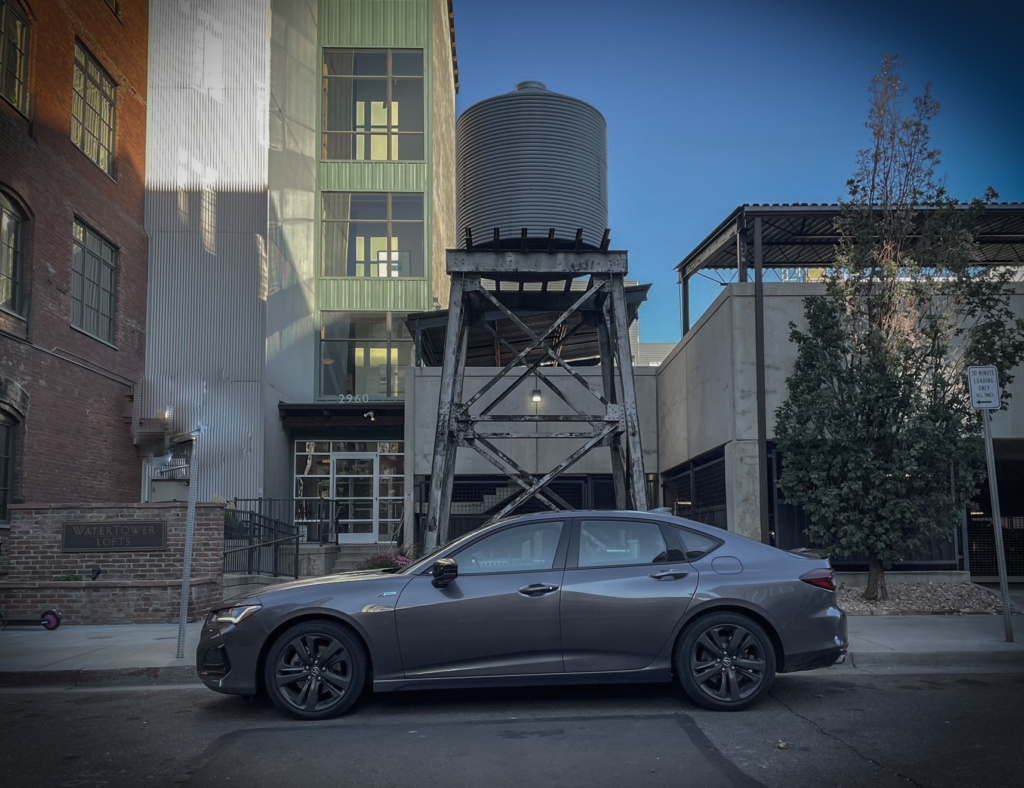 The sloped-roof line (it's not a hatch), short front and rear overhangs, and fresh styling are an immediate reflection of Acura's Advanced styling concept car. Its low height, wide shoulders, and rearward cabin solidify an athletic posture while the long hood and pronounced fenders emphasize a stable stance.
More good news for the styling team – Acura has figured out a unique and good-looking grille – and it serves as an exciting focal point for the rest of the dynamic design whose creases and curves extend over the hood and around the side of the car. The wide fenders allow the rear quarter panels to wrap around to the trunk and add to visual width while rear LED lights create a racetrack's chicane curve shape that looks premium and easily distinguishable.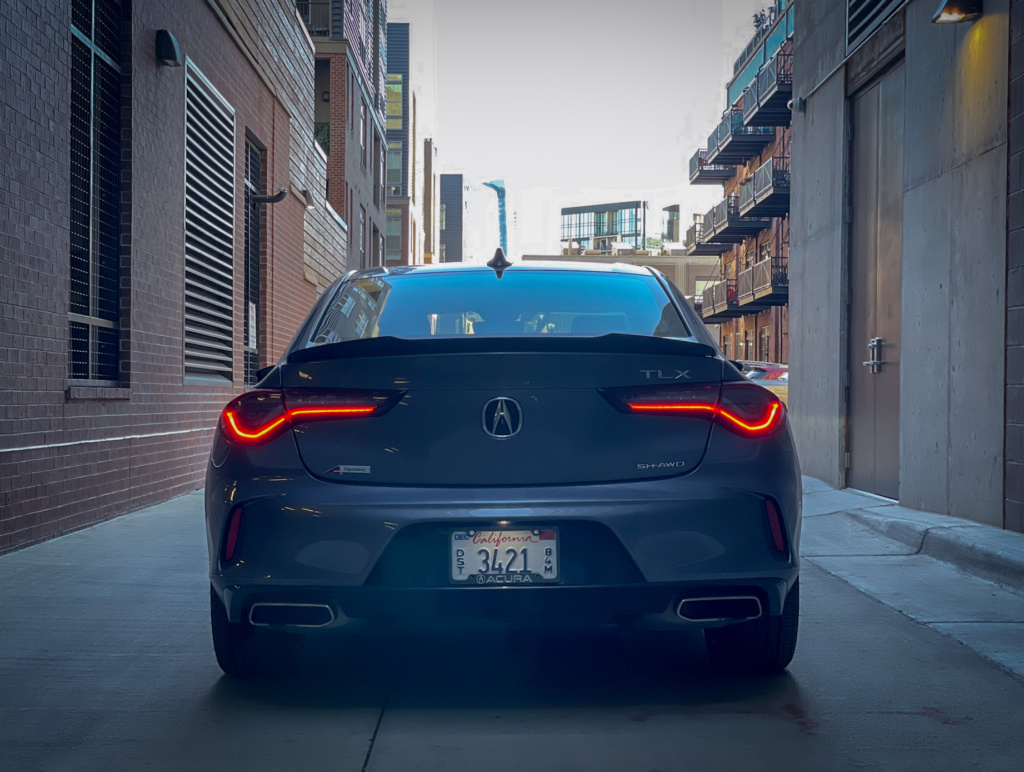 Just as the exterior is heavily influenced by the brand-defining concept car, the cabin features an interpretation of its interior design theme. It retains a significant number of hard buttons, which is appreciated, and its transmission shifter engages with either a pull, push, or press – a more intuitive method than the rotary knobs that require more concentration to prevent overshooting the intended selection. Every button and rocker switch feels well dampened except for, surprisingly, the prominently positioned Dynamic Mode which feels imprecise. But what keeps it from feeling truly like a tier-one experience inside are mis-matched and hard-plastic surfaces and unavailable luxurious features such as a panoramic sunroof, a powered trunk, an HD surround-view camera system, or welcome-lighting animation. Acura's novel remote True Touchpad, on the other hand, combines the speed of using a touchscreen with the accuracy and no-look confidence of a physical dial. It's easier to use than most other systems and its menu screens are simply arranged – just plan to put in a few hours to become familiar with its operations; it's worth the time spent.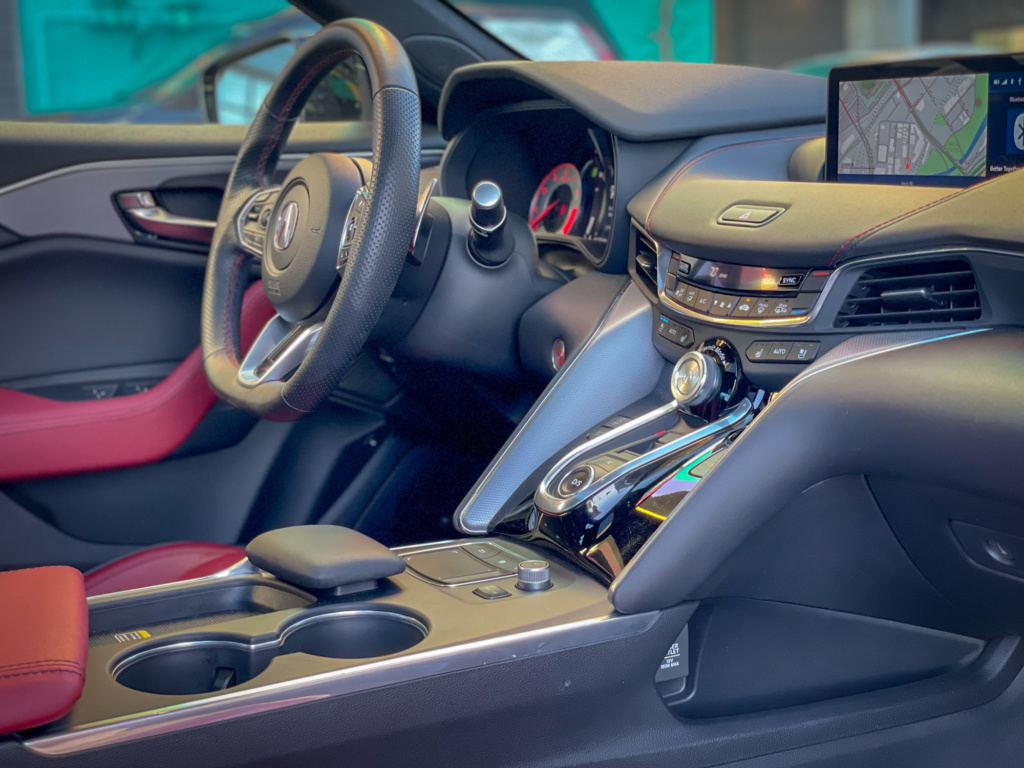 The seats bring a splash of color (red is available in the A-Spec and Type S trims) and are shaped just wide enough for one to be able to adjust on long trips while their suede inserts provide a grippy surface for more enthusiastic trips. For added comfort and convenience, the seats' heating and ventilation settings can simply be left in auto mode as the GPS-based climate control keeps the temperature of each side of the cabin comfortable. The steering wheel is also shared with the high-performance Type-S and its thick rim and big shapes allow for a secure grip as well as a comfortable palm resting place. The adaptive cruise control and lane-keep assist systems each have their own designated buttons on the steering wheel spoke – something every manufacturer should implement until their driving assist systems are 100% reliable. The physical red-on-silver speedometer and tachometer gauges look exciting look but require a moment to accurately read your speed but at least the large crisp center screen can be set to display the speed.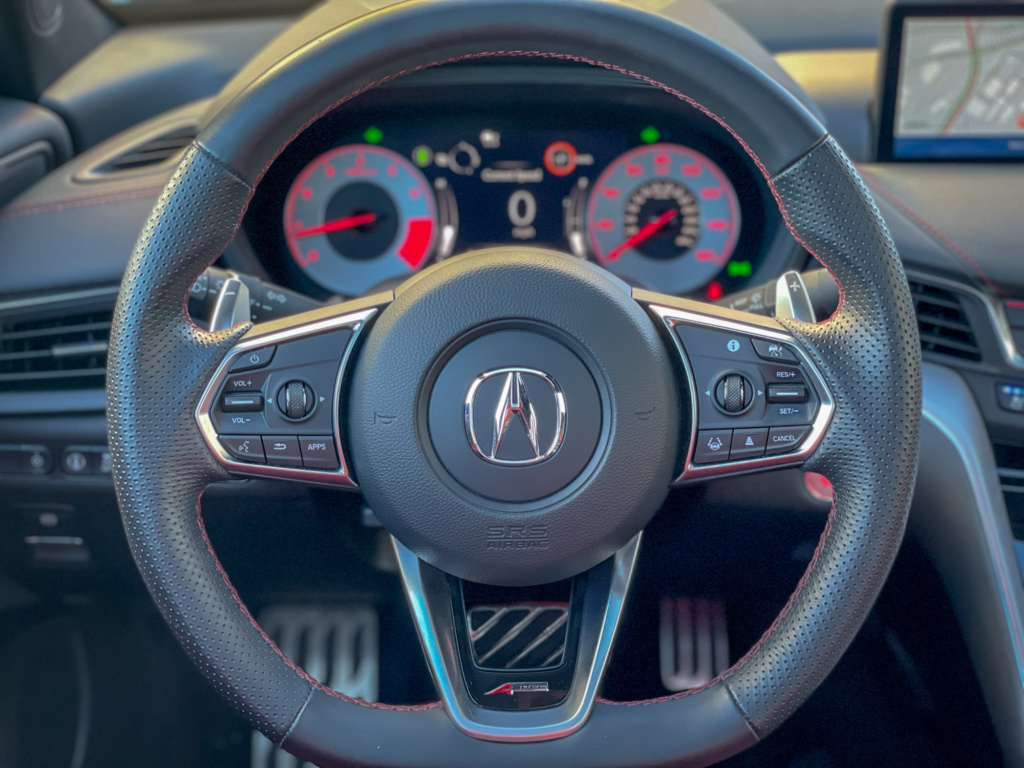 The cabin itself is relatively spacious – more akin to the Mercedes-Benz E450 and Audi A6 – and does without a typical driveline hump in the rear floor. The phone charger is conveniently located and there is plenty of storage space (and charge ports) for small items. Compared to the previous generation TLX, however, it doesn't feel as spacious – although it actually measures 0.1 cubic feet more – and road noise is more intrusive than expected.
The trunk is all about efficient packaging and can swallow a family's worth of luggage while the seatbacks can be folded for longer items.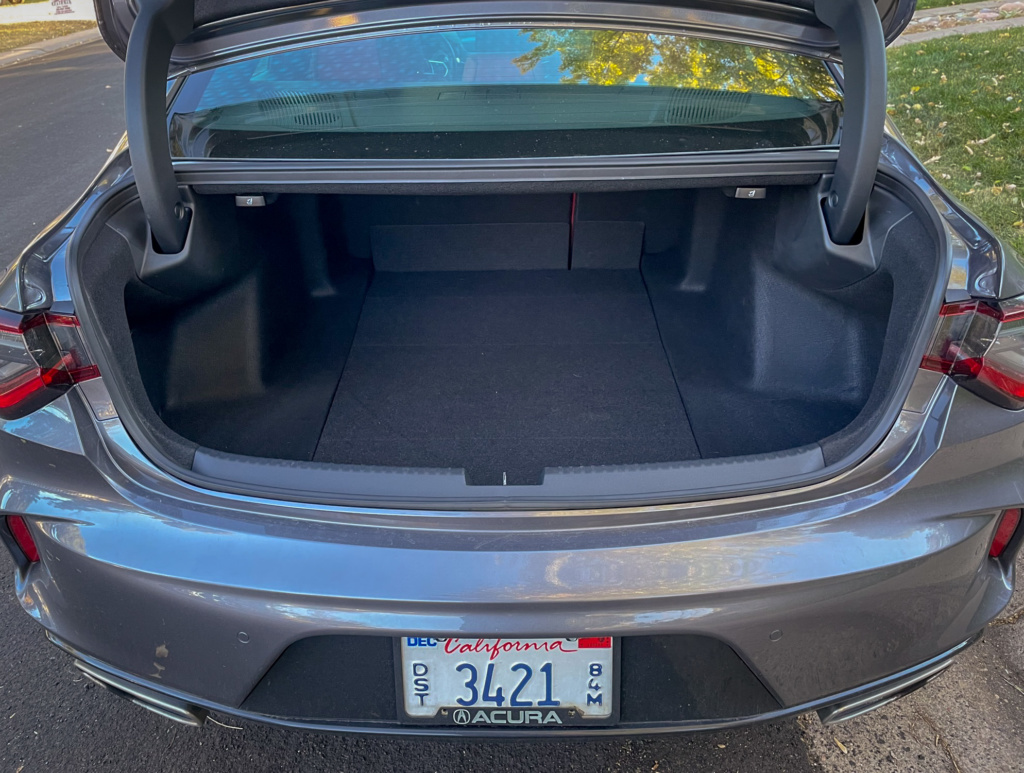 For people who put a premium on the audio experience, the TLX will have you feeling like royalty. Its ELS Studio 3D sound system can hold its own against any premium stereo on the market. Its ceiling-mounted speakers help delineate the high tones while the subwoofers have been placed on their sides within the rear parcel shelf to minimize any rattle – something that can ruin any good stereo. The sounds are delivered so clearly and with such a balance and power that it seems worth playing your favorite songs again, just to hear what sounds you may have been missing.
Putting the TLX's money where its styling's mouth is, the powertrain lineup has been revamped. Most trims, including this A-Spec, feature a 2.0-liter turbocharged four-cylinder that delivers excellent low-end grunt and mid-range flexibility that is tied to a 10-speed automatic transmission. The engine takes a brief moment to spool up but its power comes on more gradually than other turbocharged engines of similar size – some of which also deliver less power – although collectively, its fuel economy, at 24 mpg combined, is only notable for being better than last year's V6 and 9-speed powertrain. Also, the engine lacks the balance of the BMW's and Mercedes' longitudinally-arranged engines and its sound is gruff through the mid-RPM range and becomes somewhat coarse as it nears redline.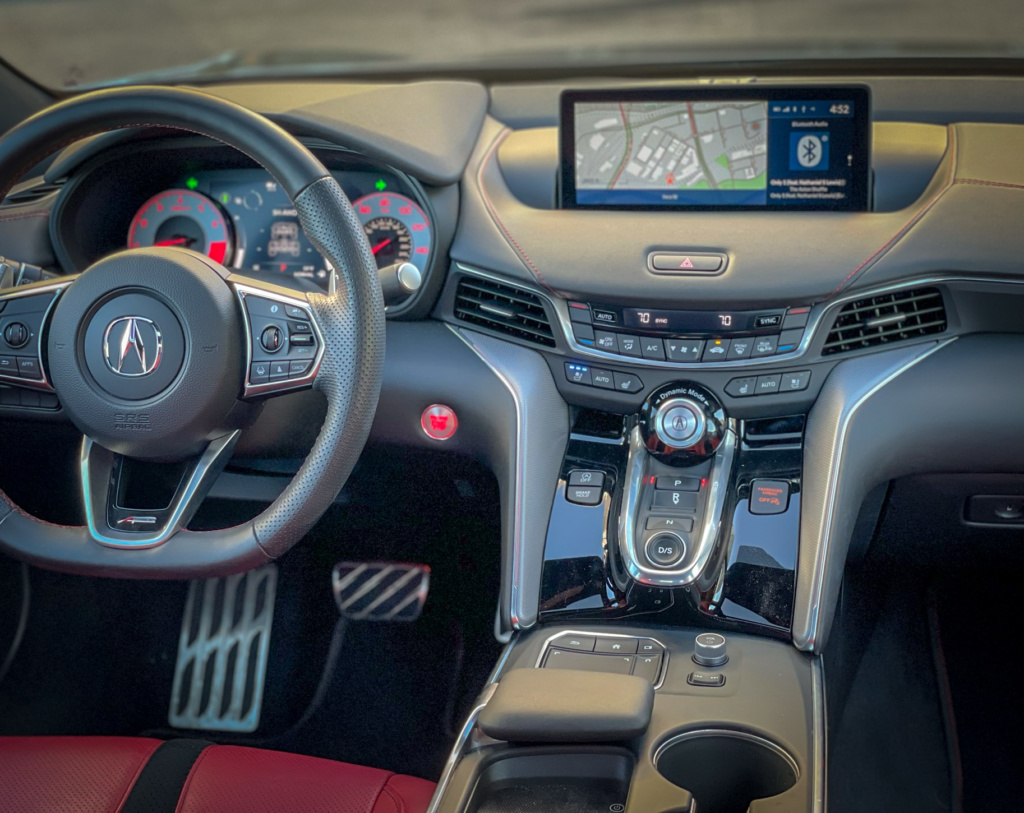 The 10-speed transmission is also measurably better than last year's 9-speed unit with a lower ratio first gear that improves off-the-line acceleration and a wider overall ratio spread for greater efficiency. The way it shifts, however, still doesn't feel particularly sporty – at least when compared to the units found in BMW and Mercedes cars which deliver firm and fast gear changes. Otherwise, it is very well calibrated as it lets the engine rev a bit when accelerating around town so that the TLX never feels caught off guard and it also works well with the mid-range power at highway speeds for easy cruising and passing. Also, the paddle shifters allow for near-full control and enable full throttle and full power extraction without having to swing the needle past 5,000 RPM.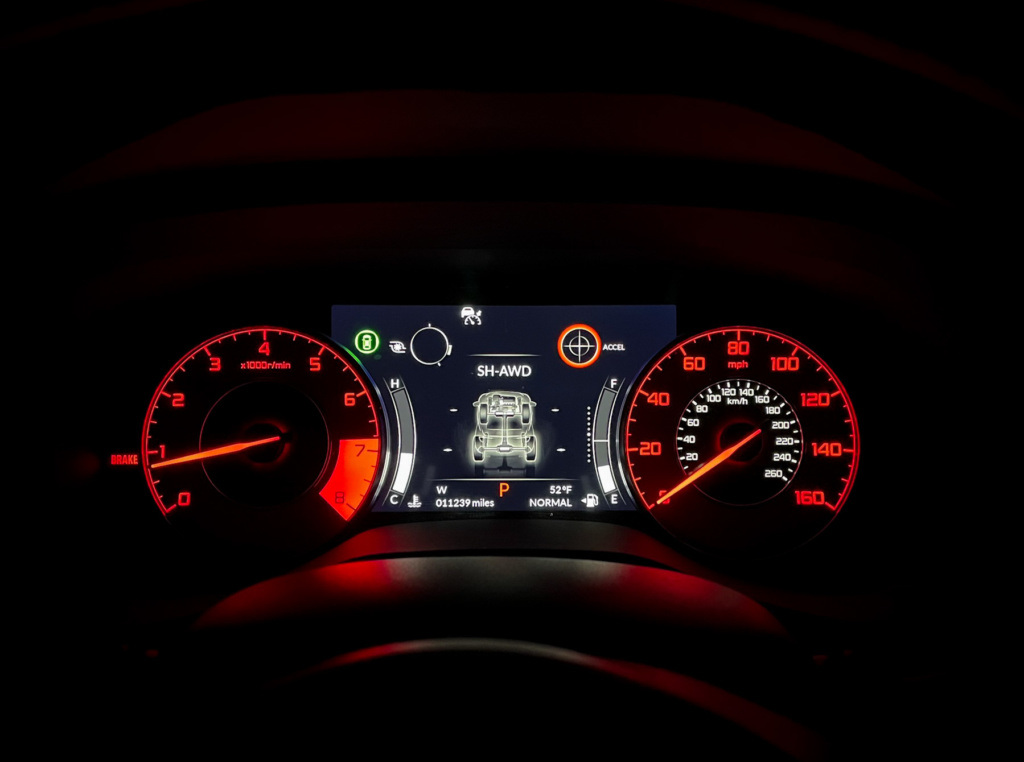 With its more powerful engine, lower ratio transmission, and a 57/43 front to rear weight distribution, the TLX's Super Handling All-Wheel-Drive system proves that it's worthy of its name. Now in its fourth generation, it responds faster than before and can route 70% of the available power to the rear axle – which is also overdriven by 2.9% – and then send up to 100% of the power to either rear wheel. It's remarkably effective and it not only eliminates any front wheel spin when quickly jumping into traffic but also notably pushes the outboard rear wheel through a turn, effectively preventing any sense of understeer yet doesn't pose the risk of oversteer. The TLX is incredibly stable and predictable under power which only makes extracting its performance even that much more fun.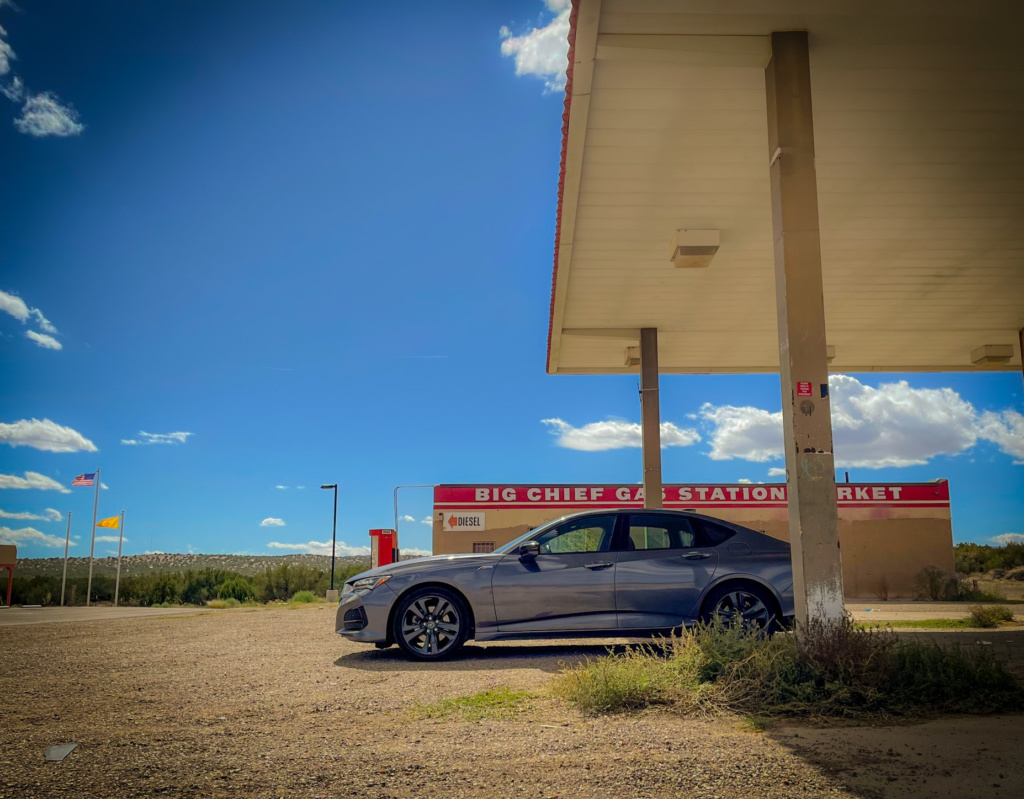 The suspension serves as an ideal balance between comfort and sport. The wishbone design of the front suspension allows for more precisely controlled motions and its reactive dampers deliver a ride that is smooth on road trips and confident on winding roads. Another big component of that confidence is the braking system, which is, in concept, shared with the NSX. The servo-controlled system allows for a best-of-both-worlds approach with a strong initial bite – ideal at higher speeds – and a softer reaction at slower speeds. Few other automakers can pull off this dual-performance approach as successfully as Acura.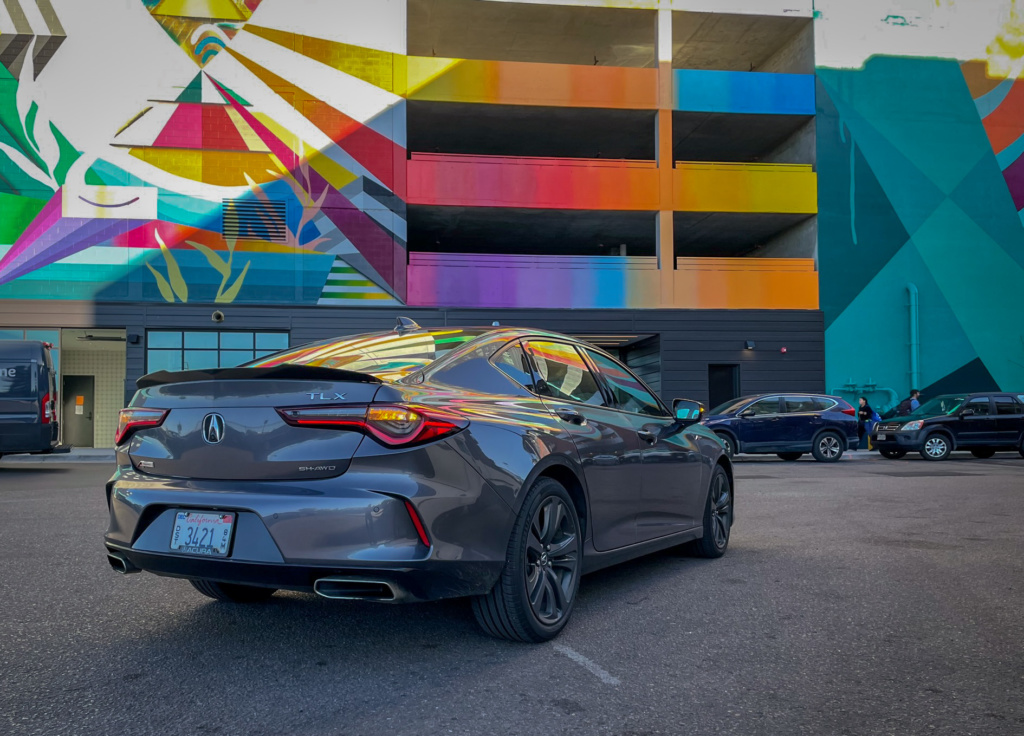 And last but certainly not least is the value aspect of the TLX. At $47k, this very well equipped A-Spec trim is a bargain and it feels better designed for American tastes – as one might expect from its Ohio-based engineering team – than some of its competitors.
So while there may still be a few gaps when compared to the more expensive tier-one competition, the all-new TLX thrives at being what Acura has intended – a cost-conscious performance premium sedan – and a very desirable one at that.