This is an art car. With exotic looks, a heart-pounding V8, confident handling, and a cabin that is simple yet stunning, the Lexus LC 500 Convertible is full of bold decisions and reaches your senses in a way that few others can.
Existing within an industry that focuses on 0-60 mph performance numbers, and among manufacturers that will trade drivability for maximum power figures, the Lexus LC 500 is a breath of fresh air. But that's not because it isn't fast or without significant power – it will do the sprint in 4.6 seconds – but because it remains focused on providing an emotional experience. Power comes from an ultra-responsive atmospherically-aspirated 5.0-liter V8 that delivers good low-end power and builds predictably all the way to the 7,300 rpm redline. It sounds burly as it charges through the middle of the rev range and works into a crisp but thrilling note as it approaches maximum speed. You can't help but seek out sound-reflecting surfaces for even more volume, especially with the top-down.
The transmission is just as enthralling as it claps off one full-throttle upshift after another and downshifts, whether commanded by the large and finely crafted paddle shifters or through its own logic, are met with a very quick blip of the engine and a smooth engagement. It doesn't deliver the instantaneous gear changes like some of the performance-focused dual-clutch units but its refinement is absolutely worth the fraction of a second lost in acceleration times. Even when slogging through rush hour traffic, where initial acceleration and light throttle will have other cars lurching, the 10-speed was smooth and confident with its decisions. And when accelerating normally from a traffic light, it will hold onto the lower gears a bit longer than what is typical so the engine isn't caught off-guard. Together, they are a perfect team. The engine provides excellent drivability and the transmission intuitively delivers a gear change that's either fast and forceful or soft and calm.
Its handling is another field where the LC 500 proves just how well it combines sport with luxury. Out on the canyon roads, pushing hard from corner to corner, there is a sense of security and confidence that makes it fun and rewarding to drive – even if you're not close to challenging the car's ultimate handling limits. The steering is spot on and has an appropriate heft when in Sport+ mode. The brakes provide endless power and are easy to modulate while the optional limited-slip rear differential lets the LC 500 slingshot around the curves.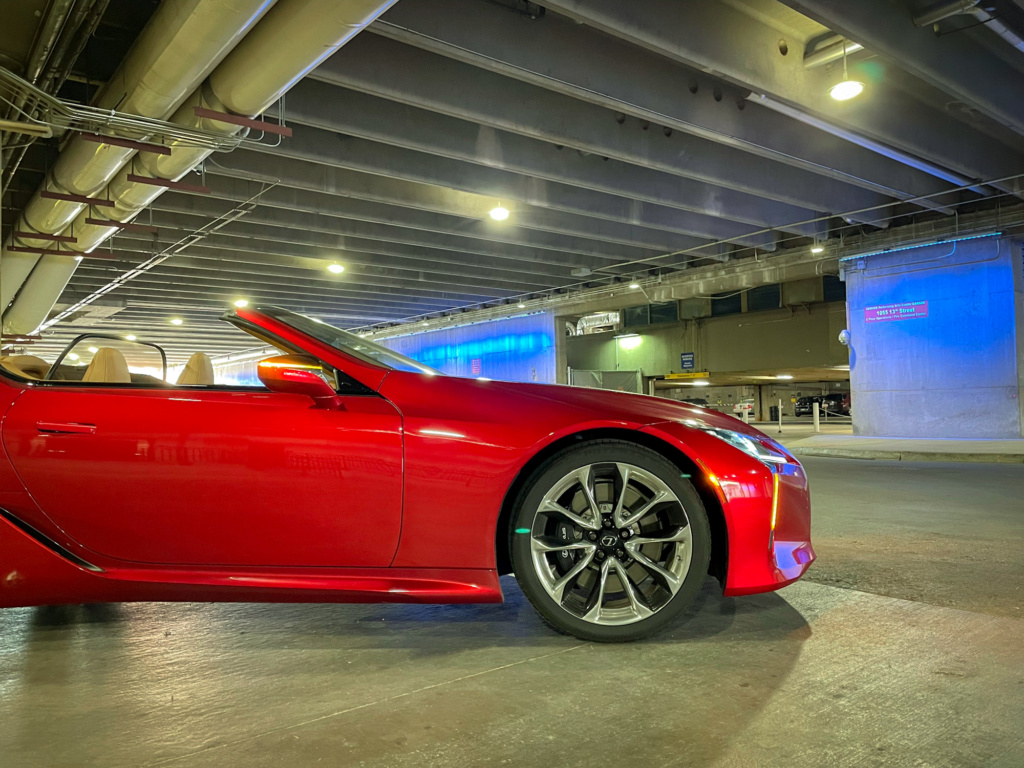 That same suspension that provides such an athletic and controlled feel in the twisties quickly adapts for an impressively comfortable commute home from work. The large 21-inch wheels and low-profile tires don't do much to help with the sharp impacts but the adaptive dampers and the reinforced body structure keep the head-bobbing and jostling to a low level.
The exterior is pure Lexus. The LC 500's Sharp lines and large surfaces are draped in a gorgeous paint job and its long and wide stance creates a show-car-like presence. Its defining styling details deserve a closer look as they demonstrate a level of creativity and precision that help make the LC feel special. The large rear deck behind the cabin leaves room for the power-folding soft-top (and a small trunk space) but can look slightly bulky from some angles, however, the large air inlet that cuts into the lower fender and the shapely tail lights that have a lighted 3D afterburner effect, call your attention.
The interior starts with a fairly typical layout. Horizontal dashboard lines and premium materials deliver a premium look and feel but again, it's the details that set the LC 500 apart. Despite its open cabin layout, the driver and passenger find themselves each with their own spaces. A crisp and compact digital gauge cluster (with a physical sliding ring that feels straight out of a classic James Bond film), an excellently shaped steering wheel, driving mode controls that are mounted on the meter hood, and a precise shift lever envelop the driver with a sense of command while the passenger is met with two large and sturdy grab handles, finely crafted slim HVAC vents, and an elegant dash pad.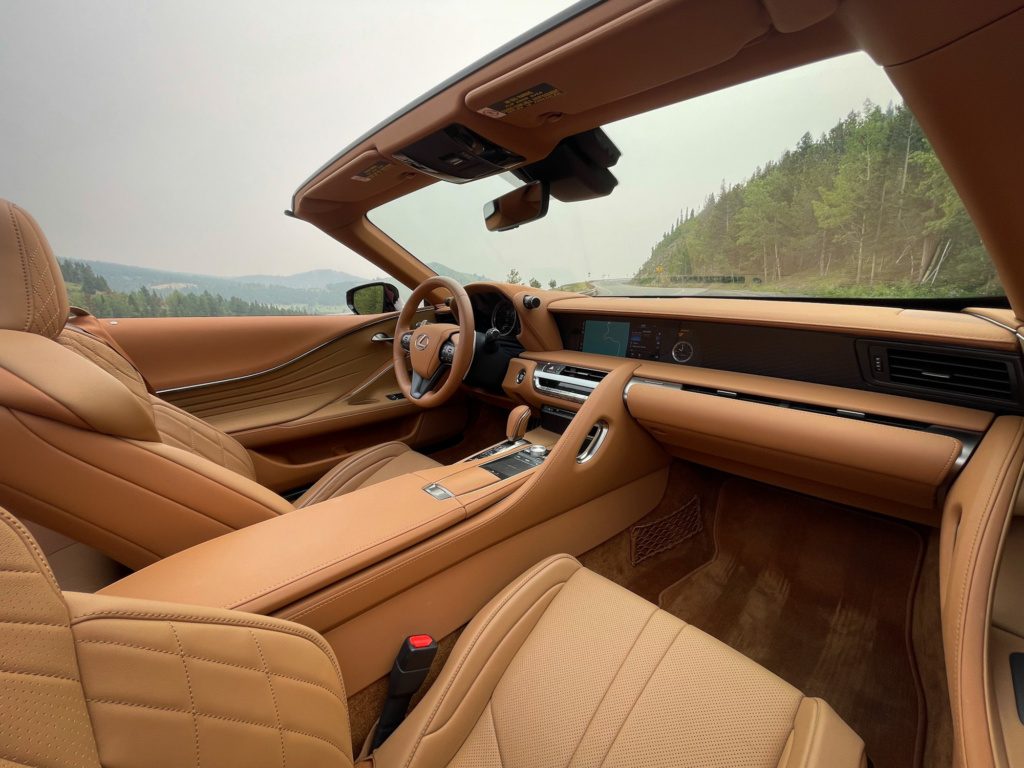 The central infotainment display (and the entire system, actually) is already feeling a bit retro, but it's not difficult to use and the Mark Levinson audio system can still deliver impressive sound despite the challenges of an open top. In the evening, the ambient lighting highlights surfacing details and it creates a calming and opulent environment.
The LC 500 is an exceptional reminder of what is possible when priorities are collectively focused on creating an engaging experience. Its exterior captures the imagination, the engine and chassis fulfill the desire for speed and sound, and the interior delivers uncomplicated luxury and craftsmanship. But as the market continues to shift priorities, one can't but already feel a sense of nostalgia for what this Lexus delivers. It pulls at your emotional strings instead of shooting for objective metrics and offers a relationship that makes driving fun. Is this one of the most underrated cars on the market? It certainly feels that way.