To say that the 2022 Nissan Frontier is a huge step forward (compared to its predecessor) isn't really saying anything meaningful. The previous Frontier lasted through about three life cycles and was ready for a new generation. The new truck brings more modern styling and safety tech yet with all of those changes, it retains a basic level of refinement which makes it feel very familiar. Nissan fans will scoop this one up and it will even convert a few Tacoma fans who are looking to stand out from the sea of other Toyotas on the trail.
Its exterior styling is not something that instantly ties the Frontier to its previous generation, but it needed the big leap forward to make up for lost time. The new truck takes on an athletic stance with high-shouldered but wide lines, emphasized further by the grille and the bumper's horizontal and vertical lines. The headlights are modernized with horizontal LED bars – with Nissan's new LED signature truck style – and a trio of intriguing orange dot LEDs that give it added identity. Put against its old self, it is clearly from a newer generation.
Hopping in certainly isn't as easy as before – one of the downsides for a cool lifted truck look – yet once inside, it is all new yet equally as straightforward as the old truck. Its retention of physical controls and simple shapes are balanced with modern tech such as a large nine-inch infotainment screen that is easy to use and quick to react to inputs.
The gauge cluster also gets a large digital display between the physical gauges, however, the steering-wheel-mounted controls are not intuitive to use and required frequent glances down to prevent accidentally skipping to the next song or chapter.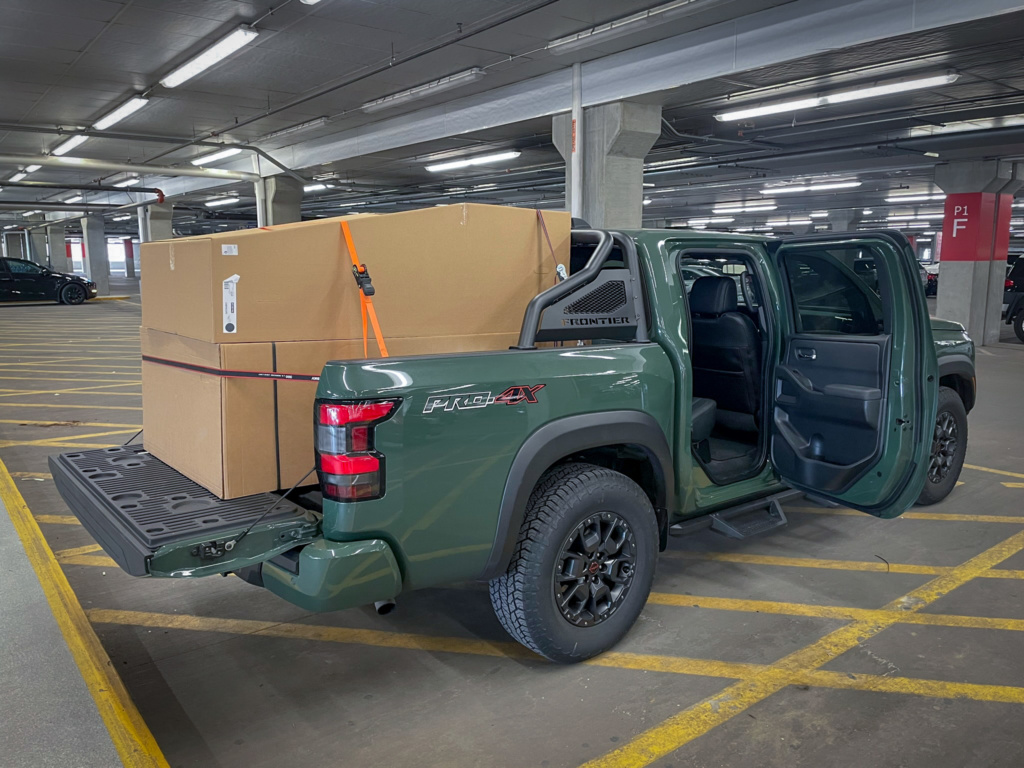 Additional controls, like those for the severe off-road duty, are hidden away by the driver's shin instead of enthusiastically front and center and the surround-view camera's non-HD display is disappointing for something with a tall body side and a large turning radius. When bouncing around off-road, the center-console grab handles' seem worthwhile but lack the robustness to provide a real sense of stability. Overall the interior is no doubt an upgrade, yet remains somewhat bland. Its rear seat still only delivers enough space for adults on a short errand run – not surprising considering Nissan decided to stick with the previous chassis for the 2022 model.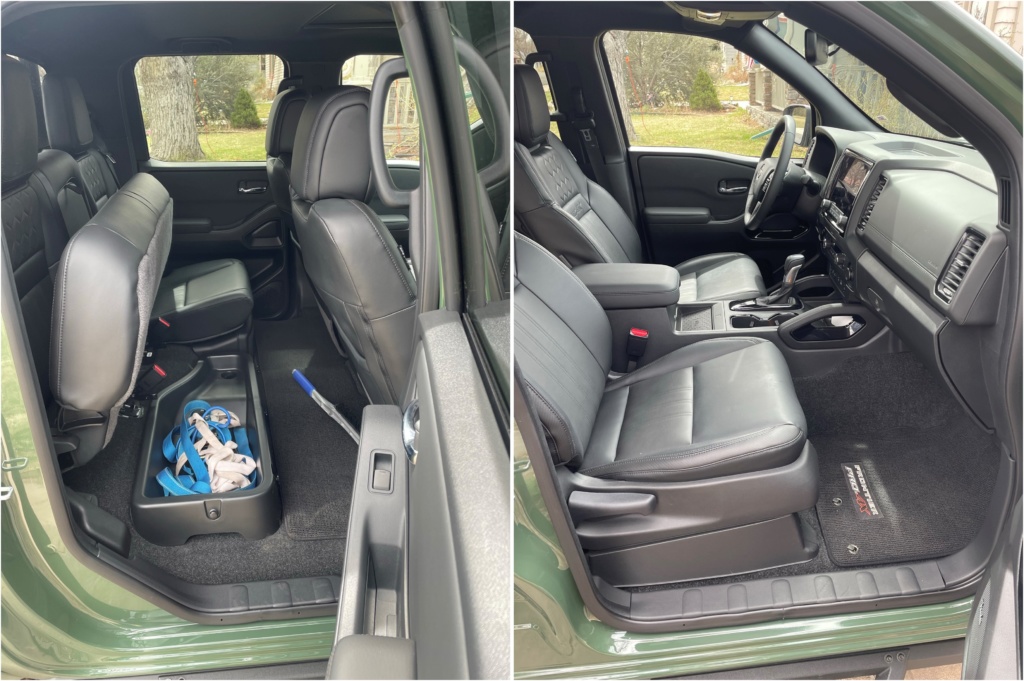 The cabin does receive updates in the form of hydraulic cabin mounts that help minimize vibrations and – together with the suspension tuning – the Frontier delivers an impressively modern feel on the road. It still transfers bumps like many body-on-frame trucks but feels better controlled than others. The steering is very heavy and while less slow than before, it is still slow. It's also not fun to see-saw at the wheel only to be reminded of its poor turning circle. The traditional transmission lever is very appreciated in those times, as are the brakes and throttle, which creates a rare trifecta that keeps people's heads from bobbing during those re-positioning motions.
Once underway, the steering's vague on-center feel makes for continuous motions but it's not unlike other trucks. An advanced drive assist system finally makes it onboard but is more reassuring than confidence-inspiring. The quiet-ish cabin and the strong powertrain (that actually debuted last year) make it a friendly everyday commuting vehicle. The 3.8-liter produces over 300 horsepower and has a broad torque curve while the nine-speed transmission's expanded ratio range provides for quick take-offs, smoother trailering, and better efficiency – I was able to achieve the 19-mpg combined from a mostly highway commute – with traffic jams and all.  
The new Frontier made all of the necessary updates for it to compete with the best in the compact truck segment which keeps getting more competitive. Its tough truck personality brings familiarity, however, despite its $47k price tag, it doesn't reset the bar for any particular field and leaves the door open for its competitors to pounce – especially if it waits another 15 years for a redesign.