There is no doubt that the Acura MDX Type S is a milestone vehicle for the brand. It represents a rare moment (for any brand) where unique and tasteful styling meets high-quality design and premium materials, and most importantly, a very impressive powertrain. This is Acura at its best.
The MDX Type S gains a 3.0-liter turbocharged V6 that puts out 355 horsepower and 354 pound-feet of torque from 1,400 to 5,000 RPM – healthy numbers but not the best in class. But what the engine trades in stats, it gains in responsiveness and drivability. It also helps that it is hooked up to an excellent 10-speed automatic that underwent numerous modifications for this application, from a strengthened gear set, greater cooling capacity, and other control hardware and software to deliver up to 40% faster shift speeds over the standard MDX.
The urgency and timing are adaptable to the selected drive mode with the default mode providing predictable smooth shifts and the Sport+ drive mode that can deliver satisfyingly firm upshifts and coordinate with the engine for smooth rev-matched downshifts. Getting all that power to the ground is the responsibility of Acura's latest (4th) generation Super-Handling All-Wheel Drive system that overdrives the rear wheels and can route power to the outside wheel to help rotate the vehicle towards the inside of the turn. In the real world, it's incredibly effective, keeps the body stable, and quickly instills confidence when charging through the canyons or even simply when darting through an intersection.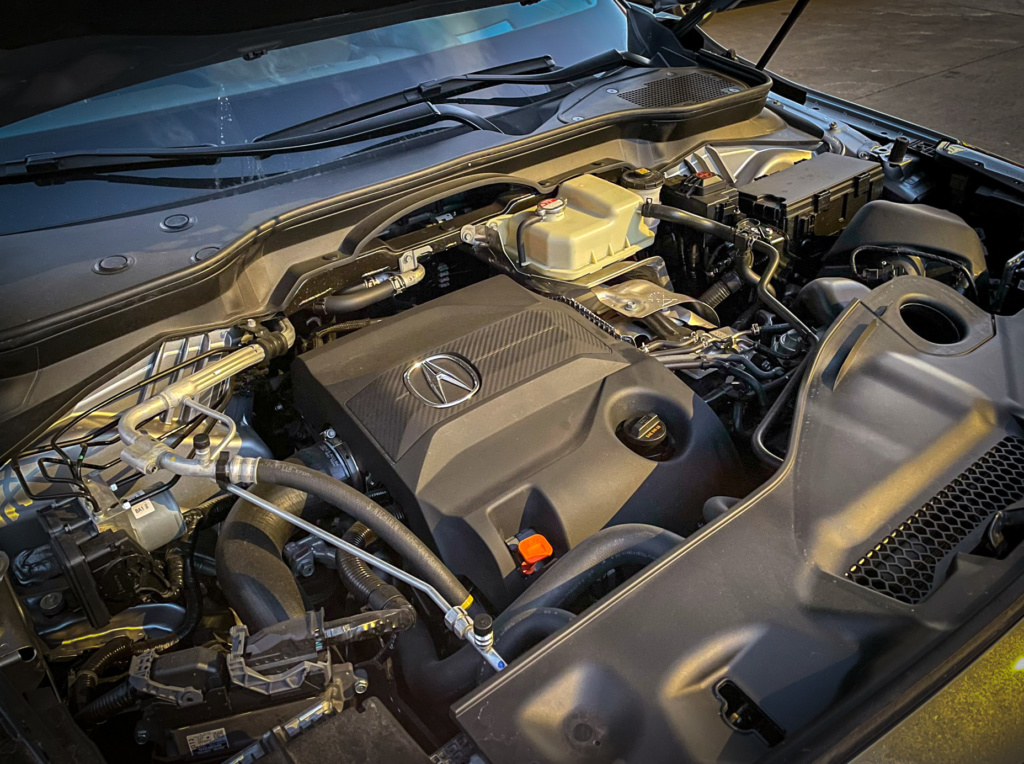 Quite possibly, the only caveat for all of that powertrain goodness is a mediocre EPA fuel economy rating (just 19 MPG combined), despite its fuel-saving technology such as variable cylinder management and an engine restart system which is fast enough and smart so it can be used every day with few over-rides.  
Just as the engine is an upgrade in performance and everyday drivability, the air suspension and adaptive dampers allow the MDX to expand its handling and capability boundaries with little downside (besides being expensive and heavy). Together, they can deliver an impressively isolated and smooth ride, yet when put in Sport mode, the body lowers and the dampers put the focus on sharper handling. There is even a Lift mode to gain another two inches of ground clearance and entry and egress are aided by quickly and quietly lowering the body.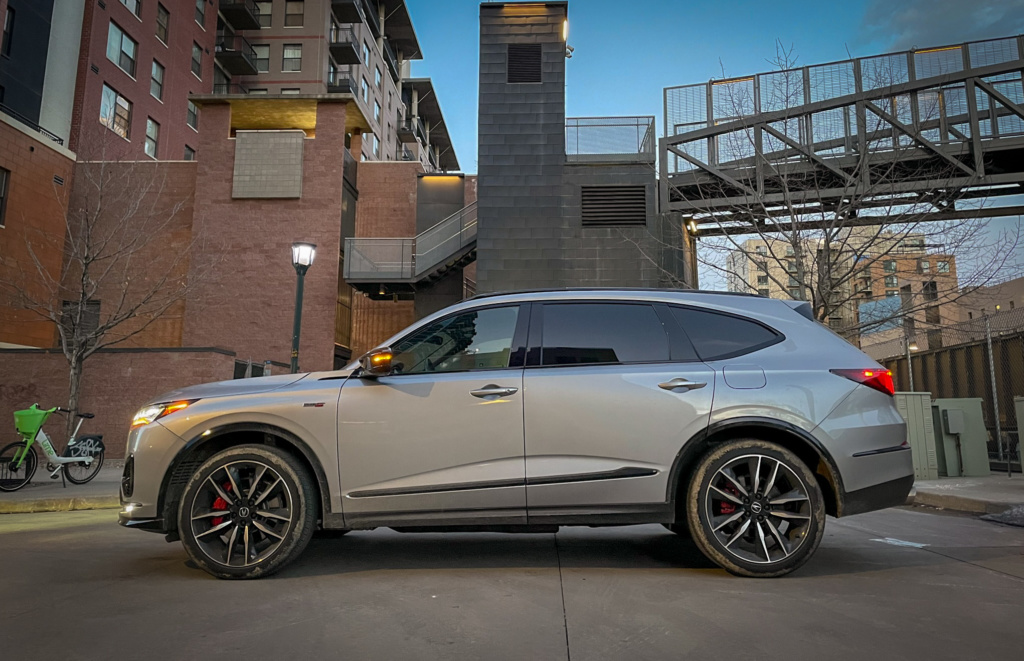 Acura has a history of fitting Brembo brakes on its more powerful variants; this MDX is no exception. In fact, the entire brake system is pulled from the NSX Type S and its re-tuned servo brake controller can compensate for physical changes such as hot brake fluid or cold/ wet rotors that can typically cause inconsistency in the pedal feel. In hard charging situations, the system was able to highlight its strengths as the additional air ducting worked to keep things cool. A quick stab at the pedal results in a confident response, however, smoothly modulating out of a hard braking situation, requires some concentration. Around town, the braking system's added capability will likely go unnoticed (a good thing!) but it's nice to know it's there for emergencies as well.
The Type S starts with a handsome and high-quality exterior and interior design and adds several unique touches that take the MDX another step deeper into the elite club of premium performance crossovers. Unique front and rear fascias, gloss black exterior trim, dark jewel LED headlights, 21-inch wheels, and an active-valve exhaust system with large quad outlets distinguish the Type S among a sea of other crossovers. The interior gains contrast stitching on the dash, doors, and seats, a flat-bottom heated steering wheel, heated and ventilated milano leather seats (with heated rear seats), front seats with massage (on the back and the cushion), and power-adjustable seat cushions and bolsters. There is also additional LED ambient lighting found on the center console sides and door speaker grilles and not to mention a stereo system that takes audiophiles on a journey into another dimension.
The ELS Studio 3D Signature Edition networks 25 speakers through 22 channels, and utilizes a new location and timing logic and speakers with carbon fiber cones to deliver a level of sound clarity that is exciting at any volume. It is only available in the top Type S trim which adds considerable cost, however, it's also something that is easy to appreciate every day.
Given the significance of the upgrades included in the Type S model, its $72k price tag (fully loaded) is a $12,000 premium over the premium MDX Advance trim and often requires a double take because this is an Acura after all; the practically-minded near-premium brand. But the Type S transforms the MDX with an injection of swagger with little compromise while undercutting the competition significantly in price.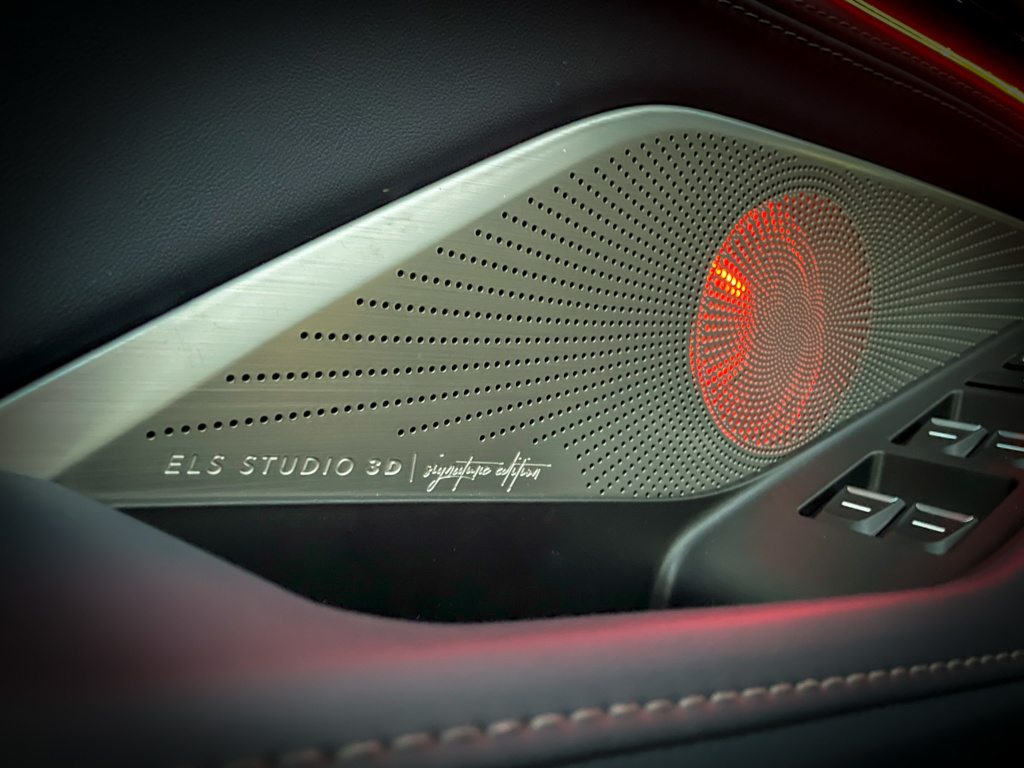 Add to that the concert-like sound system and a list of top-tier features, and Acura has a very premium, exclusive, and fun-to-drive crossover that hits a unique spot in the market.
For more information on the 2023 Acura MDX and its trims, visit my write-up at https://www.carsdirect.com/acura/mdx
For a review of the standard Acura MDX, visit my write-up at http://www.pilgrimmotorpress.com/1/2022-acura-mdx-sh-awd-advance/