Putting context to the phrase: "It's a Jeep Thing".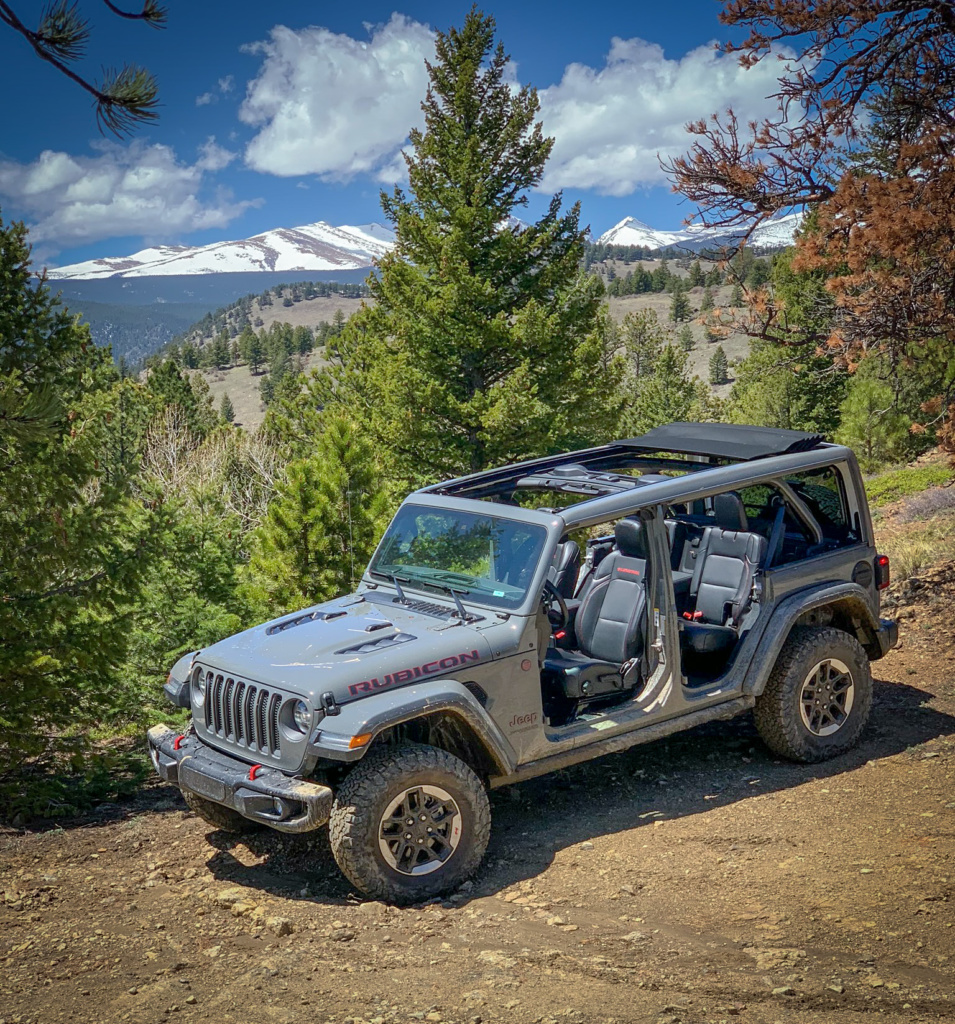 The 2020 Jeep Wrangler Rubicon Ecodiesel
There is a bond between people whose sense of off-road adventure has brought them to the Jeep Wrangler Rubicon. It's simply diagnosed as "a Jeep Thing" but what does it mean?
It may be beyond me to pin it down, but after experiencing the 2020 Jeep Wrangler Rubicon with the all-new 3.0-liter V6 EcoDiesel, I at least came away with a better understanding.
Here are my eleven most distinguishing take-aways.
Go ahead, take a closer look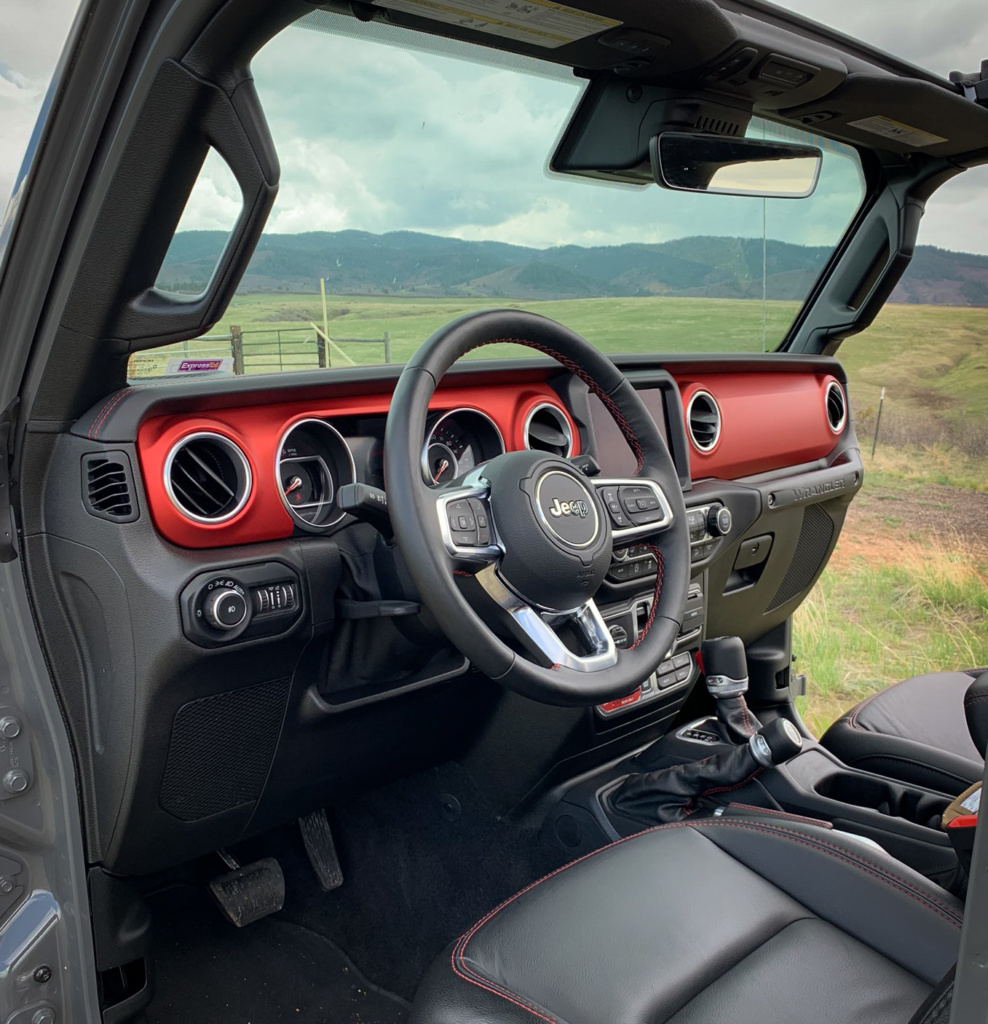 Just as the exterior of the Wrangler eschews a rough-and-tumble shape, the interior's layout looks and feels just as stout. Its overall fit-and-finish is very impressive and it's as if Jeep spent years with a finished prototype to hone the design and placement of the controls, storage cubbies, and displays.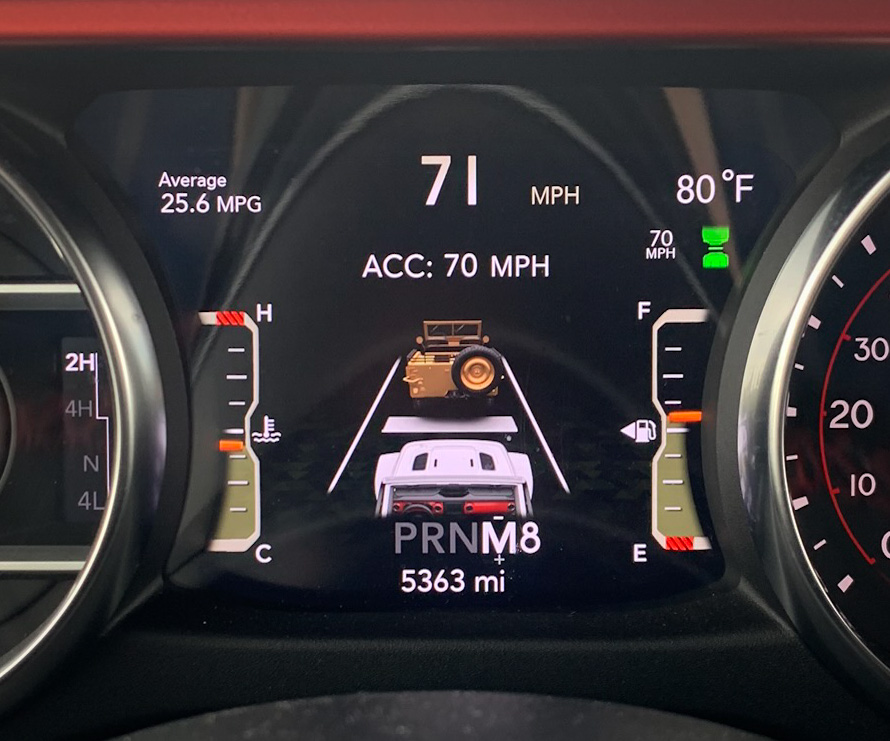 The gauge cluster's digital display is incredibly crisp and seemingly no detail was determined too minute. Even the speed reading is hued with a green fade but possibly the coolest example of going the extra mile, in regards to the display, is active cruise control's image of the vehicle ahead: a Willys Jeep. It's these sort of examples of Jeep going the extra mile that, not only help justify its price tag, but also make the Jeep feel high-tech.

Becoming one with nature requires some planning ahead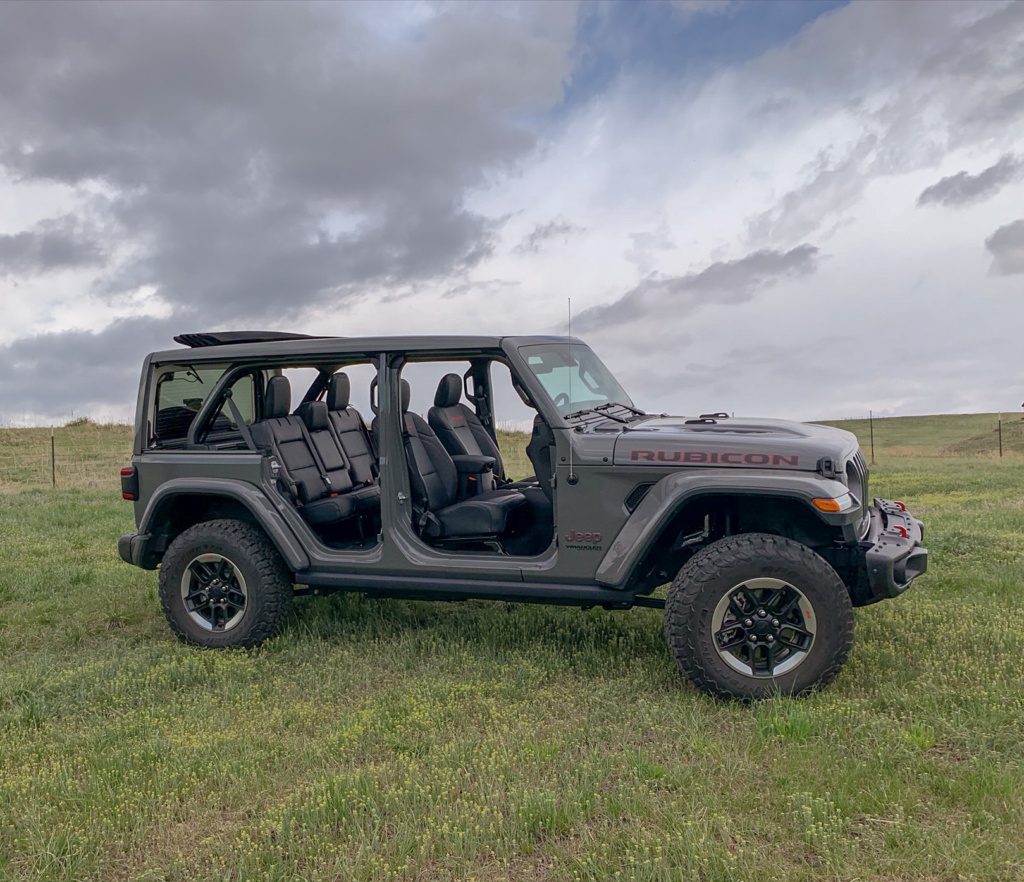 There is no other vehicle that opens up like the Wrangler. Even the windshield can be folded forward. The doors have been designed for easy removal, however, the mirrors must go too, which makes it illegal to take on the road in certain states. Besides, driving on the highways without doors seems a bit sketchy and the rear passengers are in firing-range of small bits of road debris. The fabric rooftop is an expensive add-on ($1,700 more than a body-colored hardtop) and let's in a fair amount of wind noise, however the convenience and open-air experience that it provides an amazing view from every seat.
Disconnecting Sway Bar is a no-compromise solution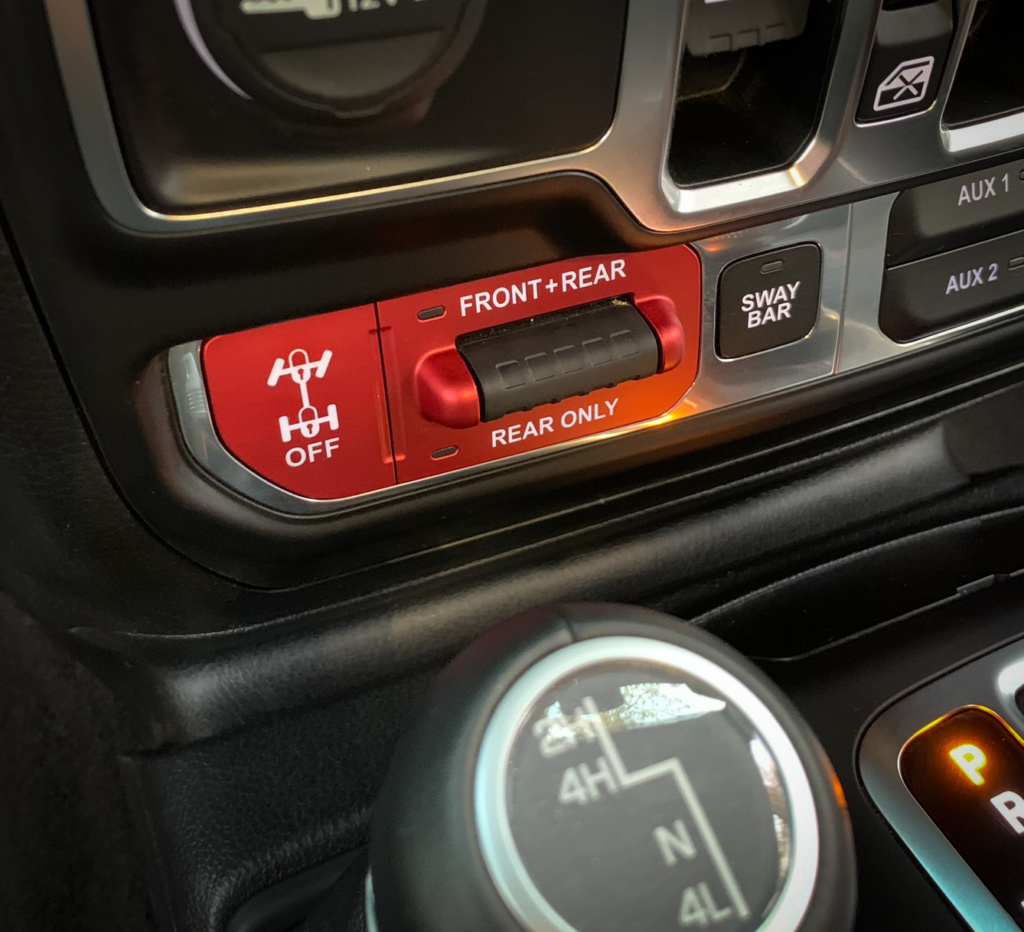 In the world of chassis dynamics, off-road performance targets are very different from the on-road targets. The off-road mission of walking up and over boulders and dropping into crevices usually comes at the expense of decent on-road handling. However, the Rubicon's disconnecting sway bar provides the Jeep with both an ability for extreme suspension articulation and reasonably controlled body motions, even when winding through canyon roads, albeit at a casual pace.

Enough Body Protection to Say, Let's go for it!

As one might expect, the Rubicon features plenty of underside plating. For example, even the trailer wire harness gets steel protection as does the additional diesel-specific hardware underneath. This Rubicon was even equipped with the optional steel front and rear bumpers which, out back, neatly incorporates the parking sensors and, in front, provides a winch mounting location. The Rubicon's side panels are protected by standard rock rails, meaning that this Jeep is fully surrounded by steel structures that are designed to take a pounding.

Taking the school bus out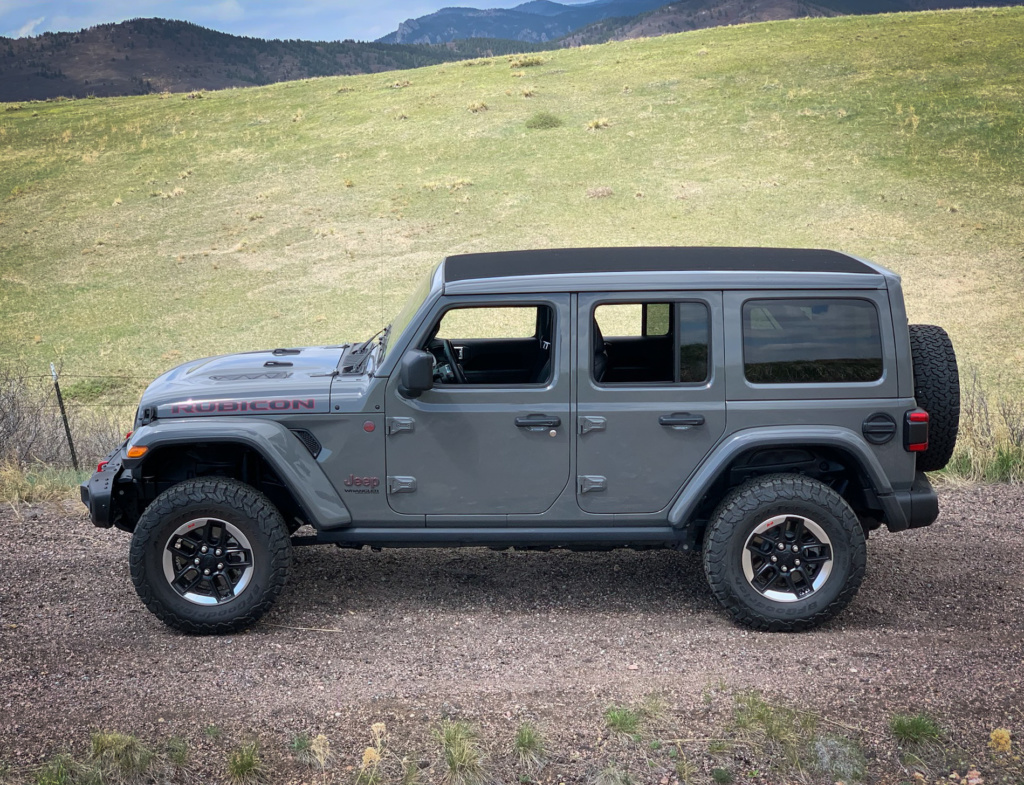 While its boxy shape may appear as square as a school bus, its 3.0-liter V6 diesel engine provides an audible similarity. The Jeep engineers have tuned the high-pressure fuel injection system so the engine starts up and shuts down smoothly though once in gear, the engine literally changes its tune and the clack clack clack characteristic diesel sound becomes more intense than preferred when trying to make it through the neighborhood early in the morning. Its prominence is diminished once the engine warms up, though it's always present.
Susceptible to High Winds and Vague Steering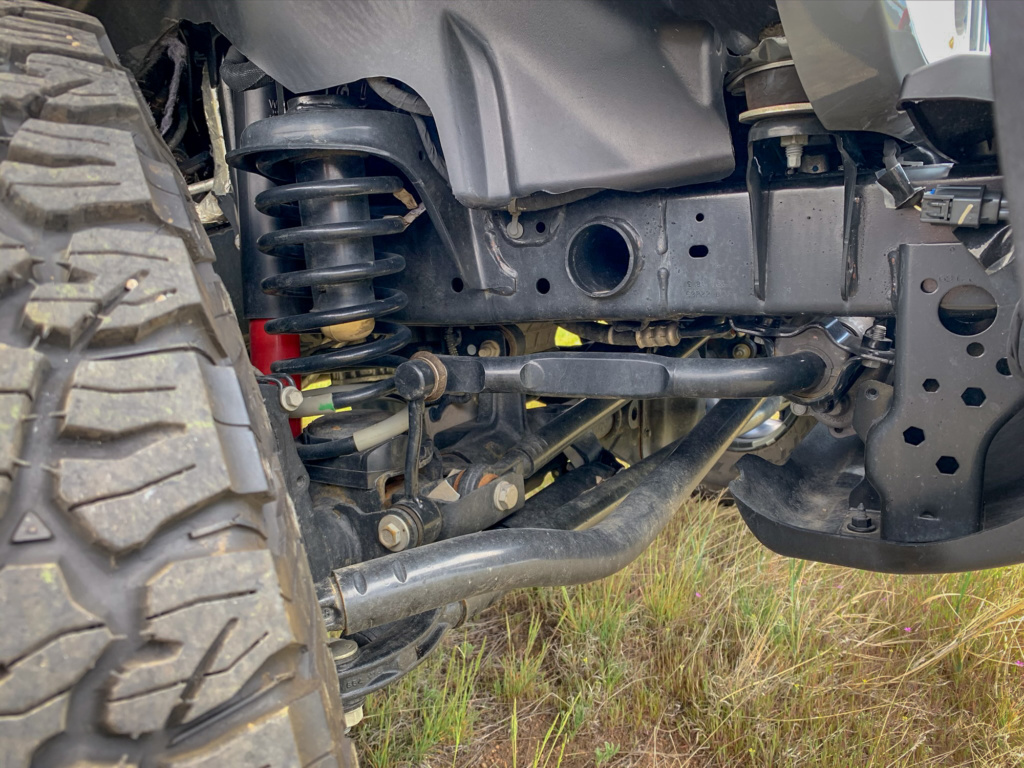 The Jeep's dedication to off-road performance is possibly most obvious on the highway. Its high ground clearance, steep approach angles, and upright panels do little to efficiently manage the airflow around the Wrangler and it's easily pushed around on a windy day at highway speeds. Not helping in those situations is the Jeep's recirculating-ball steering which is keen for off-roading though it increases the number of links and tolerance stack-ups and makes for an imprecise feel. On a straight road with no crosswind, the Jeep is easy to drive at nearly any speed and at lower speeds, the Jeep's vague steering is essentially a non-issue.

Acceleration unbecoming of a Jeep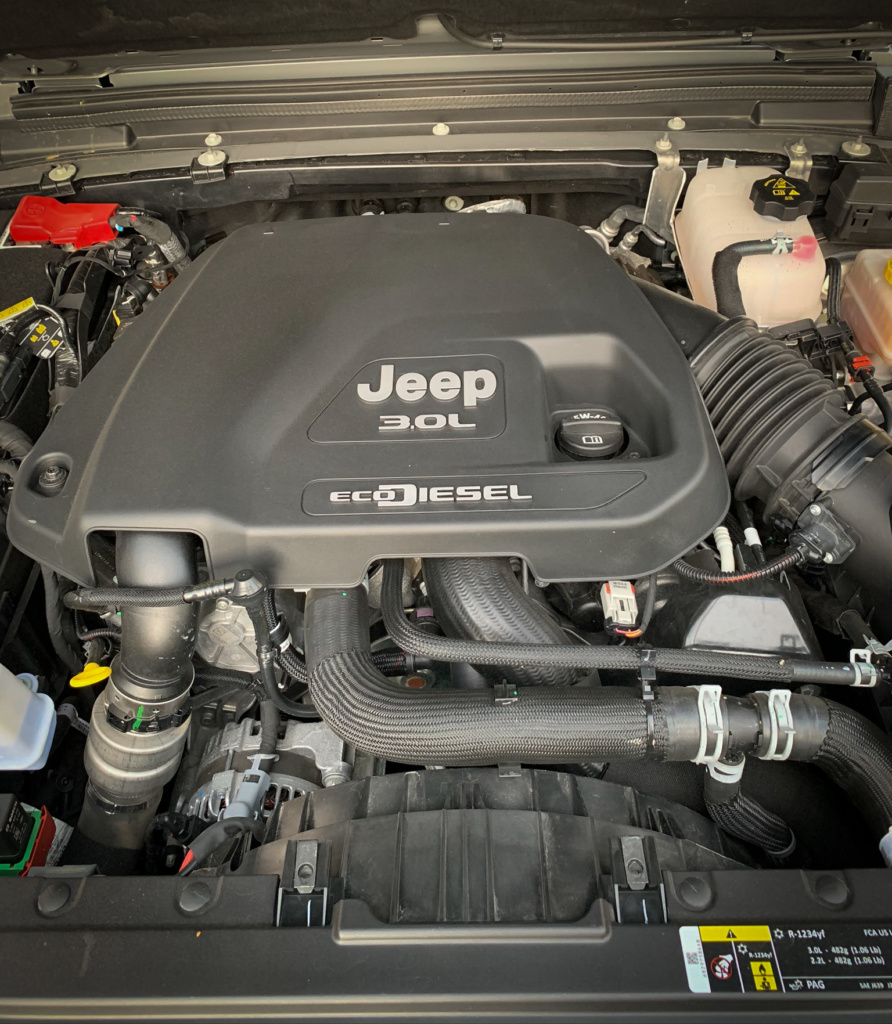 Following an initial throttle lag, the diesel's robust torque (420 lb-ft) and eight forward speeds shove the Rubicon forward effortlessly. At highway speeds, a single downshift gets the turbo spooling and mountain passes are no match for the Jeep. The towing rating remains at a low 3,500 lbs – a sane limit considering its soft suspension.
The expensive way to save fuel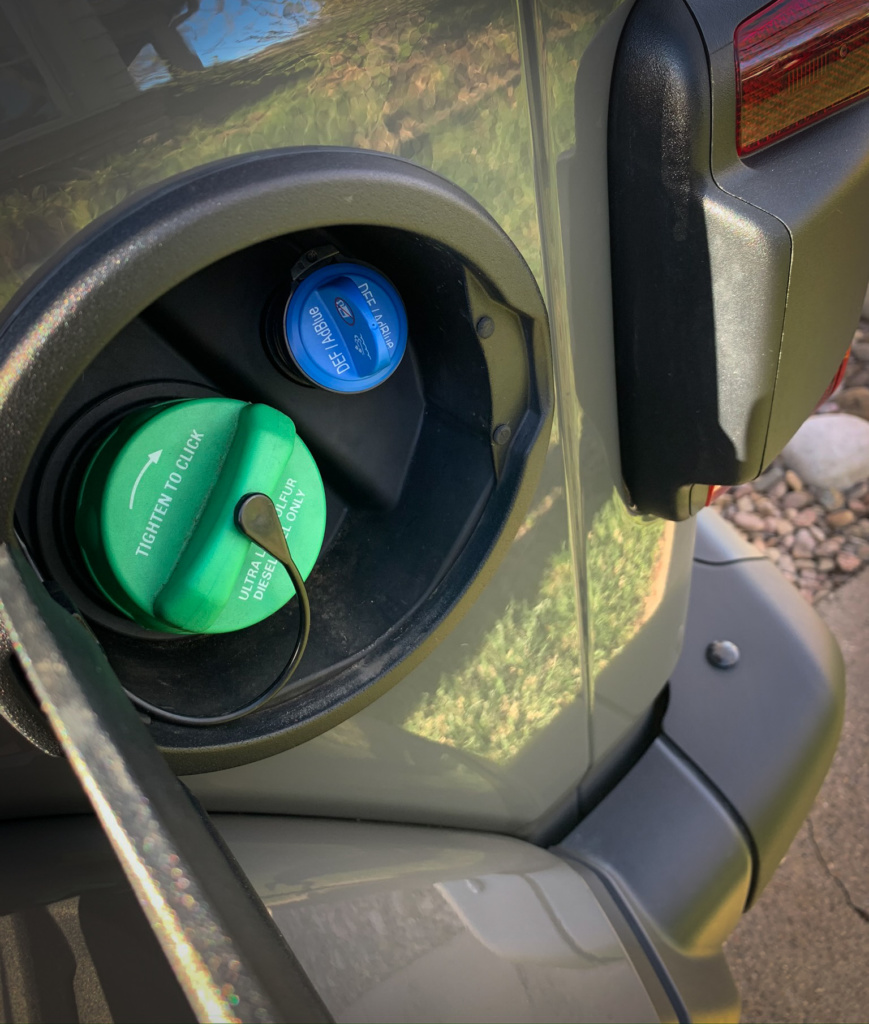 The 3.0-liter V-6 diesel engine commands a $3,250 premium over the Rubicon's standard 3.6-liter V-6 gasoline engine and despite its 5 mpg combined rating improvement, the EPA figures that the diesel version will be more expensive to refill due to current fuel prices. Its 29 mpg highway rating affords a long range of 538 miles on a single tank. During my time with the Jeep, which involved some low-speed off-roading and mixed-driving commuting, the Ecodiesel returned an impressive 25 mpg.
Traction control but no terrain-specific settings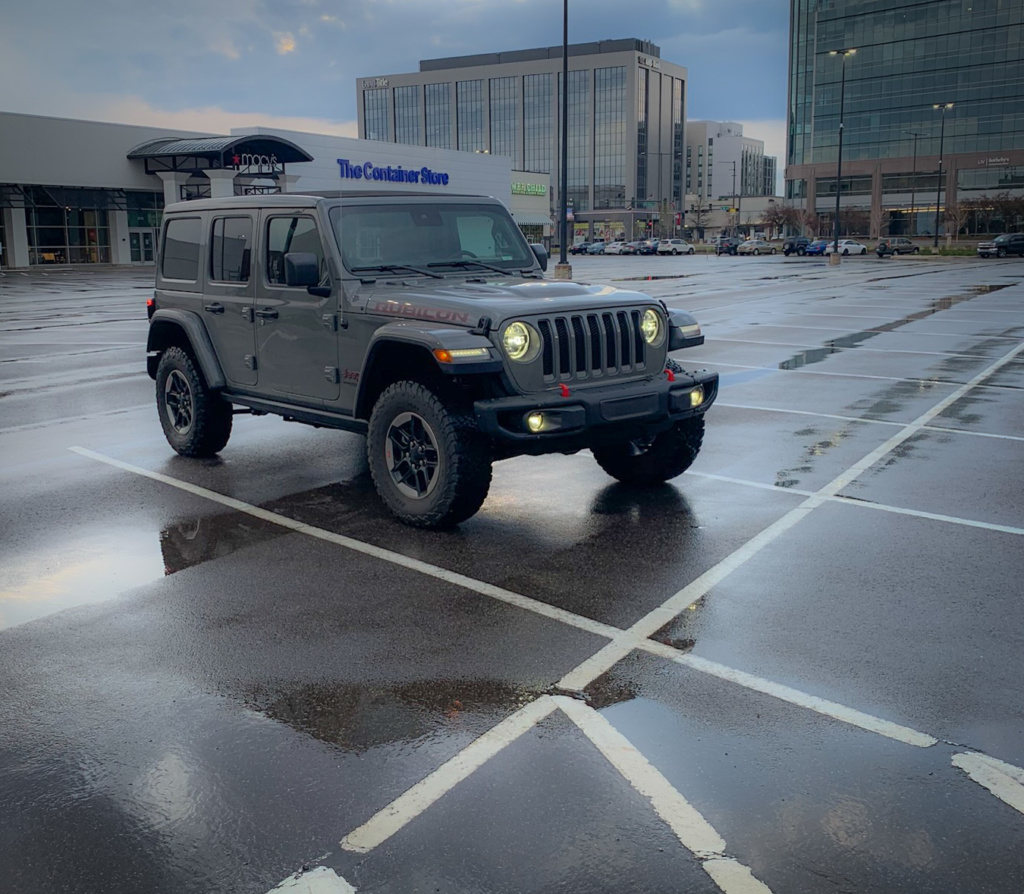 Terrain-specific traction control settings are commonplace among today's SUV's and crossovers, however, you won't find them on the Wrangler. Instead, the Wrangler makes do with a full-on traction control setting, which applies the brakes to the spinning wheels and reduces engine power, and a partial setting which will not limit the throttle. The Rubicon's front and rear locking axles minimize the effect of its vacancy although they can only be engaged in low range.

Off-Road Based Four Wheel Drive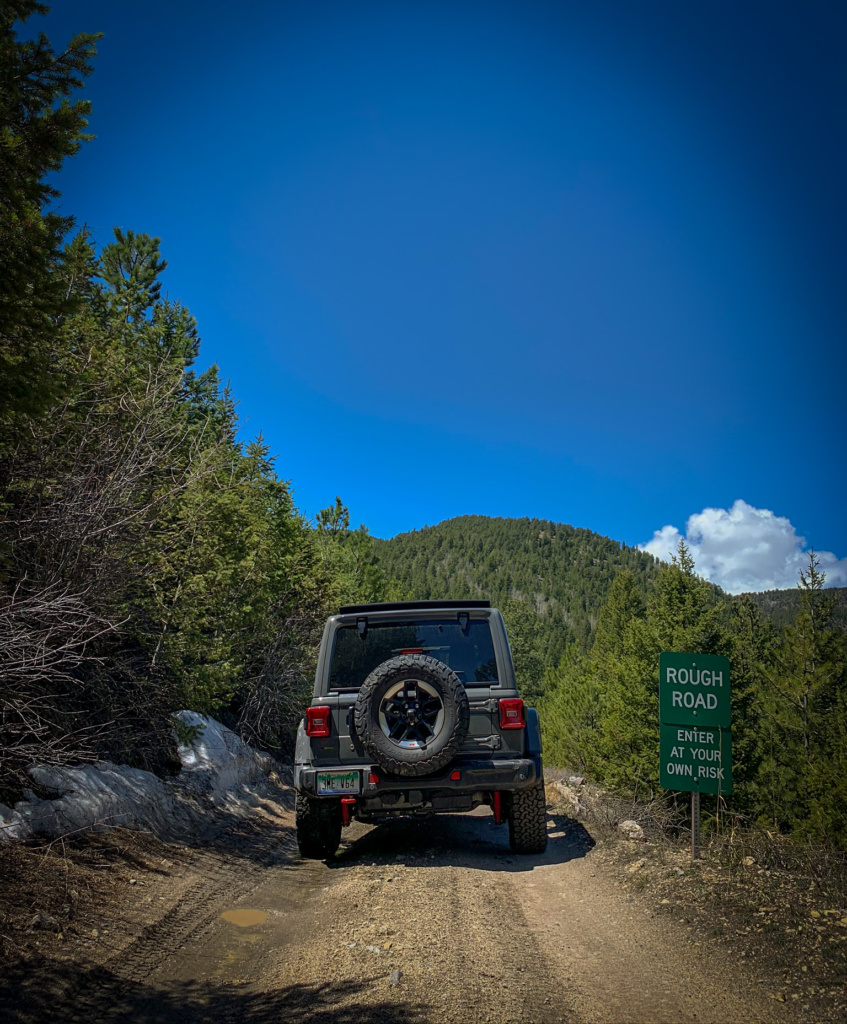 Jeep recommends using the Rubicon's part-time four-wheel-drive system only on loose or slippery surfaces. That's all fine and swell off-road, however, on-road conditions can be less predictable and can change from grippy to slippy in an instant. Of note, and for the first time, the Wrangler offers an all-wheel-drive system that is better suited for pavement duty though it does without low range gearing and not available on the Rubicon.
All-terrain tires for the hard-core Rubicon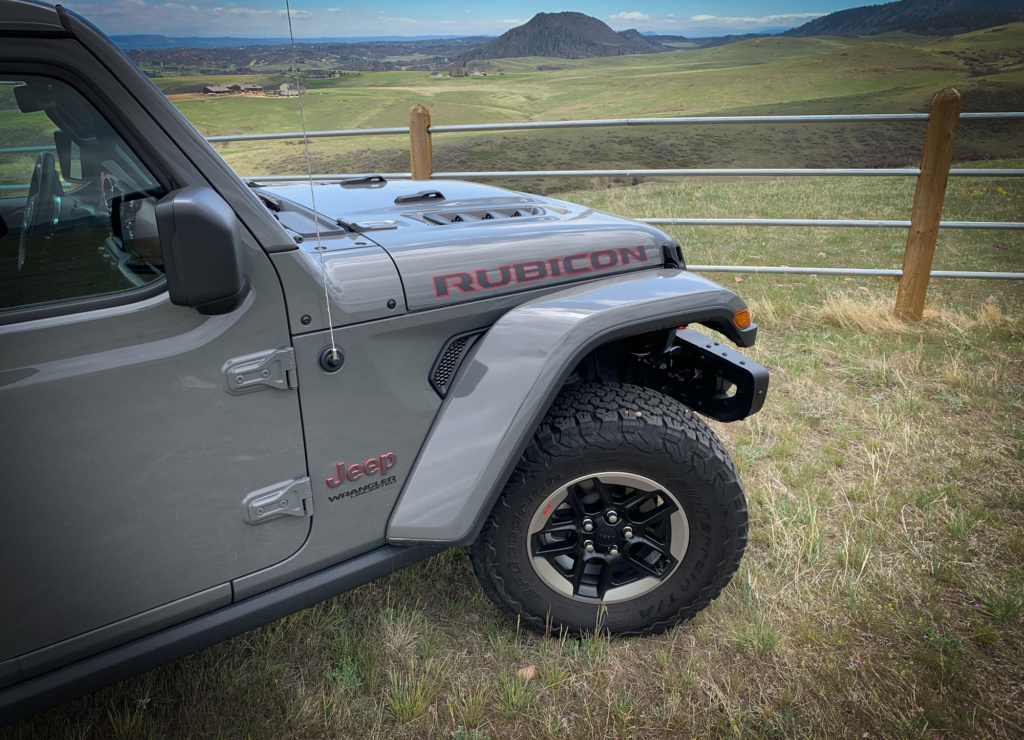 Owners striving for maximum off-road traction (one of the reasons to buy a Rubicon) might be thrown off by the tire choice from Jeep. In reality, the less-than-hard-core BFG All-Terrain tires have earned a reputation for their balanced performance on the road and off. Besides, the tires measure over 32 inches in diameter and the small-ish 17-inch wheels afford plenty of tire sidewall to help the Jeep float over sand and get a grip on rock edges. On-road, the large tires help isolate passengers from any sharp impacts as they simply roll over most pot-holes and bridge gaps.
The Jeep Wrangler Rubicon is a premium vehicle in features and price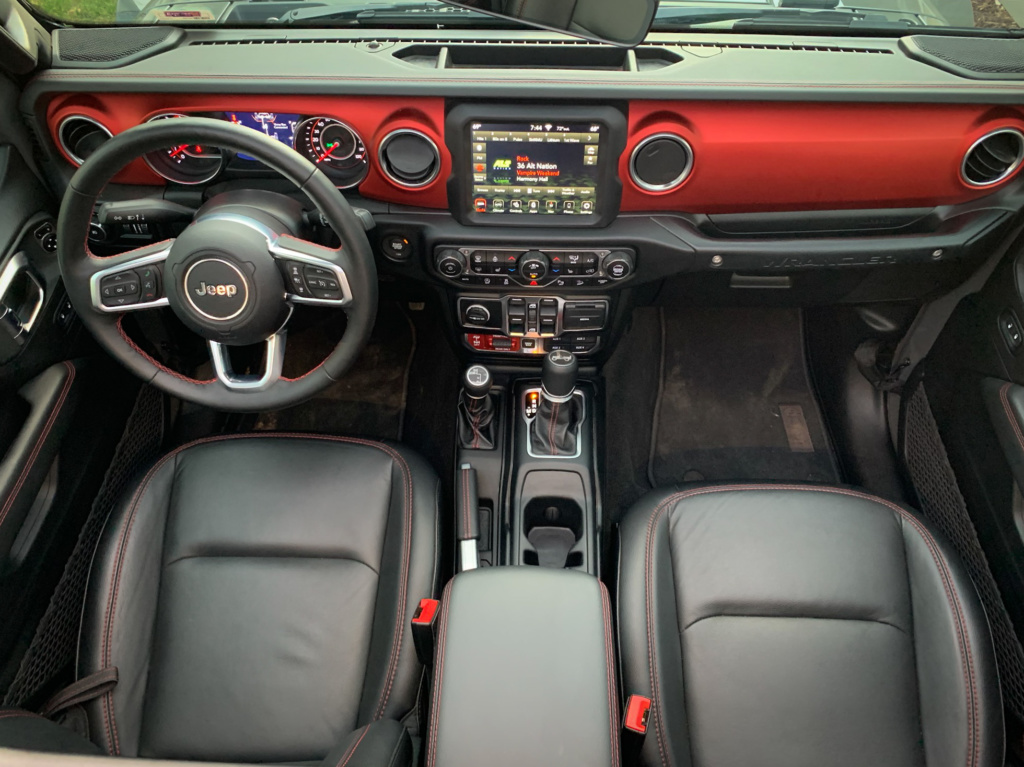 This fully loaded Rubicon has an interior whose feature list matches that of other premium Jeeps – a heated steering wheel, UConnect infotainment system, leather seating – while its beefed-up driveline pushes this Wrangler well past most people's mental preparedness ($64,145). It becomes justifiable the more that the Rubicon's capabilities are experienced, however, the idea of brushing up against rock walls or tree limbs takes some getting used to.

Am I In? Conclusion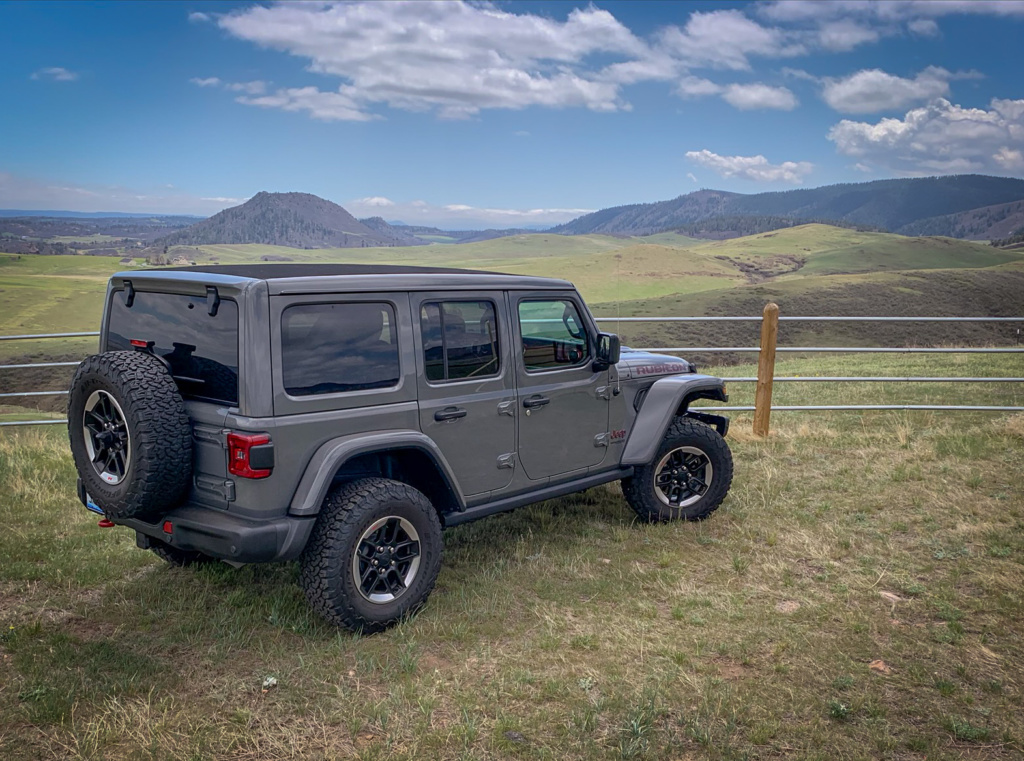 It's clear that the design team had a consistent message and everyone was onboard 100%. The result is an honest machine that is an extremely capable, impressively efficient, and slightly expensive vehicle that goes about its way with a unique, "It's a Jeep thing" personality.