It's not terribly difficult to misplace the Chicago Auto Show on the calendar.
Slotted in-between Detroit and the Geneva Show, where the European brands like to make their debuts, was there much newsworthy coming from this year's Chicago show?
Well, yes in fact, Toyota announced details on its second-generation of TRD Pro models, and Hyundai revels its hybrid and plug-in versions of the Sonata.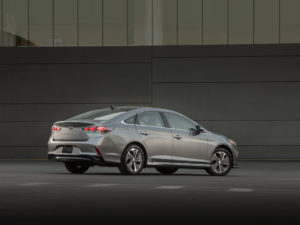 Toyota's TRD Pro models aren't on the same off-road focused path as the F-150 Raptor or the Chevy Colorado ZR2. Instead they ought to be considered as an "extended-capability" trim.
The TRD Pro packages are available on the Tunda, Tacoma, and 4Runner and builds upon each of their respective off-road packages.  Focusing on the dampers, a new generation of Fox Racing shocks are equipped on all models and are, along with the revised springs, specifically tuned by TRD.  The front ends gain an inch of additional lift for added wheel travel, skid plating, and exclusive wheels that widen the tire tracks by about an inch.
TRD Pro also offers plenty of interior and exterior appearance accessories and even a snorkel kit for the Tacoma which theoretically enables cleaner breathing in dusty conditions.
Pricing will be released closer to their on-sale date.
Hyundai's Sonata Hybrid comes up short on EPA ratings. Despite a new transmission design that incorporates the 6-speed unit with a motor where the torque converter used to live, the hybrid earns 42 mpg combined. This falls short of the 2017 Accord Hybrid's 48 mpg combined and the new Camry's 52 mpg combined rating.
The Plug-in hybrid fairs a bit better for those customers who put efficiency as one of their priorities. A larger battery and more powerful motor enable 27 miles of electric driving over a wide range of road conditions.
The Plug-In Sonata will be available in the second quarter of 2018 while the Hybrid should be hitting dealerships now.