What a month January was for new truck news. Ford kicked off the party with an updated F-150 that now offers a fourth engine choice – a 3.0-liter turbodiesel V6 – and has shown a production-ready version of the all-new mid-size Ranger. Chevrolet has introduced its all-new Silverado featuring a new era of styling and a host of improvements. But piquing my interest is in the most number of ways is the 2019 Ram 1500.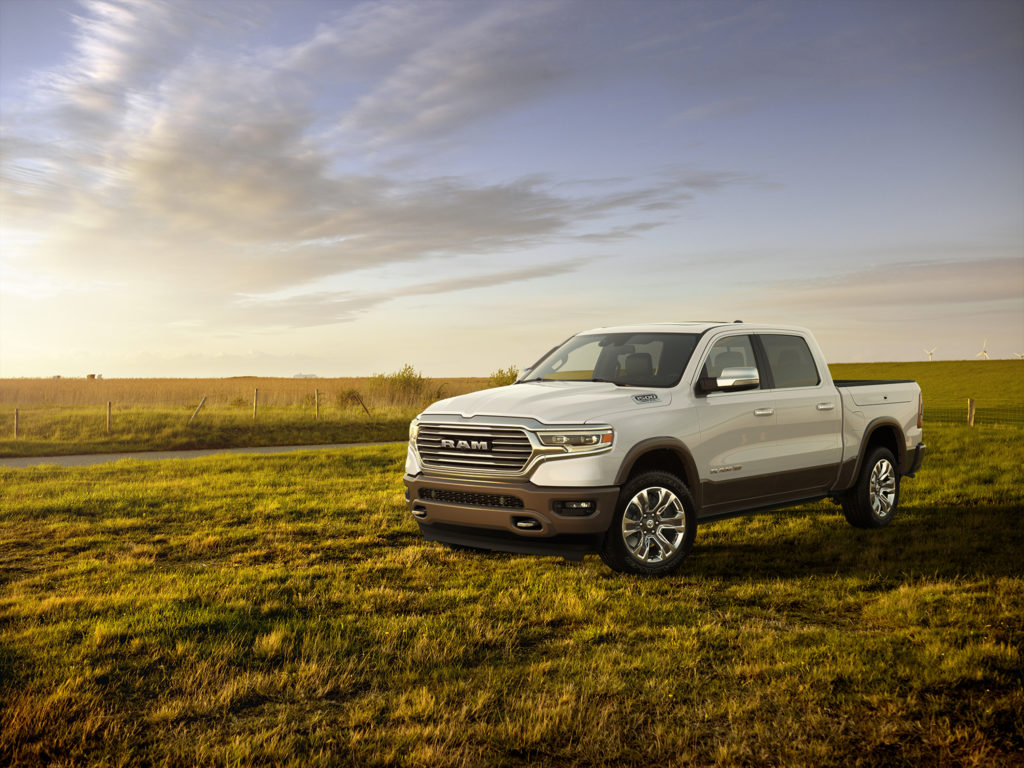 Taking a refinement pen to its current design, the exterior looks much more modern and sophisticated. All around are thoughtful details and segment-first equipment while each trim gets additional unique styling touches. There is no doubt that the Ram team asked a lot of "why not?" and "how about this?" during this redesign.
From an aero performance aspect, the forward-leaning hood dips neatly into the grille and purposefully directs air up and over the windshield wipers, which also contributes to improved wind noise, and the rear corner of the roof receives a dramatic shape to guide the air smoothly over the bed cavity and onto the top of the tailgate's specially-shaped surface. Active grille shutters now sit closer to the grille and a lower bumper air dam automatically deploys at higher speeds to push air to the sides where it can be better managed with smooth surfaces. This little piece of engineering, developed with Magna, is good for +1 mpg highway and is an elegant solution to the compromise known as the fixed front air dam. While certainly effective at guiding air, it is also low enough to drag and scrape in mild off-road situations and is unreasonably difficult to remove and reinstall.
While Ford has been strengthening its turbocharged lineup, Ram and Chevy are sticking with a naturally aspirated lineup for now. However, Ram is offering a segment-exclusive 48-volt mild-hybrid system. Effectively replacing the alternator, the eTorque system can add up to 130 pound-feet of torque (90 lb-ft on the V6) immediately when called upon. On the flip end, it captures energy during coasting and braking
situations, sending it to a battery pack mounted behind the rear seat. So not only does this system help push this massive vehicle off the line more quickly and efficiently, it also improves the engine start/ stop experience by eliminating the rough cranking nature of a traditional starter. The EPA figures haven't been announced but don't be very surprised to see class leading city figures.
The aero and powertrain teams weren't the only ones embarking on the path for improved and performance efficiency. The chassis team designed a composite upper a-arm which not only reduces weight but also allows the suspension to react to impacts faster. Those motions are then absorbed by adaptive dampers. This is all mounted to a longer and stronger frame, of which, is 98% high-strength steel. It is also 100 pounds lighter, to boot.
Inside, the innovation continues. An optional 12" touchscreen display provides levels of customization and functionality one might expect in a Tesla. Redundant buttons for the HVAC are placed along side of the screen, at least. As expected, the latest connectivity tech is included here including an industry first, subscription-based SiriusXM 360L which offers a more personalized and searchable music platform. A 19-speaker audio system takes care of pumping out the sound of whatever source you choose to use.
The rest of the interior is covered with increased use of premium materials while efficient use of space means an abundant amount of storage space within the enlarged cabin, highlighted by the adaptable center console.  
Ram continues to offer distinctly shaped trim levels ranging from the basic Tradesman to the top tier Laramie Longhorn and Limited editions. The successful off-road themed Rebel returns with a two inch suspension lift over the standard model while coil suspension joins the previously required air-bag suspension. Non-Rebel trims can be fitted with the off-road package which brings revised suspension geometry, a more modest one-inch lift, added protection underneath, and 32" tires (Rebel features 33").
We continue to see more luxurious features and innovations included in pickups that are pushing the traditional boundaries of the segment. Ford pushed through the materials barrier and got people considering the benefits of a turbocharged V6 over a V8. Chevrolet keeps tradition closest to its chest, relying on continuous improvement to existing technology while Ram brought air suspension, a small diesel V6, and the RamBox bed cargo storage.
For 2019, Ram clearly continues in its direction to bring significant improvements to the segment and as more information comes about regarding specific trims and feature content, the Ram 1500 makes the best case yet for being the best all-around vehicle.