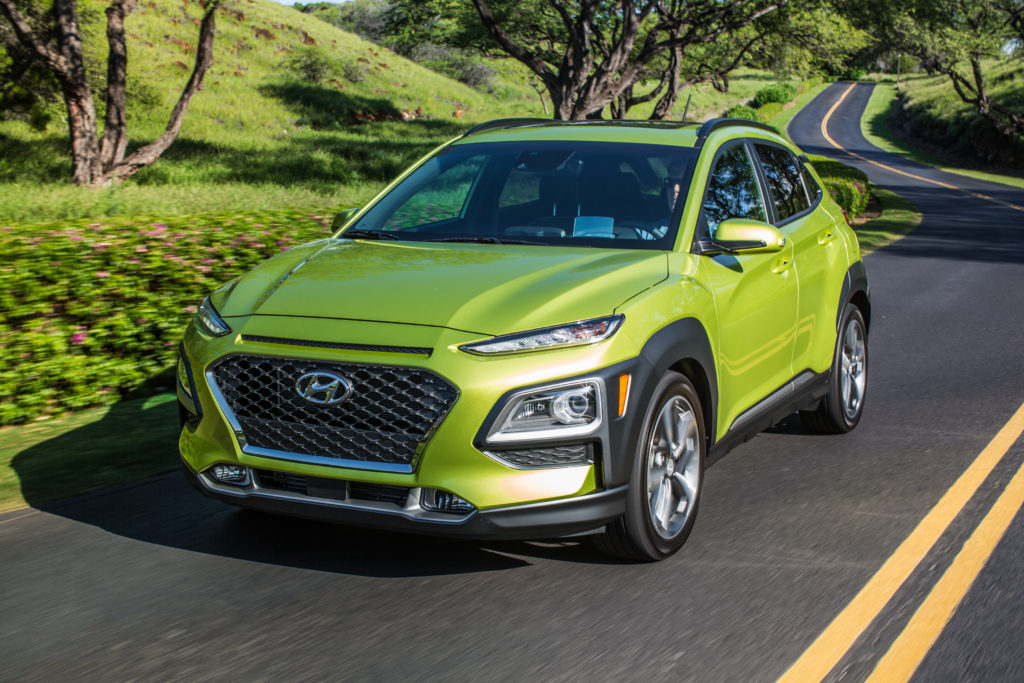 Hyundai's new small SUV looks like it might be creating a narrow niche with its sporty hatchback and adventurous high tech but if it happens to catch on, it could earn the brand some passionate customers. It's a similar mission of the Toyota CH-R however, the Toyota falls flat in driving dynamics while the Kona promises an athletic ride.
The Kona's outside appearance features large black plastic wheel surrounds that wrap around the corner of the bumper where they stand out in an array of shapes and colors. It makes the plastic cladding on the Subaru CrossTrek and other "rugged" wagons seem like conservative efforts. The sweeping curves in the side panels give it a dynamic look but it struggles to be a harmonious overall design, which may very well be the styling intention.
Step into the interior could have you believe that Dr. Jekyll and Mr. Hyde were leading the design process. Instead of dramatic shapes, the interior design is very traditional with the only bit of funkiness is the color trim placed throughout the interior. High tech features are available like LED exterior lighting, a suite of active safety tech, and a plastic pop-up that works as a head-up display.
The chassis setup was designed for low speed performance – think city driving – while providing enough comfort to manage the potholes and bumps. An efficient 2.0-liter with six-speed automatic is standard while the 1.6-liter turbocharged four-cylinder, mated to a seven-speed dual-clutch transmission (DCT) is optional. After experiencing this powertrain one-mile up in Denver, I was impressed with the responsiveness of the transmission and strong pull of the engine. The engine's low down torque (195 ft*lb from 1,500 rpm-4,500) was plenty sufficient for cruising effortlessly up the Rocky Mountains. And to help get around in the winter time, all-wheel drive is optional, something absent in the CH-R. The Kona (named after my cat) is expected to go on sale in the first quarter of 2018.