NAIAS / Detroit Auto Show
With CES looking more and more like a traditional auto show, this week's Detroit Auto Show can be considered as the second half of big reveals and forecasts of a vastly different mobility environment.
Ford – Lincoln
Ford introduced the minor model change of the F-150 which brings more engine options, increased availability of the 10-speed transmission, and increased safety tech. Also for the first time, the Ranger and the Bronco were officially confirmed for 2019 and 2020, respectively. The future vision of Ford is one that imagines it selling many different mobility options to fulfill the best solution for a number of varying environments. To do this, it has created Ford City Solutions where it is partnered with major metropolitan areas and mobility solutions think tanks.
Honda – Acura
Honda introduced its newest generation of the Odyssey. After falling behind the competitors in terms of tech offerings, this new Odyssey brings in the safety systems and new innovative features such as available cabin camera that can display the  second and third row seats on the 8-inch touch screen, a central playlist where passengers can upload their songs, and a new Command System where passengers can control the rear entertainment via their smartphones. More info is to follow about features breakdown per trim level.
Hyundai – Kia
Following a significant amount of teasing, Kia's rear wheel drive, grand tourer represents a shift in the brand's direction. it's ride and handling performance is promising to be comparable to the to the german sedans which is none too surprising since this is the first vehicle to have been developed with former BMW engineer, Albert Biermann. In a movement for sporty rear drive sedans, this will be an interesting one to follow as more information becomes available.
Toyota – Lexus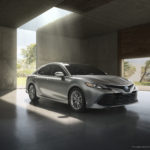 Two very big announcements came from the world's largest automaker. The new Camry was introduced with a theme of sporting performance and "sexy" styling. Toyota's has been caught calling wolf a bit too often to take their claims too seriously, but indeed the styling does present the most dramatically styled lines and split-color c-pillar. The interior features a flush mounted touch screen, sporty-bolstered seats, and a flowing s curve down the center dash. Additional powertrain and engineering details will be released at a later date.
Other big news was the introduction of the LS 500.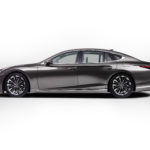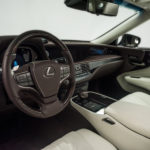 Powered by an all-new turbo V6, the LS has a much more confident and elegant (save for the grille?) presence. A new platform and next level of luxury should impress those looking for a bit of handling prowess while also providing for those who want to ride in pure comfort.
VW
A new long-wheelbase Tiguan debuted with an overall length that is 10″ longer than the current model. With this extra length comes the availability of a 3rd row for those at the bottom of the totem-pole. Expected to deliver the latest in connectivity and safety tech, this mid-sized SUV will certainly capture a wider audience when it becomes available.