The 2020 Toyota Land Cruiser is unquestionably over-built for typical day-to-day commuting though simply knowing that "it can" is a big part of its allure. Its reputation as being one of the most dependable over-landing adventure vehicles in existence is held with little debate, however, as its capabilities have increased with each successive generation, so has its size, price, and appetite for fuel – almost to absurdity. Is it still relevant in today's climate where SUV's require fewer compromises than ever before? That's what I set out to determine.

Features and Price

The Land Cruiser, at $90k, is undeniably expensive, especially when compared feature-by-feature against equally priced SUVs from luxury brands. Those other SUVs may strive to include the latest and greatest gadgets whereas the Land Cruiser tends to focus on perfecting its existing designs to eke out every last bit of durability, capability, and longevity that it can. In fact, its development cycle extends many years beyond what is the industry standard, giving the engineering team more time with its designs. The end result is a sense of capable-luxury that can be appreciated every day, that is, as long as the right perspective is maintained. This is a Toyota through and through and while it's nearly all good stuff, there are several large compromises to everyday duties as a result of its unique mission of durability, capability, and quality.

Quality Design
The Land Cruiser's extended life-cycles means that its exterior maintains classic SUV proportions and styling, which continues to age gracefully, while its front and rear fascias are tasked with providing a sense of modernity. The large chrome horizontal bars of the grille, bulging shapes of the hood, and signature DRL and taillight pipe-light designs are effective at giving the Land Cruiser a bolder personality.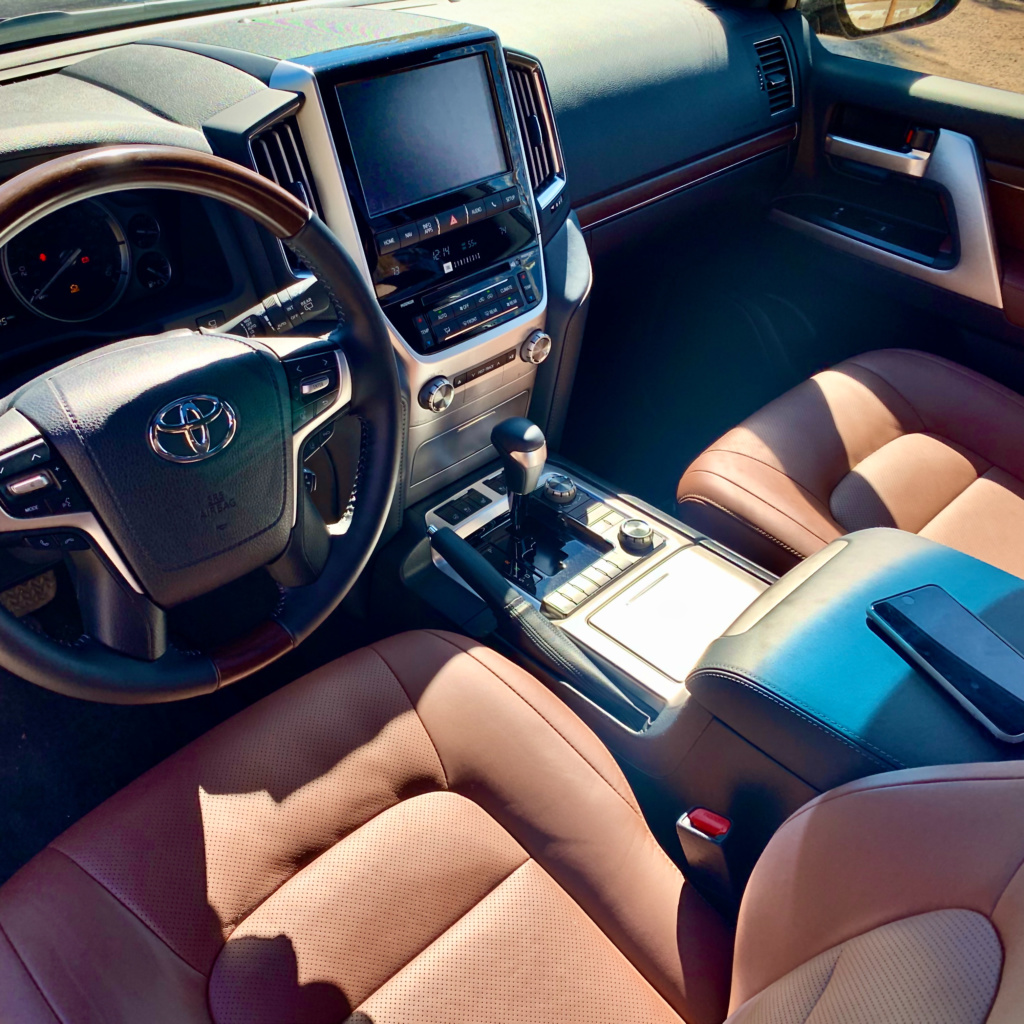 Hopping inside, the styling and general layout are also very traditional in the sense that it's very open and user-friendly with easily accessed buttons and knobs. The super-soft leather seats are heated and ventilated, though the driver's seat is limited to 10-way power adjustments and is positioned relatively low to the floor. The heated steering wheel is a combination of leather and faux wood and feels great to hold while its large buttons are easy to use. Looking through the steering wheel reveals large and excellently crisp physical gauges which are a big contrast from the dashboard of screens from Audi and Mercedes-Benz – but again, this is a Land Cruiser.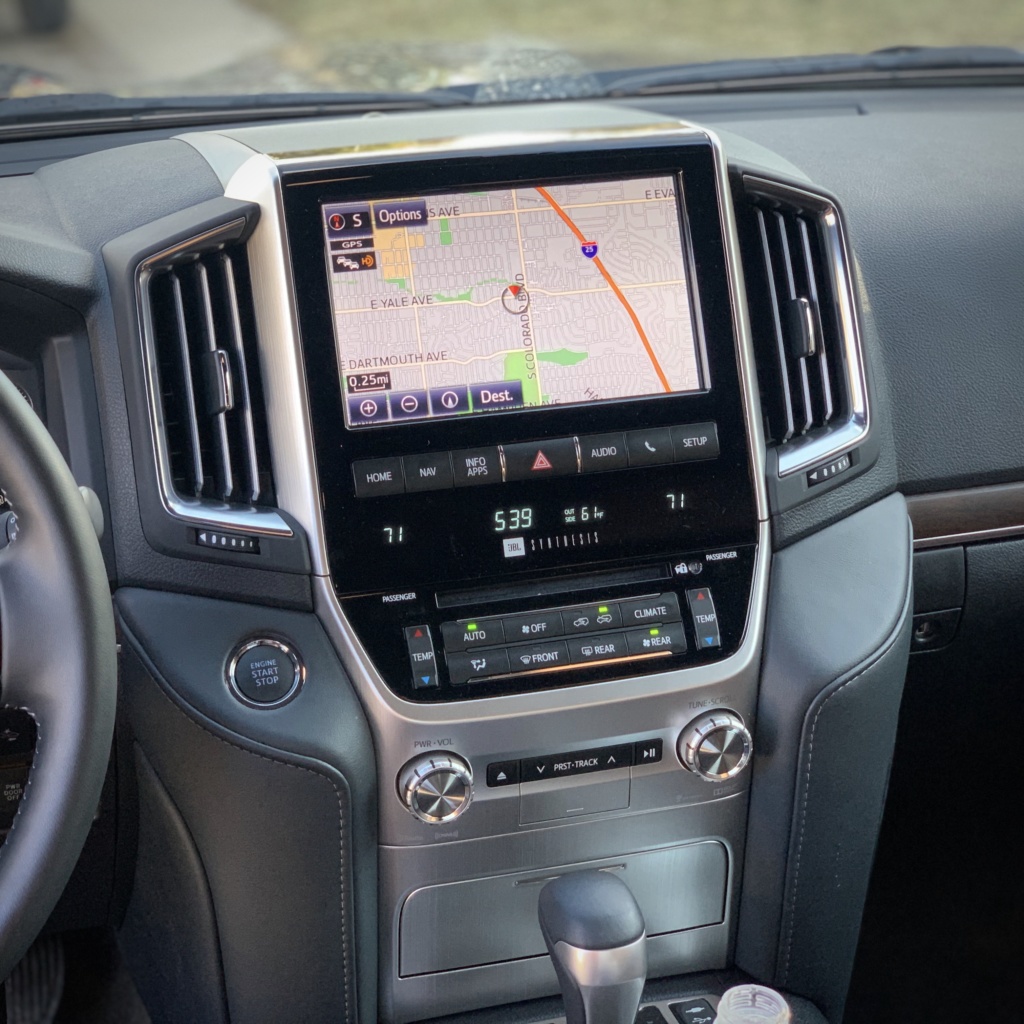 The center instrument cluster is a wall of padded faux-leather and textured silver trim that looks and feels like it's ready for decades of use and will never go out of style – well, except for the CD player. That said, the 14-speaker JBL premium audio system is truly impressive and the quiet and isolated cabin made it fun to enjoy at all speeds. The infotainment system is quick and easy to navigate, though it lacks the detail found with other manufacturers' systems. Also, the surround-view camera display lacks the clarity of high definition and its rear centerline marker was off-center which made hooking up to a trailer much more frustrating than it should have been.
Second-row passengers enjoy the same super soft perforated leather seats with heating, individual climate controls, though a relatively low seating position naturally creates a knees-to-the-side seating position. As expected, the third row is slightly awkward to get into and best left for smaller bodied folks.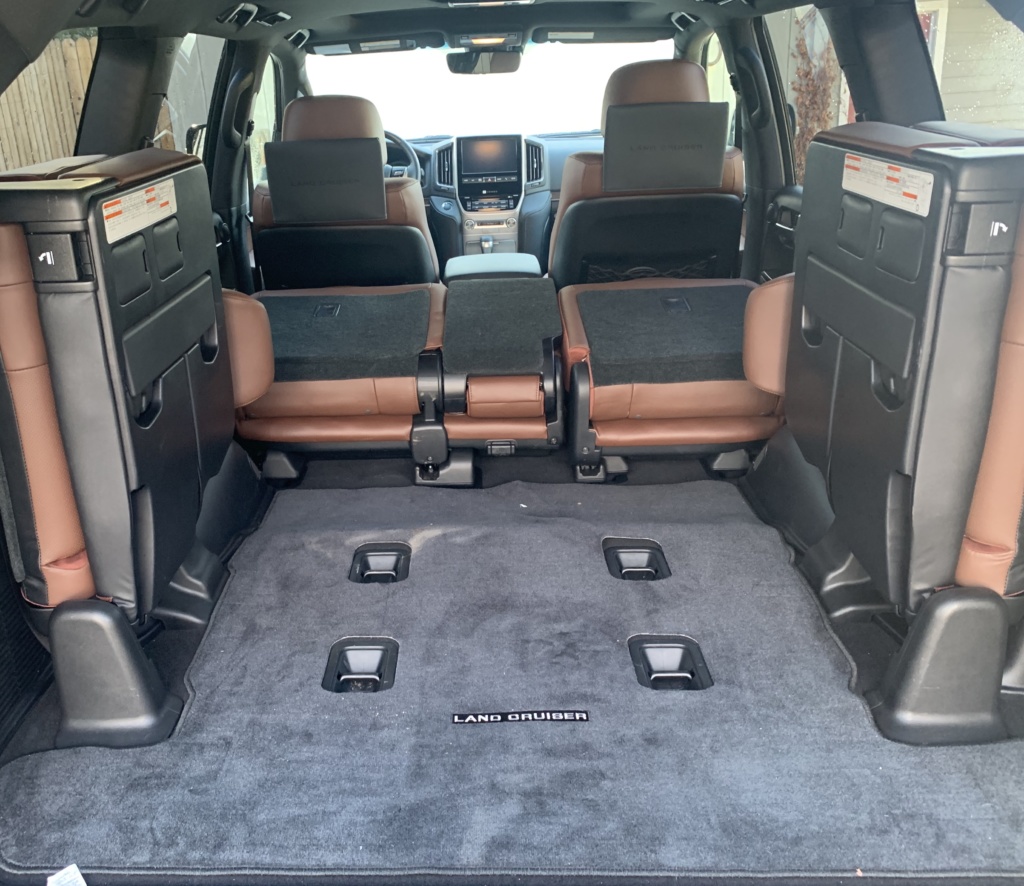 Cargo space is certainly compromised by the Land Cruiser's heavy-duty construction. Behind the third-row, there is enough space for a row of grocery bags and, despite the rearmost seats' best attempts to get out of the way, there's still not a grand sense of space that one might expect with all seats folded given the size.
Another throwback to tradition is the split-tailgate. It's always ready to be a park bench and the upper half is ready to provide shade or protect from the rain. Its upper half is power-operated while the lower half must be raised and lowered manually (though it features power latch).
Other compromises are slightly less easy to live with on a daily basis. In particular, it's dreadful fuel economy which is a direct result of the unique purpose of the Land Cruiser.

About that Fuel Efficiency
It's heavy-duty construction and overall size yields a 5,800 lbs curb weight – about two Honda Civic's, for reference. Naturally, Toyota only fits its largest engine, a 5.7-liter V8 with 381 horsepower and 401 lb-ft of torque so it can accelerate smartly off the line and up to speed with ease though once on the highway, multi-gear downshifts from its eight-speed transmission are often required to maintain speed through the mountains. It sounds awesome when it's working hard but it's also painful knowing how much fuel is being injected during those moments.
The Land Cruiser's permanent four-wheel-drive system is ideal for all-weather and surface traction yet it too contributes to poor fuel economy as it has more drag than other part-time systems. The center differential can be electronically locked for equal front / rear power distribution and the traction system can be tailored for the given terrain. The systems, along with low-speed crawl control and hill descent control are valuable tools, though the systems' rapid firing of the brakes is felt throughout the cabin and it sounds awful.

Around the Mountain
Part of what makes the Land Cruiser so capable off-road is also what makes it such a competent on-road handler. Queue the Kinetic Dynamic Suspension System. It hydraulically adjusts the stiffness of the front and rear roll bars depending on the condition. The added hardware allows for significant wheel articulation for maximum traction off-road while also enabling exceptional body control when crossing over highway bridge gaps or swinging down winding roads. That's not to say the Cruiser will be confused with something athletic – it simply feels and acts too large for that. At highway speeds, the steering falls to a natural heft, the engine lumps along, and the cabin is relatively void of any vibration from the drivetrain. Its solid rear axle motion is kept in check and the large tires smoothen out any large impacts for a wonderfully stress-free environment.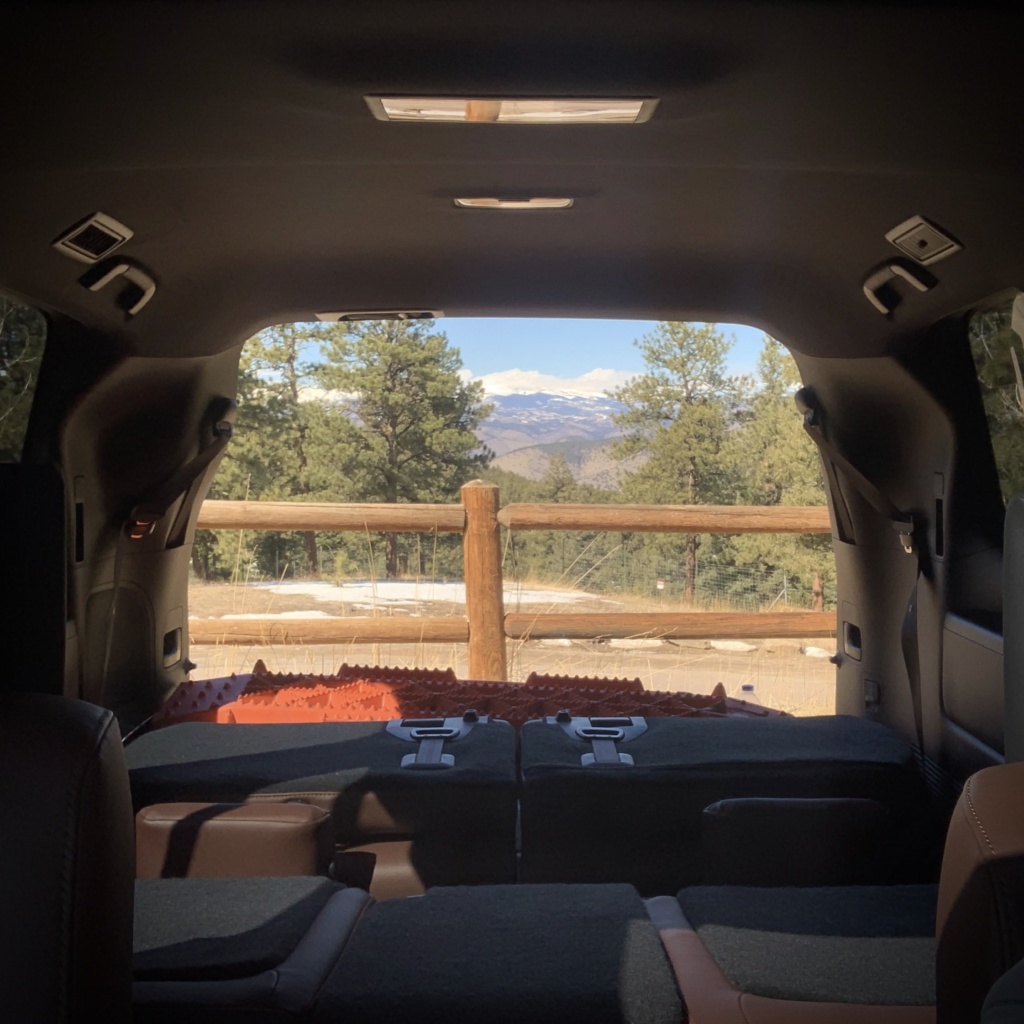 Conclusion:
The Land Cruiser is exceptionally good at what it's been designed to do, yet, for daily duties, its compromises are significant. For those who can regularly appreciate the Land Cruiser's mission intent above all else, there may not be a more valuable vehicle on the market.