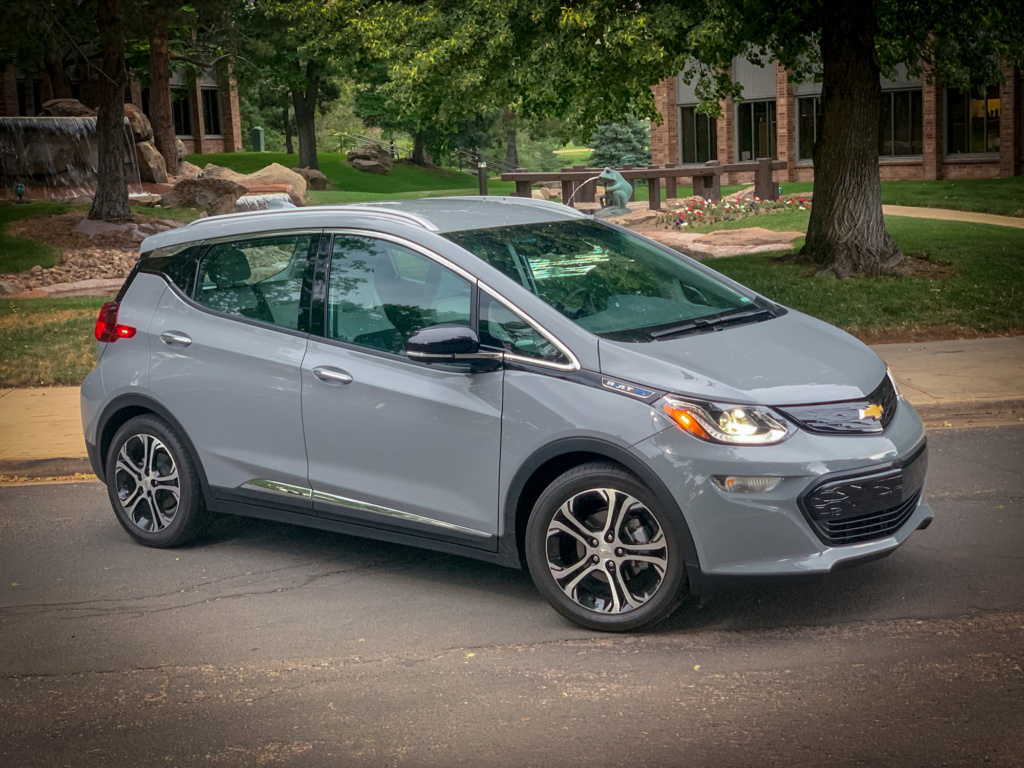 Imagine a car designed by the most logical and forward-thinking engineers at GM. The car isn't going to win any styling competitions nor does it come close to meeting the benchmark for ride and handling. Rather, its mark on the industry is etched with an exceptional driving range, ease of use, and utmost practicality. It may not be overly exciting but it is entirely satisfying.
A large part of the Bolt's success stems from its EV-dedicated platform where 960 lbs of batteries are arranged in an efficient grid below the very spacious cabin. That helps to lower the center of gravity for secure road maneuvers but more noticeably, it allows for a flat interior floor. The low step-in, the high positioned seats, and the tall roofline make for incredibly easy ingress and egress.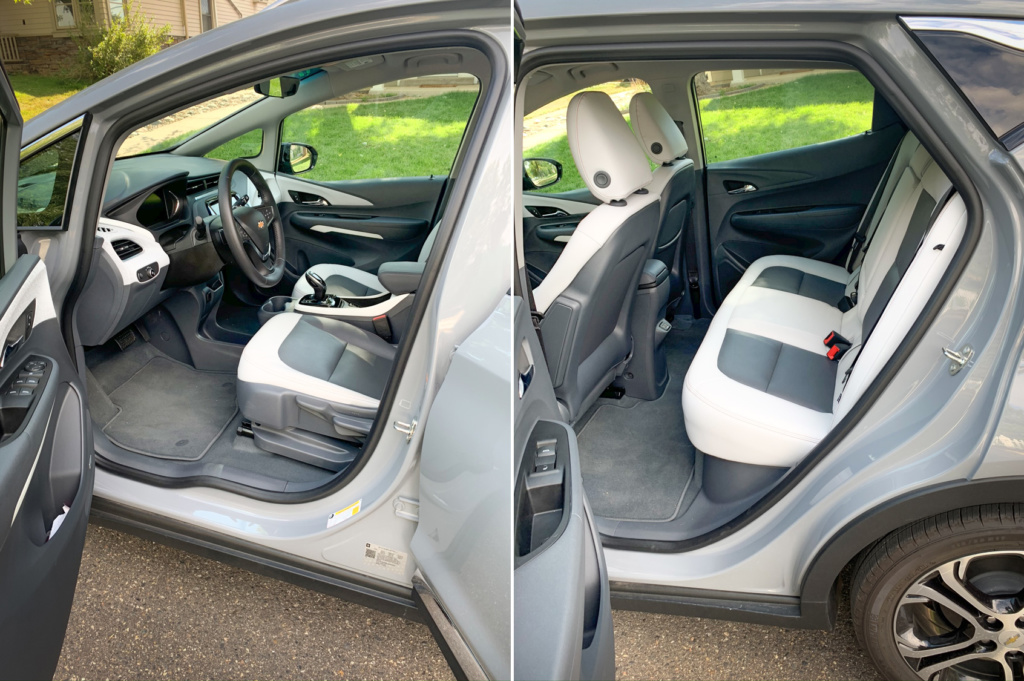 The low belt line at the front windows and large front quarter glass create an expansive view of what's happening ahead and around. Chevrolet's surround-view camera system is there to help with parking and is one of the best available. For looking behind while on the road, the high-tech digital rearview mirror display seems less necessary in such a short vehicle but the system quickly proves its worth by eliminating the blinding effect of glaring headlights from large pick-ups and doesn't need to be adjusted to accommodate in different body positions.

Layout-wise, the Bolt's interior is simply arranged with a large touchscreen that is positioned within easy reach, a digital driver information display, and hard buttons for the volume and HVAC controls. Styling-wise, the simplistic interior lacks much overall sense of emotion. Its hard surfaces and integrated patterns may not pass the test of time but there are some nice details such as an unbroken strip of high-gloss white trim and hidden LED ambient lighting that helps create a feel high-end feel at night.
During the daytime, there are a few areas where the interior feels unfinished. The dash's top material is so thin that it reveals the structure beneath, the large center floor cubby lacks the configurability to hold small objects securely, and the top of the front door panels are fitted with an extra trim piece that tells of a misunderstanding between styling and engineering. And the Bolt also taught me to be mindful when gripping the gear shift as it's easy to pinch a finger when moving the shift lever indents into reverse, though it only will happen once.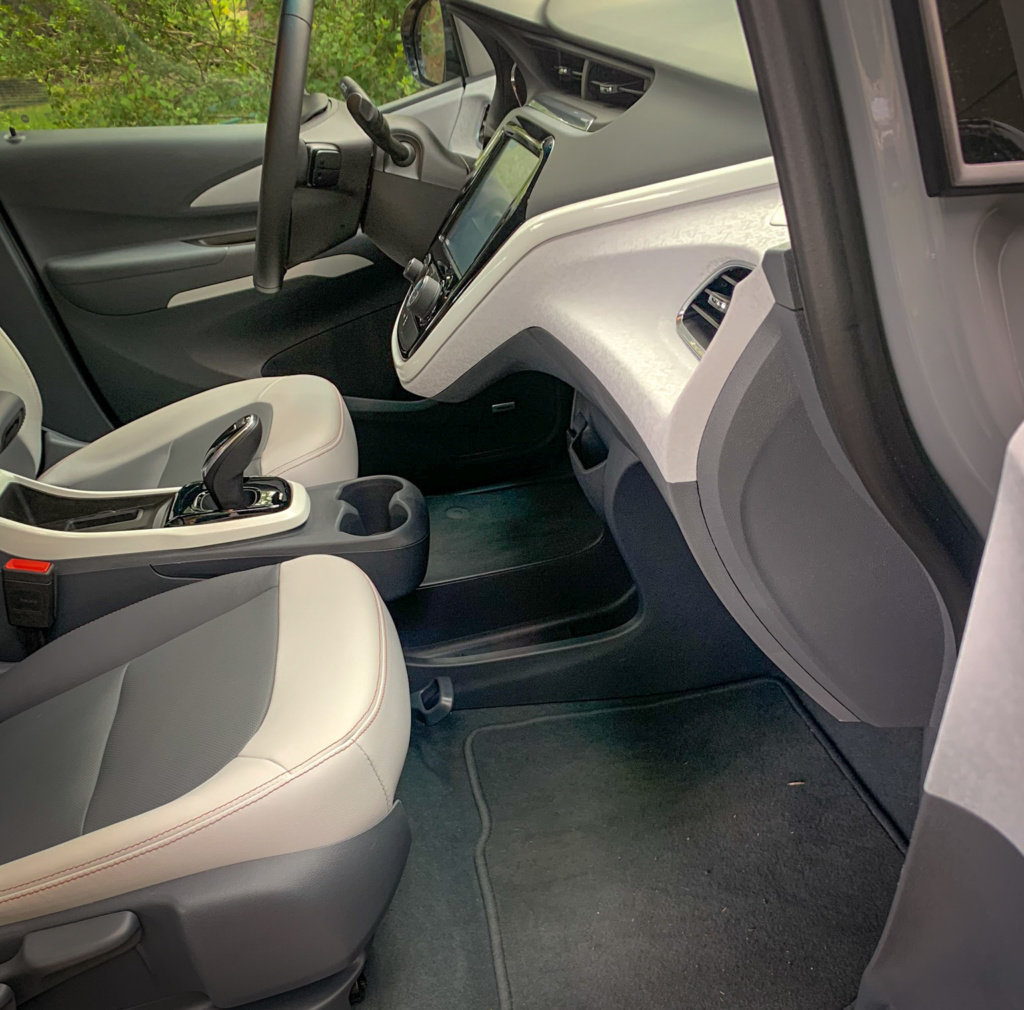 Just as the interior carries a fuss-free feeling, the powertrain serves up a range-calming (not anxiety-free) 259 miles between charges. That is enough for several days of worry-free commuting or an entire weekend of running errands without having to pause at a fast-charging station. The powertrain is plenty powerful as well and launching up on-ramps becomes a happy start to the morning commute. Once at speed, the Bolt is reasonably quiet and has good straight-line stability but big bumps and fast-dips demonstrate the suspension's basic design. The Bolt's motions are better controlled over low-speed bumps but don't attempt to hustle it around as the low-rolling-resistance tires, softly tuned suspension, and flat bolstered seats, take the fun out of traveling down any canyon road.
The Bolt's single-pedal driving system is tuned for moderate regeneration which feels appropriate for keeping with suburban traffic and even coming to a stop. At high-speeds, the driver can grab onto a button behind the steering wheel for even more aggressive regeneration which is advantageous when exiting the highway or approaching slowing traffic on the highway. At a DC Fast-Charging station, the Bolt can extend its range by 100 miles in about 30 minutes. Level II chargers will require all night to charge which may suit some as just fine.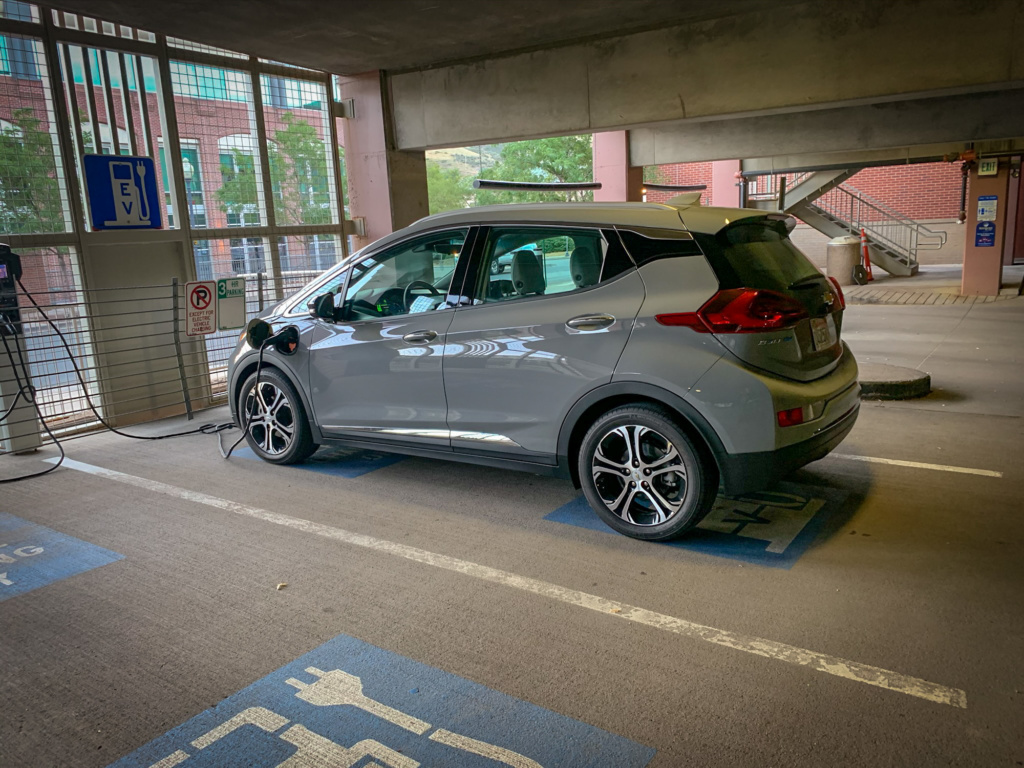 The Bolt EV is practical to a fault. It's undoubtedly easy to live with, however, it lacks the fun-to-drive personality – which is possible with an electric powertrain. Expect the next-generation Bolt to inject a bit more excitement in its design when it debuts later in 2020.