Making the case for the most capable vehicle available today.
When Mercedes-Benz graces the rear end of the car with the AMG badge, there is an immediate rise in expectations. The now in-house performance arm has waived their wands over more unlikely vehicles such as the G 63 (and the single-year run of the R 63) which raises suspicion of the big SUV's true sporting intentions but the brand-new generation AMG GLS 63 begs one to test its go-fast credibility all while enjoying its lengthy list of luxurious features and three-row spaciousness.
Performance:
Every aspect of this vehicle is an example of attention to detail – as one might expect considering its $155,000 price tag (it starts around $132,000) – yet it's also about how it all comes together.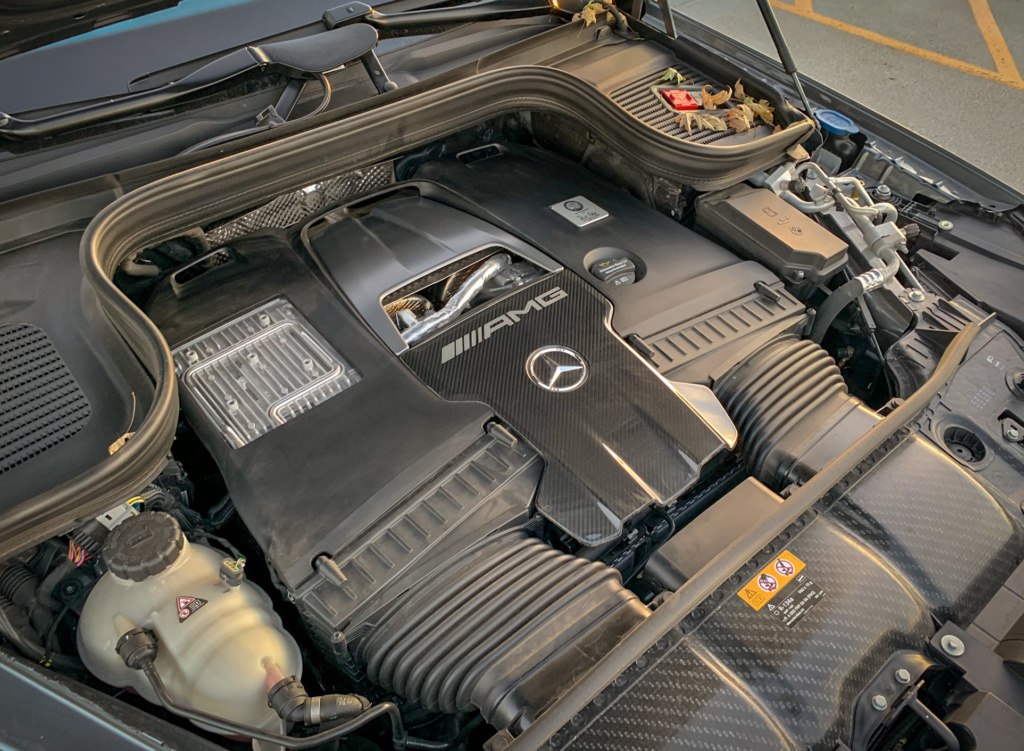 The AMG GLS 63's story begins with the hand-built 4-liter twin-turbocharged V8. Codenamed M177, the engine punches well above its weight-class and produces 603 horsepower and 627 lb-ft of torque. Delightfully, those figures only hint upon how powerful it truly feels. The 3-ton SUV jumps off the line with the immediate response of an EV thanks to EQ Boost, which refers to the 48-volt electrical system and a motor that is packed between the engine and the transmission.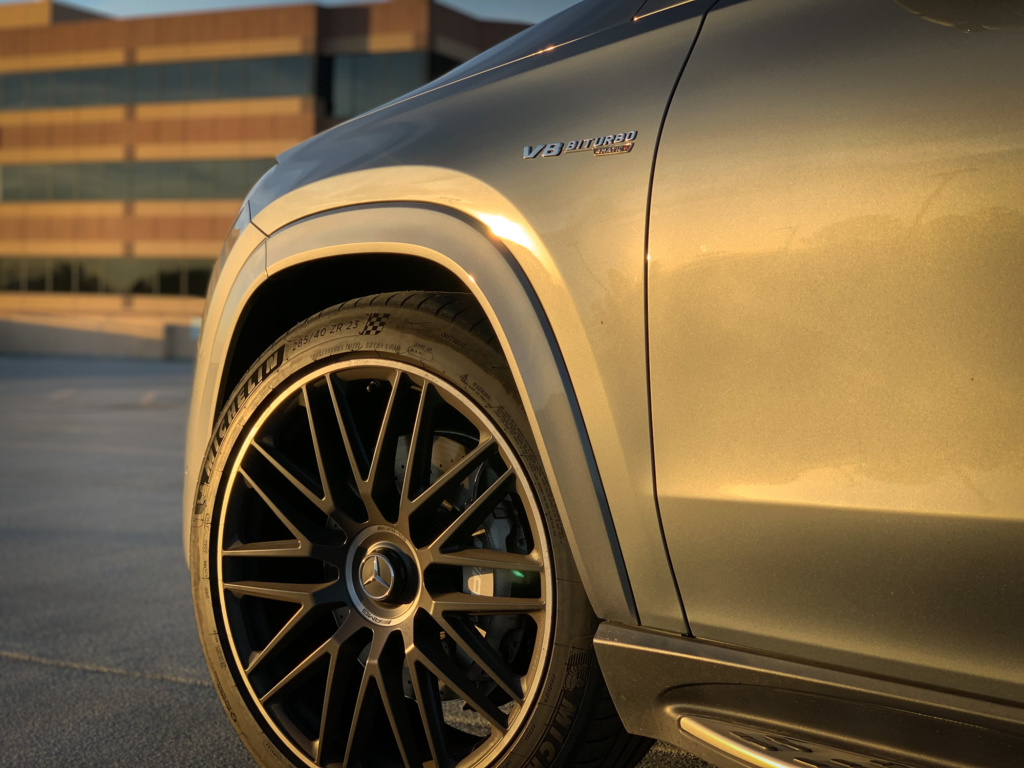 Once past a very brief moment, the turbochargers are shoving as much air into the cylinders as the pistons can handle while the variable-phase camshafts, direct fuel injectors, and other controls coordinate a very smooth and predictable power curve all the way up to its 7,000-RPM redline, at which point the transmission comes into the limelight. Its ability to quickly and firmly shift from gear to gear is an experience in itself.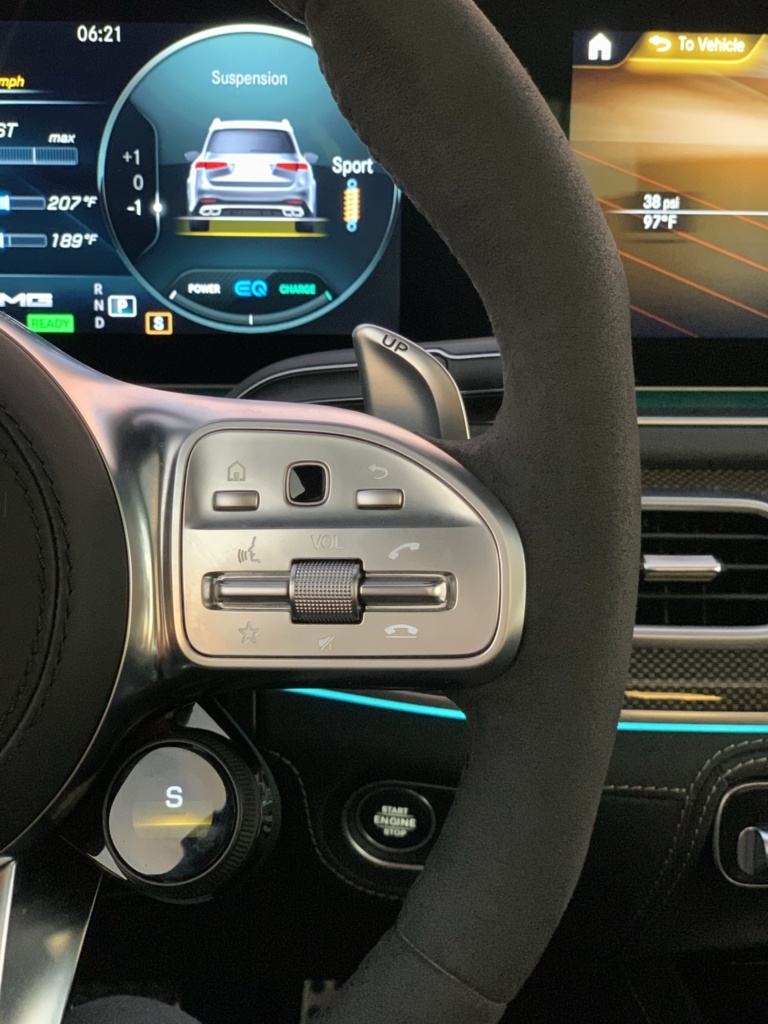 Its lower gear ratios are so tightly spaced that, under wide-open throttle, it rips through first and second gears before the AMG reaches 60 mph. Even when trying to drive at a more leisurely pace, it's near impossible to not briskly pull away from traffic as even part-throttle delivers more power than most cars can achieve, period. The only downside is the abrupt throttle tip-in which can make smooth starts a bit challenging.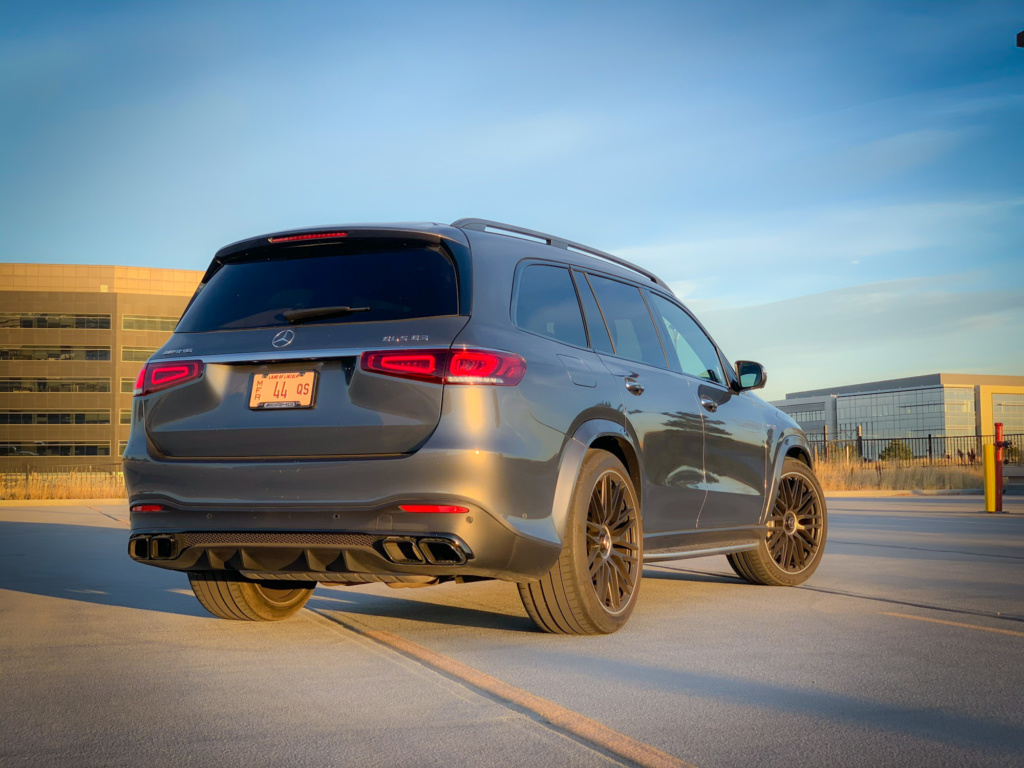 Monstrous power and a barking exhaust are historical pillars of AMG; fuel efficiency ratings, not so much. The AMG GLS 63 seemed ready to fall in line with that trend as it exited the EPA labs earning just 14 mpg city, 18 highway, and 16 combined. In reality, the AMG easily achieved 18 mpg during my week of mixed driving (and plenty of wide-open throttle) which feels entirely reasonable for such a large and capable vehicle.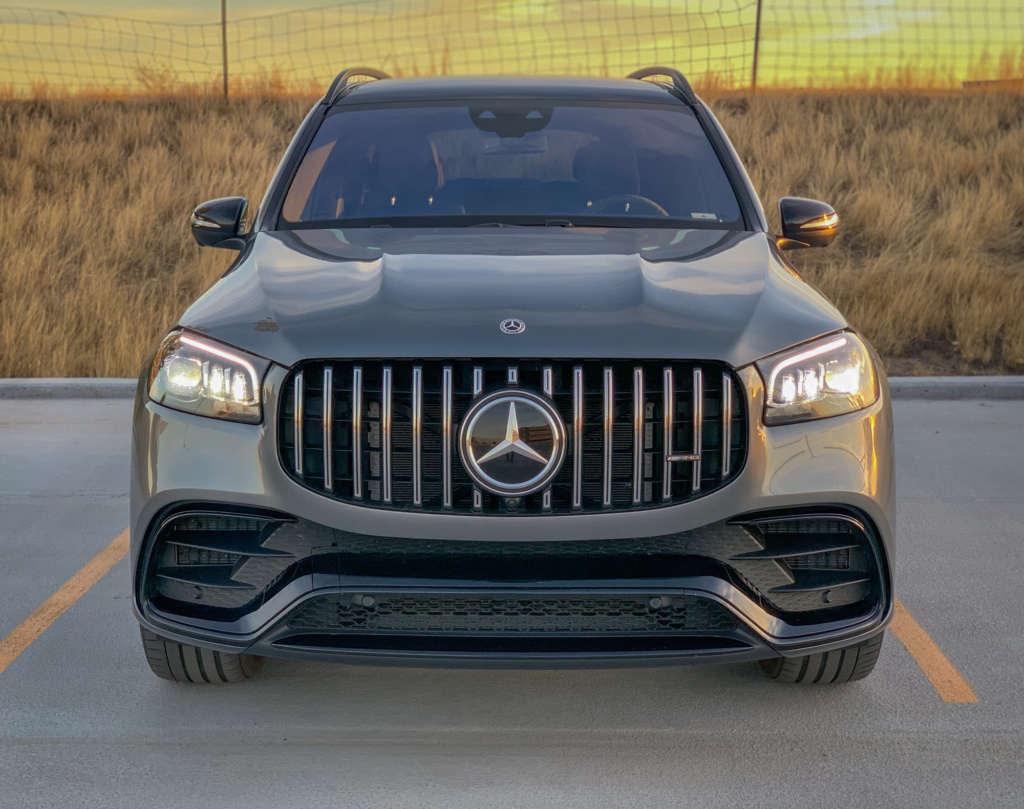 Credit in large part goes to the numerous fuel-saving powertrain systems such as engine-off coasting, cylinder-deactivation, and instantaneous engine restarts from the 48-volt electrical system.
Stepping into the next chapter, the chassis also received a number of advanced technologies that make the AMG handle like a sports car around the mountain roads yet not lose its ability to serve as an excellent daily driver. Its 48-volt system allows the sway bars to be instantly "tightened" or "separated" to deliver a controlled ride no matter the situation while its adaptive dampers are tuned to several driver-selectable settings and quickly react to various data inputs; one of those being the windshield-mounted camera that scans the road ahead.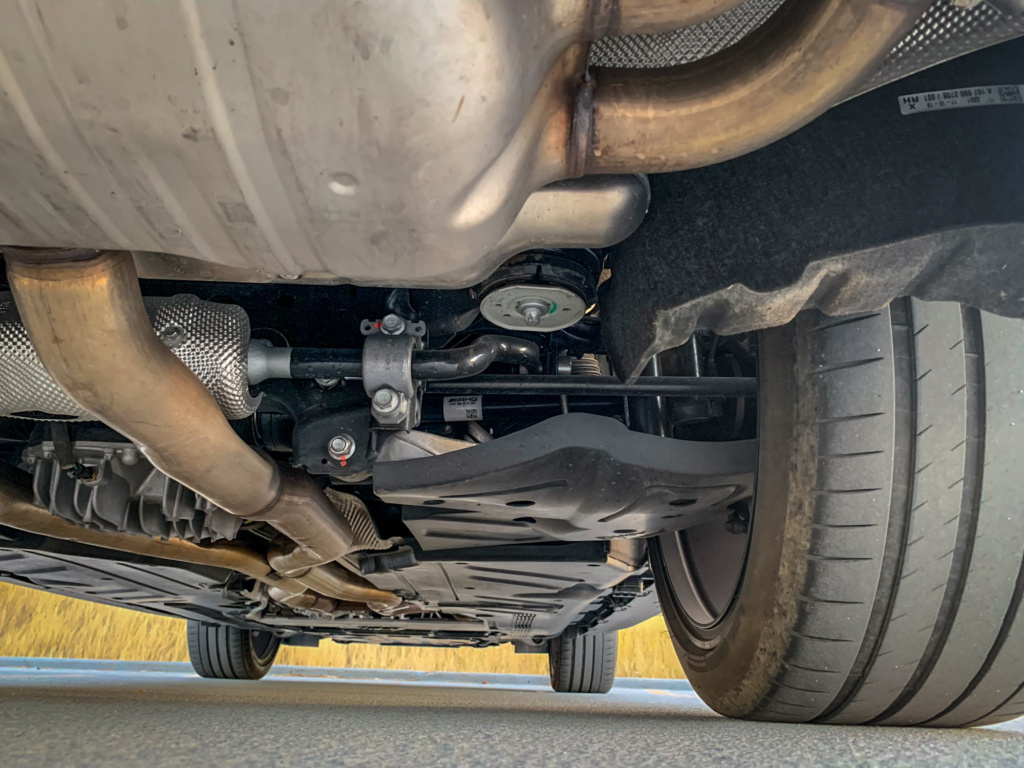 The air-suspension will automatically lower at high speed for improved handling dynamics and can then be raised, albeit slowly, to help clear deep snow (up to 9.7 inches) or confidently clear a steep parking lot entryway. Then there is the AMG-tuned all-wheel-drive system which makes the GLS 63 a true all-weather and all-road vehicle. A locking rear differential and the variable center differential are incredibly good at ensuring the power gets to the ground while its always-on nature also ensures that it's ready for any surface, be it wet, snow, sand, or even a bit of dirt.
While the powertrain and chassis engineers were clearly having their fun with their high-tech bits, the interior design team was also serving up ways to ensure the GLS 63 was capable of creating a performance-minded environment while also fulfilling the practical and luxury expectations of a large top-tier Mercedes-Benz. As a result, there doesn't seem to be an area left untouched.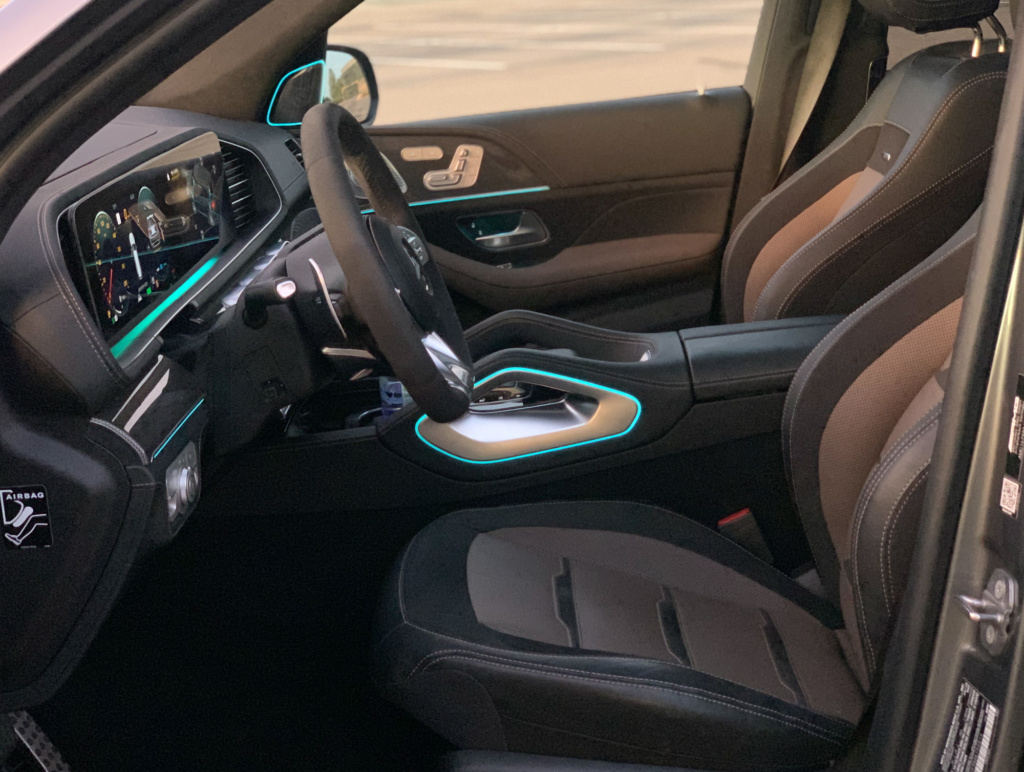 The sports-shaped seats feature thoughtfully-placed strips of grippy suede in between swatches of soft Nappa leather that wrap around multi-contour seats which include adaptable side bolsters that can automatically inflate to maintain one's body position during a fast turn. Rapid heating, ventilation, and a multitude of massage modes serve as constant reminders that the seats of the big Benz are more luxurious than what most have in their homes.
The AMG steering wheel is shaped with a definitive focus on sport. Its DINAMICA covering, narrowed sides, flat-bottom, and aluminum paddle shifters feel perfectly suited for spirited driving, however, the steering wheel's shape made it difficult to hold in any relaxed, cruising-down-the-desert-highway position.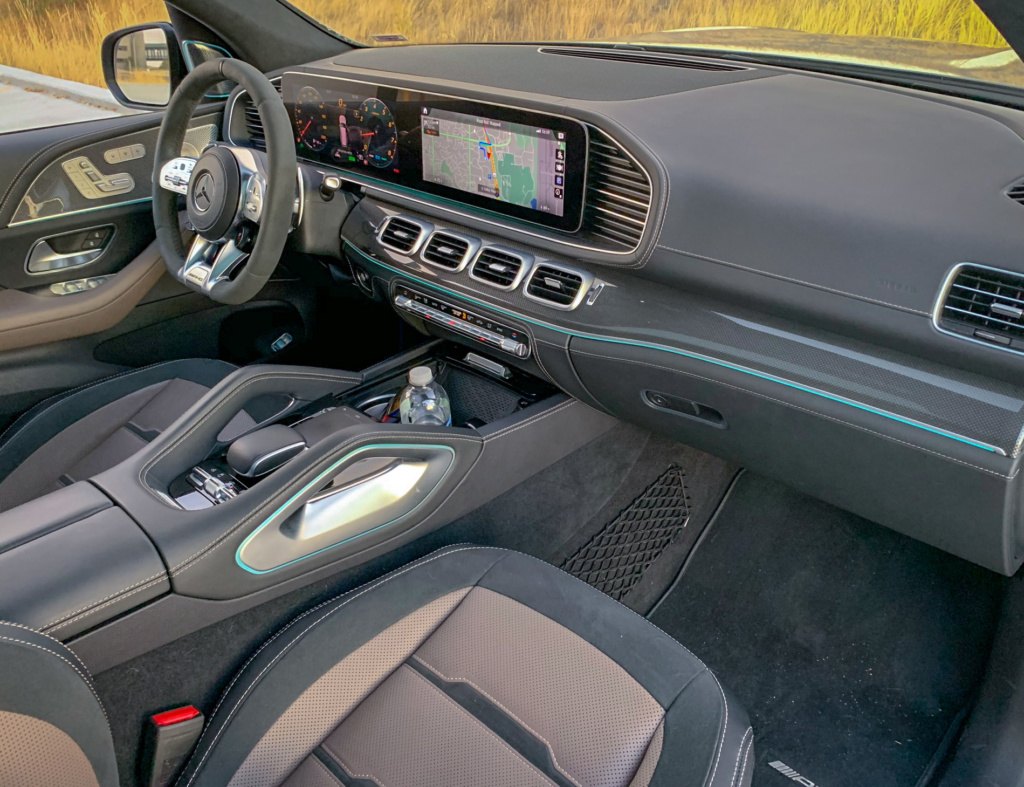 Ahead, a 12.3-inch gauge cluster display allows for a unique AMG-style display and looks super modern as it is seamlessly connected to a second 12.3-inch touchscreen that is used to access a seemingly endless number of menus for customizing features and systems. It is absolutely worth spending 60 minutes learning the most efficient menu routes and "favorite-ing" the most used features (like massage!).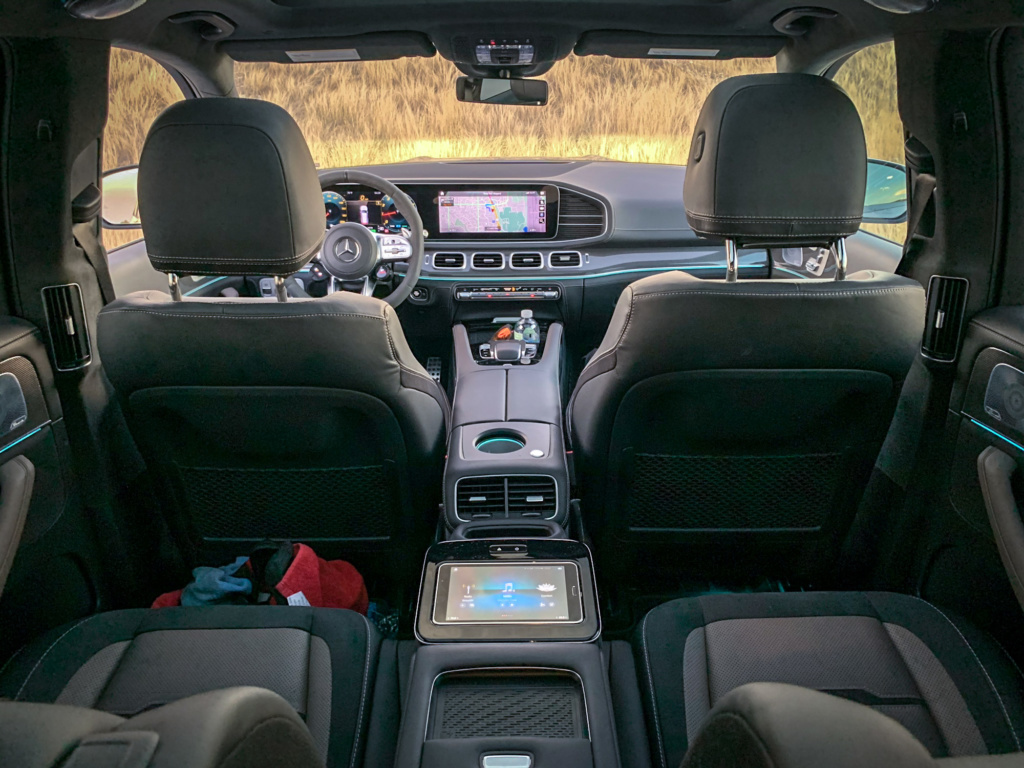 Not losing sight of the GLS 63's other practical capabilities, the rear seat passengers are also treated to heated, ventilated, and massage seats which can be controlled through the 7-inch Android-based tablet – all a part of the $3,700 Executive Rear Seat Plus package.
The third-row seats are difficult to quickly access though actual space isn't a concern for people under six-feet tall. When the rear seats aren't needed, they can be tucked away with the press of a button to open up nearly 85 cubic feet of cargo space; significantly more than the seven-passenger Audi Q7.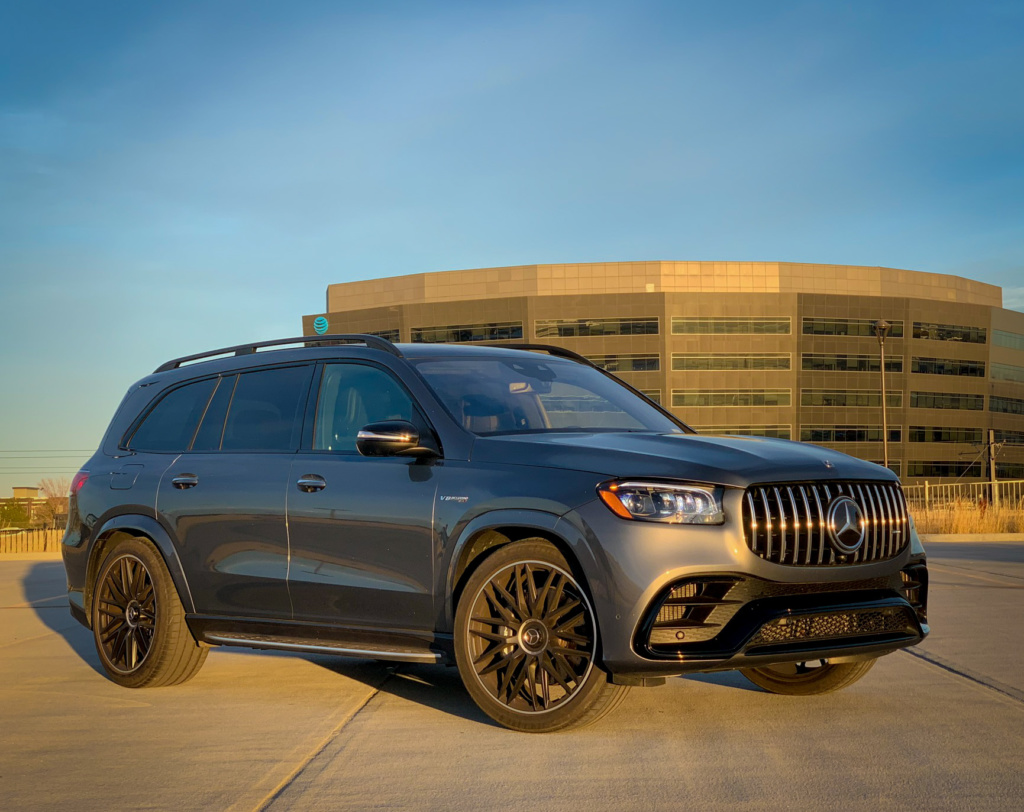 The engineering commitment and willingness to adapt today's leading-edge technology has spawned into an incredibly capable vehicle that is able to serve not just as a practical three-row and an ultra-luxurious SUV, but also a legitimate top-tier Mercedes-AMG. For those who want it all, there are few better offerings than the AMG GLS 63.