The QX50 is Infiniti's reboot into the five-passenger mid-size crossover. Upping its game with dramatic styling curves and a strong but efficient four-cylinder, the QX50 is far more interesting than its predecessor, though it misses the mark in powertrain refinement and small-item storage upfront. Once underway and situated, those drawbacks fade away and QX50 feels like a luxury crossover.
Features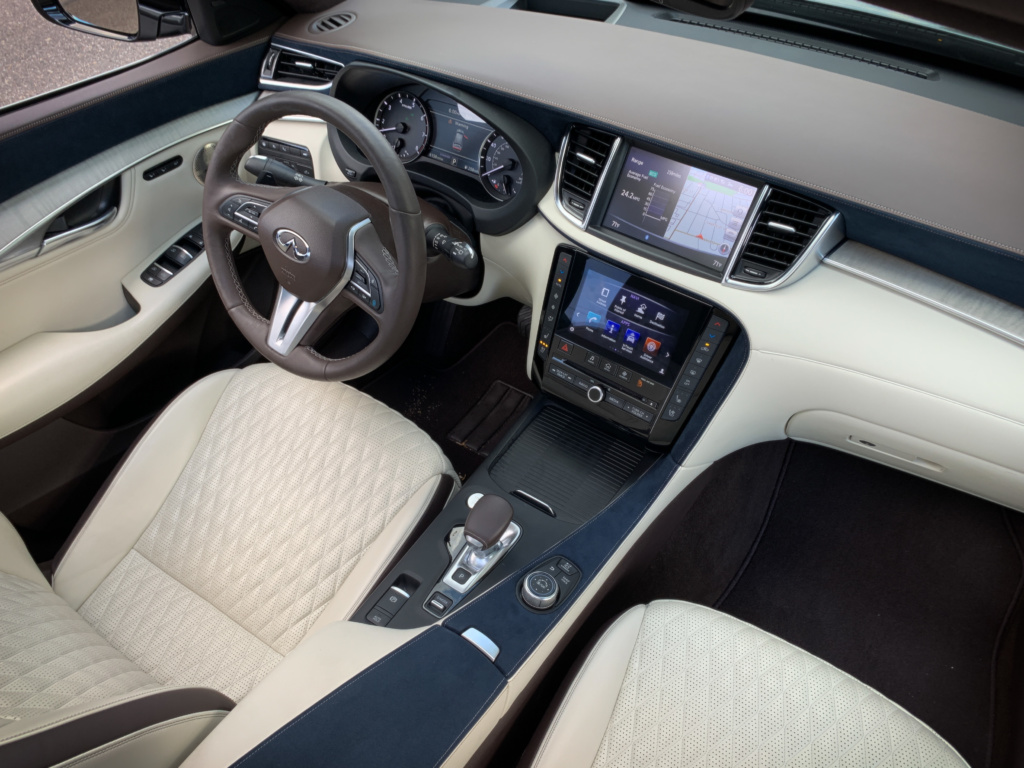 This fully loaded, QX50 Essential trim approaches $60,000. That lofty price is the result of the Proassist ($550) and Proactive ($2,000) packages which include active-drive tech, the Sensory Package ($7,500) which brings heated seats and steering wheel, an ultra-suede headliner, 20-inch wheels, and cube-shaped adaptive LED headlights. To top it off the Autograph package is also included for $2,000 and includes white perforated leather, brown leather-wrapped instrument panel and steering wheel, and blue ultra-suede interior trim parts. It all definitely adds to the senses.
Navigation and all-around view monitors are among the list of standard features of the Essential Package but possibly no single feature impressed more than the 16-speaker Bose Performance Series system. It was excellent at delivering distinguished highs and mids and layers of deep sounds. It never felt underpowered or maxed out; always ready to deliver a clear sound at any level. And just as critical, the interior panels are tight and never produced an audible rattle or distracting vibration.
Styling and Size
People might remember the traits of the previous QX50 but this five-passenger crossover is entirely different in concept. The switch to a front-wheel-drive platform brings styling challenges but the latest Infiniti design theme looks entirely fitting with an upright large grille, big shapes, sharp cut lines, and a signature notch in the c-pillar trim. The deeply-formed shapes ahead of the windshield and a forward-leaning, unique zig-zag make for a forward-leaning stance, and rather athletic.
The exterior size is within a few inches in each direction of the popular Acura RDX. That makes room for good interior space for four passengers and plenty of room for cargo. Styling takes priority along the center console with a swath of blue suede and plenty of empty surface space for a modern minimalist touch. The shifter is a work of art and is among the best looking and feeling on the market. Storage upfront, however, is quickly overwhelmed and the cup holders are simply too narrow – coffee-cup lids will fight for space – risking a pop-off. A high-definition lower screen is used primarily for infotainment controls and is easy to use with redundant hard-button controls. The navigation display above lacks the crisp appearance of the screen below and feels like an off mismatch. Most everywhere else impresses with abundant use of luxurious feeling materials.
Safety
The QX50 is loaded with active safety features such as full-speed active cruise control that is smooth and the lane-centering feature which is great when the road is mostly straight. On winding sections, the system feels overly active and caused some less than confident canyon highway driving – this system can be easily turned off. The surround-view camera is appreciated on a daily basis, but certain tech like an accelerator pedal that presses back on the foot when the car feels like the gap to the vehicle ahead is closing too quickly can add sensory confusion.
The QX50 scores a Good crash scores but misses the Top Safety Pick award from IIHS. The government (NHTSA) awards the crossover with five-starts overall.

Power and Efficiency
One of the big stories with this generation of QX50 is the new variable compression 2.0-liter turbocharged four-cylinder engine. It allows for a fuel-efficient high-compression zone and a big-turbo-power low-compression zone. It is absolutely seamless in operation and a major feat of engineering and helps generate the 268-horsepower and 280 lb-ft of torque from 1,600-4,800 rpm.
As good as that story is, the throttle calibration and power surge put a dark cloud over the ingenuity that should make this engine a step above. Out on the open roads, the engine gets to shine and generates a healthy shove when exiting the corners while the all-wheel-drive system does its best out manage power output. The CVT is less enthused about working hard with a vague response and noise at high RPM.
The all-wheel-drive configuration earns an EPA estimated 24 mpg city, 30 highway, and 26 combined. During my week of commuting and slogging through one of Denver's hotter weeks, the QX50 achieved just under 26 mpg.

Ride and Handling
The QX50 never begs for an afternoon zip through the Foothills but rather feels better suited for highway stretches with the occasional mountain pass thrown in. The large wheels translate the initial sharp feel of a road impact but the suspension is quick to absorb the energy without causing much of a disturbance for the passengers. Winding through the canyons, the body has some initial softness but ultimately has good grip.

Conclusion:
The QX50 is Infiniti's blank slate interpretation on how a modern mid-size crossover should look and feel. It is full of advanced tech, wears crisp exterior lines, and has a killer stereo system but it didn't leave a lasting impression one might expect with such a high price tag.