Equipped with all of today's expected features and tech
A large size equates to good storage
Lacks a premium interior feel despite a 2019 update
Four-cylinder turbo goes to work in near silence
The Ford Edge Titanium sits at the top of the trim lineup, save the performance-focused ST model.  It packs an impressive feature list yet somehow still has the feeling of being outdated. The exterior's shape dates back to 2007 – its first year on Ford's roster, and the Edge's interior design can be traced back to 2011. Still, this large five-passenger crossover is plenty practical and goes about its business in a confident manner that is unlikely to ever go out of style.  

Features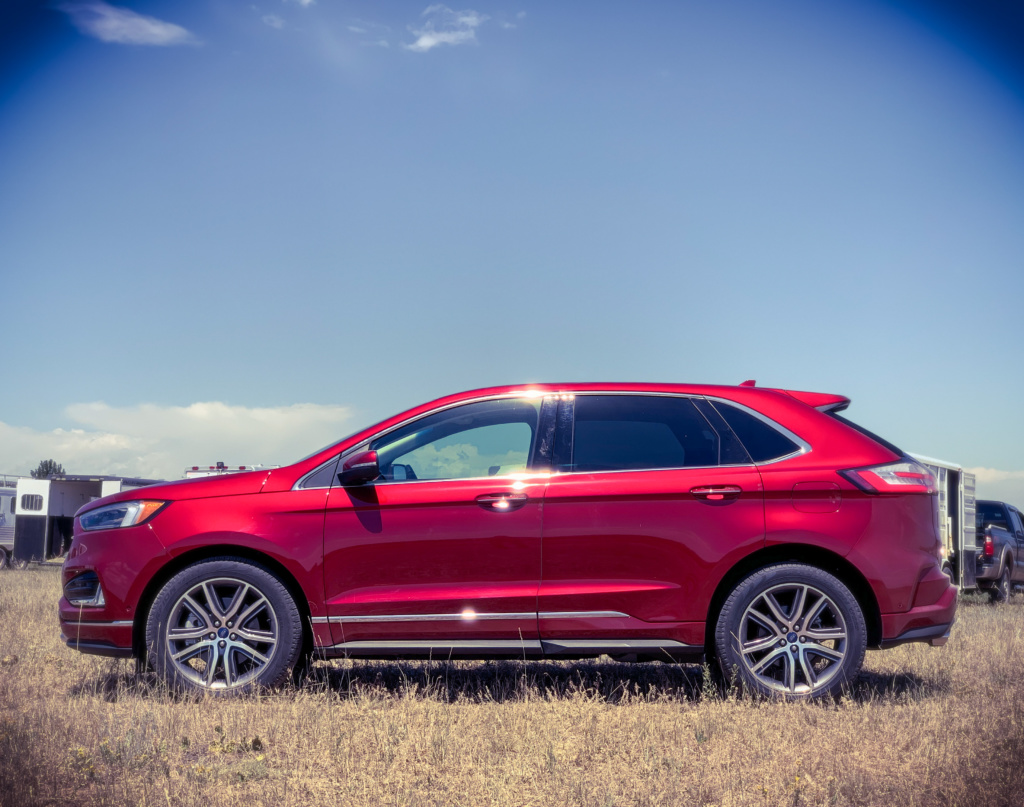 There is little arguing that the Edge, in Titanium trim, is well equipped. Notable features include LED adaptive headlights, fog lights, taillights, and turn signals, the full gamut driver-assistance tech, a hands-free power tailgate, a large panoramic sunroof, 19-inch wheels, a surround-view display, navigation, heated and ventilated front seats, a wireless charging pad, a power steering column, and memory positioning though some items require ordering optional packages. The only demerits are barely noteworthy; the Ford Sync3 infotainment system takes noticeably longer to fully boot up and switch tasks than many other systems, the premium B&O sound system has plenty of punch but delivers a sound pierces rather than surrounds, and lastly, the twin 4.2-inch screens on either side of the bland speedometer which are a distracting juxtaposition. These are minimal complaints, to say the least. This particular fully loaded Edge lands just a hair under $45,000, very close in price to the recently launched, fully loaded Honda Passport, but lacks some of the Edge's features.  

Styling and Size
Since the time of its debut, its cab-forward and rounded roofline have lost favor to the long hood and rear-drive stance that's worn by its newer corporate siblings. Ford balances that smooth shape with horizontal lines and sharply edged surface features and body cladding. The interior styling could be considered by some as bland but controls are practically arranged. The trim-piece fitment and gaps may have passed muster a decade ago now feel well below the design and quality standards set by others in this price range. 
At 188 inches long and 76 inches wide, the Edge has good space for five plus cargo though numerically, its total capacity trails that of the Passport. The rear passengers enjoy plenty of legroom but the seatback is stuck at a fairly upright position. Upfront, there's a plethora of storage slots, bins, and cubbies that help make life easier. On the inside and out, the Edge is larger than Escape but smaller than the Explorer/Taurus X (remember that three-row crossover?) and fits neatly within Ford's crossover lineup.

Safety
The Edge is well equipped with active safety technology, such as automatic emergency braking, blind-spot detection, lane-keep assist, automatic headlights, automatic wipers, and active cruise control. The latter arrives as part of a $4,100 bundle of features that also includes active parking assist.
In practice, the Edge was slightly clunky in stop and go traffic with abrupt 1-0 mph stops while the lane keep assist works as advertised. The Edge receives a five-star rating from NHTSA and top scores from IIHS – with the only demerit for excessive glare from the headlights.

Power and Efficiency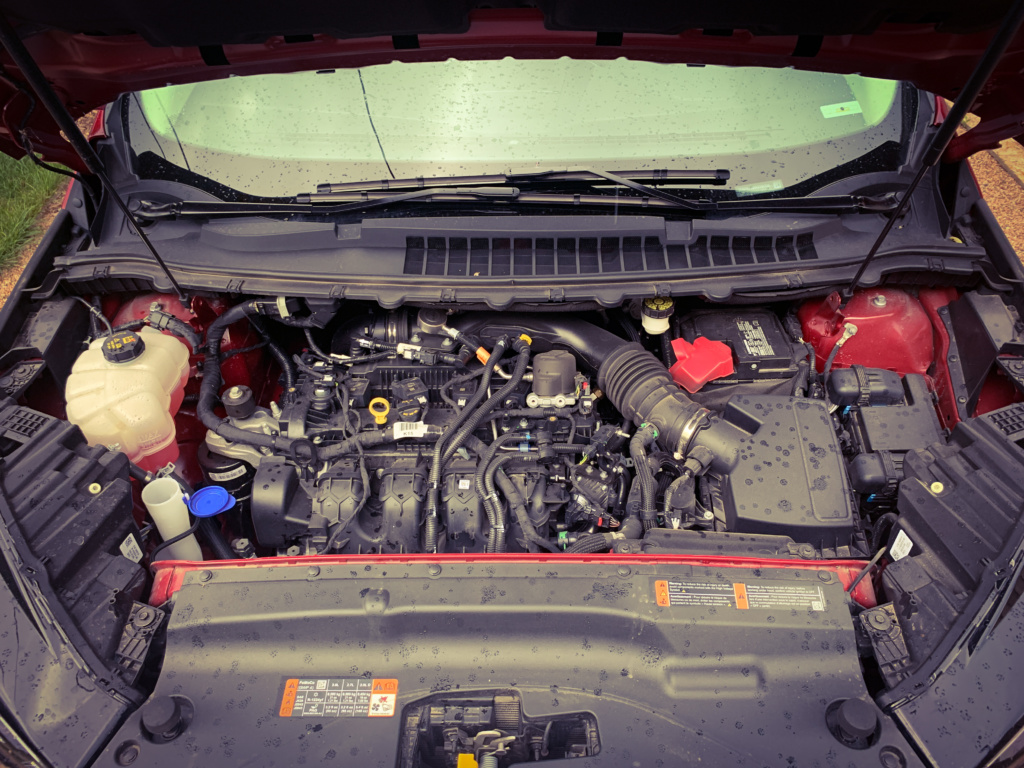 For 2019, Ford dropped its naturally aspirated V6 in favor of a turbocharged four-cylinder that is mated to an 8-speed automatic. Theoretically, the many gears help to keep the engine within its powerband but there's a noticeable ratio gap from second to third gear that causes the Edge to feel sluggish around 30 mph. Otherwise, this 2.0-liter engine delivers a smooth and quiet experience with relaxed gear changes and good acceleration around town and on the highway. The all-wheel-drive system is quick to react and prevents any front wheel slip when accelerating with the wheels turned and achieves an EPA estimated 21/28/23 (city/highway/combined).

Ride and Handling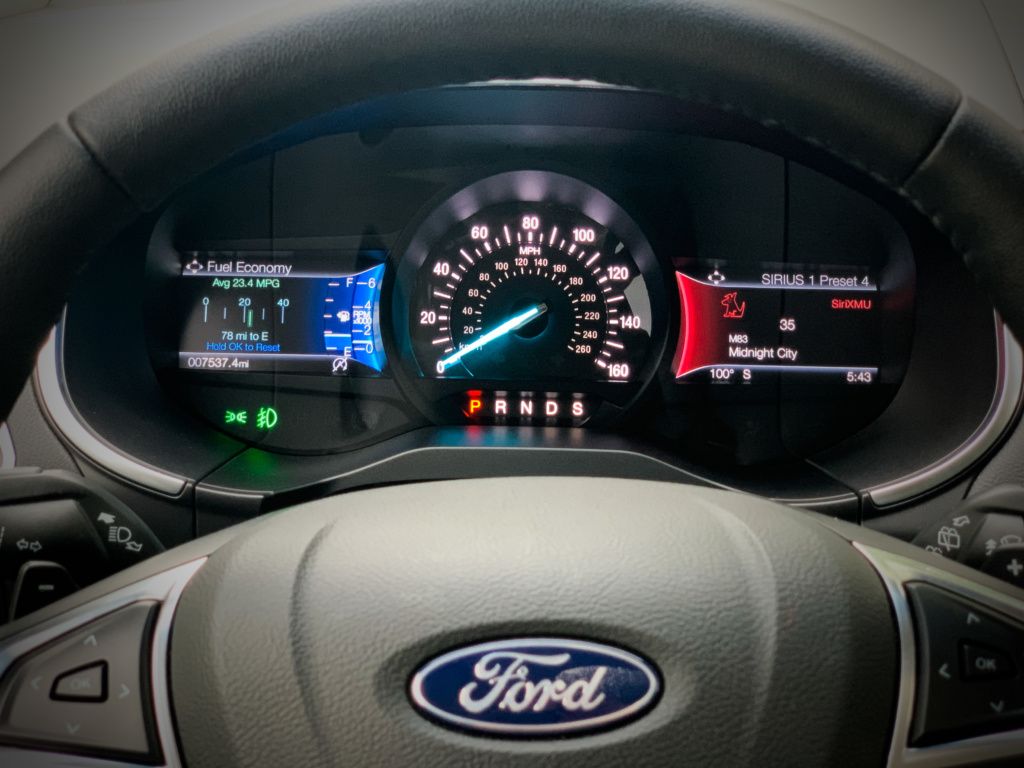 Just as the powertrain gets the job done with little fanfare, the chassis puts out a chill vibe too. The suspension tuning is set to smooth and stable while it can still manage round-a-bouts with poise with nicely weighted steering feel. The large wheels and short sidewalls allow some of the smaller impacts into the cabin but it never became felt disruptive.

Conclusion: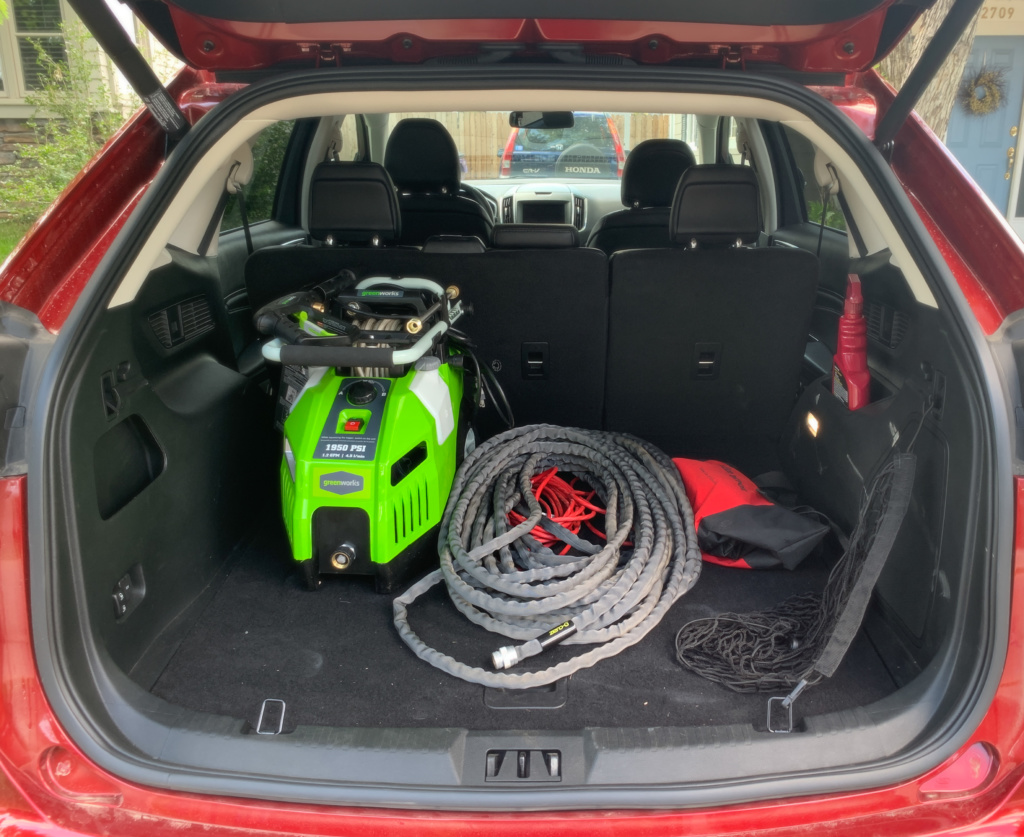 The Ford Edge feels like a blend of old and new. It has a shape of yesteryear and an interior that's largely devoid of creative styling, yet it's full of modern features. For those looking for a no-fuss daily driver with a right-sized interior, the Ford Edge might be something to get excited over.