Simply walking up to the monster truck-like RAM 1500 causes goosebumps with anticipation. Its massive proportions, its 700+ horsepower engine, and its Baja-ready suspension shut out any notion of a sensible Sunday drive. It's rowdy but professional, extreme but livable. Simply put, it's the supercar of off-road trucks.
For those familiar with the Ford F-150 Raptor, the RAM 1500 TRX is seen as a direct competitor. And, as is very common in the mine-is-bigger-than-yours pick-up truck market, the RAM wins this round in large part because of its massive 6.2-liter V8 supercharged engine which generates 702 horsepower and 650 lb-ft of torque. Massive dual 4-inch exhaust pipes translate each powerful explosion into an awesome burble and cracking sound at idle and menacing chaos at wide-open throttle – a stark contrast to the droning turbo V6 sound of the Raptor.
Neither of these toys comes cheap, however, and this special edition crosses over the $90k mark. Don't forget about the fuel costs which are significant with the TRX's 11 mpg consumption rate. But with all of the TRX's upgrades in performance (and the luxurious interior), it doesn't feel overly priced.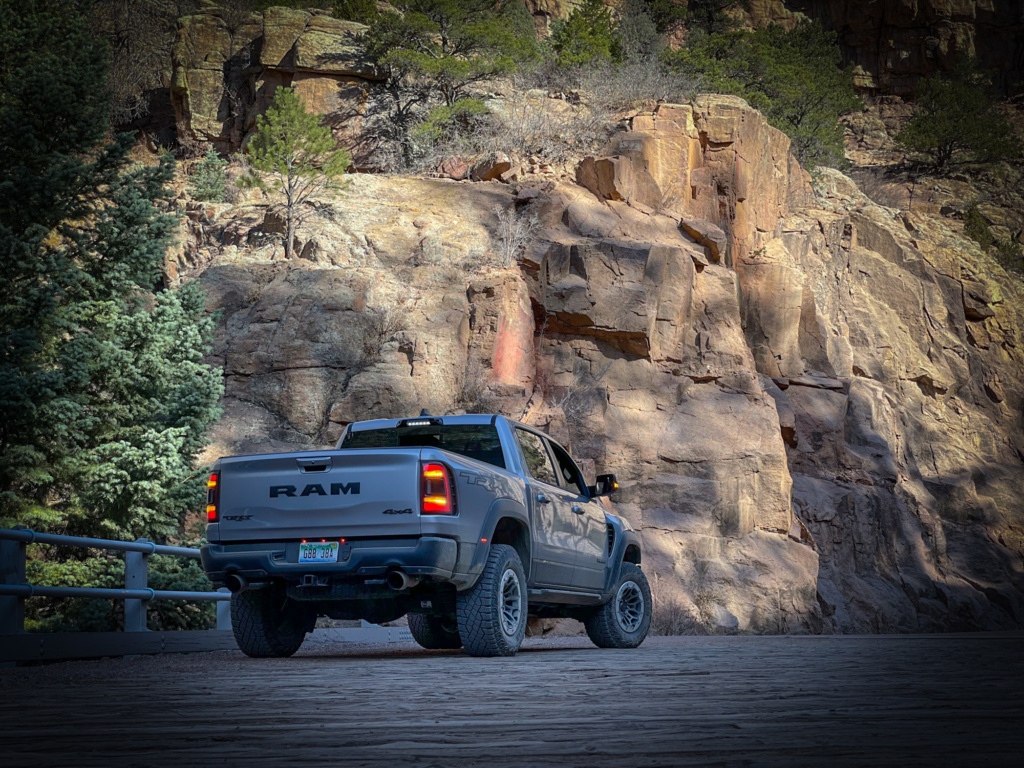 While the TRX began life as a RAM 1500, there are very few areas that haven't been reworked. The frame is over 70% new with added fortification and new suspension mounts in order to manage the repeated stresses that are unique to high-speed off-roading. The cabin is most familiar to the RAM 1500 but it too receives notable and desirable upgrades.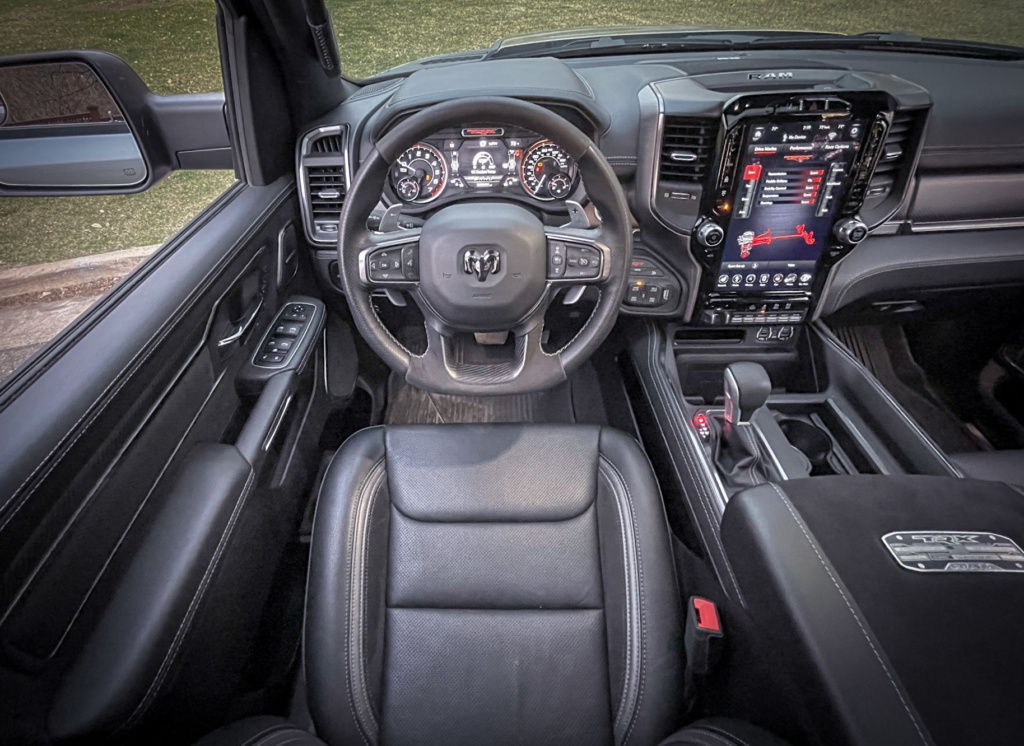 The steering wheel gains more shape and grippy suede sections while gigantic paddle shifters are impossible to miss, even on hard bumpy trails. A meaty shift lever replaces the apathetic rotary gear selector and in its dash-mounted position are a cluster of drive buttons that enable manual control of the four-wheel drive, rear locking differential, and the various TRX drive modes which alter the engine, transmission, and center-differential power-split as well as the active dampers. While Ford went to Fox for their off-road performance damper technology, RAM selected Bilstein and tuned their characteristics for each drive mode. The results range from an overly stiff Sport mode to a super absorbent Baja mode which is so soft that, in true Trophy truck form, seems to allow for a front-inside wheel lift during hard turns. This production truck is the real deal.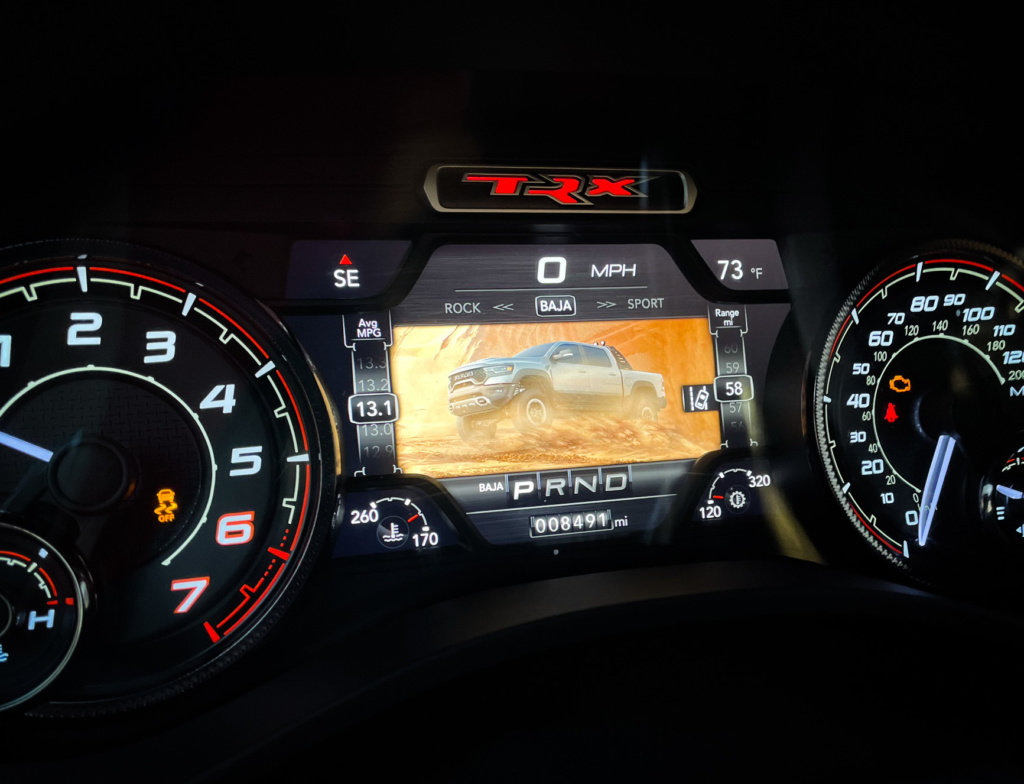 To give those dampers more stroke and the ability to absorb heavy impacts and smoothly land big jumps, the front wheels have been pushed forward and outward by three inches on each side to maintain the desired steering angle as it cycles through its entire 13 inches of wheel travel. Outback, the five-link coil suspension has been redesigned to also allow for massive amounts of wheel travel and even incorporates a damper mounted to the axle to help stabilize it under hard acceleration. RAM says that the coil springs that support the TRX are larger than what's ever been used on a production vehicle and allow for incredible articulation off-road. As might be expected, the TRX is fitted with a beefy rear axle that has been designed to better transfer the various directional loads and won't leave one stranded on the trail even if it breaks.
Truth be told, everything in this drivetrain is heavy-duty and for good reason. The cast-iron block 6.2-liter engine (and a 2.4-liter supercharger on top), eight-speed automatic, and permanently engaged transfer case are capable of shoving this 6,400-pound truck forward with instantaneous and relentless power. Zero to sixty is completed in just 4.5 seconds and while launch control is offered, simply stomping on the go-pedal and hearing the sudden roar of sound is far more satisfying. And better yet, there's no waiting for power as the big V8 and supercharger are always at the ready. The gear shifts aren't as exceptionally crisp, however, that may be intentional to give the drivetrain and tires some relief from having to manage sudden peaks of power. Speaking of tires, they also deserve special mention as not only do they provide the grip on the road for outrageous acceleration rates, but they also allow the TRX to achieve a top speed of 118-mph. That's 11 mph more than the Raptor and a meaningful figure in the world of high-speed off-roading and furthermore, the optional 18-inch bead-lock wheels allow them to be physically secured to the rim.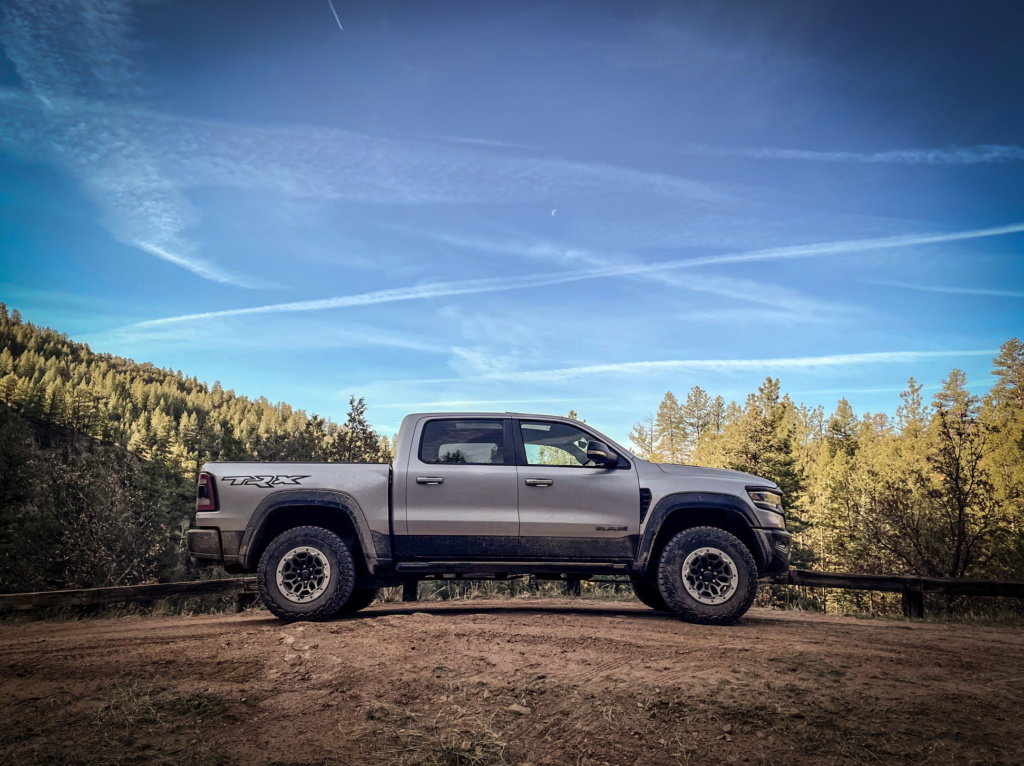 So far the TRX has been nothing but a love-fest, but after a week of putting it through the real-world rigors of weekday commutes, there are some drawbacks. Its size, for one, makes navigating through a parking lot a testament to the importance of planning ahead. Thankfully, the TRX's raised ride height helps to see over most other vehicles and the surround-view camera system has excellent resolution. But get ready for a lot of sawing at the wheel as the steering ratio feels far too slow for the amount of maneuvering that lies ahead. Even when driving, the numb steering (and the seat's lack of lateral support) never provided the confidence to let the tail hang out on narrow trails.
Looking for a running board to help you get in this raised beast? Too bad as the engineers would rather the TRX prioritize protecting the side sill from damage. They also added several skid plates underneath to protect the vitals.
And despite the trick damper technology and redesigned suspension, the TRX is not your go-to highway cruiser. Each wheel assembly weighs over 100 lbs and the heavy-duty drivetrain components simply can't get out of the way fast enough for bumps to be absorbed. The small and rapid bumps typically found on concrete highways turn into vibrations sent directly through the seat whereas the Raptor does slightly better in this area with softer seat cushions.
And lastly, the mileage. The TRX is rated by the EPA at 12 mpg combined but that eschews reality. It's too tempting to dip into the throttle and after a week of mixed driving, I scored just 11 mpg. It's 33-gallon fuel tank helps stretch the driving range but it doesn't help with the overall cost.
Some vehicles are so focused in their mission that taking them out of their target environment leads to a punishing experience. And without a stretch of the Baja or Mojave to really let the RAM 1500 TRX stretch its legs, it seemed like it might fall into that trap. But, as a testament to the efforts by the RAM engineers, the TRX avoids feeling out of place and even when stuck in rush-hour traffic, it felt like I was piloting something special – a supercar of trucks.