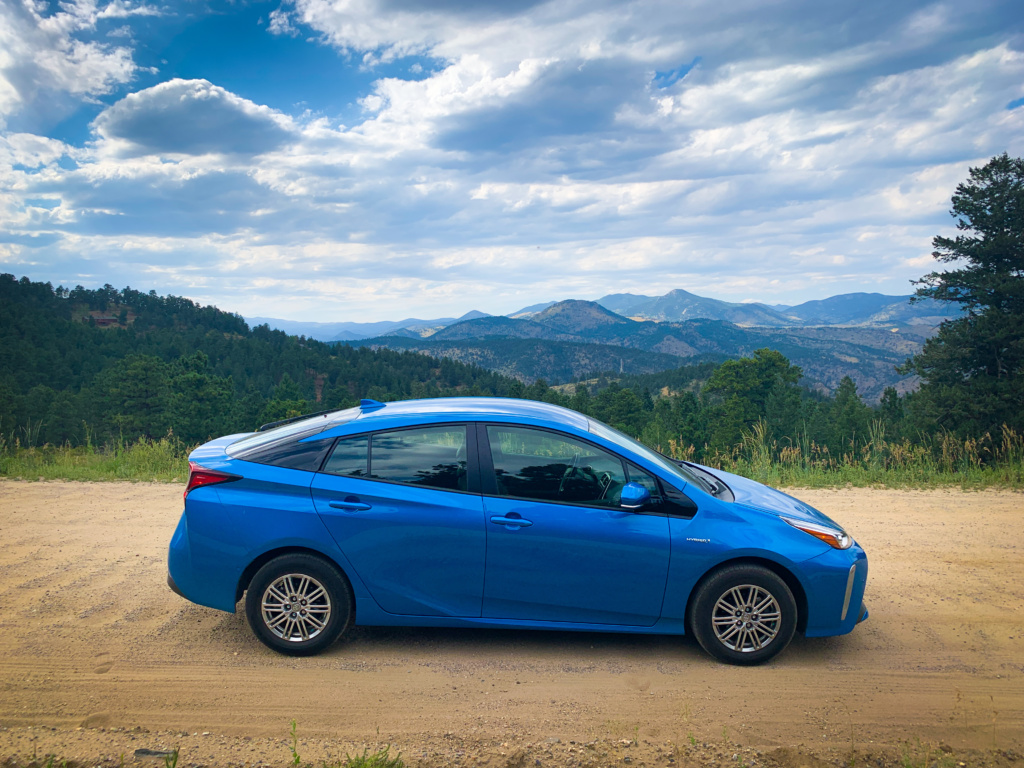 Many brands hope to develop instant name recognition but few have had their product's distinct silhouette become synonymous with an entire category. The Prius has earned a place as the symbol of hybrid cars with its efficiency-focus engineering and now, it reaches into the all-wheel-drive arena with a motorized rear axle to better meet customer demand, of which, Toyota states, could make upward of a quarter of Prius sales.

Features: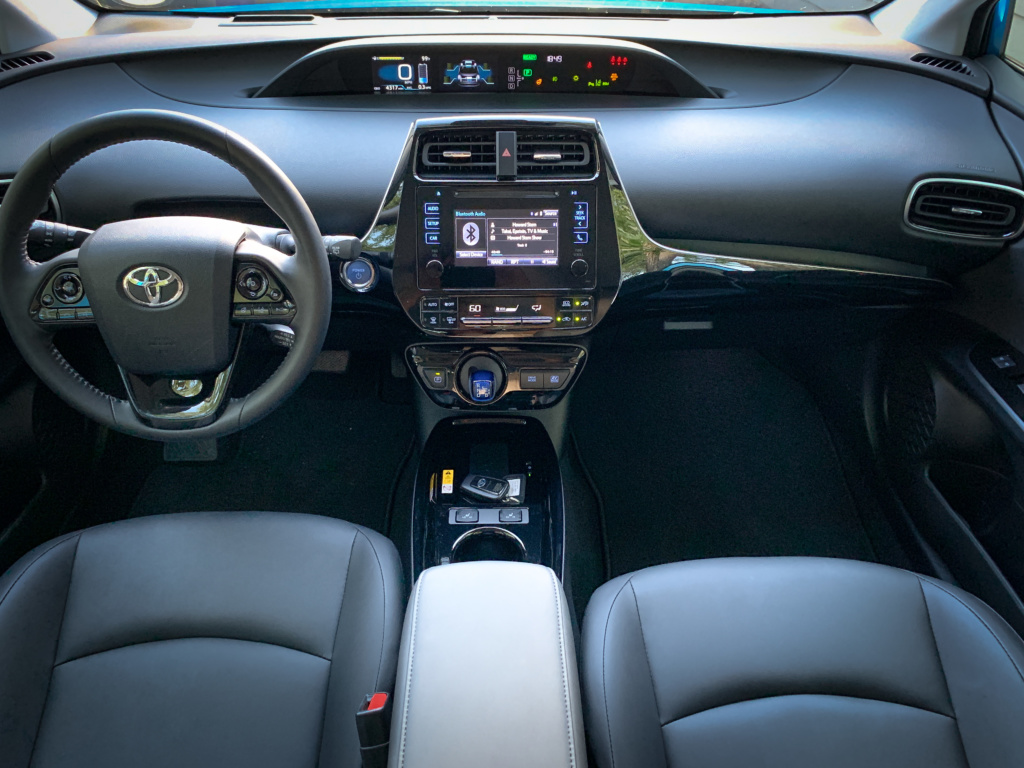 Toyota has renamed the Prius trim levels to better align with the more familiar L, LE, XLE, and Limited designations while the LE and XLE trims are newly available with all-wheel drive. This particular version, the Prius XLE AWD-e, carries a price of $32,146 which is about $1,250 more than the front-wheel-drive only model. Notable standard exterior features of the XLE trim include LED lighting, proximity entry, rain-sensing wipers, 15-inch alloy wheels, heated mirrors, and active grille shutters. A 4.2-inch multi-information display resides next to the speedometer which is centrally located on the instrument panel and close to the base of the windshield to be closer to the driver's view of the road ahead. Sure, it is effective, but a head-up display is far more advantageous in the real world – though they're pricey.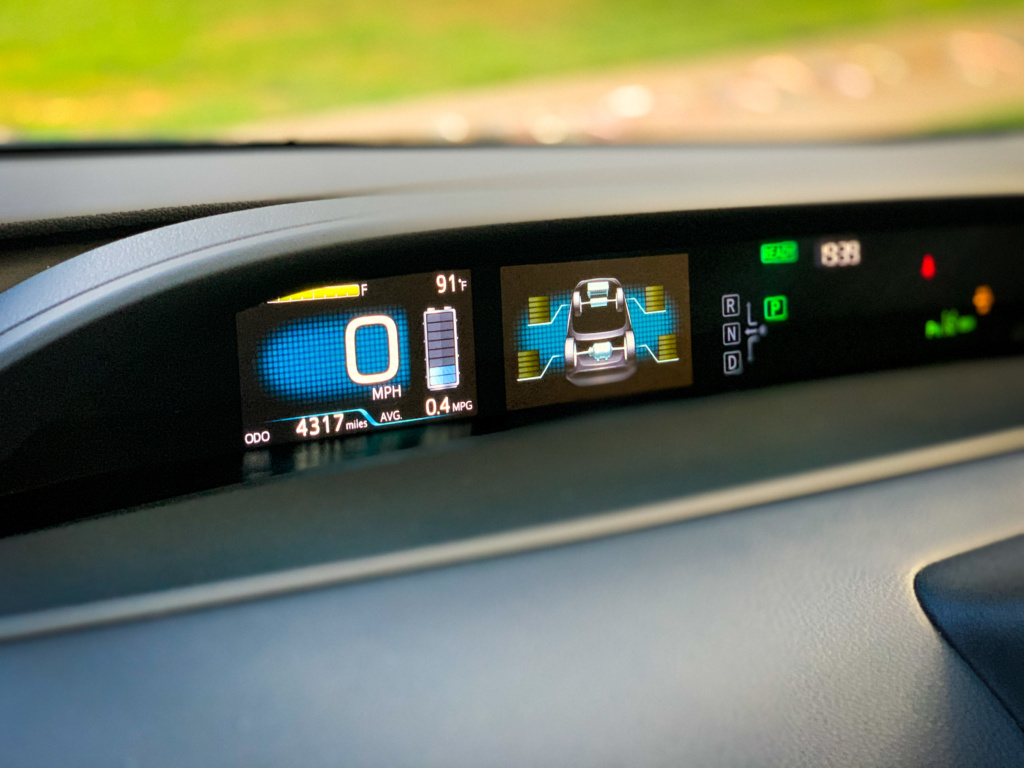 Rising up to form a plateau in the middle of the dash is a 6.1-inch infotainment touchscreen with AM/FM, Apple CarPlay, and Amazon Alexa connectivity. Notably absent is SiriusXM. Six speakers rock the tunes better than what might be expected from such an energy-conscious hybrid. Controls for the automatic climate control are logically arranged and have a quality feel while the gear shifter, located just below, retains its unique arrangement though it is easy to learn.
The front Soft-tex (Toyota's faux-leather) front seats and the leather-wrapped steering wheel are electrically heated and the climate system can be programmed to focus solely on the driver for additional energy savings.

Safety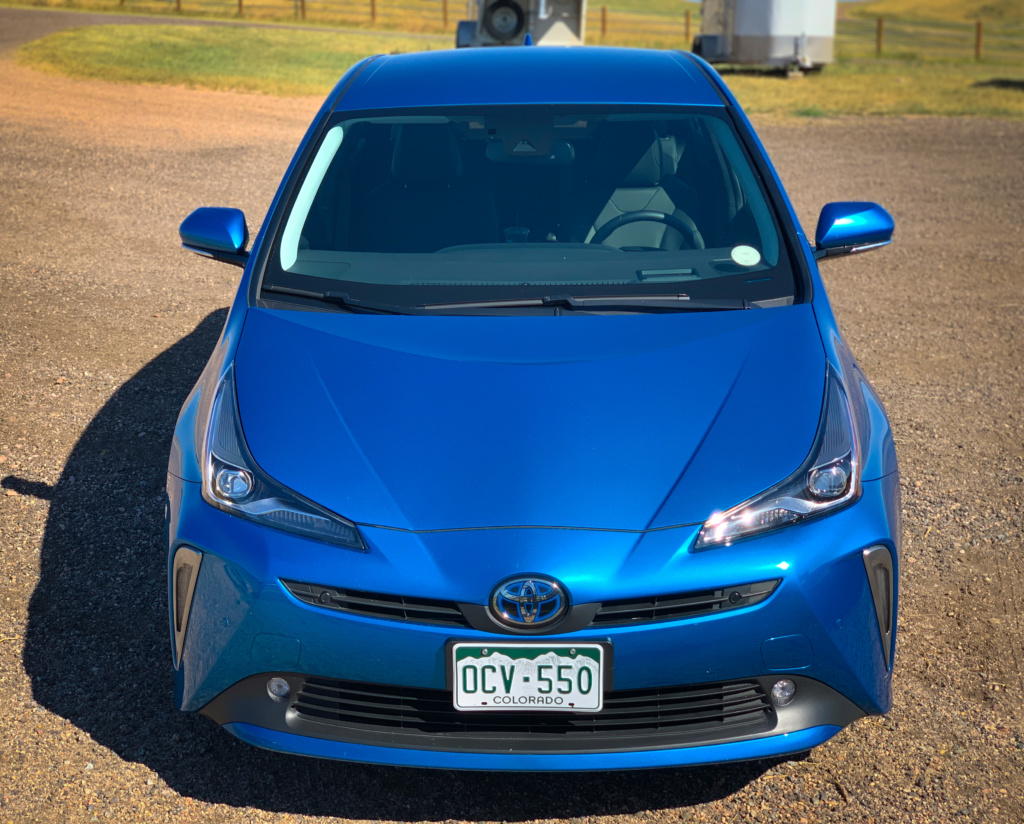 Full-speed adaptive cruise control, automatic emergency braking with pedestrian detection, blind-spot detection, lane keep assist, rear cross-traffic assist, and automatic high beams are included in this model. In the event where the airbags deploy, the car will automatically notify a 24-hour response center. In an effort to improve driver awareness, engaging reverse begins a panic-inducing rapid series of beeps. Ultimately, it only caused me to rush through the operation just to put an end to the beeping – the exact opposite of what Toyota intended. The Prius earns a crash rating of five stars from NHTSA while IIHS follows with similarly good results.
Styling and Size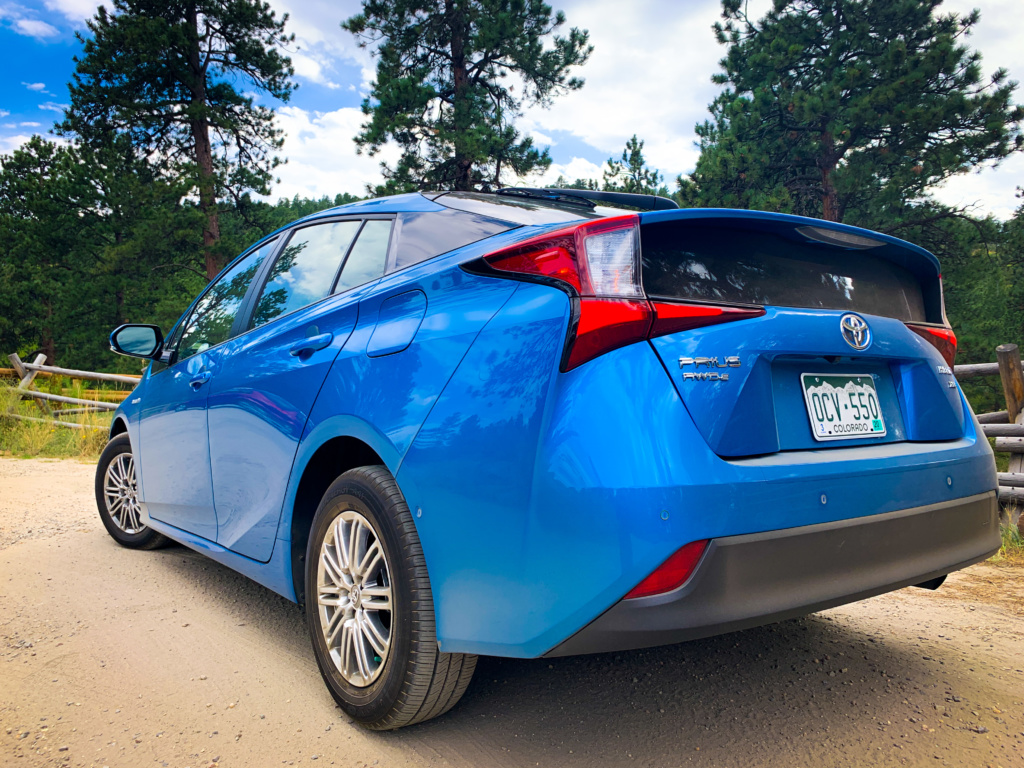 Since the second-generation Prius debuted in 2003, not much has changed with the car's overall shape which ideal for aero-efficiency. The front and rear fascia received updates for 2019 though its dramatic lines and panel depressions create a striking rear-quarter view. It will not be mistaken as anything but a Prius.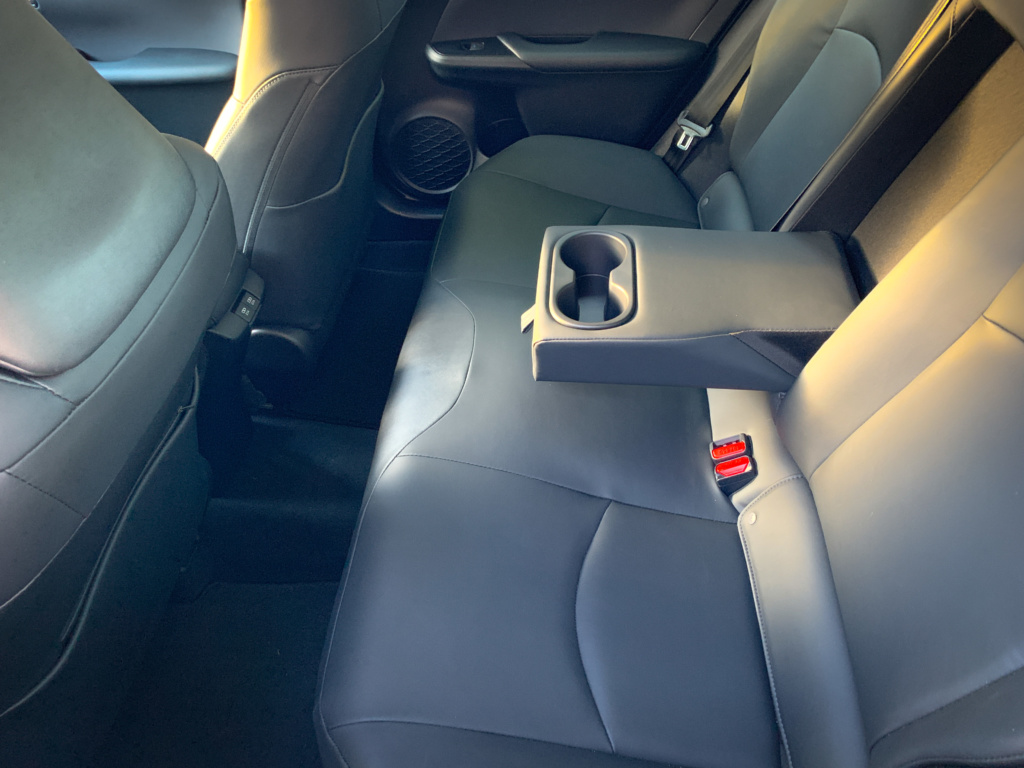 Inside, space is entirely comfortable for four adults though headroom begins to become an issue for rear passengers who are much taller than 6-feet tall. Upfront, the cabin feels expansive with a deep and flat dashboard surface ahead and to the side, a window line that swoops downward.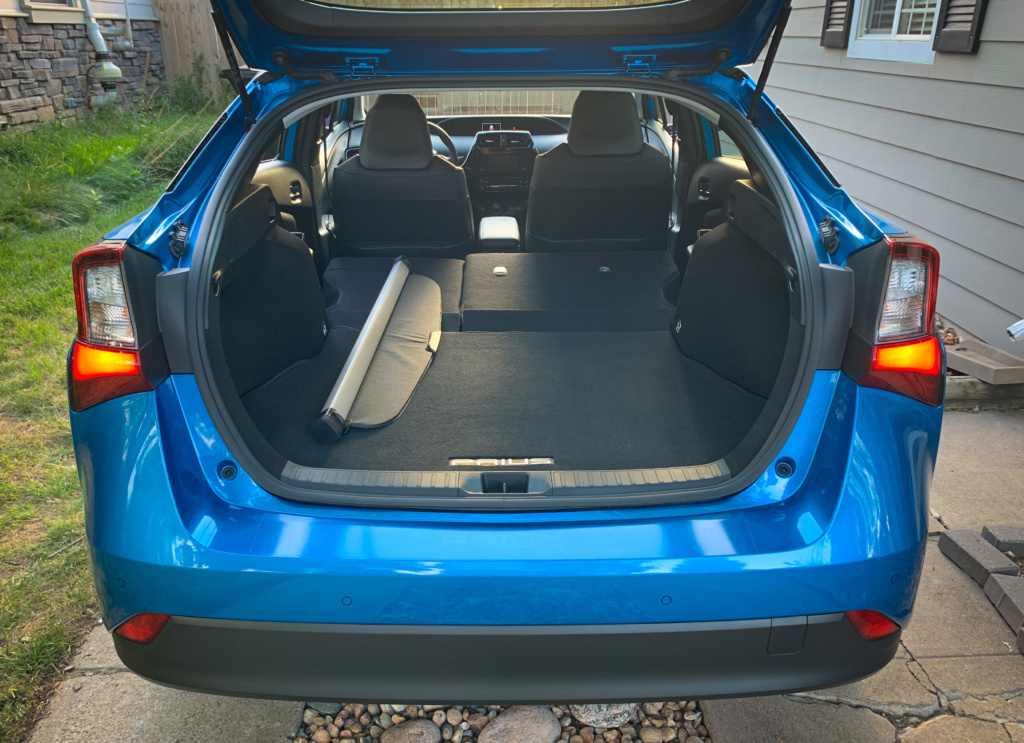 Inside, the Prius is impressive for its use of soft-touch materials and overall design, however, the gloss-black trim, which looks good from a distance, has far too much "orange-peel" to deliver the upscale look. The aero-efficient hatchback design yields good interior storage space.

Power and Efficiency
Living a mile above sea-level presents challenges for non-turbocharged engines and, though the hybrid battery pack delivers impressive scoot around town, long highway climbs require extended periods of wide-open throttle or getting a really good run of momentum (sometimes both) – and that's without passengers or skiing or hiking gear on-board. Around town, the small battery pack doesn't allow for long electric-only cruising and manually selecting EV Mode results in a disapproving "beep" more often than not. It was best to leave the Prius to its own doing. From a stop, the motors' instantaneous torque at all four wheels provides quick and drama-free acceleration up to about 20 mph – perfect for merging into side-street traffic.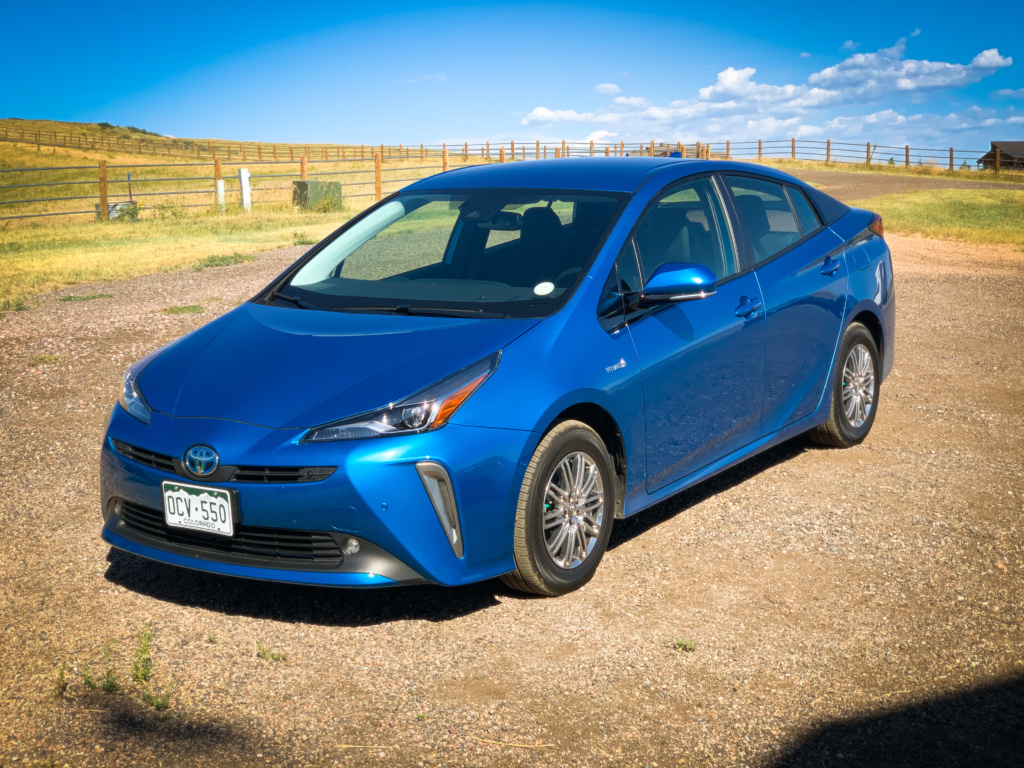 While extended highway climbs are not its forte, efficiency is. Officially rated by the EPA at 52 mpg city, 48 highway, and 50 combined, the Prius stands out for its efficiency in all situations. A week of sitting in rush hour traffic, keeping up with traffic in 75 mph zones, and enjoying the quick acceleration from a stop, the Prius returned a solid 50 mpg.

Ride and Handling
The Prius pulls no surprises here with a fair amount of road noise – sound absorbing mats are heavy and would hinder fuel efficiency – and a disconnected road feel – expected from the large tire wall. Steering is light to the touch and the brakes smoothly transition between regeneration and mechanical friction braking. For heading down the mountains, the Prius features a B-mode which uses engine braking instead of more regenerative braking. It feels like a missing opportunity for added efficiency.
Conclusion:
Continuous improvements are the foundation of the Prius brand and adding all-wheel drive is considered a big change. The Prius has never been about excess, instead, it remains focused on durability, fuel efficiency, and now provides more all-weather confidence to get through the wintery commute season.