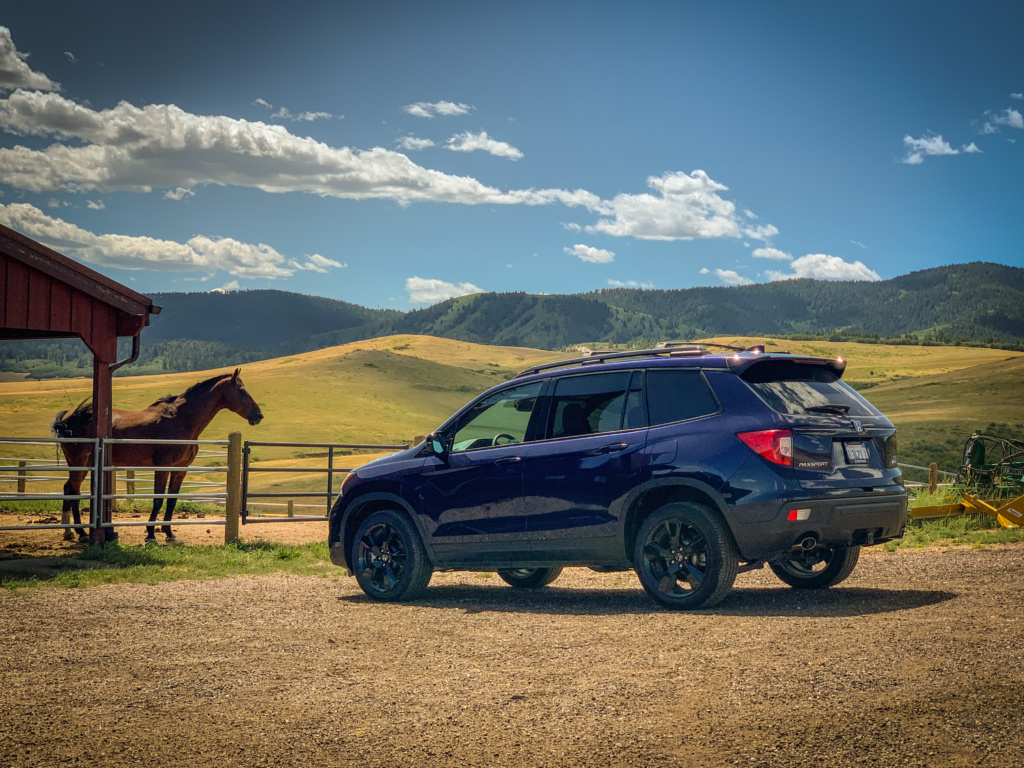 The all-new 2019 Honda Passport lands in the sweet spot between the smaller CR-V and larger Pilot. This particular space is becoming more relevant as consumer shift towards crossovers is unlikely to slow down. By utilizing much of the design and engineering of the Pilot, the Passport becomes more of a question of "Why not?" for the Honda exec's. But does the Passport feel simply like an adaptation of the Pilot or did the development team create a uniquely themed product that can stand on its own?

Features:
This $44,775 Elite trim includes features expected from the top tier trim. LED headlights and taillights, 20-inch wheels, ventilated front seats, heated rear seats, wireless phone charger, a power tailgate with hands-free activation, navigation, a 115-volt power outlet, and a 540-watt premium audio system that is compatible with Apple CarPlay, Android Auto, HD radio, and Sirius with pause/ live capability. Controlled through an 8-inch touchscreen is finger-print resistant and logically arranged, however, after some time, it felt too far from the driver's reach and more importantly, line-of-sight. The Passport lacks a few notable features such as a panoramic sunroof and a head-up display and feels unremarkable inside with basic interior quality with many hard touch surfaces and a noticeable level of orange-peel on the black painted trim.

Safety:
As with every Honda, the essential accident mitigation systems are standard. The active cruise control system could benefit from improved braking sensitivity while the lane keep-assist feature is a good balance between assist and a natural feel for the engaged driver. Forward visibility is very good and the large mirrors and blind-spot monitoring system help minimize any surprises.
Styling and Size
The Passport closely resembles the Honda Pilot. Apart from tossing out the third-row, the Passport trims four inches and sits about 2.5-inches taller with some of that provided by a slight suspension lift. The wheelbase remains the same and rear passengers receive an extra inch of legroom which is very accommodating. Cargo space is very large at 46.8 cubic feet behind the second row, however, the raised suspension has increased the cargo floor's height from the ground. The rest of the interior is similarly efficiently designed with a large center console and good room for three adults in the second row.

Power and Efficiency
Honda's tried-and-true 3.5-liter V6 single-overhead-cam engine has received numerous updates over the years. In the Passport, it generates 280 horsepower and 262lb-ft of torque. The Honda developed 9-speed transmission does its best to provide rapid launches that are smooth and natural-feeling acceleration while still achieving good fuel economy. When a less aggressive launch is sufficient, the Passport has no issue pulling from second gear for added smoothness and efficiency. Gear changes are felt but are never obtrusive. Most of all, with so many gears it could be understandable (but unforgiving) if the Passport demonstrated a tendency to hunt between gears, however, the software is well sorted to the engine's power-band and the automatic gear selections were rarely second-guessed. Even when utilizing the paddle-shifters, a single pull of the downshift lever will drop the transmission several gears from its overdrive ratios to deliver meaningful engine braking or power for over-taking. In my time spent slogging through slow-moving city traffic and moving at a quick pace up mountain highway passes, the powertrain never put a wrong foot forward.
Ride and Handling
The Passport eschews a typical Honda modern-crossover ride that is stable around curves yet doesn't necessarily encourage enthusiastic mountain-road driving like the brand's Accord or Civic cars. At highway speeds, the crossover's body motions are quickly settled following impacts from bridge gaps or rapid high-speed dips in the road and it feels like it could tackle the trail heading up to the mountainside campsite with relative ease. Adding to the sense of confidence is the traction afforded by Honda's latest all-wheel-drive system (standard in the Elite) which works together with terrain-specific selectable traction control. The Passport AWD achieves an EPA estimated 19 mpg city, 24 mpg highway, and 21 mpg combined which is just one point less than the front-wheel-drive model which is offered on non-Elite trims.
Conclusion:
At last, a Passport that's been designed by Honda, specifically by the Ohio-based team. However, it's personality is limited by its close ties to the Pilot upon which it's based. Through some design and engineering tweaks, the Passport builds its own space as a more adventurous crossover, but only slightly.