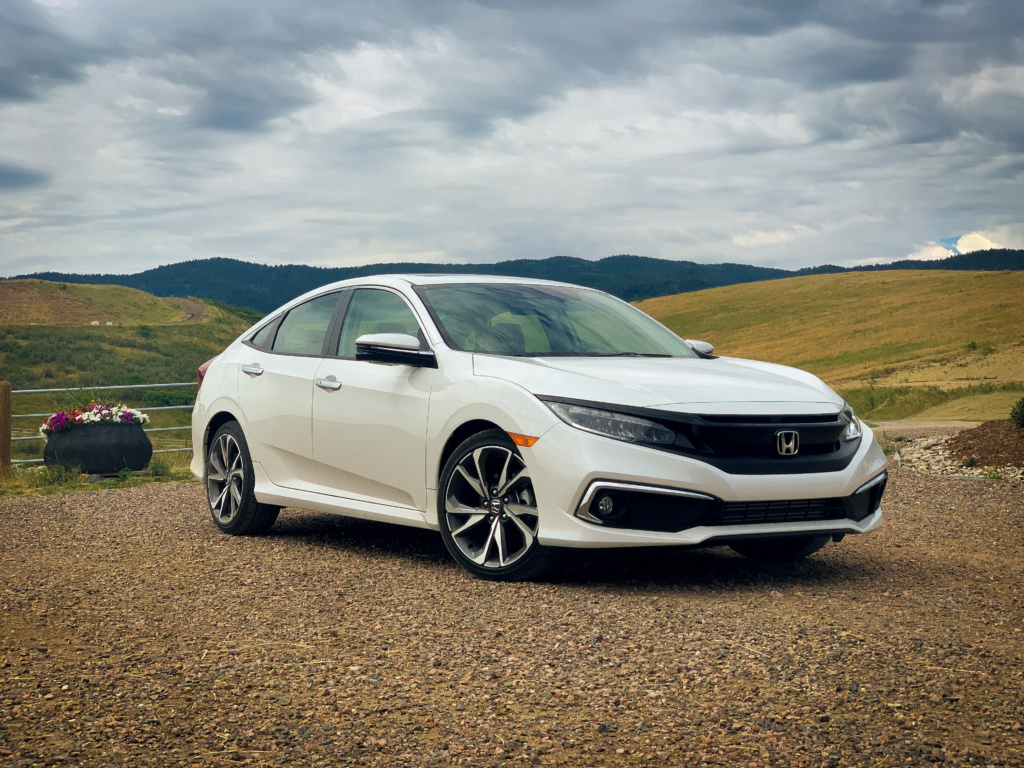 The 2019 Honda Civic is a slam-dunk, benchmark for the class. Its modern looks, expansive interior, excellent chassis dynamics, and powerful and efficient powertrain are a full package that has few faults. The previous-generation Civic took a dark turn after the great recession when Honda believed buyers would prefer a low cost, blend-in with the masses character. Thankfully, that era is behind us, and the current 10th generation will go down in history as one of the best Civics of all time.

Features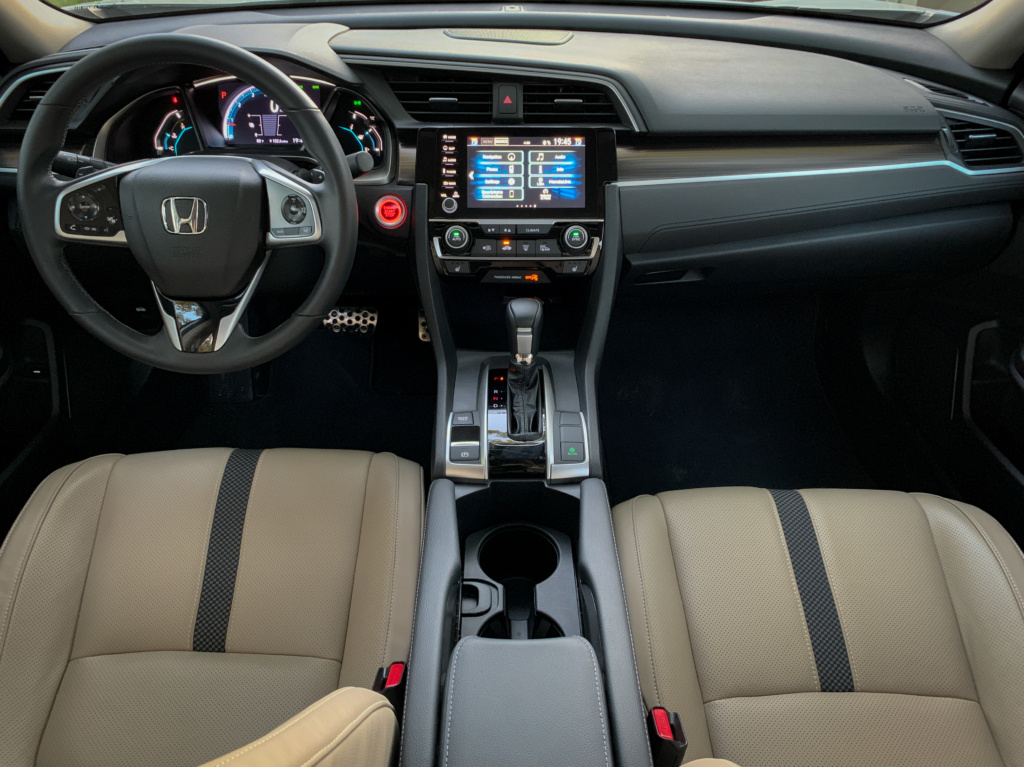 The Civic Touring is the top tier trim and brings extra goodies without sacrificing its sense of value. LED exterior lighting gives the car luxury-car looks at night while 18-inch wheels nicely fill out the wheel wells. Proximity entry and push-button start mean there's no need to dig for the keys to get in and be on your way. Though front and rear seats are heated, some cost-savings are noticeable, such as the somewhat haphazardly stitched swaths of solid leather on the front seatback and rear seat cushion, and the rear-seat side bolsters made of hard plastic. The standard navigation system is Garmin-based and is quick to react to inputs while the 450-watt 10-speaker stereo sounds good for its price, though it won't impress audiophiles.

Safety
After a week of using the car in a mix of highway and urban areas, I found the Civic's active driver-assist system to be full of pluses and minuses. Its Lane Watch system uses a mirror-mounted camera that displays the right side of the car on the center screen. It lacks the go/ no-go warning indicators of a typical radar-based system, but the images (with integrated distance indicators) provide more information to interpret approaching objects like bicycles and scooters. Active cruise control works as advertised though it leaves too much space ahead and is overly sensitive when adjusting its deceleration rates. The lane keep assist is very good at assisting through the curve but it too lacks refinement and falls behind the new Corolla and its lane-centering technology.
Styling and Size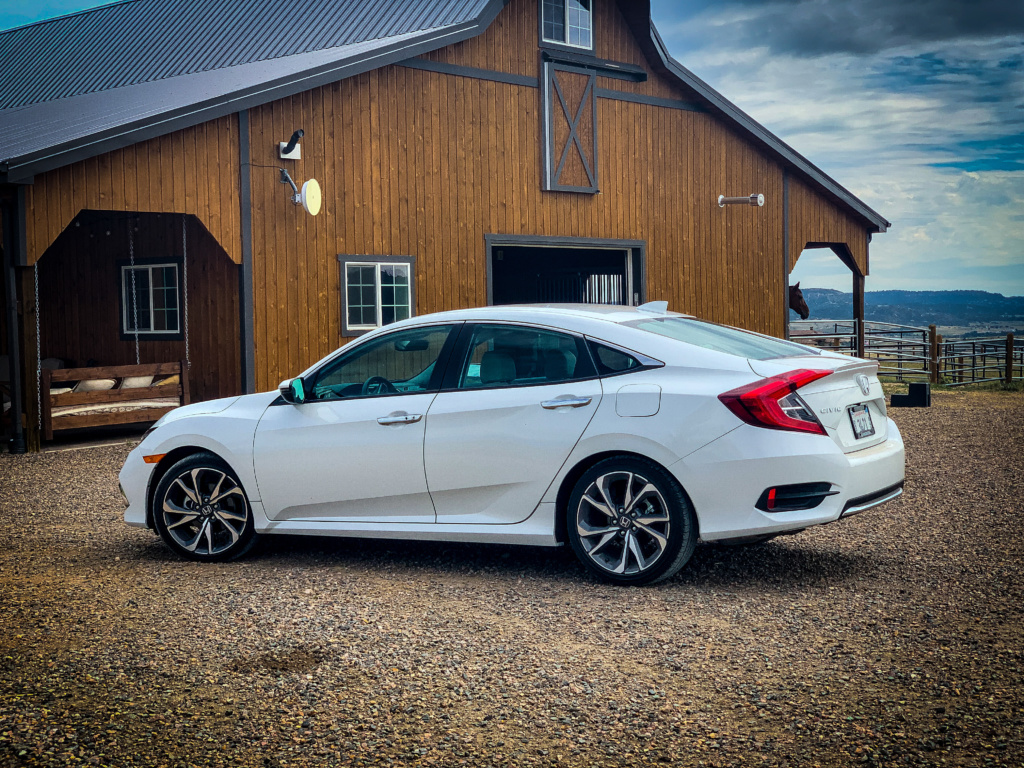 The Civic is certainly larger than ever before but that pays dividends towards interior space as well as trunk space. For reference, it's about the same size of the CR-V (it too has clearly grown). Rear passenger space felt significantly more spacious than the Corolla and roomy for four but doable for five adults. The split-folding rear seatback clears room for longer items. The Civic's styling has found a balance between young and edge and grown-up and modern. Honda's modest mid-model-change freshening is proof that it connects with many others as well.

Power and Efficiency
The Civic truly separates from the pack with its turbocharged four-cylinder. The stats are impressive but don't tell the whole story.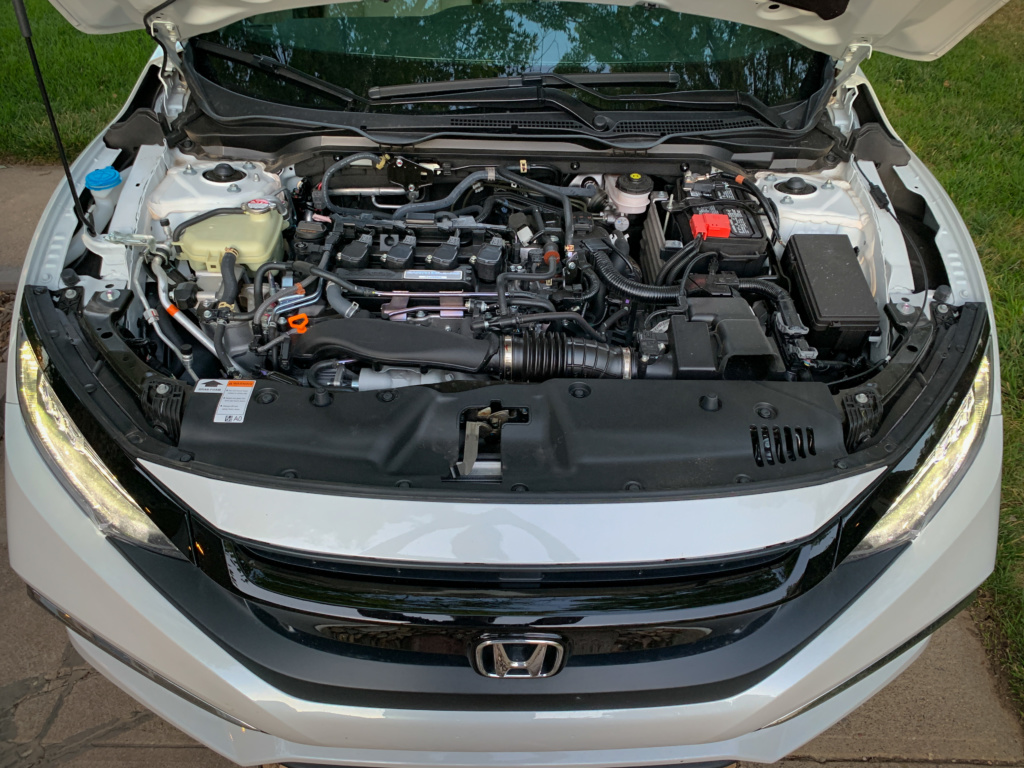 It generates 174 horsepower and 162 lb-ft of torque from a low 1,700 to 5,500 rpm and it teamed up with a CVT to deliver EPA estimates of 30 mpg highway, 38 city, and 33 combined. During my time, I managed 36 while having fun dipping into the engine's easily accessible and manageable turbo-boost power and clicking through the "gears" with the steering-wheel-mounted paddle shifters.

Ride and Handling
The Civic returns to the sporty side of the ride and handling spectrum. It lacks the adaptive dampers of the sportier but is still capable of also delivering a comfortable highway ride with a feeling of agility at lower speeds. Road noise certainly comes through into the interior but it seems reasonable for the price range and previous-generation Civic owners will see it as a notable improvement.

Conclusion:
The Civic excels in many of the definable categories and never sets a tire out of place. It wins against its competitors as well while still leaving room for continuous improvement.