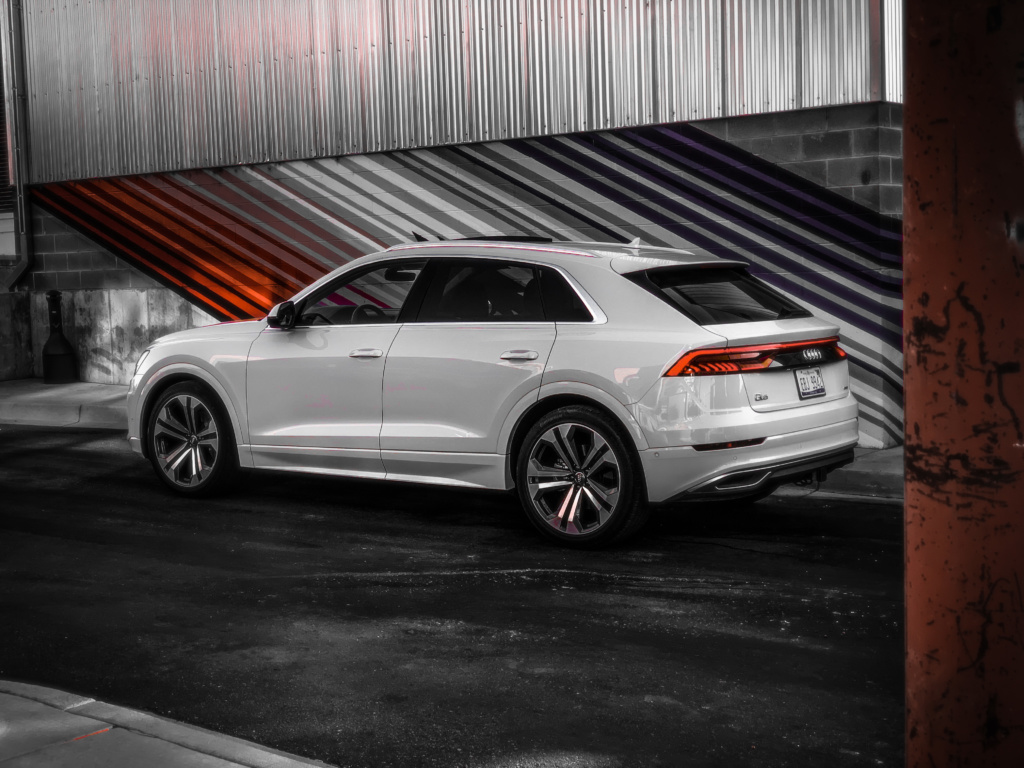 There are so many fields where the Audi Q8 illustrates its luxury car status, including its near -$90k price tag. In this market, the car has to perform not just as expected, but become a place that continuously impresses. The Q8 is a car about the details and minimizes any appearance of cost-savings.

Features: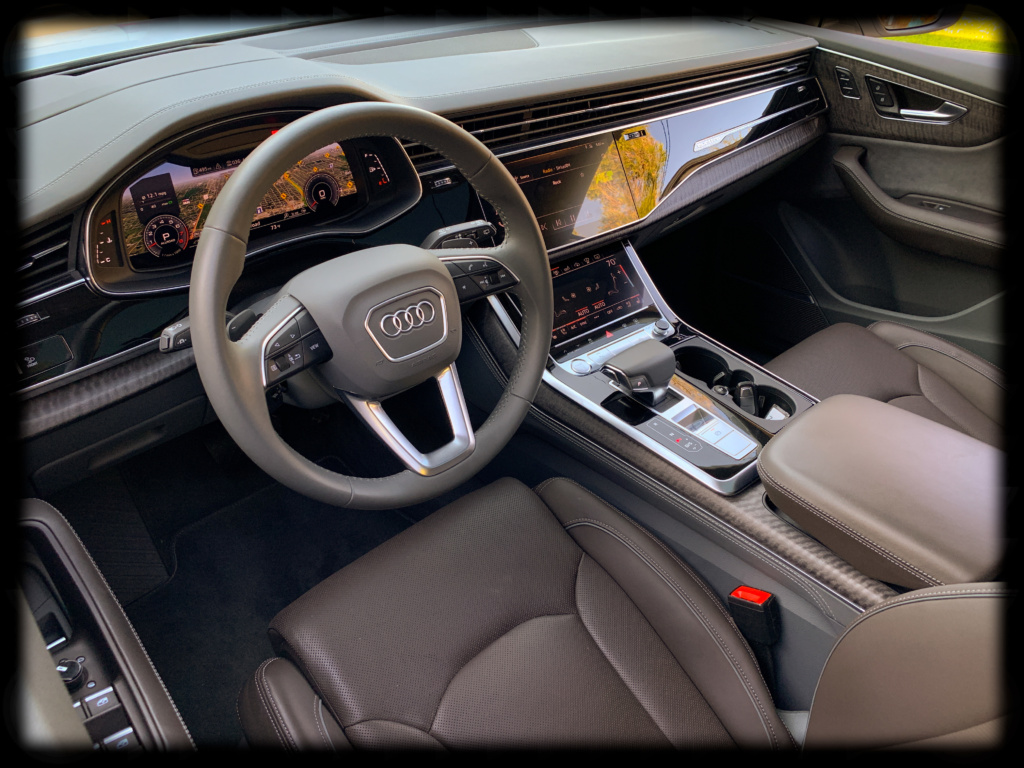 The Q8 Prestige Package is Audi's terminology for top trim which includes a Bang & Olufsen 3D Sound System that impressively envelops the driver but felt like it could use a more powerful punch. Audi must have felt similarly and offers a 1,920-watt B&O sound system (with the pop-up dashboard tweeters). Sadly, I have not yet experienced that one out in a dynamic environment. The Q8 Prestige includes many more impressive features like LED piping and ambient lighting that can each display 28-individual colors (and several preset "moods" for simplicity sake), LED headlights and taillights with animation which feels cool at this moment, and a leather dashboard with contrast stitching that is a pleasure to look at and touch. The Luxury Package is about $6,000 and adds very comfortable perforated leather seats – the front seats also receive ventilation and massage, and an Alcantara headliner. Essentially, there are not many areas left untouched by some sort of impressive material. A heated steering wheel and rear seats are seen as more practical features included.
The smooth and sleek instrument panel is comprised of a compact digital instrument cluster, a 10.1-inch touchscreen mounted nearly to perfection on the center console. Below that is another touchscreen for climate control, chassis controls, driving-assist technology, and radio presents. The operating system is quick to react and organized logically. The breadth of customizable systems is excellent though it means sitting down for an hour or so to become familiar with the menus to comfortably operate while driving. What doesn't require time to learn is the operation of the gear shift. Its design combines the significance of the operation with high-quality looks and feel (and my new favorite).
Safety: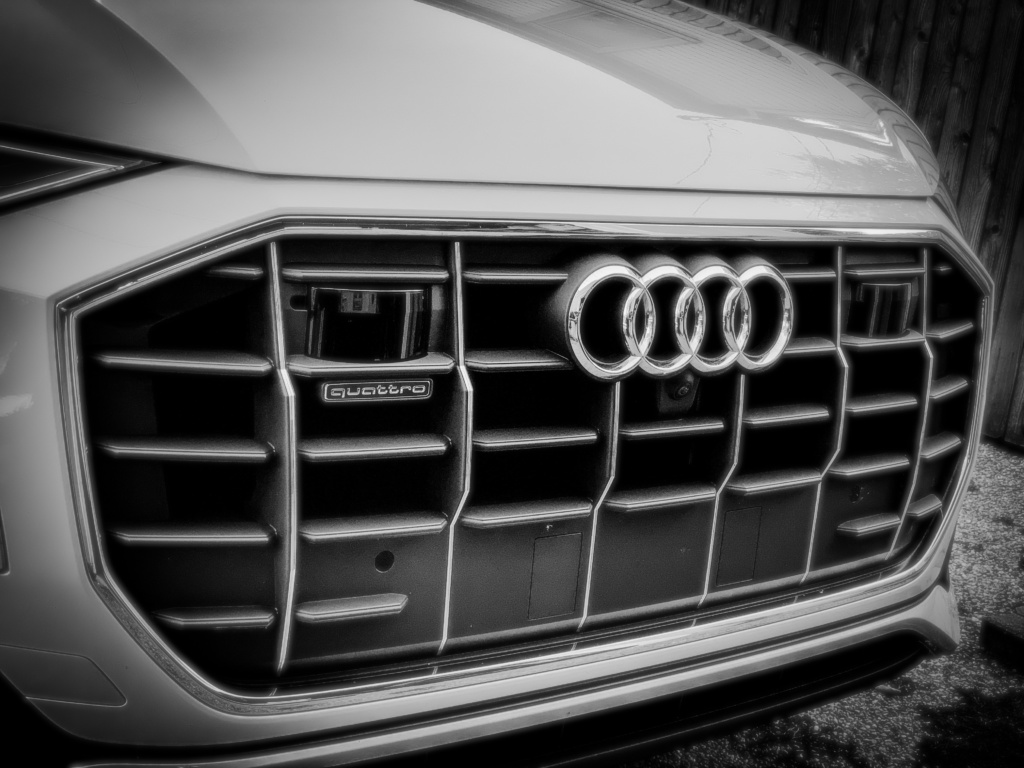 This well-equipped Q8 includes the full roster of driver-assist and active safety features. The exterior mirrors are fully adequate while the front pillars are fairly upright allowing for excellent visual awareness of the car's surroundings. The Q8's head-up display and HD digital gauge cluster place a plethora of information closer to the driver's line of sight. A color head-up display and the configurable gauge cluster display put more information closer to the driver's line-of-sight.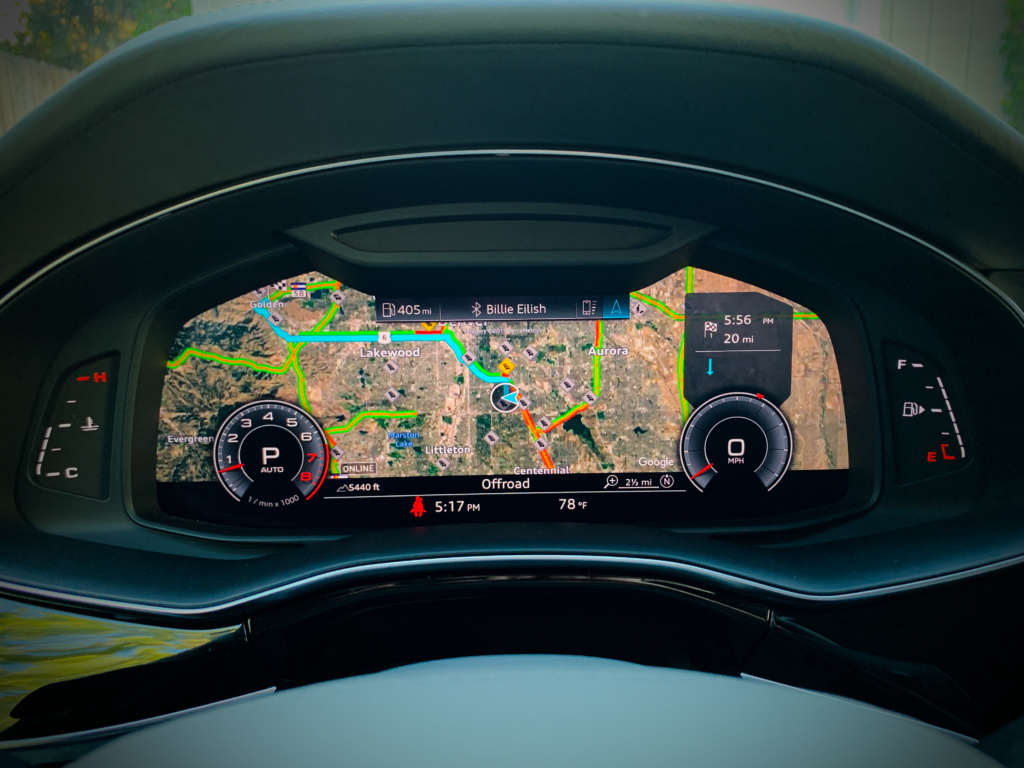 The Q8 earned top scores for occupant protection from both the government and IIHS with the only knock being against the headlights with earned an Average rating for limited light coverage in a moderate turn.

Styling and Size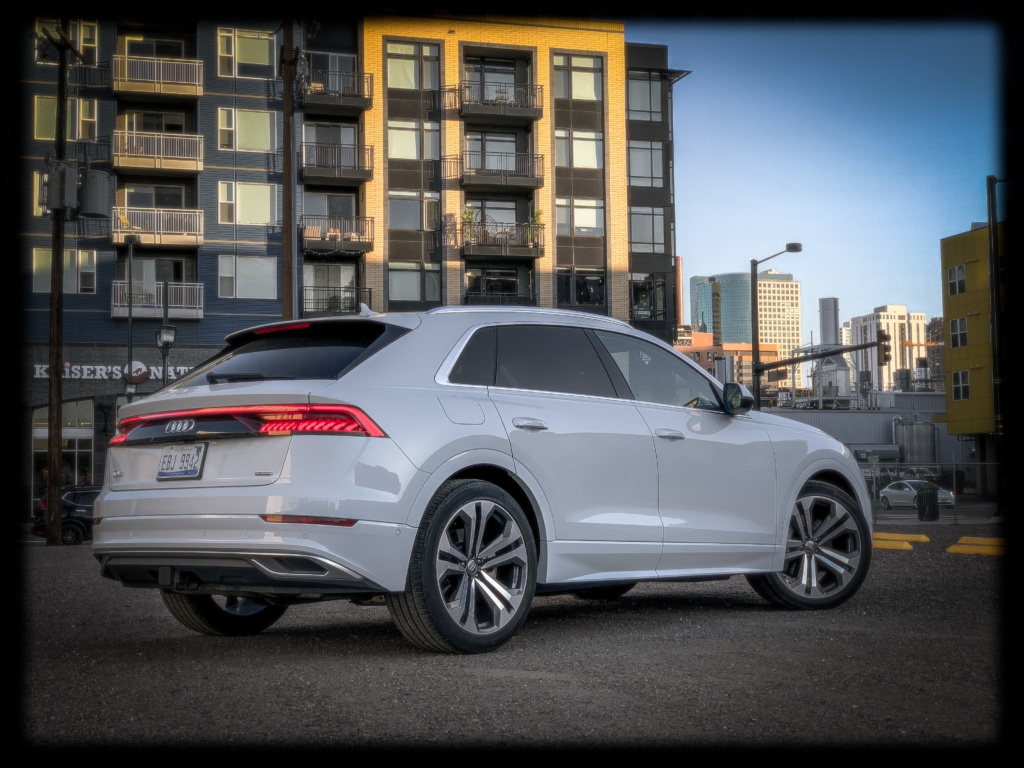 The A8 defines Audi's crossover styling direction. Sharp angles and crisp lines begin with the hexagonal grille, and cut into the body side and wrap tightly around the rear forming a short deck for a coupe look. The front grille design is the only headscratcher as it is interrupted by two large radar covers that look like last-minute add-ons. The interior's crisp shapes and high-quality black painted interior trim is an impressive, classic-era demonstration of quality while the touch screen digital displays feel cutting edge.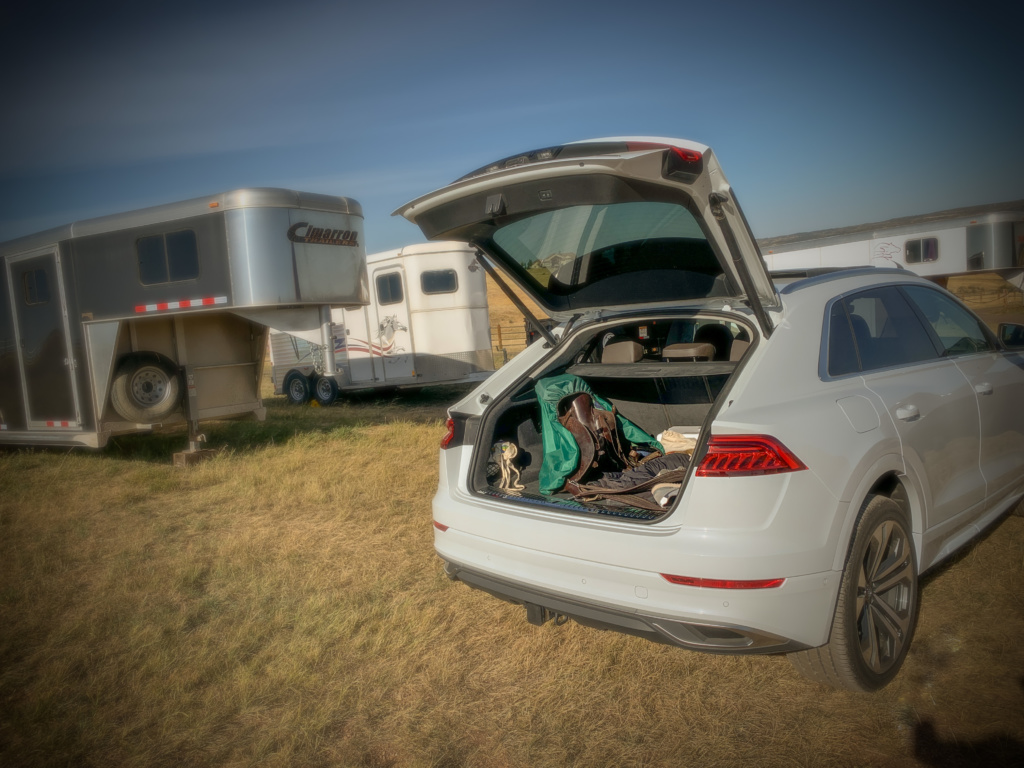 The Q8 can technically seat five though four is best for all. The rear seating area is nearly as luxurious as the front. A reclining seat back and a vast view out of the large sunroof make for a relaxing place to travel. Cargo storage is somewhat limited by the fixed touchscreens upfront. while the trunk space is limited a bit by the sharply raked rear pillar. If more space is required, the seats can be folded down. For absolute capability, it's worth knowing that the Q8 is rated for towing up to 7,700 lbs.
Power and Efficiency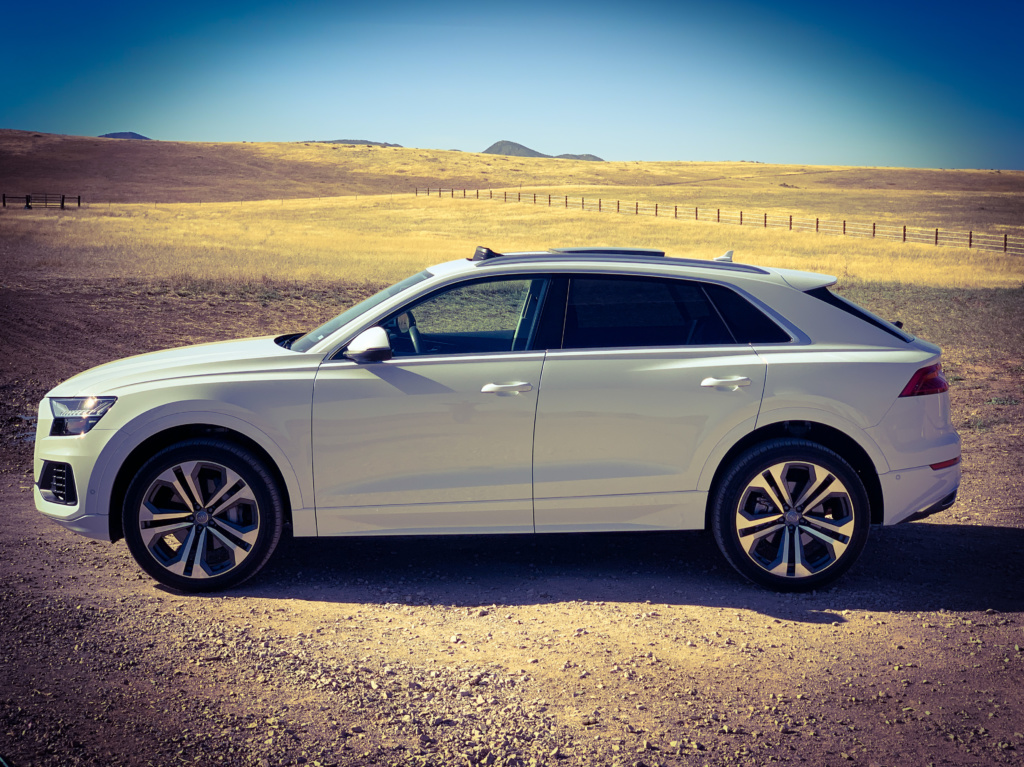 Audi's familiar turbocharged 3.0-liter V6 is mated to an 8-speed transmission that sends power through Audi's famed Quattro AWD system. The engine produces stats of 335 hp and 369 lb-ft of torque but they don't do it justice when describing how it goes about generating impressive acceleration at most of the engine's rev-range. Generating peak power isn't the engine's prerogative, rather its smoothness effortlessly acceleration are what's most memorable. The shifts are incredibly smooth and well-coordinated with the engine's programming yet when hustled, the Q8 delivers solid gear engagements for a connected feel. The Audi is less than stellar compared to the best in class coupe-styled luxury crossover and earns an EPA-estimated 19 mpg combined though I managed about 20 mpg even after a fair amount of hustling around.
Ride and Handling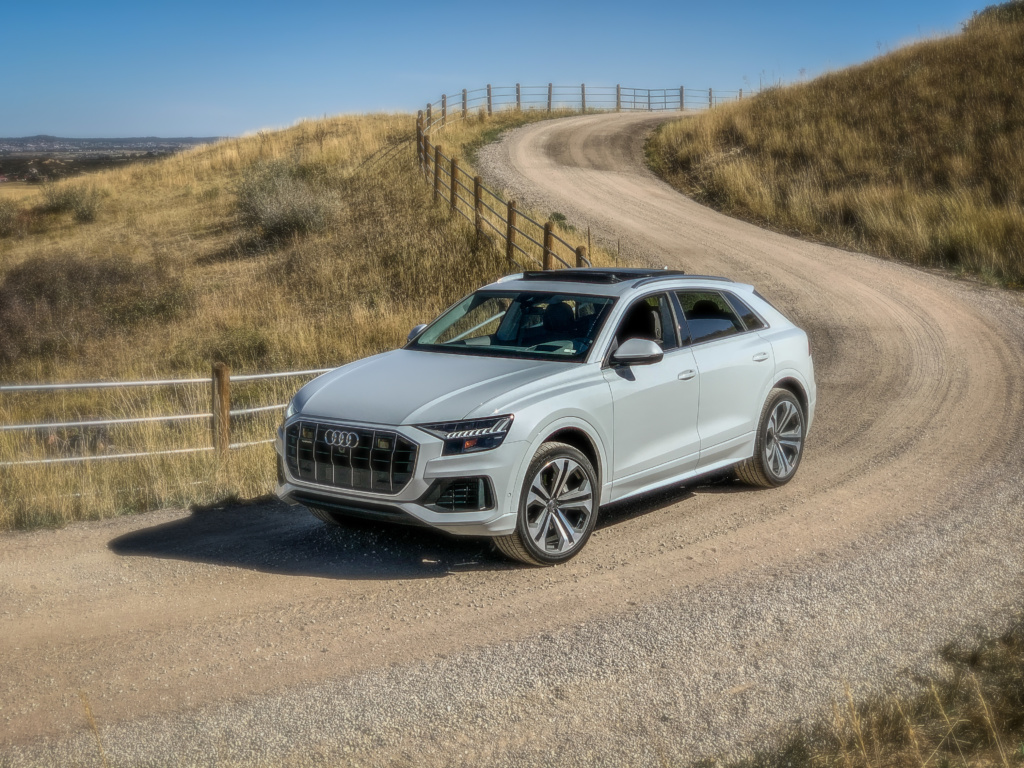 Audi's optional air-suspension system, Quattro all-wheel drive, and all-wheel steering combine their respective skills to deliver an unflappable ride, soaking up the large impacts during slow city driving, maintaining good balance at high speed the highway, or feeling like a champion on a winding mountain road. Also, the air-suspension will automatically lower for improved high-speed efficiency and even further during Dynamic mode. The rear steering also makes the Q8 a best-of-both-worlds car – good high-speed stability and good low-speed agility. Unfortunately, the rear-steering doesn't make up for the large turning radius, listed at 43.5 feet – far larger than Audi's own large car, the A8.
Conclusion: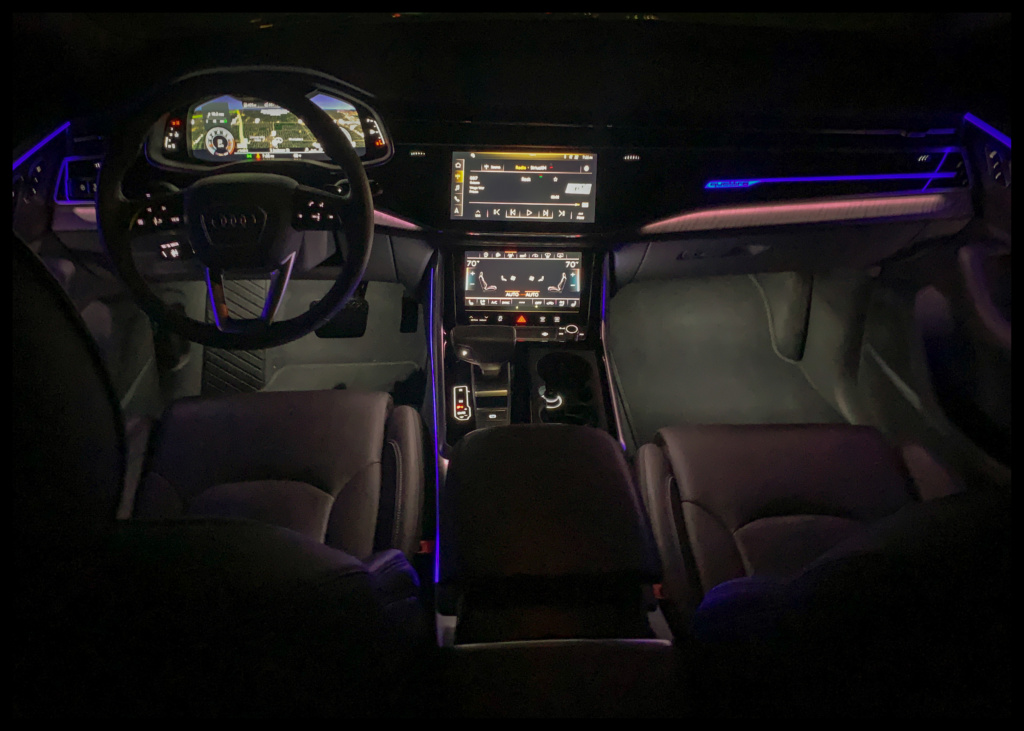 During a week spent with the five-passenger crossover, the Q8 proved its luxury status. It melds striking design and the latest technology into an easy-to-use and seemingly uncompromising package.
And I could go on…