With expectations of a new design every five years, the automotive market doesn't take kindly to models that don't continuously push their boundaries. That is especially true of the crossover market, where an ever-increasing number of new players means that even the Toyota Highlander, the segment's best selling model since 2016, needs to take some calculated risk.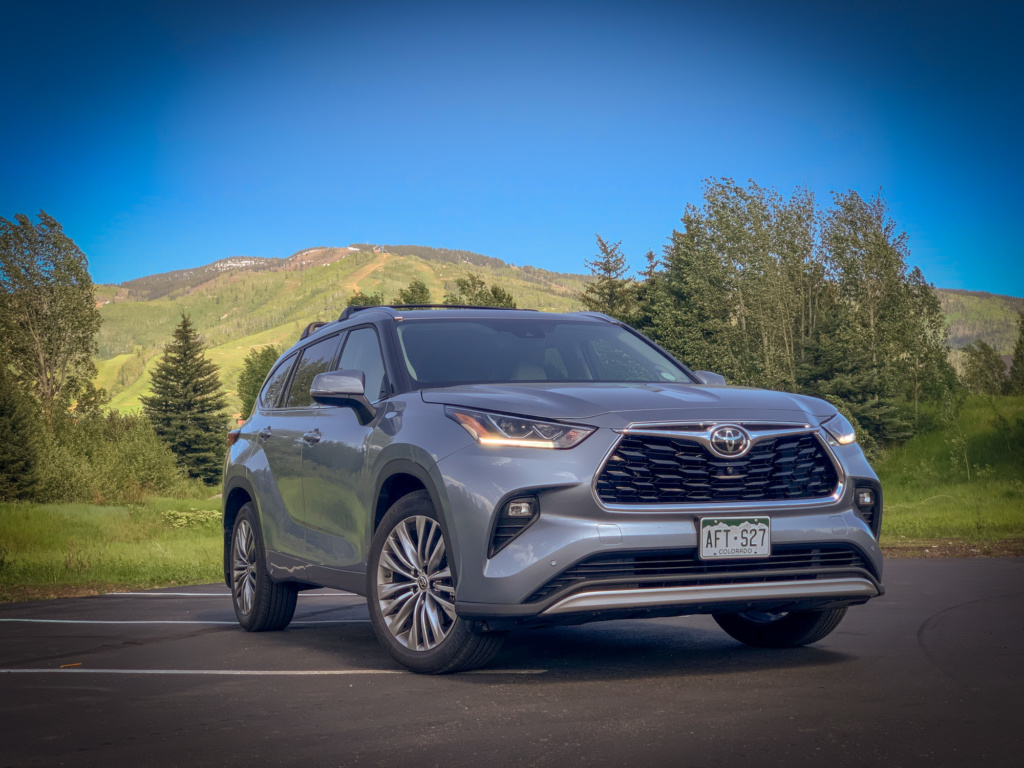 And sure enough, the Toyota Highlander went big with its 2020 redesign and is impressive in nearly every regard.
Taking a Stance
It's not terribly challenging to slap on the latest styling cues onto an existing design and score another 10 minutes in the spotlight, but thankfully, Toyota has committed to leaping ahead of the competition and ditches the comparatively staid styling of the previous generation.
The consistent theme of rigid details placed among the large fluid surfaces brings a sense of solidity yet also dynamism with an upright grille, blacked-out A-pillars, large sweeping curves along the side, and a crisply-shaped rear end. It speaks to the era of fresh-thinking design that is excitingly in motion at Toyota.
The interior is equally a conversation piece. Its surfaces all build towards the driver's instrument cluster, again, by way of large shapes that wear strongly defined details.
The silver "woven beam" stretches from the passenger side and sits forward of the upper dash panel before it eventually splits to provide a docking point for a very large glass-surface touchscreen and high-gloss plastic panel that houses the HVAC controls.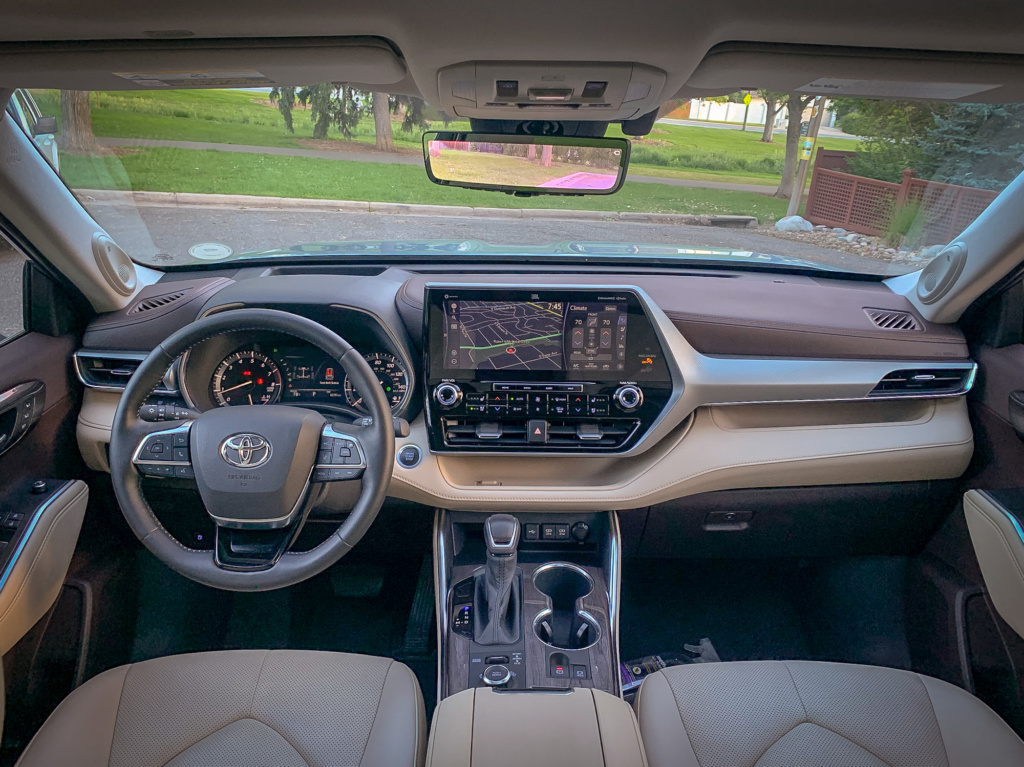 The mid-level cubbies are also fully integrated into the style of the dash without losing their practical purpose. It may have been simpler and more cost-effective to use a molded insert as many competitors do, but the Highlander team integrated the pockets' surfaces and imprinted a dimpled texture which contrasts the smooth finish of the rest of the lower dash panel. So even when they're not stuffed full of face masks, phones, and food wrappers, they can still be appreciated.
While the rest of the interior surfaces are what we've come to expect from Toyota – simply shaped large parts with very few parting lines in plain sight – there are a few instances where Toyota's efforts to adopt high-end style were met with the reality of the Highlander's price point.
The concept of stitching two leather surfaces together is seen within interiors of premium brands and while the stitching may be authentic in the Highlander, the "mating line" is simply molded into the upper dash panel and sits near eye-level.
Several other areas feel as though their execution didn't correlate well with the stylists' intentions such as the wavy gloss-black surface of the HVAC controls, the unusual look of the faux wood trim, the sharp feel of the top corner of the infotainment screen surround, and the seemingly uncoordinated selection of which interior surfaces are colored black versus this Platinum trim's brown.
Smooth Operator
The 2020 Toyota Highlander rides on an entirely new platform which ultimately provides (and limits) the extent of which engineers can tune everything from handling response to NVH (noise, vibration, and harshness). With the Highlander, it's obvious that the engineering team had a shared target of achieving an exceptionally smooth riding machine. One might expect this thinking to be at odds with the large 20-inch wheels and 8-passenger capacity, however, the rigid body structure allows the suspension to soak up minor road imperfections, sharp impacts, and even significant high-speed dips in a manner that minimally disrupts the vehicle's current trajectory nor the calm environment of the interior.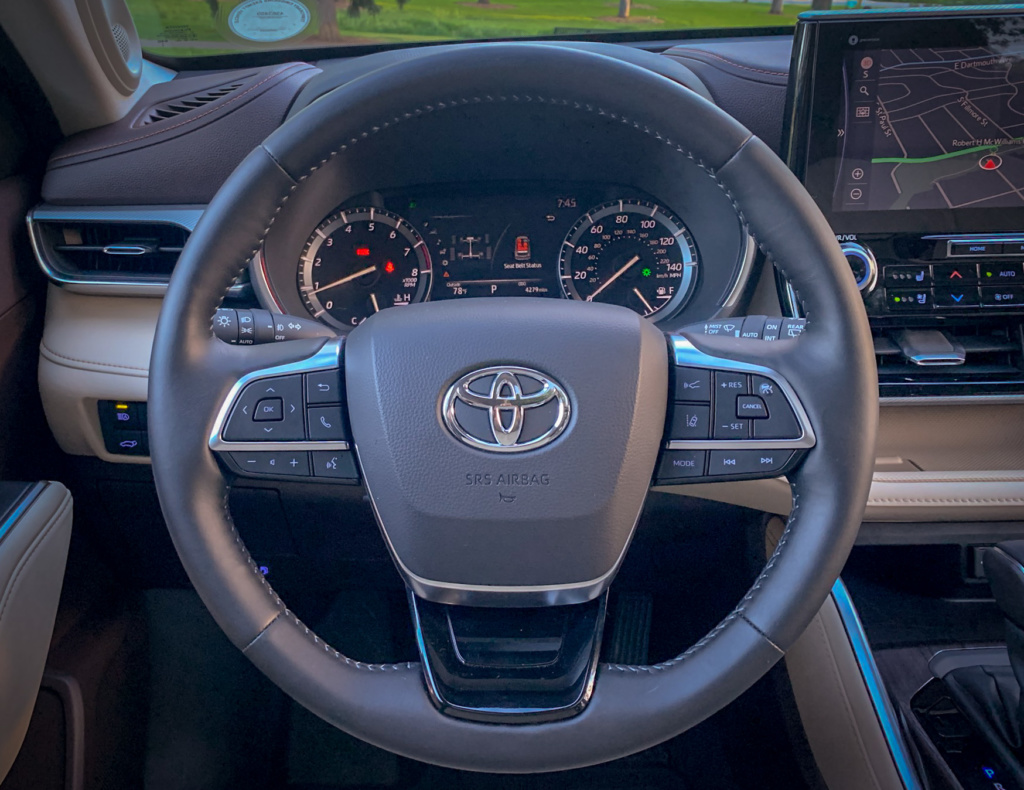 Credit also goes to the powertrain engineers as well as the 3.5-liter V6 is an already accomplished motivator, having seen duty across Toyota's lineup. Powerful and efficient, the engine and 8-speed transmission never placed a foot wrong whether working through heavy rush hour traffic, climbing (and descending) steep mountain passes, or passing on two-lane highways.
The torque-vectoring all-wheel drive is more advanced than the system on lesser trims, however, its effect wasn't noticeable nor is it likely that one will use its theoretical advantage considering the Highlanders more sedate handling priorities. The Highlander earns an EPA-estimated 23 MPG combined, which I was able to surpass with mid-24 mpg during mixed driving that tilted towards more highway cruising. Those interested in prioritizing fuel efficiency over power may be enticed by the 35 mpg Hybrid version.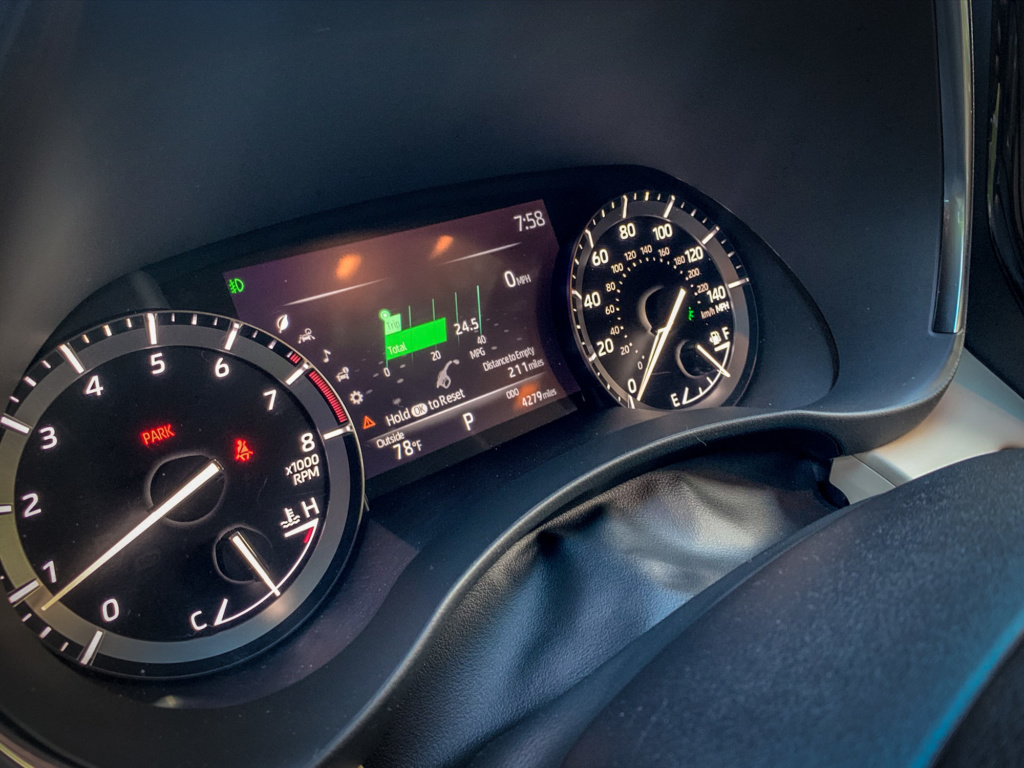 Room/ Space/Tech
Just as the chassis and drivetrain provide a worry-free drive, the interior is equally suited to tackle all things with minimal concern.
The new Highlander sees an additional 2.3 inches of length and becomes neatly aligned with the spacious Honda Pilot. Cargo capacity can be simply stated as very large and, even with the third-row seatbacks in place, there is ample cargo room for rows of grocery bags.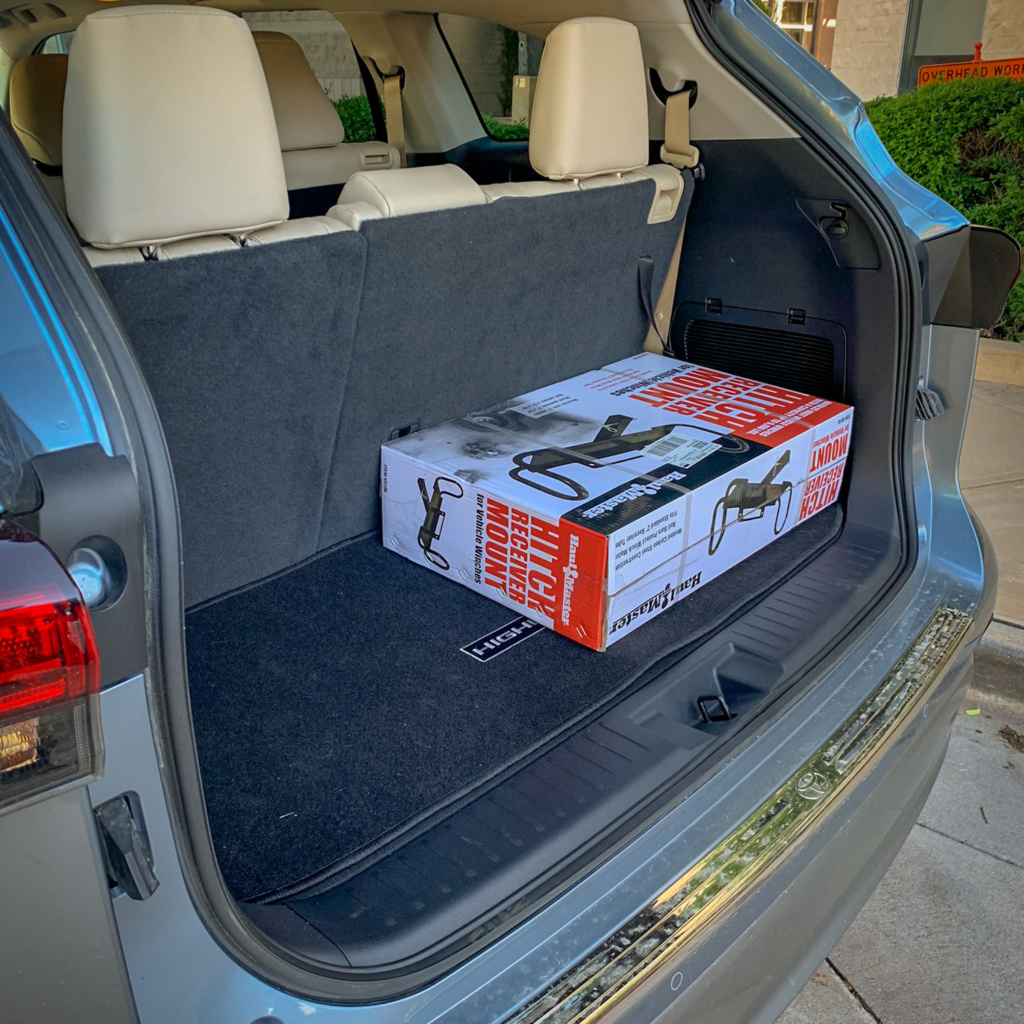 The 10-way adjustable driver's seat features heating and ventilation and is shaped for comfort, however, the door armrest is too far away to be useful when driving. Second-row passengers can slide their heated perforated leather seats forward and aft depending on the need/compassion level for third-row occupants (which remains sized for children), flip-down their armrests, and enjoy an expansive view through the panoramic sunroof.

There are several high-tech features that also help to make this top-of-the-line Platinum trim easy to enjoy in everyday life.
First-up, Toyota's second-generation active safety suite is onboard to provide automatic emergency braking, active cruise control, lane centering, blind-spot detection, and emergency services notification. Outward visibility is good with support from large mirrors, a digital rearview mirror, and a surround-view camera. For being a large vehicle, it was easy to keep tabs on what is happening on all sides and even when maneuvering in tight spaces. A crisp color head-up display allows one to keep their eyes on the road while staying informed of navigation directions, current speed limits, and vehicle speed.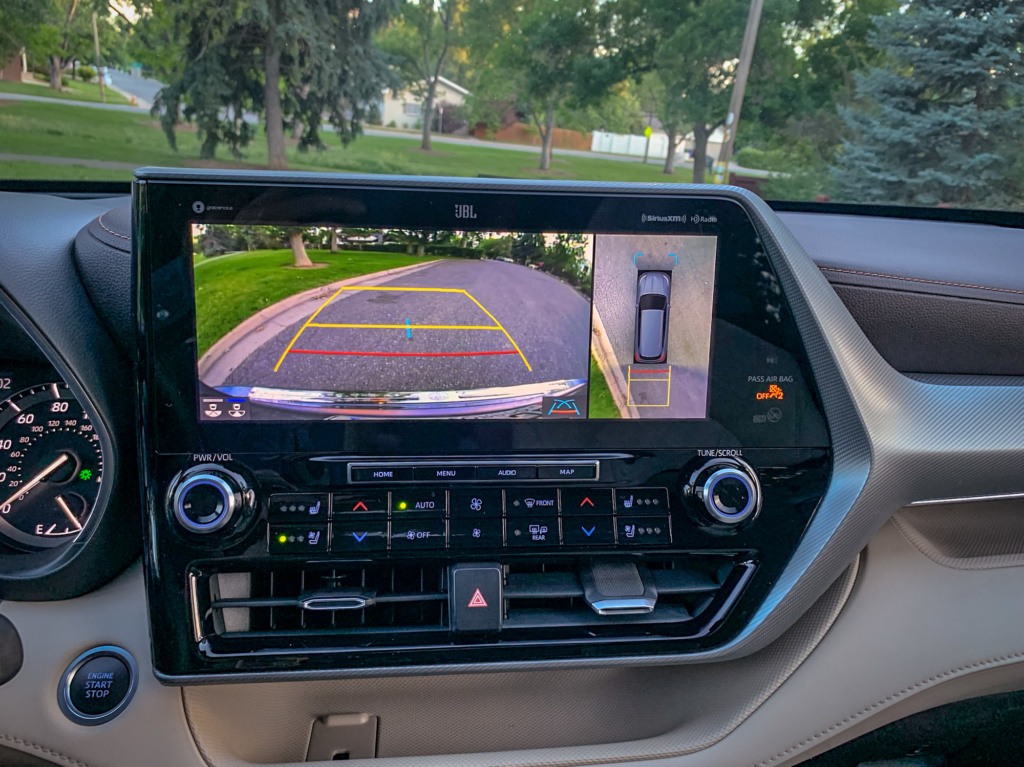 The Highlander's infotainment display is impressively crisp and large though it requires some familiarization to become proficient and can feel overly busy, despite its size. Gratefully, there are easy-to-locate physical buttons for most functions. The 1200-watt, 11-speaker JBL sound system is very good and is compatible with the latest systems from Apple, Amazon, and Google.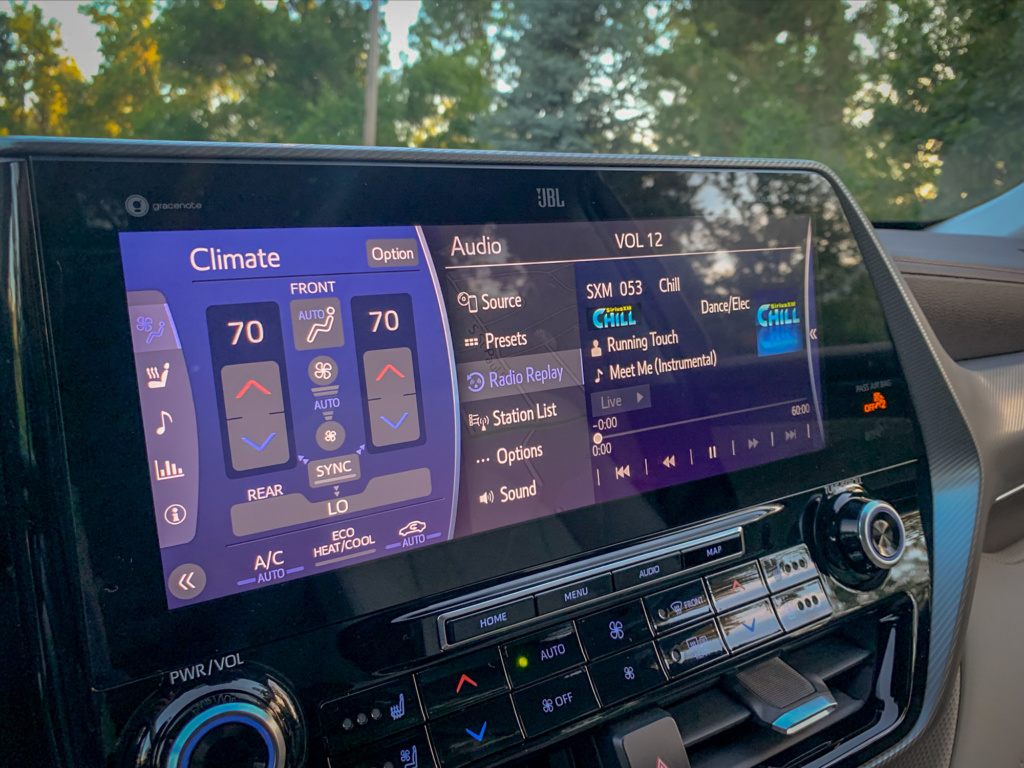 Conclusion:
Completely redeveloping the segments best selling model is no easy feat and the Toyota Highlander development team did not pull any punches. It carries forward the level of manufacturing precision and value that is ingrained in every Toyota yet the Highlander team dramatically pushed the boundaries in terms of style and material quality. While there's room for a sportier verve, the Highlander is set to impress on a daily basis, even five years down the road.
2020 Toyota Highlander Platinum AWD – $50,345