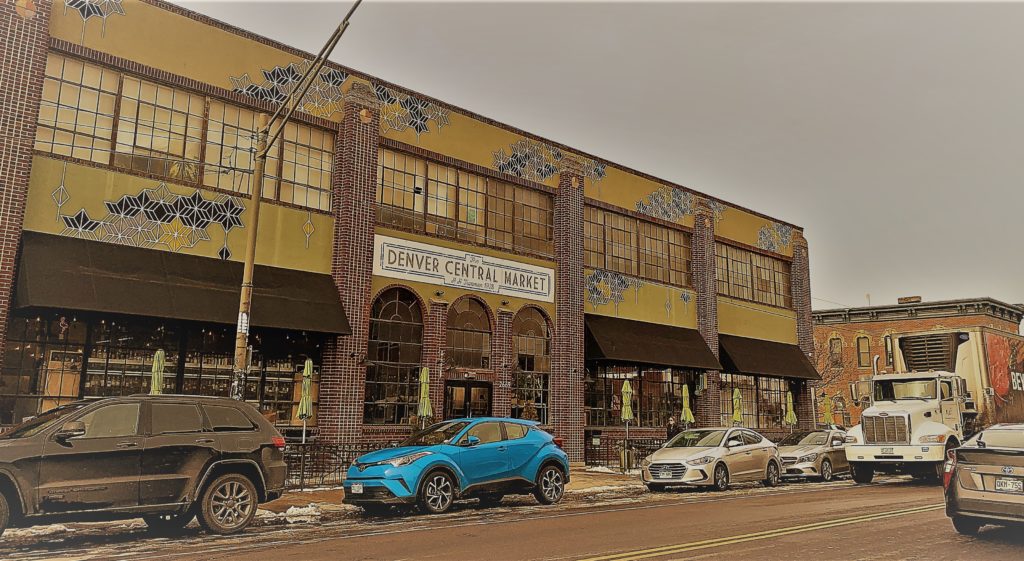 If this isn't what you were expecting from a Toyota, you're not alone. The CH-R is the smallest among Toyota's crossover line-up but its design speaks the loudest with amped-up shapes and a raised coupe profile. Toyota didn't concede its other core values though, as the CH-R is rather roomy inside, features active safety tech, and has a quality feel.
Features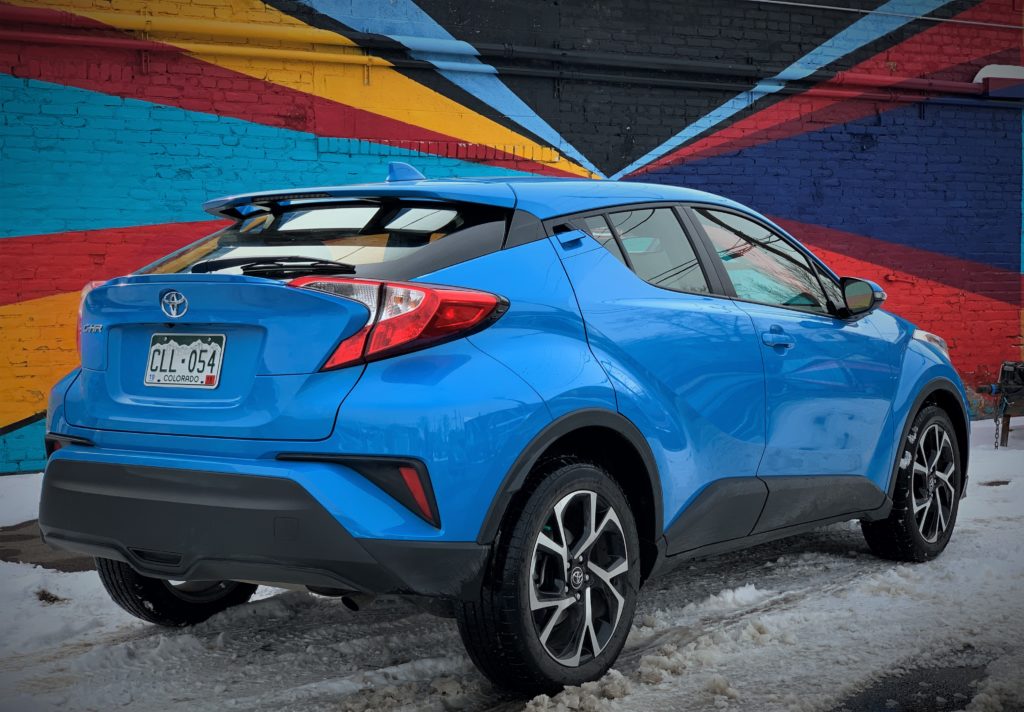 This mid-level XLE example checks in at $24,710 and includes stylish 18-inch wheels, LED daytime running lights, heated body-colored mirrors with integrated turn-signals, and proximity entry with push-button start. The seats are cloth covered and while the cushion is on the softer side of the firmness scale, the seatback features supportive side bolsters. Overall, the seats are a good balance between support and ease of ingress/ egress. Through the comfortably shaped leather-wrapped steering wheel is a 4.2-inch digital display while someone's twisted humor placed the decades old 8-bar style digital clock in juxtaposition to the 8-inch touchscreen display. The CH-R's Entune Plus audio system connects with Apple CarPlay, Android Auto, SiriusXM, and HD radio while WiFi hotspot capability is also included with a six-month subscription. Power folding mirrors and auto-up for all four windows are a few unusual features for the segment possibly hint at the car's its foreign market influence (where it is available as a hybrid!).
Safety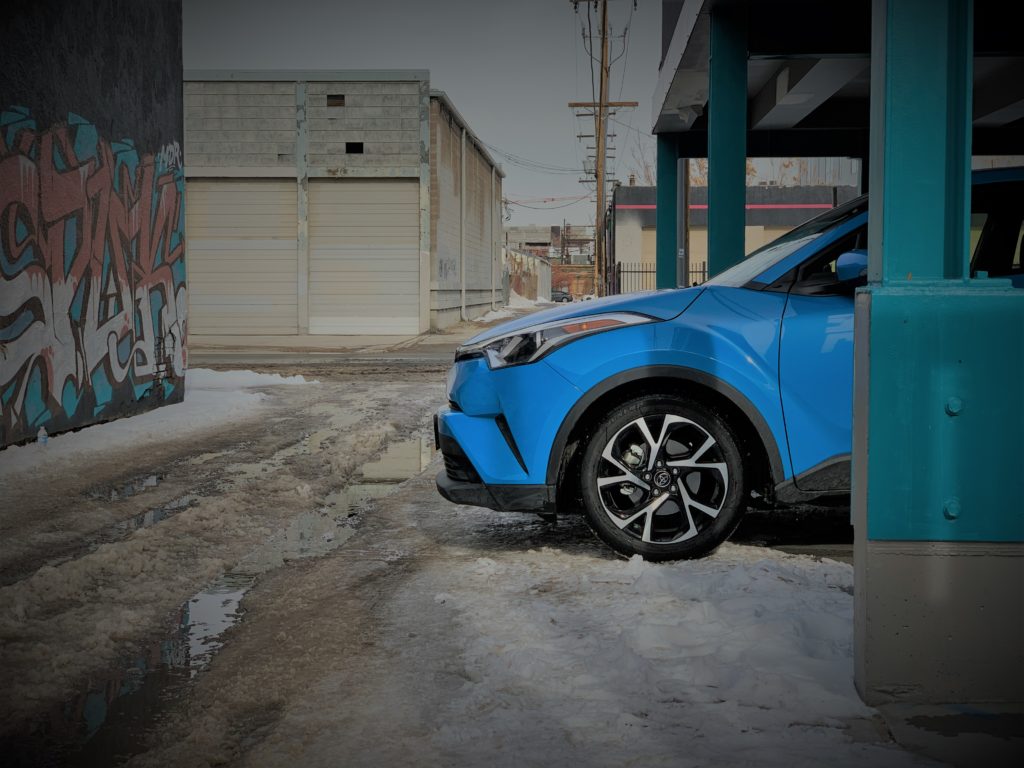 Toyota's commitment to safety is on full display with low speed automatic braking, blind zone monitoring, lane-maintain assist, and active cruise control while automatic high beams and automatic brake hold are added driver conveniences. Forward visibility is excellent while the CH-R's well-designed exterior mirrors and blind-zone monitor help make up for the chunky c-pillar. For unintended lane changes, the lane-maintain assist system works well but it doesn't actively steer the car through a turn or center it in the lane while the active cruise control is more present and is quickly becoming a stress-reducing must have for heavy, low speed rush hour traffic.
The CH-R earns a Good rating from IIHS for occupant protection though its halogen projector beams are rated as Poor with a short lighted area and significant glare.
Style and Size
The Toyota CH-R is full of interesting details that collectively puts out a funky/ alternative vibe, especially in certain colors like my Blue Flame example. The coupe-like roof profile is accentuated by small gloss-black trim pieces at the base of the a-pillar and rear c-pillar while the large rear roof spoiler does its part to extend the small car's visual length. Along the body side, the main styling curve deepens as it works rearward to blend into the taillights where the upper and lower shapes converge. Out back, the steeply raked rear window extends all the way to the upright rear end where continuously changing surface depth and black lower body cladding sustain the visual intrigue that present in the rest of the car. The more time spent around the CH-R, the more impressive its shape appears and cohesive its design features become.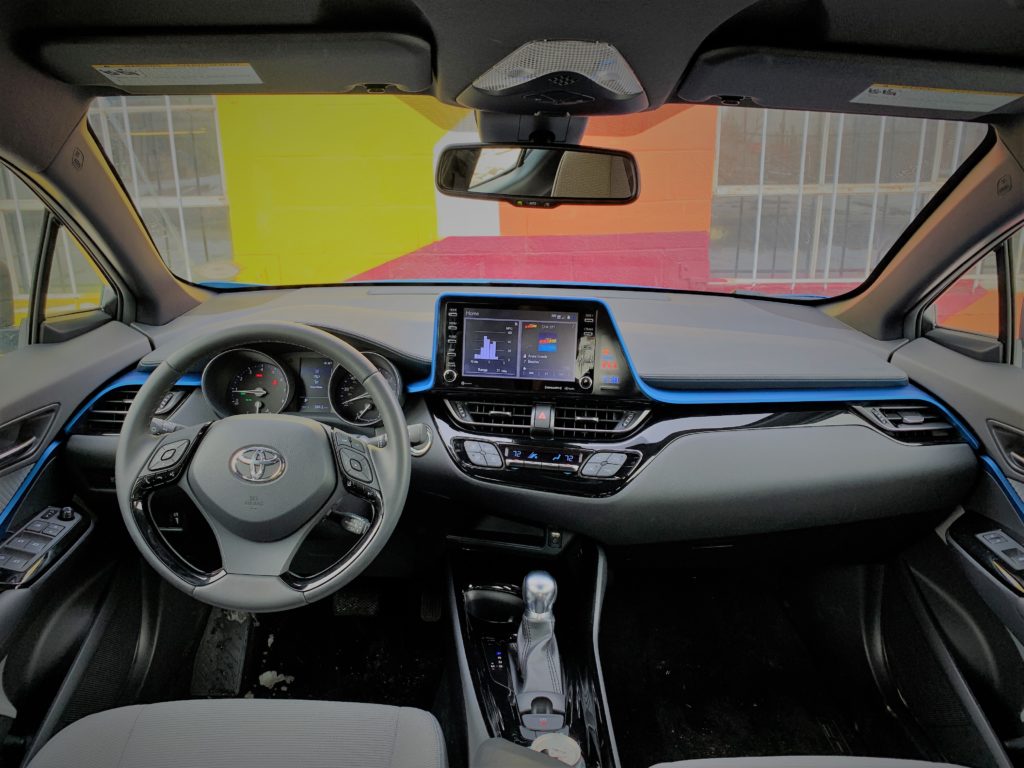 The interior receives similar attention to styling. A rich looking material wraps the upper dash surface while a vibrant strip of matte color stretches from one side to the other. Panels that are normally flat or stylistically looked over receive impressive textures and shapes while gloss black painted trim pieces are thoughtfully placed throughout the cabin. Unfortunately, a lack of cubby space for small items like a smartphone is a head-scratching omission while the narrow profile of the entire instrument panel prevents space for a glove box.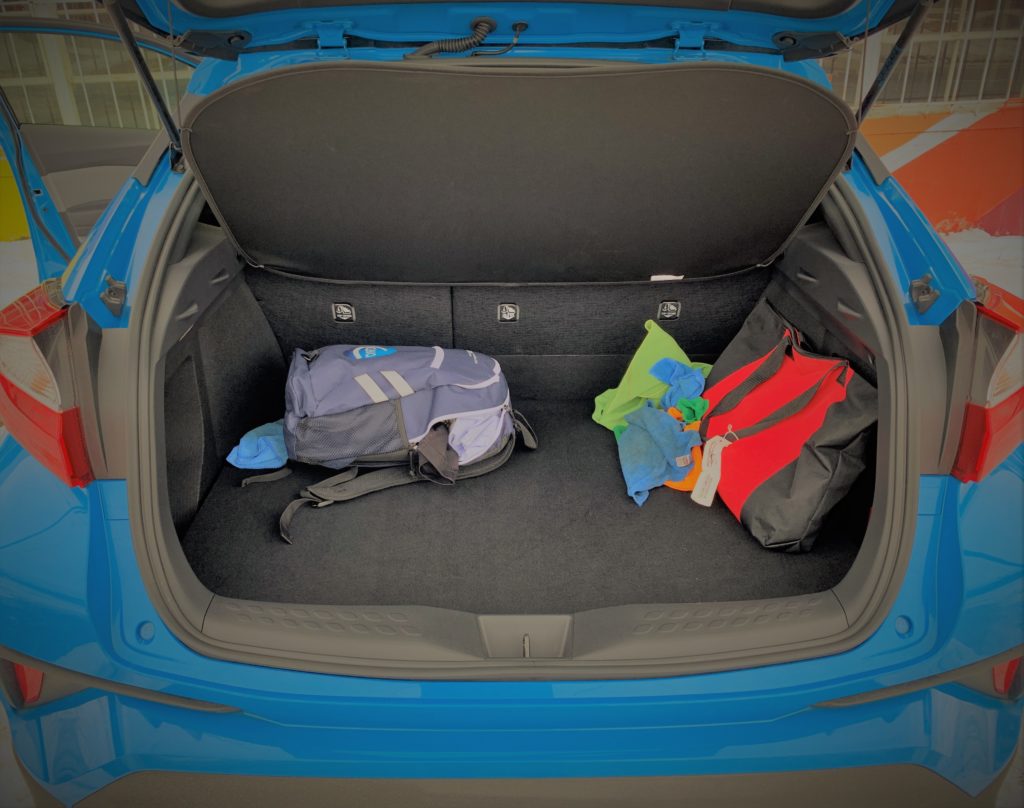 Storage for miscellaneous items aside, the interior is a comfortable place to be. It's roomier than one might initially expect. In back, there is enough space to comfortably fit two adults and, despite its sloping roofline, ingress, egress, and headroom are not issues. The rear cargo area is open, flat and can be expanded by folding the rear seats.
Power and Efficiency
The powertrain is by far the least enjoyable part of the CH-R. Around town, the car's lack of low end power causes one to give second thought before jumping through an intersection. Once underway, the power becomes less of a concern but the CVT and throttle manners are sluggish while the set speed of the cruise control feels simply like a suggestion. Also, front-wheel drive is the only available configuration so don't let its adventurous looks take you too far off the beaten path.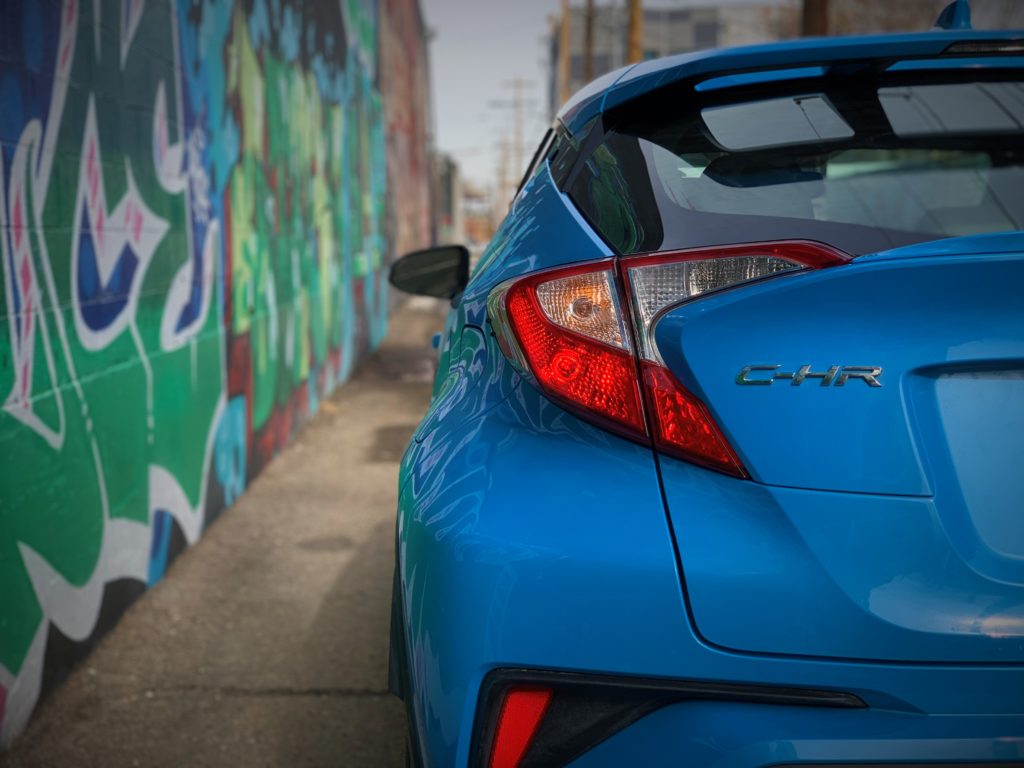 The 2.0-liter's uninspiring 144-horsepower and 139 lb-ft figures are a nod towards its efficient tuning and here the CH-R succeeds with EPA estimates of 27 mpg city, 31 highway, and 29 combined. In my time, the CH-R achieved 29 mpg under a range of driving conditions.
Ride and Handling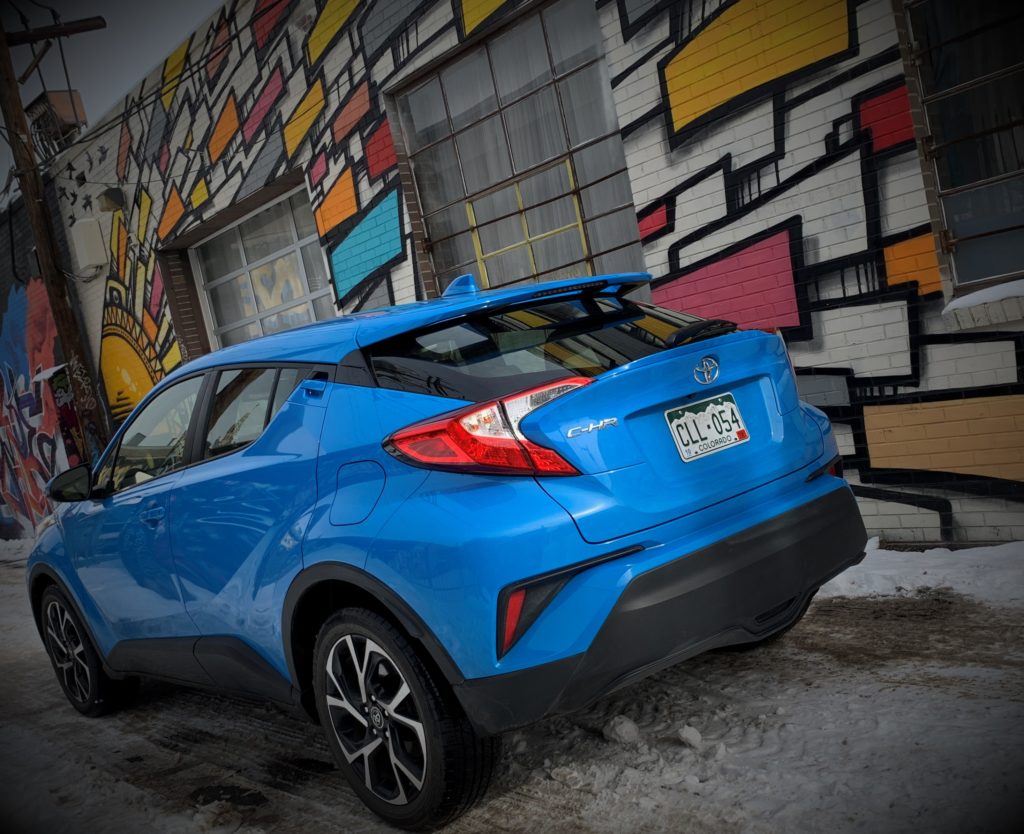 The CH-R provides a smooth, relatively quiet, and controlled ride whether around town or on the highway. High-speed dips and sharp impacts that usually are the vain of short-wheelbase cars, don't bother the CH-R. Through the winding mountain roads, the chassis felt reasonably balanced with acceptable body roll and little drama when shifting weight from one side to the other or under hard braking. Ultimately, it is the CVT and its offending high-winding noise that discourages full throttle fun. During a bigger-than-expected snow storm, the CH-R felt stable as we made it though unplowed side streets and back roads without any slipping or sliding.
Conclusion
The Toyota CH-R is an easy recommendation to someone looking for a small crossover and can do without all-wheel drive, and if its looks are a bit too attention there's always dark gray and black.