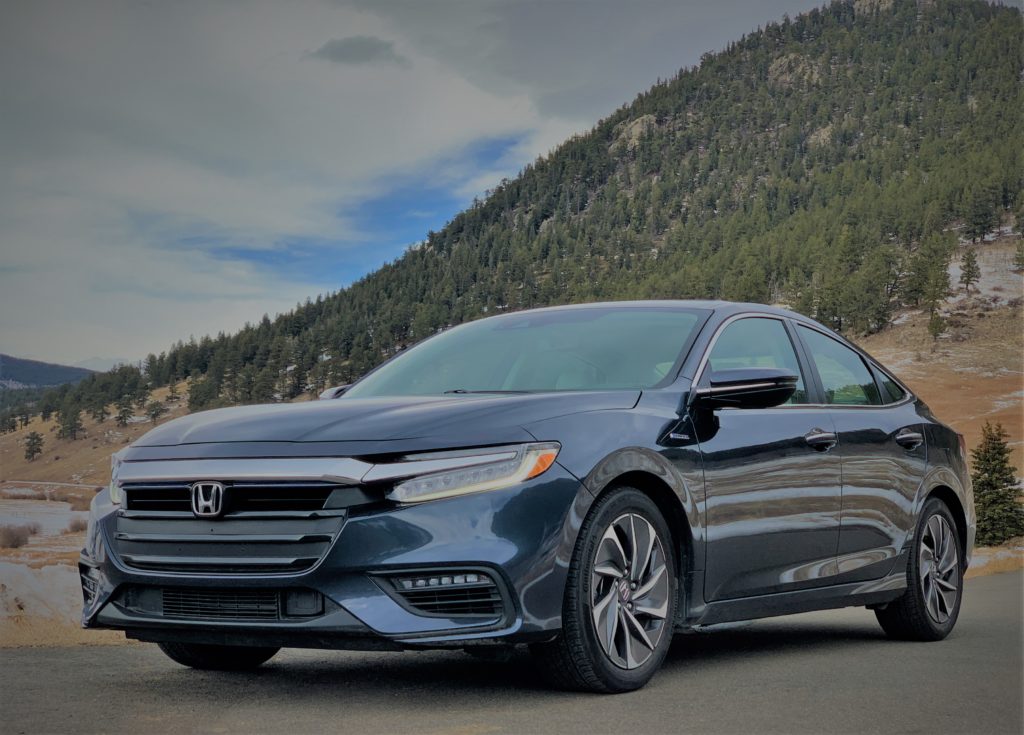 Now in its third iteration, Honda has again shifted the priorities of its hybrid-only Insight. The first generation was an all out push for maximum efficiency. Then, the second generation went slightly off track by simply aiming to be simply be a lower-cost Prius. Now, the third generation Insight takes on a Civic-plus approach with an advanced hybrid system, a greater level of available features, and just as important, a greater sense of driving pleasure.

Features
The Insight Touring is the highest level and includes a long list of impressive features for just over $29,000. LED exterior lighting (headlights, fog lights, and taillights), 17-inch wheels, chrome accents for the door handles and exterior mirrors which also feature integrated turn signals, proximity entry with remote start, and a power moonroof are among the notable standard equipment.
The seats are wrapped in soft, perforated leather with heating for the front and eight-way power adjustment for the driver. A thick leather wrapped steering wheel is one of the best and its controls feature unique shapes and different surface finishes to help with the no-look operation.
While there's no head-up display, the combi-meter features a large digital display with clear and neatly presented information. The speedometer is actually the only physical dial remaining, and a nicely detailed one at that. An eight-inch central touchscreen is the primary means for controlling the navigation system as well a full roster of connected devices and apps. A 10-speaker 450-watt is limited to the Touring premium stereo is good for its class.

Safety
The Insight is equipped with just about all of Honda's active safety tech with the exception of a radar based blind-zone area detection.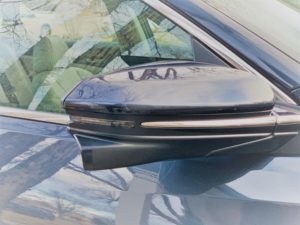 Instead, the Insight receives a passenger mirror mounted camera that generates a wide angle view of the typical blind-zone area on the central display. It is a passive system though some may prefer the added visual information instead of a binary signal.
The lane-keep assist system is good at centering the car within the lane and a light touch is all that is necessary to manage curves on the highway. The brakes feel plenty powerful and are easy to modulate at all speeds with smooth transitions between regenerative braking and traditional friction braking. Traditionally a weak point for hybrids, the Insight manages this very well thanks in part to a brake-by-wire system. Shared with the Accord Hybrid as well as the Acura NSX supercar, the system receives a digital output of the pedal's speed and position to generate a targeted deceleration rate. The brakes are also tied into chassis systems that effectively to reduce understeer and improve turn-in response yet their action generally goes unnoticed.

The LED headlights with automatic high-beams earn a Good score from IIHS although they lack active curve control. A strong and smartly designed chassis and advanced safety tech earn the Insight the highest safety rating from the Institute – Top Safety Pick+.
Size and Style
The Insight effectively captures the upscale Civic mindset with styling that is similar to its edgy gas-only sibling yet has softer edges that bring a more refined appearance. It's instantly relatable to both the Civic and Accord with a short front overhang, upright front grille, and a raised and short trunk lid.
The thin row of LED headlights and stylized taillights are attention grabbing details while the body's curves and shapes extend smoothly from one panel to the next. It aligns neatly as a premium Civic as well as an athletic smaller sibling of the award-winning Accord.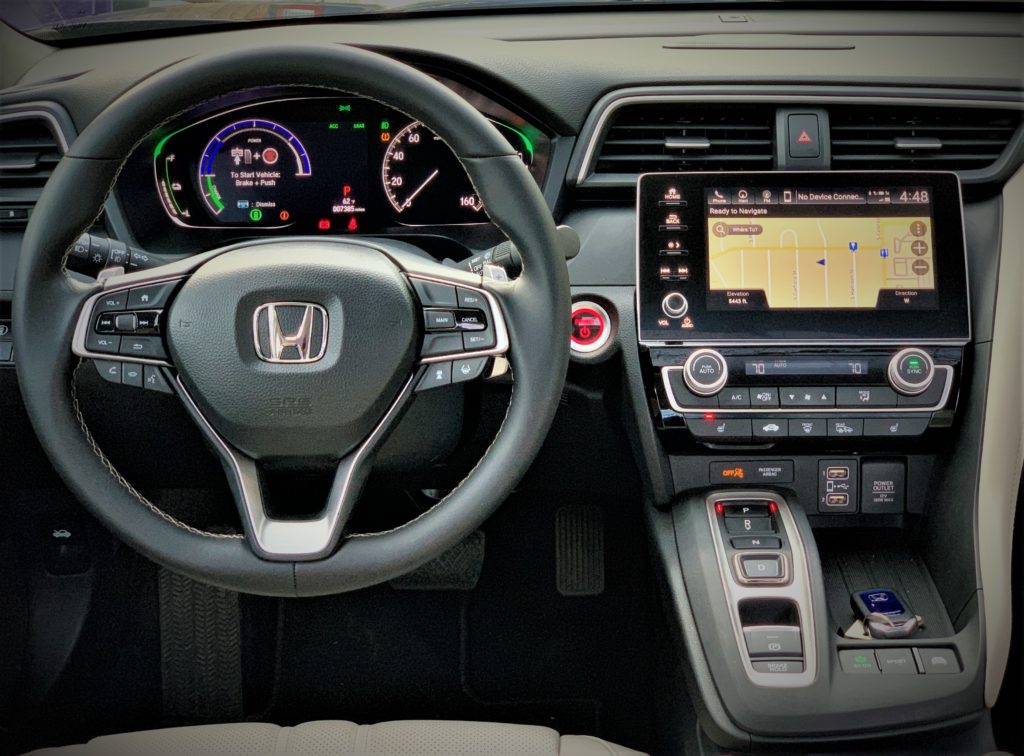 The interior is typical Honda with good ergonomics and solid feeling switchgear. Honda puts additional expense and style into its start/ power-on buttons and the Insight is no exception with a weighty and lighted I & O symbol typically found on computers and smartphones. A low profile push button gear shifter allows for easy reach to logically laid-out controls. The passenger is presented with a large swath of leather and continuous streak of silver trim. Rear seat space is generous enough for two while a folding center armrest provides additional cupholders.
Trunk space is also a non-issue despite the short trunk lid. Long items can be stored inside as folding rear seatbacks are possible as the battery is located underneath the rear seat cushion.

Power and Efficiency
The hybrid system is clearly what differentiates this car, not only from the Civic, but also from others in its class. Under most circumstances, the car is propelled by a drive motor that gets its energy from a 1.1-kwh battery pack while a small four-cylinder engine turns a second motor/ generator which sends power though the battery pack to aid the main drive motor. At higher speeds where there little overall power demand, a clutch directly connects the engine to the drive wheels for maximum efficiency.
Alternatively, the Insight can travel about a mile in EV mode which the driver can request if certain conditions are met. If not, the Insight is nice enough to say why (e.g. the cabin needs heating or low charge). When combined, the system puts out 151 horsepower which is entirely sufficient for keeping ahead of traffic though the engine has a tendency to rev loudly. During long mountain highway climbs, the engine sustains revs upwards of 5,000 rpm to provide sufficient power while spirited backroad jaunts turn into a game of battery management. Around town and during most of my commuting situations, the system was able to maintain a sufficient level of battery charge and earned just over 47 mpg which falls in line with the EPA's estimates of 51 mpg city, 45 highway, and 48 combined.

Ride and Handling
The Insight receives four-wheel independent suspension which is more costly, but its advantages are noticeable whether tackling the winding roads or getting through the latest construction zone without spilling your morning coffee. Mid-turn bumps are absorbed with good balance, requiring little to no steering reaction while sharp highway impacts and dips are and also managed with control. It's only while hustling the car does one get the sense of a softer-sided tuning with a hint of roll and a missing element of being light on its feet.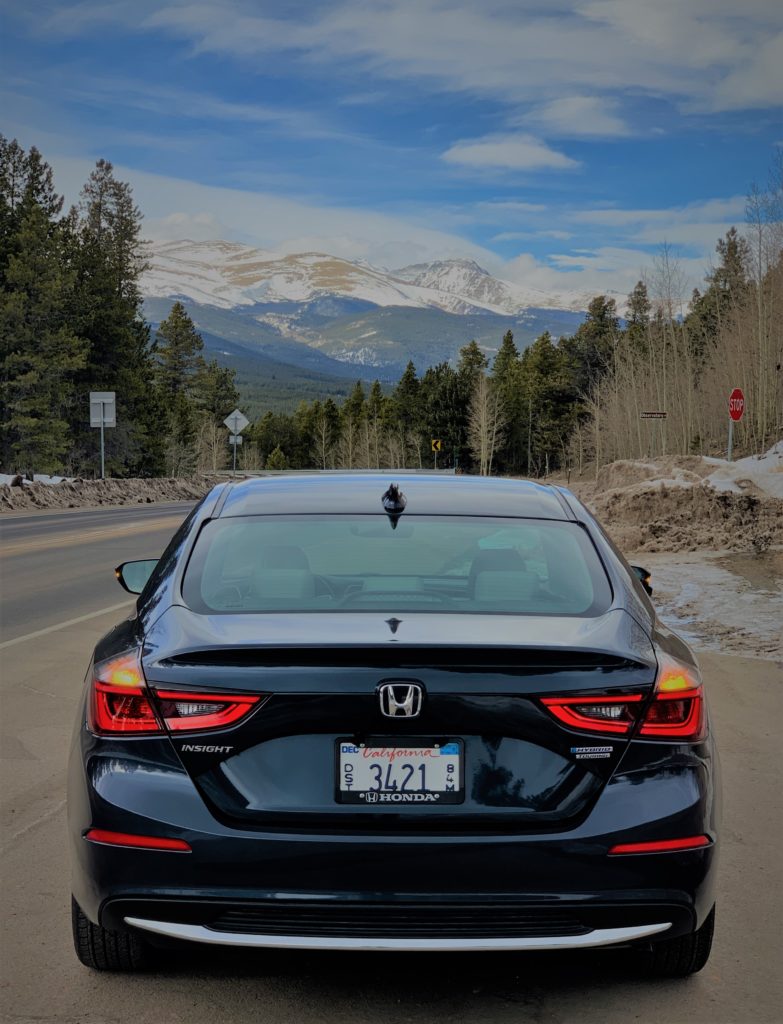 The car's good traction and stability control, as well as all-season tires (i.e. not the hard-compound eco-focused tire typically used for hybrids) helped get through an unexpected dumping of snow. Road noise is reasonable for the segment meaning it won't be confused for an Acura.

Conclusion
The Honda Insight is packed with good engineering, plenty of impressive features, and a connection with the road that further demonstrates that, when Honda sticks with a concept true to itself, success is bound to follow. Unfortunately, low gas prices and the nation's preference for crossovers might mean that the definition of success won't likely surround annual sales figures, but rather, whether or not the car lives up to the high tech eco-friendly status of the first generation, and after a week with the car, it's a confident success.