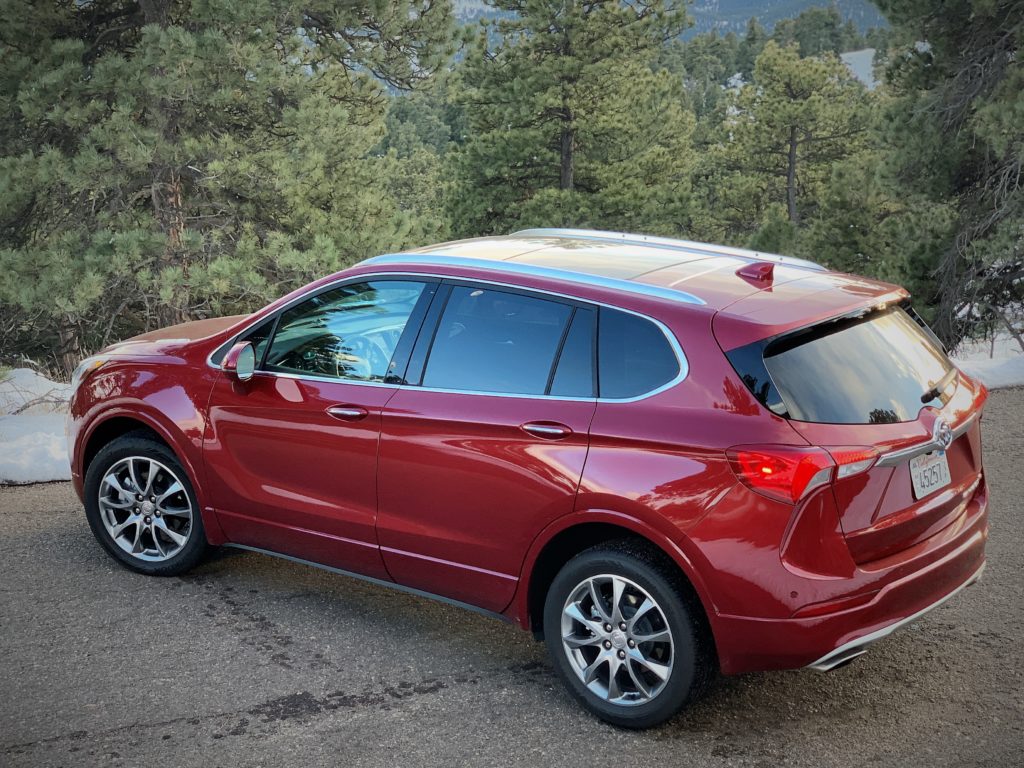 Is that a Buick? Buick's latest ad campaign asserts that it no longer deserves the bland car company image of its recent past and it has a fresh round of new models to prove it. The updated 2019 Buick Envision competes in the ultra competitive near-luxury crossover segment where value, style, and performance can all be had with little sacrifice. While it might not be the best in the segment, is it enough to change the staid image of Buick?

Features
This particular top-of-the-line Envision AWD Premium II is a hair under $50,000 and for that, many notable features are included such as active safety tech, a surround view camera system, LED signature lights, an auto-dimming exterior driver-side mirror, a power tailgate, and remote engine start. The interior boasts leather surfaces, heated and ventilated front seats, a heated steering wheel, a digital 4.2-inch gauge cluster screen, a head-up display, and a Bose audio system that is controlled through a centrally located eight-inch touchscreen. The infotainment system responds quickly and is easy to learn. It also incorporates navigation, SiriusXM, Apple CarPlay, and Android Auto, as well as a 4G Wi-Fi hotspot. Furthermore, the rear passengers enjoy heated seats, their own HVAC controls, and power outlets while enjoying an expansive view through the $1,500 panoramic moonroof. While the Envision checks nearly all of the boxes for individual features, they lack the sophisticated execution and clarity that the $50k territory begins to expect.

Safety
GM's active cruise control system is featured in the Evision and is well-tuned with only a few one-to-zero mph abrupt stops. Regardless, the system is a major stress relief in heavy low speed traffic. Automatic emergency braking, lane keep assist, and blind spot warning systems are also included. A particularly great feature is GM's safety seat which vibrates the rear hip portion of the driver's seat. It instinctively feels like an alert yet doesn't freak out the passengers and stir a bunch of "what was that!?" questions. The Envision earns Good ratings for crashworthiness from IIHS though, by my judgement, the headlights would be improved with more intense light coverage and active curve lighting.
Forward visibility is excellent with a low window line, narrow a-pillar, and a low dash panel. Large exterior mirrors also contribute to a sense of confidence and awareness but the integrated turn signal brightly flashes and is distracting, especially at night.

Size and Style
Dimensionally speaking, the Envision is slightly longer than the Lexus NX300 but a few inches shorter than the new Acura RDX while the Buick is a bit narrower than both. It splits its competitors inside too in terms of passenger and cargo space. In reality, there is good room up front for the driver with soft padding on most surfaces while the large center console is oddly higher than the door armrest. Second row legroom isn't as great as most of its competitors though sitting behind another six-footer was never uncomfortable. The rear cargo area is wide and well lit while it also includes impressive details like chrome seatback release handles and a tailgate latch cover that improve the cargo area appearance.
The exterior shape is outlined by its sloping front end, long front and short rear overhangs, and predictable curves. For 2019, the exterior received additional lines and surface depth features to its front and rear bumpers to enhance the visual interest. Unfortunately, the faux hood vents remain.
Inside, the sense of luxurious intent is obvious with soft touch materials used throughout. The dash panel is defined by a soft chrome ellipse that surrounds a large high gloss wood panel trim with a flowing shape. It fills the space nicely but doesn't feel modern or have a natural appearance. The HVAC and seat temperature controls sit below the touchscreen and feature a sleek gloss black appearance and are touch operated. Unfortunately the system is slow to respond to touch inputs and is positioned low in the center stack, requiring a far glance away from the road. Overall, the exterior and interior shapes blend a rather conservative shape with many nice touches throughout. It looks current inside and out but it lacks any wow-feature to help it stand out among the crowd.
Power and Efficiency
The top of the line Envision is equipped with a 2.0-liter turbocharged four-cylinder engine and nine-speed automatic transmission – a delightful powertrain shared among other GM models. The engine is docile with good off-the-line power and an effective mid-range surge. The transmission is smooth and has no trouble determining the proper gear and sticking with it, despite the high number of choices. An on-demand all-wheel drive system is standard with this more powerful engine and routes power effectively and quickly. As smooth as this drivetrain performed though, its noticeable gear whine created a concern about its longevity. The Envision earned EPA fuel economy ratings 20 miles per gallon city, 25 mpg highway, and 22 combined, which slightly trails the competition.

Ride and Handling
Vastly different than Buick's of recent, the tuning of the Envision's independent suspension tuning delivers good body control and bump isolation at low and high speeds. Also, it never felt overwhelmed by the engine's wallop of torque, even when in a turn. The steering is accurate and the body responds to inputs quickly without any teetering. In the mountains, it handles confidently up to and beyond most reasonable expectations. At higher speeds, the steering feels communicative though that feeling fades at lower speed and it feels more isolated. The brakes always felt strong and were up to the task of slowing quickly from high speed. Overall, the Buick Envision proves that it can handle nearly any task in comfort and control.

Conclusion
The Buick Envision pushes Buick towards a younger generation and away from its uncool recent past. Unfortunately, the price is also a departure from its value-minded roots, and becomes difficult to justify when put against brands that have an established prestige. The Envision drives comfortably, blends in, and generally operates without a fuss – you know, like a Buick.