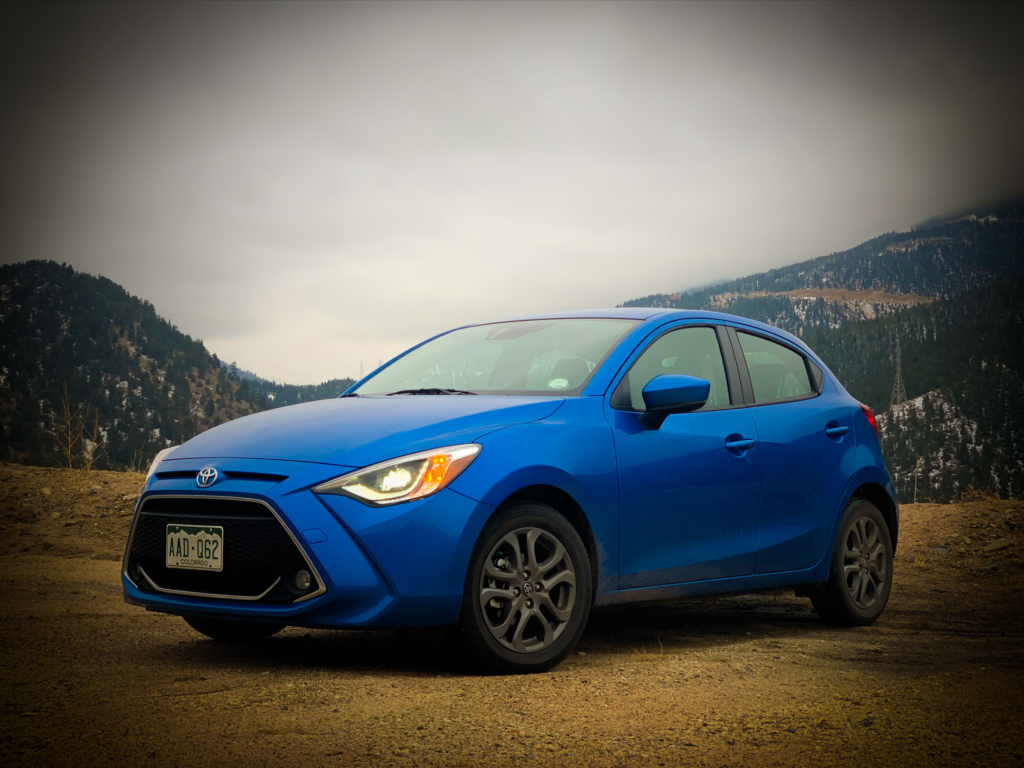 First off, the 2019 Toyota Yaris is a legitimate car. It may seem silly to state, but the decades of rental econoboxes have really tainted the small car image. The small Toyota hatchback can easily handle the daily demands of American life, from navigating tight parking, providing entertainment during the endless rush hour traffic, and even hauling a week's worth of groceries or a trip to Home Depot. But is there enough charm in its minimalistic approach to put aside preconceived notions and ask the question of why not?

Features:
The top XLE trim features 16-inch alloy wheels, body-colored mirror caps (with integrated turn signals) and door handles, rain-sensing wipers, and automatic LED headlights – hardly the stuff of yesterday's econobox. The interior is covered with smartly placed soft-touch materials that look good and have a quality feel. Perforated leatherette covers the sport seats while the leather-wrapped steering wheel and shift lever knob are soft to the touch and well-shaped while the metallic trim also has a high-dollar feel. The central mounted 7-inch touchscreen display is easy to use with a redundant controller located low and slightly rearward between the seats. The system itself has an appreciable level of customization but the everyday functions could be more quickly accessible.

Safety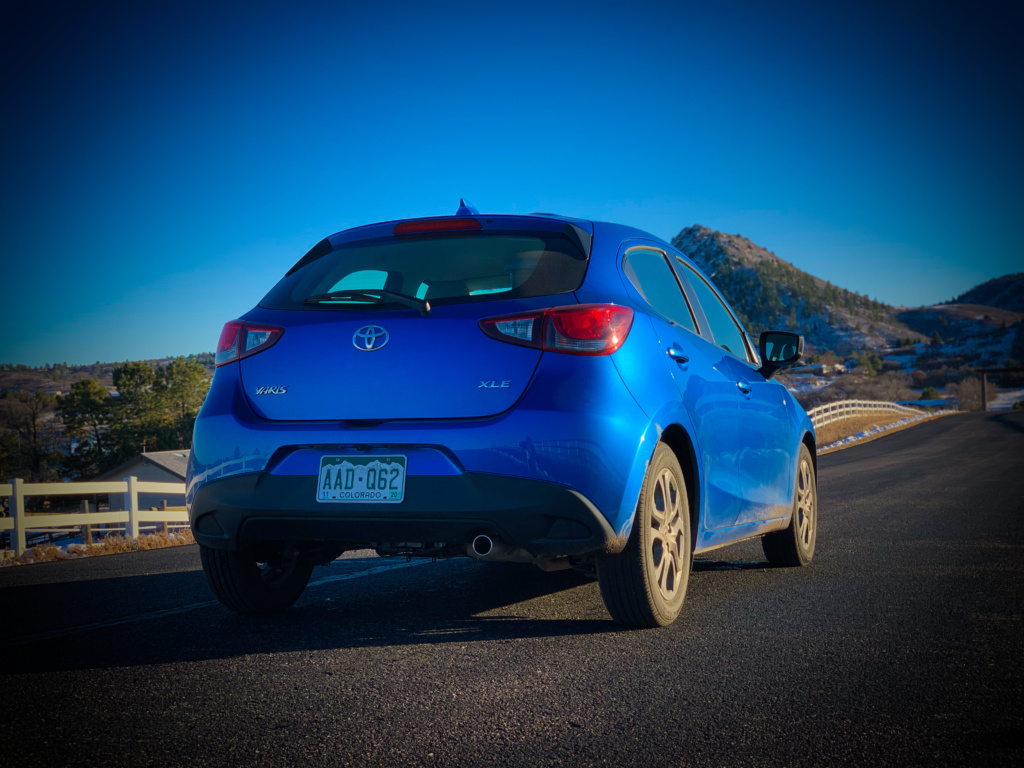 The Yaris gets urban-friendly safety equipment like automatic emergency braking, front and rear side airbags, and turn signals integrated into the mirrors for added visibility. This particular bright blue color also helped it stand out in traffic. Blind spots hardly exist in this car so the lack of a blind spot system is less of a deal-breaker.

Styling and Size
The Toyota Yaris was co-developed with Mazda and sets itself apart from the typical round shape of subcompact hatches by dropping the a-pillars far behind the front-axle line. It creates a more balanced, cab-rearward design but lacks the interior space efficiency of a cab-forward design. The body panels are fully inspired by Mazda (generally a very good thing) while around back, the tailgate's window is more steeply raked than a traditional hatchback. Inside is also pure Mazda in with a clean looking interior with impressively thorough details.
Considering its subcompact exterior (161.6-inches long), the overall passenger space is quite good. Rear passengers have sufficient headroom and the cargo area's low floor creates enough space to swallow a saddle standing up. Folding rear seats allows for longer cargo but it still remains a subcompact car so budget for a roof rack if picking up folks from the airport is going to be a regular thing.

Power and Efficiency
Power and refinement often take a backseat in these subcompact cars with lightweight and low cost topping the priority list and it's usually most obvious in the powertrain department. However, the Yaris' 1.5-liter four-cylinder effectively matches the refinement of the exterior and interior's design and it is a class above the subcompact norm. Direct fuel injection and variable timing help the Yaris remain efficient yet powerful enough to quickly scoot around city traffic and pull itself up mountain highway passes without fear of being run over. The six-speed automatic transmission also has a few tricks up its sleeve to sweeten the deal, like the ability to lock-up in each gear for crisper throttle response and better efficiency, and a manual shift mode that is quick to respond and even throws in a throttle blip when downshifting for smoother gear engagement.
The downsized specs don't directly yield excellent fuel economy, however, as its general shape is less than ideal for aerodynamic efficiency, though the Yaris earns an EPA-estimated 35 mpg combined. In the real world and under a multitude of driving situations, including a few very cold mornings, I managed to achieve a respectable 37 mpg – despite the engine having less than 500 miles on the clock.

Ride and Handling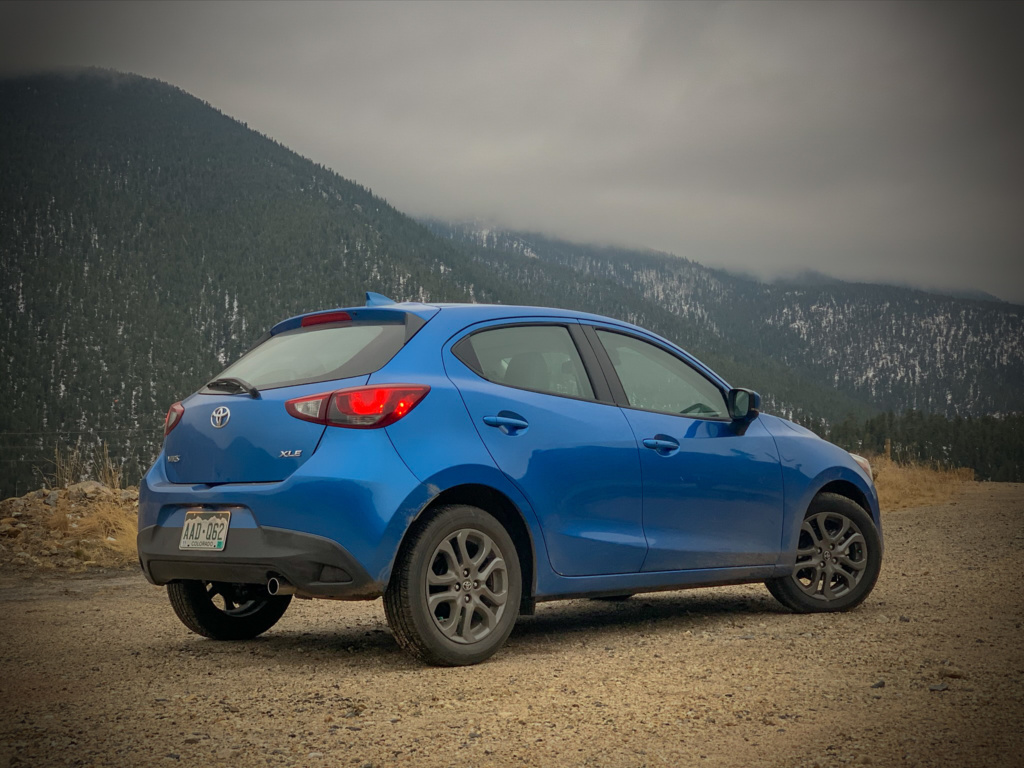 The quick-reacting chassis and light steering effort help the Yaris shine in the city where it feels agile and even has good bump isolation at low speeds. However, at higher speeds (~75 mph), the short wheelbase and light curb weight (~2,500 lbs) prevented the car from settling down and an air-leak at the b-pillar added to the feeling that the Yaris is out of its element.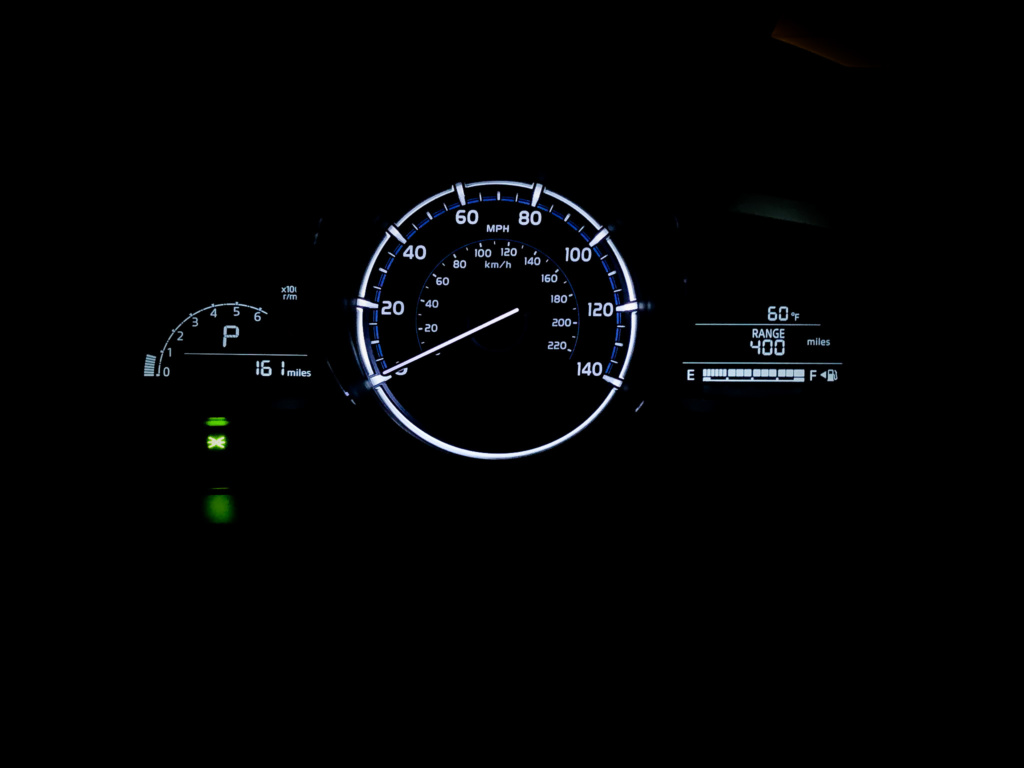 Around the mountain twisties, the Yaris can quickly change directions and maintaining speed becomes a fun game. That is until the Yaris is pushed towards its handling limits and notable body roll, forward-weight bias, and vague steering feel make themselves known.
Conclusion:
The Toyota Yaris speaks the Mazda language with its design, simplicity, and plus-tier refinement. Its compact dimensions appeal to the city-crowd while its spacious interior and good fuel economy can appeal to all. In fact, the Yaris' greatest challenge will be convincing the new-car shopper that more isn't necessarily better.